Voltage Drop Calculator | Wire Sizes & Amperage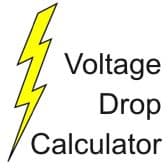 The voltage drop calculator tool is used by low voltage installers to calculate AC or DC voltage drops in amps over varying cable distances. This tool uses an industry standard voltage drop calculation formula. Voltage drop is calculated by entering values the following fields in the below form and clicking on the calculate button: initial voltage, cable length, cable gauge / wires sizes and amperage (current). The industry standard for acceptable voltage drop is 10%.
This is a great tool for security installers to use in planning the best power cable sizes to use when installing CCTV cameras and other low voltage equipment. By giving installers the voltage drop percentage that can be expected, they can adjust to a gauge power cable or plan on using a power source closer to the camera they are installing.
We also have a low voltage drop / max cable distance chart available here.
Click here if you also need a CCTV video cable max distance guide for RG-59, RG-6, CAT-5.
Please visit our Calculators, Converters, and Tools page for additional online applications.
Voltage Drop Calculator

Initial Voltage
Current (amps)
Cable Length (ft)
Cable Size / Gauge (awg)
Voltage at Load:
Voltage Drop:
Voltage Drop %:

Example Calculation

Installer wants to run RG59 Siamese cable 300 feet to an 12V DC powered dome camera that requires 250 milliamps of power. The RG59 cable uses 18 gauge 2 conductor wire for power cable.

Enter the following values:
Initial Voltage: 12
Current (amps): .250
Cable Length: 300
Cable Size: 18
Click calculate.

The industry standard for acceptable voltage drop is 10% or less.
About This Tool
This online app was created by Mike Haldas for CCTV Camera Pros. CCTV Camera Pros is a direct supplier of video surveillance equipment for home, business, and government. Mike Haldas is the co-founder of CCTV Camera Pros and a USMC veteran. If you have any questions about planning a video surveillance system, please contact Mike at mike@cctvcamerapros.net