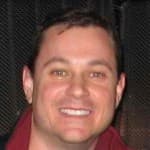 My name is Mike Haldas. I am a co-founder and managing partner at CCTV Camera Pros. CCTV Camera Pros is a direct supplier of security cameras, video surveillance systems, and CCTV equipment for home, business, and government. My responsibilities at the company include new product research, development, systems integration testing, documentation, and marketing. I am the primary contributor to the CCTV Camera Pros blog, where I regularly publish articles and videos.
Before starting CCTV Camera Pros, I worked for ten years as software engineer and product manager developing Internet applications. Prior to that, I proudly served for four years in the United States Marine Corps where I achieved the rank of sergeant (E-5).
In 2009, while working at CCTV Camera Pros, I designed the one of the first iPhone apps for remotely viewing IP cameras live from mobile. The app is called iCamViewer and we shortly after developed a version of it for Android. This development led to a new startup company, AppBurst. For several years, I split my work time between designing mobile apps at AppBurst and supplying security camera systems at CCTV Camera Pros. AppBurst was sold in 2016 and my full time focus resumed at CCTV Camera Pros.
I consider myself a subject matter expert in the area of video surveillance systems, customer service operations, quality assurance, software and mobile app development.
In addition to the traditional duties that I have at CCTV Camera Pros, my services have also been used in the following ways.
Guest appearance on Restoration Wild TV show on Animal Planet
Subject matter expert for news articles and news video broadcasts
Litigation trial consultant as an expert witness in the area of security cameras and video surveillance
To contact directly, please email me at mike@cctvcamerapros.net.
Here are some other ways to connect with me.