Re: Wireless Security Camera System Questions
December 21, 2009 at 12:32 pm
#31930
Mike Haldas
Keymaster
Follow up questions from gun range owner:
Mike,
I have one additional question. The target area is 36 in. x 36 in. There are multiple targets in that area as shown in the attached photo (taken with a HP Photosmart M22). Will I be able to zoom in and see each of the targets close enough to observe the bullet holes? If the IP-V97161 megapixel camera will give me an image like the attached photo it should work just fine.
Below is my latest updated diagram that shows how the wireless camera system and solar power will layout.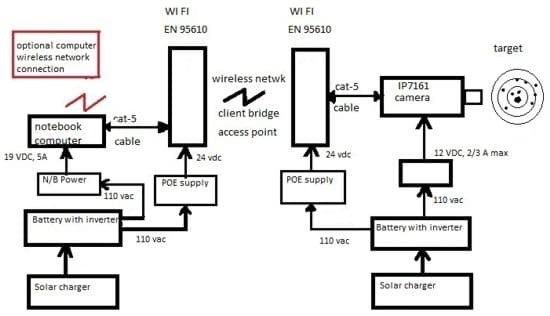 I have researched batteries, inverters and solar chargers. I know this is not your area of expertise but I thought you might be interested. I plan to build two boxes like small suitcases containing the battery inverter and solar charger. One will supply the notebook and one antenna, the other will supply the camera and other antenna. I still have to calculate the power requirements before I make any selections.
Inverters
https://www.theinverterstore.com/?gclid=CNiF9aeO5J4CFRHyDAodl18RMg
Solar Panels
https://www.batterystuff.com/solar-chargers/
https://www.siliconsolar.com/visual-directory/solar-battery-chargers.html
Batteries
Reply from CCTV Camera Pros:
Thank You for the links to those solar power, battery, and power inverter resources. We are going to document them on our support forum to share with other people looking to do similar solar and battery powered security camera projects. Below is a link to the image that you took resized to exactly 1600 x 1200 pixels which is 2 megapixel.
Two Megapixel IP Camera Image
https://videos.cctvcamerapros.com/images/wireless/2-megapixel-IP-Camera-image.jpg
That is the size of the video and images that the camera is capable of capturing. However, one thing to consider is the total size of those targets. Can you please give me the exact size, width and height of the total area? We can then calculate what lens will work best for your application and at what distance you need to mount the camera. I have a feeling that you may need to mount the camera farther back from the gun targets than you first wanted. Also, is the gun range indoors or outdoors? If it is outdoors and the camera will be left outdoors, then you will also need to purchase an outdoor housing for the camera like any of these:
https://www.cctvcamerapros.com/CCTV-Camera-Housing-p/hpro-605.htm
https://www.cctvcamerapros.com/CCTV-Camera-Housing-p/hbpro-601hb.htm
https://www.cctvcamerapros.com/Arecont-Vision-Camera-Housing-p/hsg1-o-w.htm
Please let me know the dimensions of the entire target area.