Megapixel Camera Housing with Infrared LEDs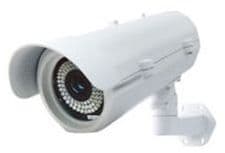 CCTV Camera Pros is proud to announce that we are now stocking the HSG1-O-W-IR megapixel camera housing with built in infrared LED illuminators. The effective range of the infrared of this housing is up to 70 meters, or approximately 210 feet. The HSG1-O-W with IR camera housing from can be used with Arecont megapixel IP cameras. This IR housing can also be used with other brand IP and megapixel cameras as well as box style CCTV cameras as long as they have a night mode which supports IR recognition. The HSG1-O-W-IR has its own light level sensor which triggers when the infrared LEDs activate. The HSG1-O-W-IR features:
70 Meter infrared effective range
Built in light sensor to switch LEDs on
Side opening hinged lid
Die-cast Aluminum Vandal Resistant Construction
Heater & Fan Blower (24 VAV)
Mounting bracket
White Color
Dimensions: 16 1/2″ long x 6 1/2″ wide x 5 1/2″ tall
For pricing information, more information, or to purchase please visit CCTV Camera Pros' HSG1-O-W-IR camera housing page here: Megapixel Camera Housing with Infrared. At the time of this release, the price of this housing is $299.99 from CCTV Camera Pros.