6 Best Security Camera Cables
When it comes to selecting cable for your video security camera system, the process may not be as straightforward as one would hope. There are various types of cable that can be used with surveillance equipment. However, the specific type of equipment you have will generally dictate which cables you should consider. In this article, we discuss the 6 best security camera cables and what applications they are best used for. After reading this article, you will feel confident that you are selecting the right cables for your application.
Pre-made Siamese
Pre-made Siamese cables, also known as pre-made CCTV cable, are by far the most popular choice for analog CCTV cameras and HD over Coax type security cameras. The reason for this is because these cables come completely assembled with BNC connectors and cut to a specific length so that customers can use them right out of the box. On one end, there is a BNC Male video connector and a 2.1mm Female power input (DVR / monitor side). On the other side, there is a Male BNC video connector and a 2.1mm Male power output (camera side).
Many of our customers are not experienced camera installers and do not know how to cut and terminate cable ends or fear that they may not be able to do so properly. These cables give those customers the confidence to install their new camera system themselves, potentially saving them hundreds, if not thousands, of dollars on professional installation.
The Pre-made Siamese cables that CCTV Camera Pros supplies are high quality and compatible with standard Analog / CVBS cameras in addition to AHD, HD-TVI, and HDCVI HD Analog cameras. We have them available in 25, 50, 75, 100, and 150 feet lengths. If you are using an Analog camera with BNC connectors and do not want to cut and terminate your own cables, then Pre-made Siamese cables are the ideal choice for you.
Here is a pre-made security camera cable wiring guide for your reference.
Pre-made AVP
Just like Pre-made Siamese cables, Pre-made Audio, Video, and Power come cut to length and are terminated with BNC video and power connectors on both ends. However, there is an additional RCA lead for transmitting audio back to the DVR or monitor.
These cables allow users to add an external microphone or support a built-in microphone from one of their surveillance cameras. When using external microphones with AVP cables, we recommend using inline surveillance microphones as they share power with the camera and will not require any additional power supplies or cabling.
The Pre-made Audio, Video and Power cables that CCTV Camera Pros carry are tested and approved to work with Analog / CVBS cameras as well as AHD, HD-TVI, and HDCVI HD security cameras. We recommend AVP cables to users who are using Analog cameras and wish to add a microphone to their system to record audio in addition to video. If you already have a microphone with a 3.5mm plug, you could use an RCA to 3.5mm converter to make it compatible with these cables.
RG59 Siamese Coax Cable Spools
RG59 Siamese Coaxial cable comes in 500 and 1000-foot spools and allows installers to cut and terminate their own cable. This is the best and most recommended cabling for BNC security cameras because of the superior gauge and materials used to manufacture them.
Unlike Pre-made Siamese cables, RG59 uses a much thicker 20-gauge cable core for video and 18-gauge cables for power. Being that the gauge is thicker, the can be run further (up to 700 feet of video when powering locally) than Pre-made cables (up to 200 feet) without interference. Furthermore, the shielding on RG59 is thicker than on Pre-made cables, making it more durable and longer-lasting. The biggest perk of cutting and terminating Coaxial cable is that users can choose to install twist-on, crimp-on, or compression styled BNC, RCA or F-Type connectors rather than trying to find a pre-made cable with their desired connectors. To learn how to cut and terminate ends to RG59 Coaxial cable, please look at our instructional videos. We also have this RG59 Siamese cable wiring guide available.
The RG59 Siamese coaxial cable that CCTV Camera Pros supplies is available in black or white and has a solid copper core, 95% copper braided shielding, and 75-ohm impedance. RG59 cables with steel/copper clad cores made specifically for CATV (cable TV) should NOT be used for video surveillance applications and has been known to distort the camera image quality if it even displays at all.
RG6 Coaxial
RG6 is very similar to RG59 Coaxial cable except the copper core is 18-gauge instead of 20-gauge and the insulation and shielding are much thicker. However, this does not mean that it is the better cable for HD CCTV security camera system applications. In fact, we always recommend RG59 over RG6 as it is more suitable for transmitting surveillance video. Being that the core cable of RG59 is thinner than RG6, it can transfer lower frequencies and bandwidths with less resistance. On the other hand, because the copper core of RG6 is thicker it is better suited for transferring higher bandwidths and frequencies, such as Internet and Cable TV. When attempting to use RG6 for CCTV cameras, users will find that their video may be distorted, if it appears at all, especially at longer distances. This is because the thicker core of RG6 cable creates more resistance in which lower frequencies are unable to overcome. Therefore, it is always recommended to use RG59 over RG6 when it comes to surveillance systems.
Cat-5e Network Cable
Even if you are not a CCTV installer, you are probably familiar with Cat-5E Ethernet cable. This is the cable with the RJ45 connector that connects your Internet modem to your wireless router or your PC to your wired router/network switch. Cat-5E Ethernet cable is comprised of 8 individual, 24-gauge wires or 4 pairs. Each pair of cable is designated for a specific purpose, such as data transmission or power.
Much like Siamese cable, Cat-5e can transmit both video and power over a single cable run. CAT5 is primarily used with network IP cameras in the surveillance industry. However, with the use of Video Baluns users can use Cat-5E cable for wiring analog CCTV cameras (CVBS) and HD BNC cameras  (AHD, HD-TVI, or HD-CVI). CCTV video Baluns work by taking the signal typically transmitted by Coaxial / Siamese cabling and splits it up into multiple pairs, 1 pair for data, 1 pair for power and 1 pair for audio, if applicable, so that it may be transmitted over Cat-5E cable.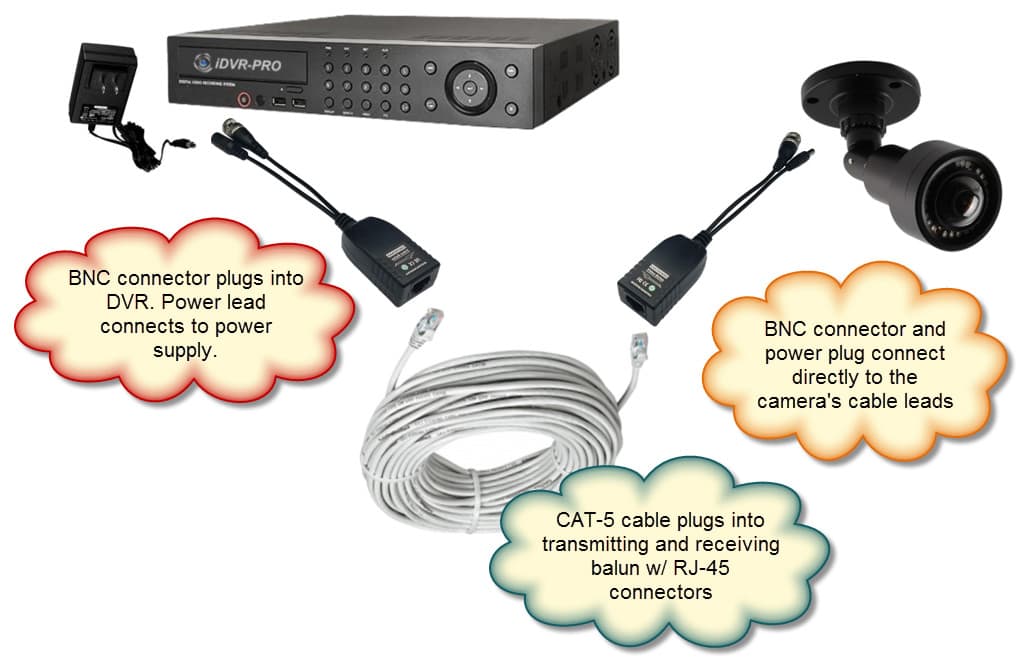 This type of configuration allows users to increase their transmission range from 700 feet with Coaxial to as far as 1300 feet with Cat-5E. The above image shows a CAT5 video baluns used to connect a camera and DVR. You can see on the left side of the cable run how the balun connects to the DVR and security camera power supply.
The Cat-5E cables that CCTV Camera Pros supplies are of the highest quality with 24 AWG pure copper base wire and gold-plated 50u short body contacts, making them compliant with the National Electric Code TIA-568-C fire and safety standards. In addition, they are also UL Code 444 compliant. We have them available in pre-made lengths and in spools of 1000 feet.
Cat-6
In the last few years, Cat-6 has become a very popular alternative to Cat-5E cable. While they are both 4 pairs of 24-gauge cable wrapped in a shielding, the cables of Cat-6 are more tightly wound and allow for faster data transmission. For example, Cat-5E can transmit up to 1,000Mbps, or 1 Gigabit, of data while Cat-6 can transmit up to 10,000Mbps, or 10 Gigabytes, of data. However, there is a limitation. Cat-6 can only transmit 10,000Mbps up to 165 feet. After 165 feet, Cat-6 will transmit at the same 1,000Mbps as Cat-5E for the remainder of the cable run.
For security cameras, we recommend using Cat-5E cabling as it is not necessary to transmit more than 1,000Mbps, even in full 4K resolution. Cat-6 is mainly intended to be used as the backbone for large network infrastructures that transmit several Gigabytes of data per second.
Need Help / Questions?
Do you have questions related to this article or anything related to security camera systems? Please contact me via email here.