Re: Connecting to a 4 channel power box
January 21, 2013 at 12:32 pm
#32449
Mike Haldas
Keymaster
Manny,
Yes, it is possible to use a multi-camera power supply box with pre-made Siamese coax cable that already has the male power plug end attached. You can simply attach PT-3 female power lead to the end of your existing cable.
[img]https://a248.e.akamai.net/origin-cdn.volusion.com/not95.tcan2/v/vspfiles/photos/PT-3-1.jpg?1334944840[/img]
This turns the 2.1mm plug into a positive and negative cable lead that can attach to the screw terminals of a power supply box for your security cameras.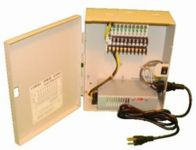 Please let me know if you have additional questions about this.