GeoVision Mobile Surveillance System Deployed for Bus System of Brazil
A Geovision surveillance system was recently chosen by the bus system of Brazil as the mobile solution to monitor the buses with video surveillance. Being the world-renowned tourist city, as well as the most enormous bus network inside of the greatest country in South America, there are over 2,000 buses everyday commuting to and from the metro and the suburban area. The bus system of Brazil provides massive group of commuters mean of transportation in the city of Rio de Janeiro. Under such heavy traffic demand, efficient yet effective management of operation of buses becomes an inevitable issue among buses industry.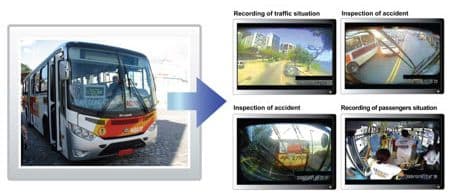 In each day, the major bus company dispatches an average between 200 and 500 buses into streets and alleys. Due to the high frequency of bus traffic, uncertainty of regulated driving by the drivers, injuries of passengers within trips, etc can often cause unnecessary monetary loss. Among the hidden distresses, the greatest being the loss of transportation fees. Any tiny amount of loss, inadequacy drivers' operation, when applied onto a great bus system, transform into sizable financial losses.
By installing the high resolution Geovision mobile video server, keeping track of complete driving record, suspicions of the past are thus resolved. The GV-Video Server provide each bus 2-4 channels of recorded screens, monitoring all road-surface traffic situations, passengers conditions in cabin, as well as ticketing procedures of driver during vehicle operation. Among the advantages, the greatest being the resolution of Full D1 Real Time, making any resource of replay video, easily and clearly recognizable.
According to one satisfied bus company owner of Rio, upon installing the GV-Video Server, the amount of losses saving had decreased ever-so dramatically, that the group was able to purchase one additional brand-new bus, in a period of miniscule 3-8 weeks. This, within a city of ultra-stringent bus examination standard, requiring by law that all metro buses are demanded to retire upon a period of 3-year span is met, brought unimaginable financial value to the owners of industry.
About CCTV Camera Pros
CCTV Camera Pros is a distributor of Geovision surveillance systems. Please visit our Geovision surveillance DVR page for more information. We are a manufacturer and distributor of security cameras, videos surveillance systems, and CCTV equipment. We are a veteran owned small business founded by a United States Marine. CCTV Camera Pros specializes in the design of reliable and scalable video surveillance systems for homes, businesses of all sizes, and local and federal government agencies. CCTV Camera Pros has a complete portfolio of products including, security cameras, digital video recorders, monitors, cables, connectors, and all accessories needed for a complete surveillance system solution. CCTV Camera Pros is partnered with a network of over 400 installers in the United States to provide surveillance system installation to all areas of the USA. For more information, visit https://www.cctvcamerapros.com.
About GeoVision
GeoVision Inc. had dedicated toward a campaign, in starting monitoring on buses of Brazil since 2007. Up to the latest figure, a number of over 4,600 buses had adopted the Mobile solution provided by GeoVision, and is, of course, constantly uprising. It is estimated that another 2,000 buses will join the existing group of the tribe, making GeoVision a leading player of mobile solution provider.