Coaxial Lightning Surge Protectors for CCTV Equipment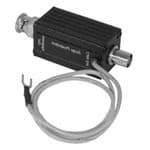 CCTV Camera Pros is pleased to announce the availability of a new line of coaxial surge protectors for CCTV equipment. The SP-S1 and SP-R16 offer an affordable lightning power surge solution that can be used to protect CCTV cameras, surveillance DVRs, BNC monitors, and any other type of video device that uses a coaxial cable with BNC connectors. For devices that have connectors other than BNC, CCTV Camera Pros also offers a variety of connectors and converters such as BNC to RCA and BNC to F-connector. The SP-S1 is a single channel surge protector with a BNC male connector on one end and a female on the other. The SP-R16 is a 16 channel rack mount surge protector. CCTV Camera Pros recommends installing coax surge protectors on both ends of any RG59 or RG6 cable run for the best protection. It is very common for professional installers to install a SP-S1 on the camera end of a cable run and to install the rack mount SP-R16 by the DVR or other central location where all of the video cable runs terminate.

Commenting on the the new CCTV surge protectors, Mike Haldas, managing partner of CCTV Camera Pros says, "Being located in South Florida, we are all too familiar with the damage that lightning strikes can cause. The SP-S1 and SP-R16 surge protectors are extremely popular to use in locations where there is a risk of power surges from lightning strikes. We think that it is worth the additional investment to install surge protectors when running coaxial cable to protect valuable video equipment. CCTV Camera Pros has increased our supply of these devices recently to make them even more affordable."
At the time of this writing, the SP-S1 single channel protector is available for $19.99. The SP-R16 16 channel rack mountable protector is available for $289.99. Please click to visit this page for additional information and to purchase.