1080p vs 5mp Security Camera (CCTV Video Comparison)
I recently performed the following test to compare CCTV video surveillance recorded using a 1080p vs 5mp security camera. You can watch the video results here.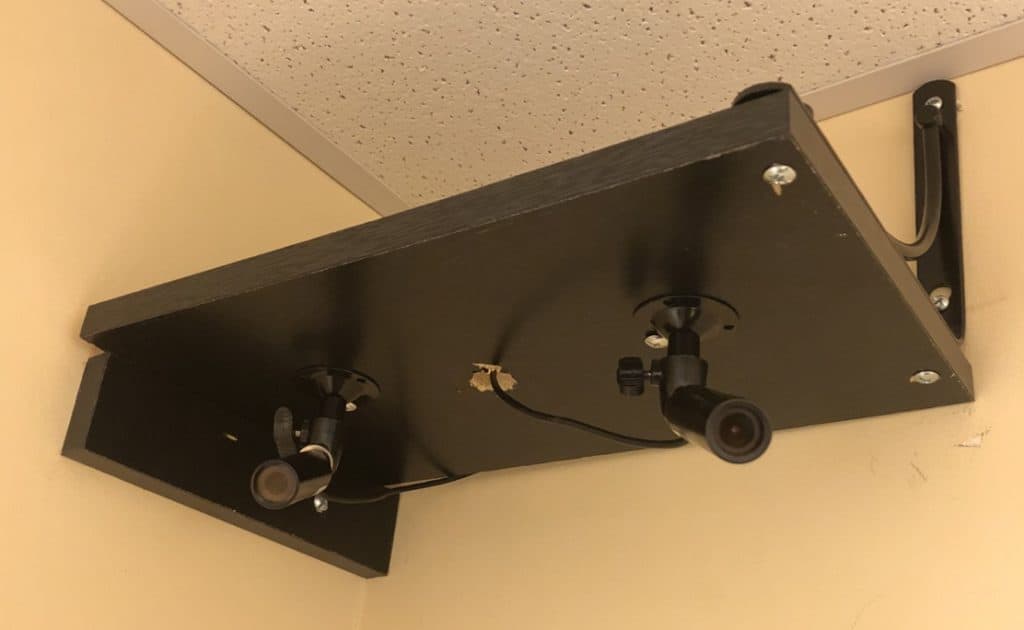 These are the two bullet-style surveillance cameras that I used for the comparison test. The one on the left is a BPRO-OL952 1080p camera and on the right is this 5mp-BL52 5 megapixel security camera (which is basically a 5mp version of the original BPRO-OL952). The cameras look almost identical. Both of the bullet security cameras have a 3.6mm fixed lens, however, the 5mp version gives a slightly wider angle of view because it has a larger image sensor. Both are HD-over-Coax BNC cameras which means that they support multiple video formats (AHD, HD-TVI, HD-CVI, and analog CCTV / CVBS). The testing results are expected to be the same if I would have used IP cameras instead of HD CCTV cameras.
The BPRO-OL952 supports 1080p / 2 megapixel resolution in AHD, HD-TVI, and HD-CVI video modes.
The 5MP-BL52 supports 5 megapixel and 4 megapixel resolutions in AHD, HD-TVI, and HD-CVI video modes.

Both cameras were set to AHD (analog high definition) video mode and hard wired to an iDVR-PRO hybrid CCTV / HD security camera DVR using RG59 Siamese coax cable. **Please note that CCTV Camera Pros is now recommending our best selling Viewtron 4K security camera DVRs. The BPRO-OL952 was set to 1080p (2mp resolution) and the 5MP-BL52 was set to 5mp resolution. The iDVR-PRO DVR that we used is able to record at 1080p and 5mp resolution.
The DVR supports 4k resolution video output via its HDMI output. This means that 1080p and 5mp cameras can be displayed at 4K resolution on the monitor that is connected to the DVR. The image is simply stretched to meet the resolution of the connected monitor. The HD video that I created and the screenshots that you see below were all captured at 4K resolution (12 megapixel) from the DVR's HDMI video output.
12 Megapixel Video Quality Images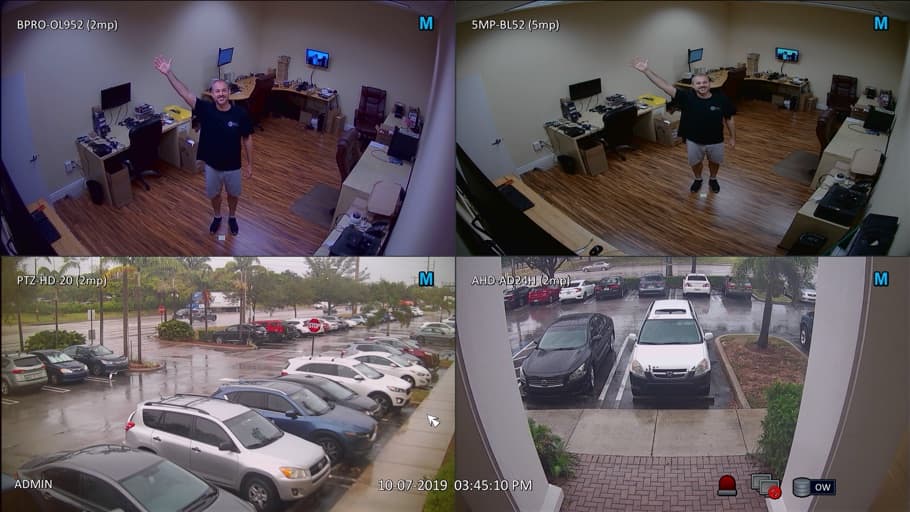 Here is the 4 camera grid view on the security camera system DVR. The 1080p camera is located in the upper left quadrant and the 5mp camera camera located in the upper right. You can click on any of these images to see the full sized high resolution 12 megapixel capture.
Video Footage Screenshots
Here are some screenshots that I captured from the recorded video surveillance footage while making the video.
1080p Security Camera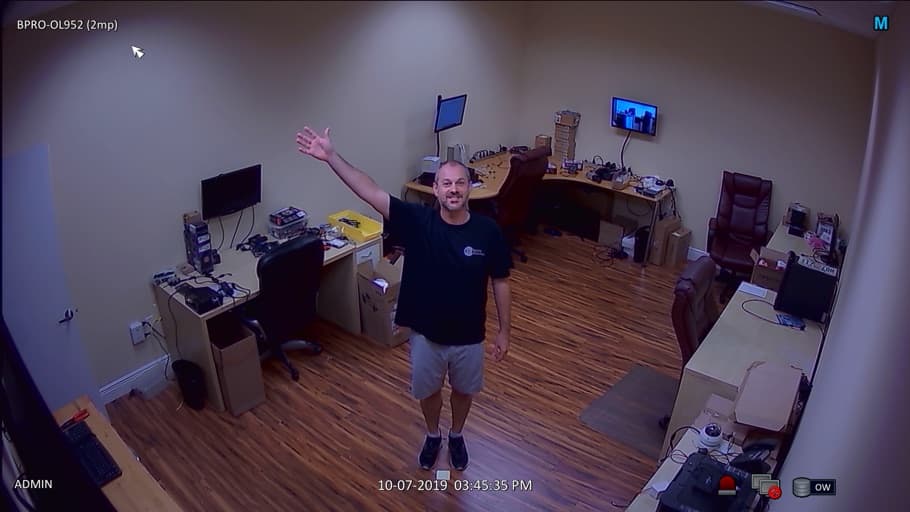 Here is a screenshot of the video recorded with the 1080p security camera. I am standing about 8 feet in front of where the camera is installed. The camera is installed about 9 feet high. Please click on the image or on this link to see what it looks like to view a 1080p camera recording at 4k resolution.
1080p Security Camera 3x Digital Zoom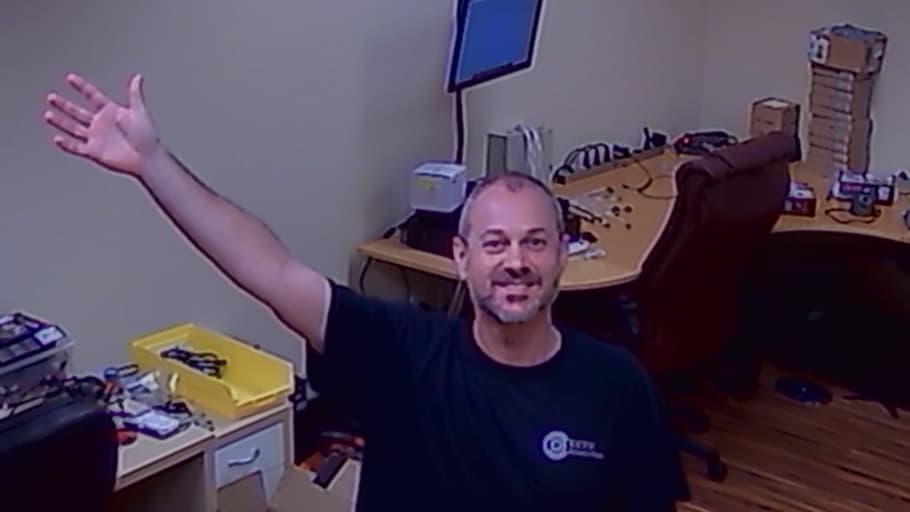 Here is the recording of the 1080p camera with a 3x digital zoom focused on my face. You can click on the image or click here to see the 4k recording resolution at 3x zoom using the 1080p camera.
5mp Security Camera 3x Digital Zoom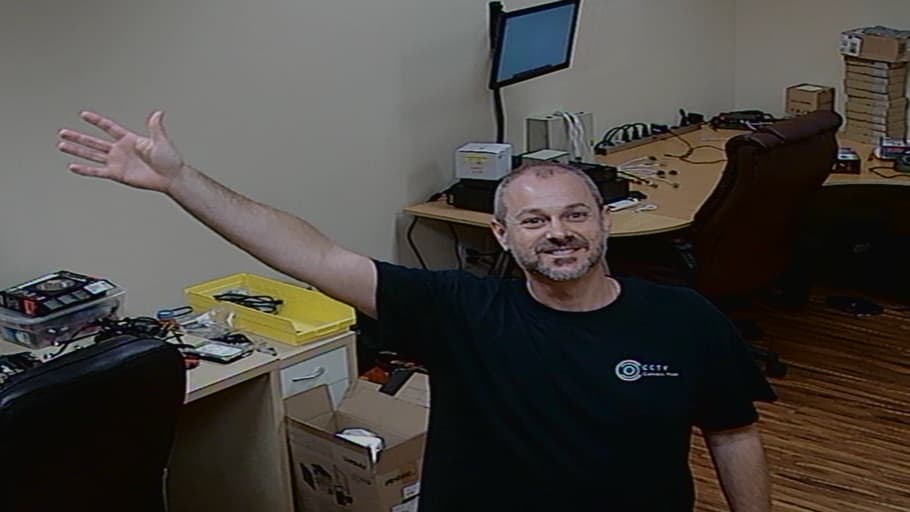 Here is a snapshot of the 5mp security camera with a 3x digital zoom applied. Please click on the above image of on this link to see the 4K resolution snapshot of the 5 megapixel camera with 3x zoom applied.
5mp vs 2mp Security Camera (3x zoom)
Here is a side-by-side comparison of the 5mp vs 2mp security camera with the 3x digital zoom applied. Please note that 1080p resolution is the same 2 megapixel. The 5mp camera is on the left and the 2mp is on the right. Please click on the above image or on this link to see the 4k resolution comparison.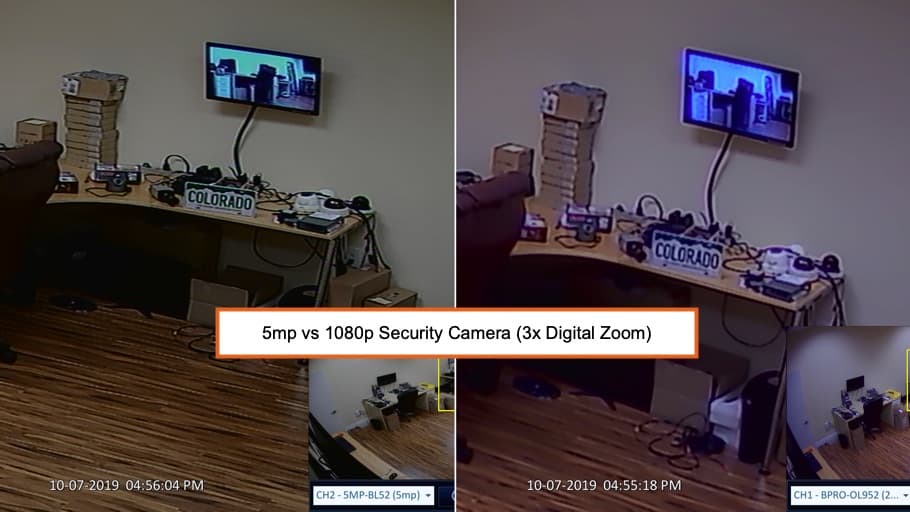 Here is another side-by-side comparison of the 5mp vs 1080p CCTV camera resolution with 3x digital zoom. Please click on the above image or on this link to view the 4K resolution images of the license plate comparison.
In this test, the camera is focused on a license plate that is 20 feet away from where the cameras are mounted. Please note that these bullet cameras are not true license plate recognition cameras. I am using the license plate in this example because the letters on the plate make it convenient to compare the video clarity at different resolutions. You can visit this page if you are interested in learning more about true LPR cameras.
Observations and Summary
You can see in the above video surveillance demo and snapshot images that a 5mp security camera captures video clearer than a 1080p camera. This was obviously expected. However, the difference is not as big as I expected. Considering that a 5 megapixel camera is 2.5 times the resolution of a 1080p camera, I was expecting the difference to be more drastic. When you are designing a video surveillance system for a project, you must consider additional factors such as the additional disk storage that is required for 5mp video recording vs 1080p. Yes, hard drives are much cheaper nowadays but it is still a cost and a trade-off.
At the time of this writing (October of 2019), CCTV Camera Pros is still selling many more 1080p (2 megapixel cameras) than we are 5 megapixel. 5 megapixel is gaining more momentum but 1080p is still the most popular right now as it seems to be a good balance of video quality and economical storage cost.
Another consideration is that 5 megapixel resolution is not 16:9 aspect ratio, it is 5:4 aspect ratio. On a typical HD TV or monitor, the video image will be stretched to fill the screen. This is because most monitors and TVs are 16:9 aspect ratio.
You will notice this in the above side by side comparison that is zoomed in on my face. My face is wider and more round in the 5mp image because the image is stretched. The more oval thin headshot captured by the 2mp camera is a more accurate representation of the real me.
Last, the hybrid 5mp security cameras that we supply also work in 4mp resolution which is 16:9 aspect ratio. And, iDVR-PRO surveillance DVRs also support 4mp resolution cameras. So, for customers that want to go higher than 1080p resolution but do not like the way 5 megapixel resolution is stretched, 4 megapixel may be a good compromise. I plan on comparing 1080p vs 4mp in another post.
For now, we will continue to educate customers on the difference between resolution quality so that they can make an informed decision. I suspect that 1080p HD security cameras will be used in video surveillance systems for a long time.
If you have any questions about this article or anything else related to security camera systems, please email me here.
---
Related Pages