Key Components of a Commercial Grade Security Camera System
The team at CCTV Camera Pros has designed commercial grade security camera systems for thousands of business customers. But, wait a minute. What does the term commercial grade actually mean when it comes to video surveillance equipment? It seems that some suppliers use this term rather loosely and unfortunately there is no industry standard that defines exactly what it means. You may also be interested in this article: What is the best security camera system?
Here are some components to consider when planning a security camera system for a business and what a "commercial grade product" means to the team at CCTV Camera Pros.
Please note that this article will focus on using coax security cameras for commercial installations. IP cameras will be covered in a separate article.
Surveillance System DVRs
DVRs (digital video recorders) are the brain of video surveillance systems. All of a system's security cameras transmit their video back to a DVR to be recorded centrally on the DVR's hard drive. The DVR's operating system (firmware) is where the recording schedule of the system is configured along with any other business rules for alarm sensors, email alerts, mobile push notifications, etc. It is important for a commercial grade DVR to be stable / reliable, easy to use, and include a high level of support from the supplier that you are purchasing from.

Commercial Grade Stability & Reliability
We have commercial customers that have early generation iDVR-PRO DVRs that have been working at their business locations for more than 10 years. They are extremely reliable and stable. Our iDVR-PRO manufacturing partner has a talented staff of software engineers that maintain and improve the DVR's firmware. When these DVRs lose power, they reliably reboot themselves when power is restored, run system checks, and resume the recording schedule that the customer has saved.
Easy to Use
Another reason that iDVR-PRO surveillance DVRs are best sellers for commercial installations is that they are so easy to use. Business owners do not need another complicated technology to learn. Functions such as setting up the recording schedule and reviewing recorded video footage, and exporting events from the hard drive must be simple to do.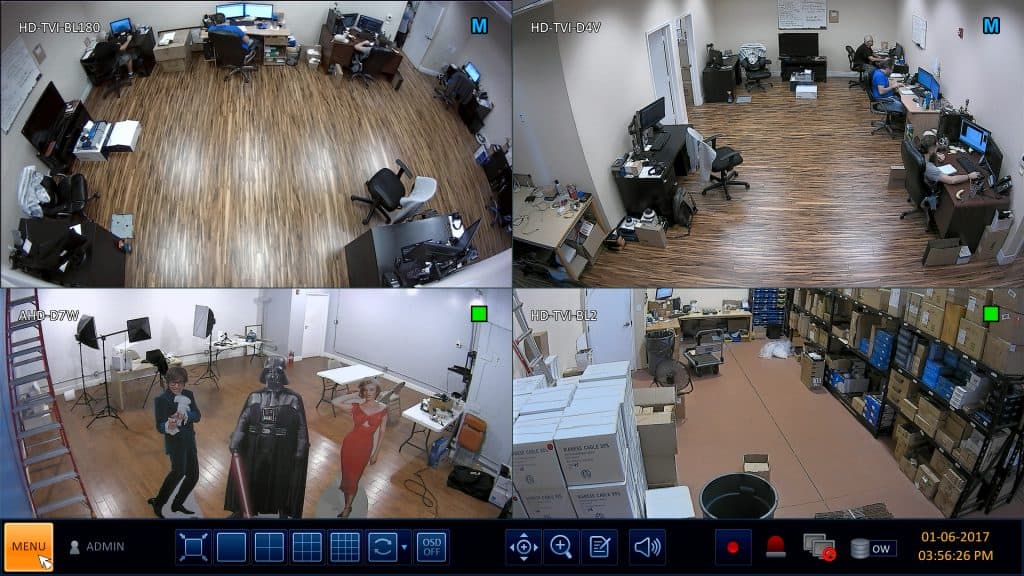 Watch this video to see a demo of the iDVR-PRO user interface. Notice how easy it is to navigate the DVR's user interface using the included USB mouse. Users can locate a recorded video event and play it back very easily.
---
Security Cameras

Commercial grade security cameras are made from higher end materials than cheaper residential systems typically found in box stores such as Costco and Best Buy. These IP68 rated security cameras definitely fit into the category of being high end commercial grade cameras.  The IP68 weatherproof rating is basically the highest ratings that is achievable before you get into explosion proof cameras. IP68 cameras are recommended in areas where weather is very rainy and humid, coastal areas, and areas prone to vandalism. IP68 cameras are even great for use on yacht and boat camera systems.
Some IP68 rated dome cameras are also vandal-proof cameras because of the rugged material they are made with.
Please note that not all commercial installations require IP68 rated cameras, especially if they are being installed indoors. There are also a lot of very high quality outdoor cameras available for commercial installations that are IP66 rated.
Excellent Infrared Night Vision
If you require that your cameras record video surveillance in low light and zero light conditions, be sure to confirm that camera's IR night vision capability meets your needs. The performance of night vision relies on the camera's infrared LEDs, which switch on when light levels go below a sufficient level for normal light surveillance. I also recommend that you look for a camera that uses "smart IR" technology. Smart IR automatically adjusts the intensity of the infrared illumination when people move close to the camera. This avoids overexposure which can "white objects out".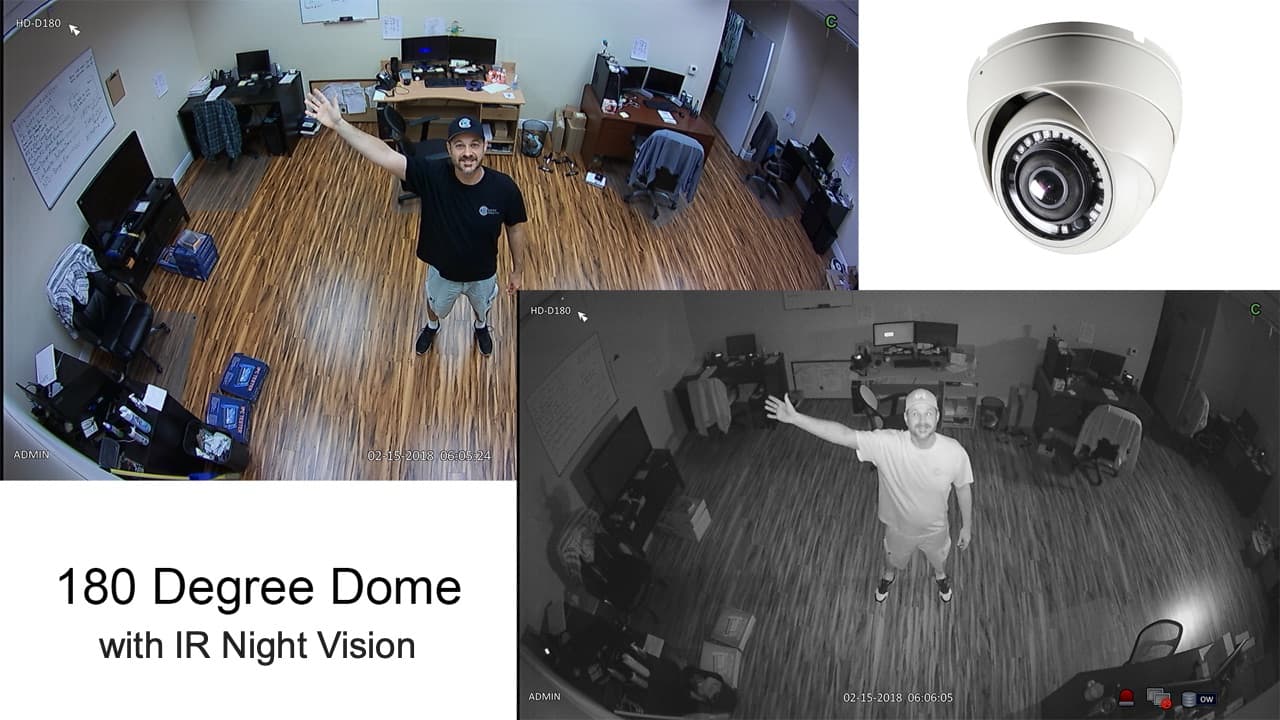 The HD-D180 is a 180 dome degree security camera with smart IR night vision. Please watch this video surveillance footage to see how the smart IR works. This is one of our best selling cameras for business.
Watch Video Demos
A great way to rate the quality of a CCTV camera is by  reviewing the video quality of footage captured with camera. Don't make the mistake of judging a surveillance camera's quality based on some text printed on the product specification. I test hundreds of cameras and in some cases I like the quality of 2 megapixel cameras better than 4 or 5 megapixel. For example, in my experience the infrared night vision quality of 2mp / 1080p cameras tends to perform better than 4mp or 5mp cameras because it is less grainy. It is best to look at video demos that were recorded using the exact camera and DVR that you are considering for your business.
CCTV Camera Pros makes demo video available for almost all of the cameras that we supply. I personally review all of our cameras and make all of the demo videos.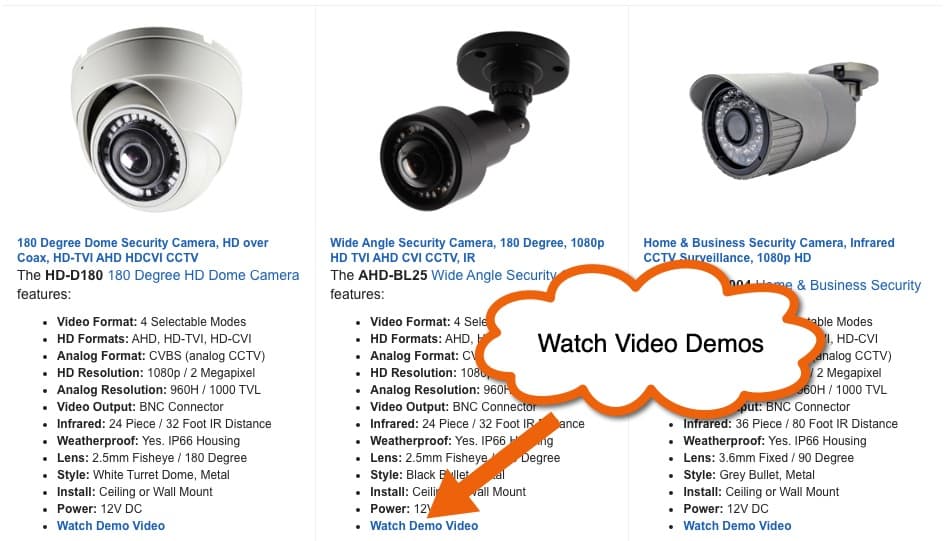 For example, take a look at this HD security cameras page. You will notice that all of the cameras have a link to watch a video demo.
---
Remote Viewing Apps & Software
Most business owners want to check in on their business when they are away. A commercial surveillance system MUST include remote camera viewing apps that are reliable and easy to use. Besides being able to see a live video feed of cameras, mobile apps should also support recorded video search and playback. Just like the software of DVRs, not all remote viewing apps are created equal. The quality of software development varies greatly from manufacturer to manufacturer. As a software developer by trade, I am extremely particular when it comes to the quality and usability of security camera apps.
When Greg (my business partner) and I were looking for a manufacturing partner to develop our iDVR-PRO DVRs, it was a top priority to find one that not only made the best remote viewing apps, but also had the software development staff to properly maintain them.  Here are some video demos of commercial quality mobile apps and remote camera viewing software for Mac and Windows.
iPhone App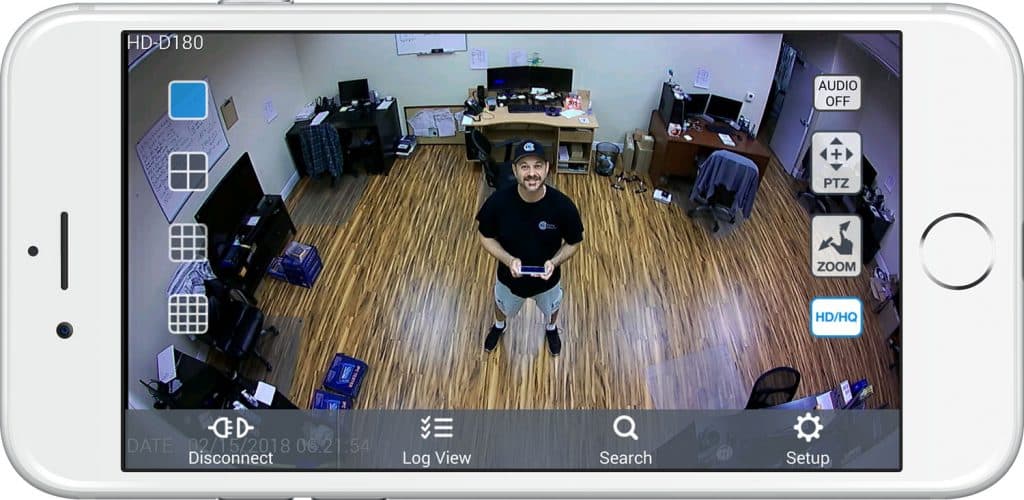 Watch this iPhone app demo to see the live security camera view and recorded video playback capability of the iDVR-PRO viewer app.
Android App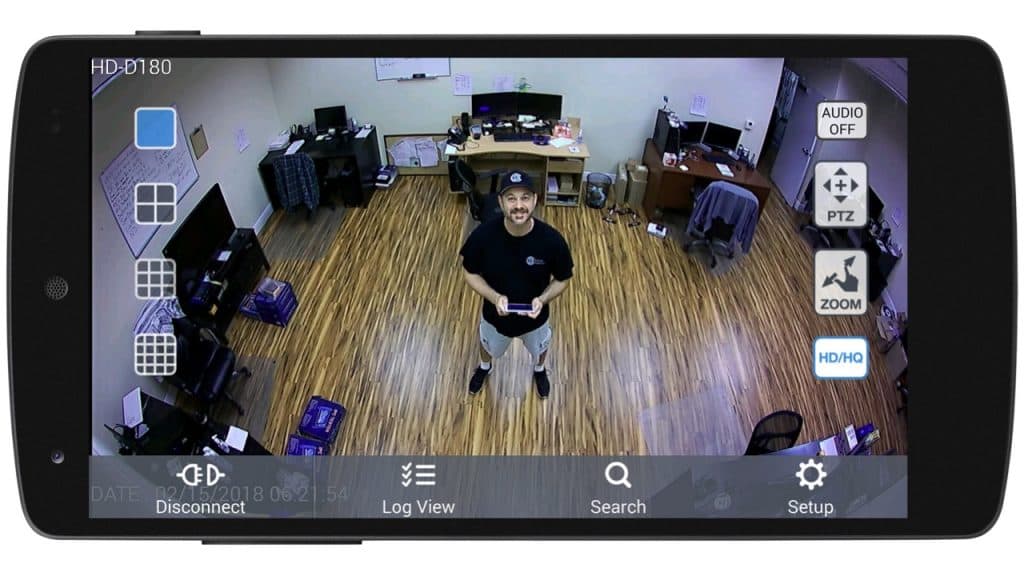 Mac Software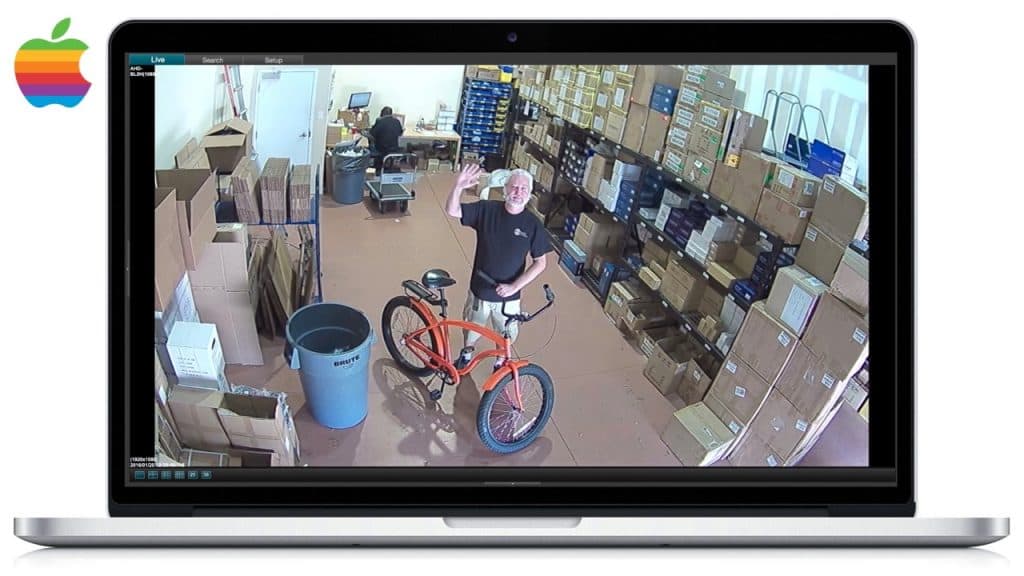 Here is a video demo of the Mac security camera software included with iDVR-PRO DVRs.
Windows Software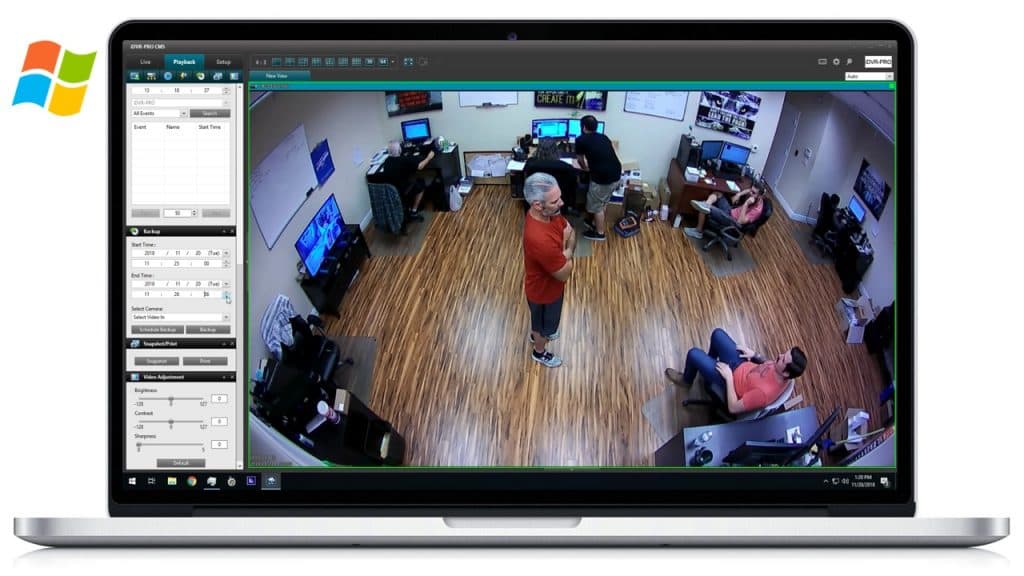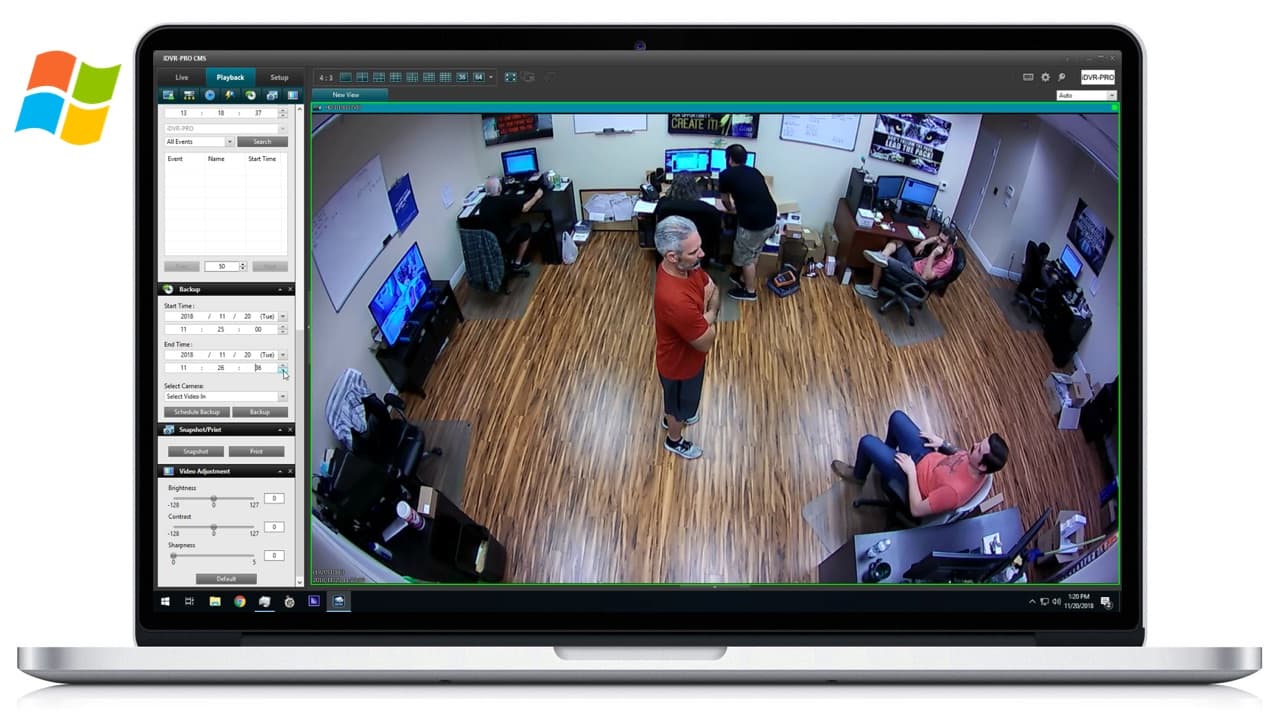 Watch this Windows CMS software video demo to see the live security camera view from a Windows PC.
---
Commercial Grade Camera Cable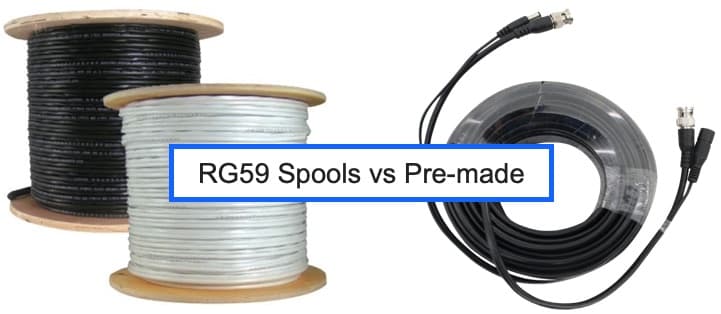 Most commercial installations use RG59 Siamese coax cable for BNC security cameras (analog or HD). It is the industry standard, however, not all RG59 cable is created equal. I wrote a complete article on the best coax cable for CCTV installation here. Using spools of RG59 cable requires you to cut the cable to length and install the BNC connectors on the ends of the cable. You can find my complete RG59 cable wiring guide for CCTV here.
What about pre-made security camera cable with BNC connectors already attached? These are not as common in commercial installations for a few reasons. First, most pre-made Siamese cable that is on the market is not true RG59 cable, so it does not perform as well. Cheap cable that was included in many of the older analog systems that were sold in box stores is not compatible with HD-over-Coax cameras. Second, pre-made cables can not be trimmed to length, so you are typically left with extra cable to ball up and tuck someplace. It is not as neat of an application as cutting the cable to the exact length that you require.
In some cases, such as small commercial locations with drop ceilings, pre-made cables are a convenient and affordable solution. If you plan on using pre-made cable, I highly recommend that you check to make sure that it is rated for HD cameras. Here are some pre-made cables that are HD compatible.
---
Power Supply Box vs Individual Power Transformers
Most commercial security camera installations use multi-camera power supply boxes instead of individual power transformers and a power strip. Power supply boxes come in 4ch, 9ch, 18ch models.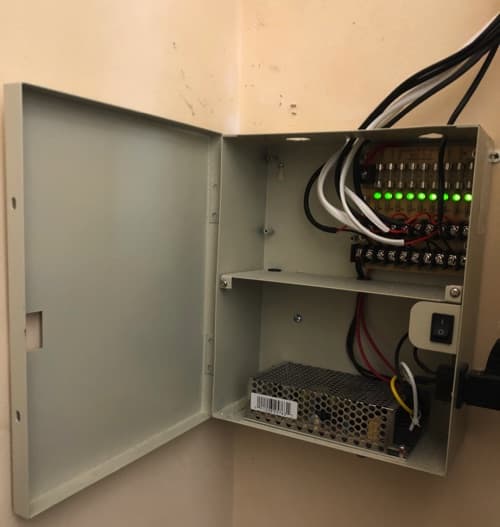 If you are using RG59 Siamese cable for your installation, the raw ends of the 18/2 power cable neatly connects to the screw terminals inside the power supply box. You can see this in the above picture. This is one of the power supply boxes in the data room at CCTV Camera Pros office in West Palm Beach, Florida.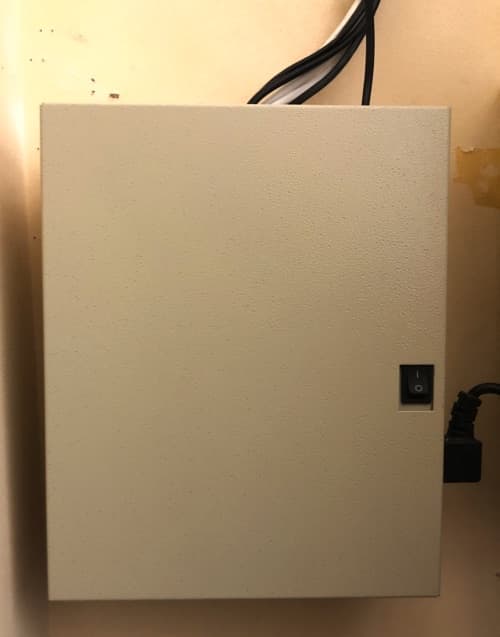 This is what the power supply box looks like with the door closed. In addition to keeping your power source neat, most power supply boxes also provide provide individually fused surge protection for each camera.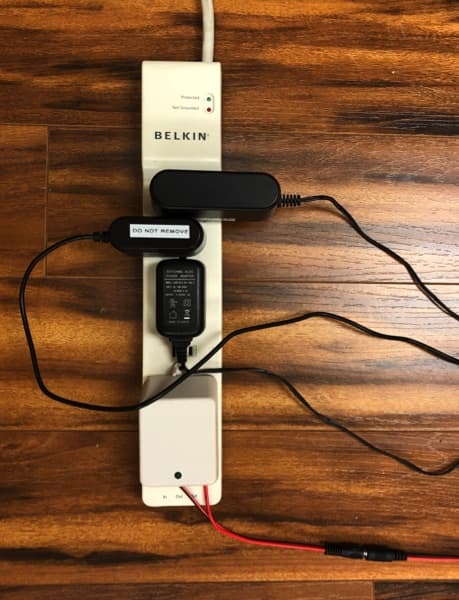 The alternative is to use the individual power transformers that are typically included with residential camera systems. If your system will use more than a few cameras, this solution can quickly get messy and you will most likely need multiple power strips.
---
12V DC vs 24VAC Power

If your commercial property is large and you need to run your camera cable long distances. 24VAC powered cameras will be a better choice for your application. 24VAC can travel much farther without power drop when compared to 12V DC. These dual voltage security cameras can be powered by 24VAC or 12V DC. You can learn more about 12V DC vs 24VAC security cameras here. I also created this online voltage drop calculator to help installers plan what gauge cable they need to run for power.
---
Service and Tech Support

Business owners need peace of mind. Never underestimate how important customer service and technical support is when choosing a supplier. At some point, you will most likely need some type of help with at least one component of your surveillance system. Even the highest quality product is useless if support is not available when you need it.
Providing professional customer service and knowledgeable technical support are areas that I see most security system suppliers fall short. It is lucky for us because this is where CCTV Camera Pros shines the brightest. I highly encourage you to check out company reviews to get a feel for the level of service a company provides. Looking up a company on the Better Business Bureau website is another good place to check when shopping for a supplier.
---
Related Products and Articles
Here are some additional products and articles you may be interested in.