4 Channel CCTV Multiplexer [HD Video Demo]
The VM-HD4 is a 4 channel CCTV multiplexer that works with analog CVBS, AHD, and HD-TVI type security cameras. Watch this HD video demo to see how well the VM-HD4 displays live video feeds from four 1080p security cameras.
4ch video multiplexers, like the VM-HD4, are sometimes referred to as a color quad processor or a CCTV camera quad. They enable video signals from up to 4 cameras to be combined into a single live display on a TV or monitor. Using the wireless remote control, users can select various display layouts including single camera full screen, dual screen, quad screen, and picture in picture.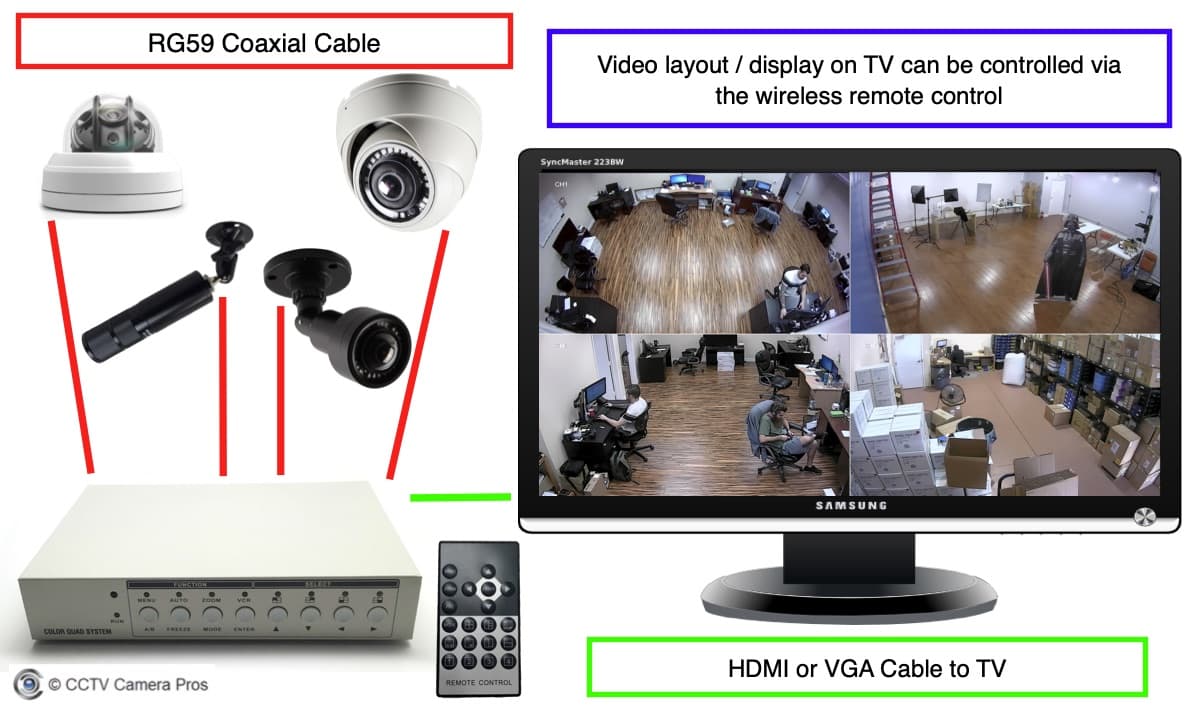 RG59 Siamese coax cable is used to wire the 4 HD security cameras to the back of the 4ch multiplexer.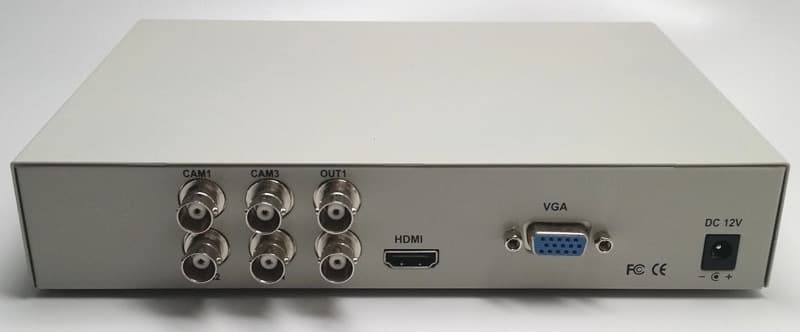 Four BNC video inputs are located on the back of the VM-HD4. These are the same type of BNC inputs that have been used with CCTV security camera systems for more than 20 years. RG59 coax cable and BNC connectors are now also used to install HD-over-coax cameras (720p, 1080p, 4mp, 5mp, and even 4K).  One of the great things about the VM-HD4 is that it supports legacy analog CCTV cameras (NTSC and PAL formats), 1080p AHD cameras, and 1080p HD-TVI cameras on the same device. This makes it compatible with BNC security cameras from just about every manufacturer.
---
Hybrid HD CCTV Multiplexer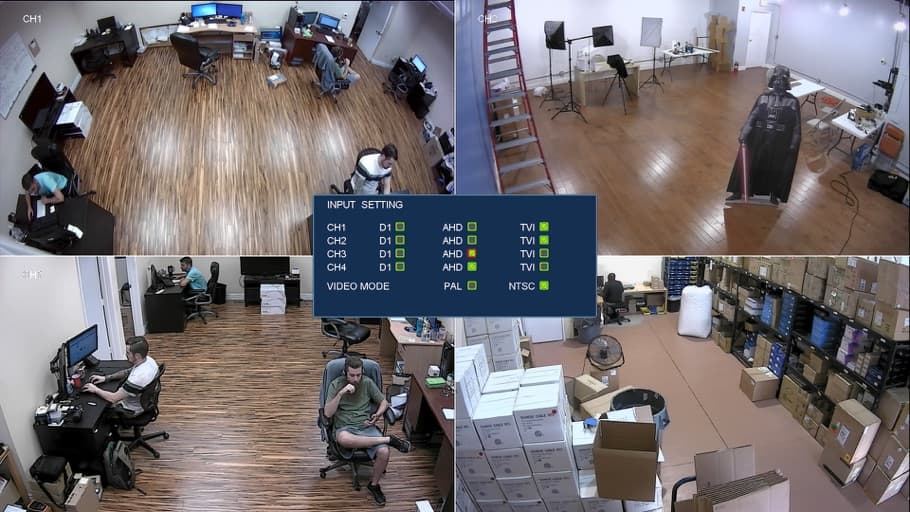 Users can select D1 (analog CCTV), AHD, and HD-TVI video format for each channel from the menu system of the multiplexer. You can see this in the above screenshot. Some refer to the ability of a surveillance DVR or multiplexer to support multiple video formats as "hybrid".
In the above video demo, 2 AHD cameras and 2 HD-TVI cameras are used. All 4 cameras are 1080p resolution.
The VM-HD4 has 4 video outputs – 2 BNC (analog / CVBS), 1 HDMI and 1 VGA. The HDMI and VGA can be used at the same time for dual HD monitor output. The BNC video outputs support analog signals (not high definition) and can be used with BNC CCTV monitors. The HDMI and VGA outputs support 1080p, 72op, 1024 x 786, 1280 x 1024, and 1440 x 900 resolutions and can be used with just about any computer monitor or HD TV.
---
4ch CCTV Multiplexer Applications
CCTV Camera Pros has supplied CCTV multiplexers to thousands of installers, businesses, and home owners for use with various types of multi-camera live display systems. Here are a few very popular uses.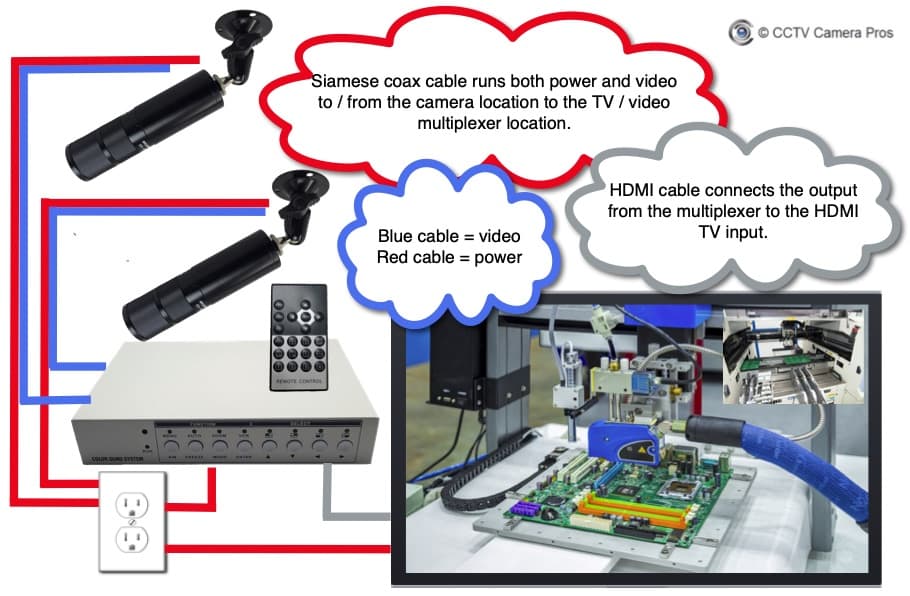 I helped a customer a while back that wanted to use a few outdoor cameras for a live display for his disabled mother who could no longer go upstairs to the balcony in their house. Their balcony overlooked a mountain range that the mother loved to look at. The son installed two cameras, a multiplexer, and a live display monitor for his mother to view downstairs. She was very happy.
---
HDMI over CAT6
Many of our customers who use video multiplexers in live video display systems position their TV monitor far away from the cameras and multiplexer itself. This HDMI over CAT6 transmitter system is a great alternative to trying to run HDMI cable long distances.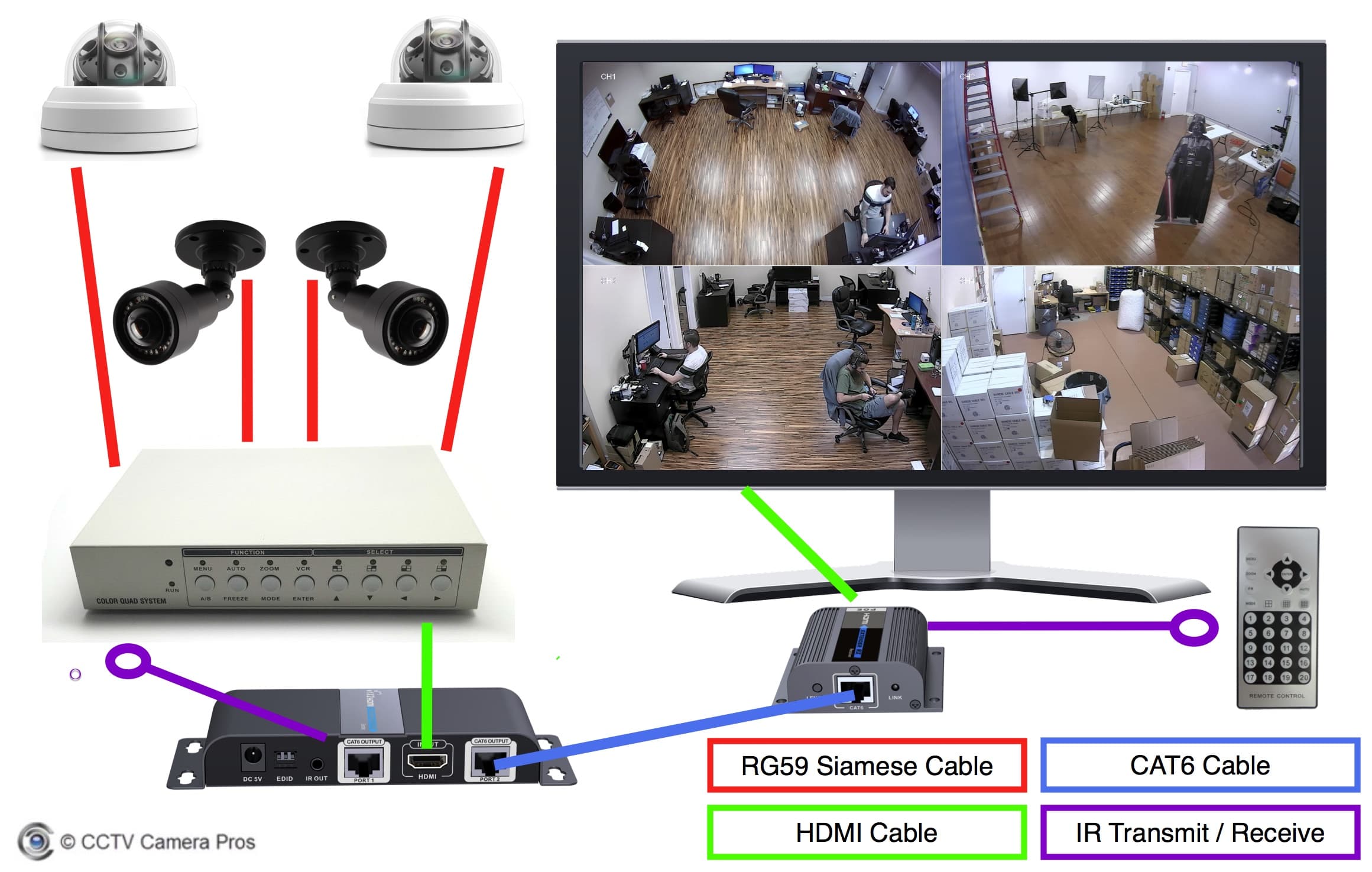 This is how it works.
The HDMI output of the 4ch multiplexer connects to the HDMI input of the HDMI over CAT6 transmitter.
An infrared transmitter is included with the system. It is connected to the HDMI over CAT6 transmitter so that the user can control the multiplexer using the wireless remote near the TV.
CAT6 cable connects the HDMI transmitter to the HDMI receiver.
The HDMI output of the receiver connects to one of the HDMI inputs on the TV.
The infrared receiver is connected to the HDMI receiver. The IR receiver can be attached to the bottom of the TV using double-sided tape.
The HDMI video signal and the wireless remote controls are transmitted over the CAT6 cable.
---
Questions?
If you have any questions about this article or anything related to video surveillance systems, please contact me via email here.