Wireless Security Camera System for Barn
Looking for information on wireless barn camera systems? A customer recently contacted us here at CCTV Camera Pros to inquire about updating the wireless security camera system for her barn. Her existing system was an antiquated analog CCTV camera with an old wireless transmission system.  The cameras were still functional but the wireless equipment had failed permanently and could not be repaired.  Several of the goats in the barn were going to be kidding soon and she wanted to be able to monitor them from the house as well as from the office where she worked during the day.  This is also a great solution for foaling cameras and calving cameras.  She also wanted to record the video in case she wanted to review any footage that she did not watch live.  She had four cameras mounted in the barn monitor the stalls.  I informed her that we had an affordable solution that would allow us to salvage the existing cameras and coaxial cable in the barn to minimize both the equipment and labor involved.
Here is what I recommended:
A Geovision GV-VS2401 Video Server / Encoder ($429.99).  This product allows users to convert up to 4 analog CCTV cameras to IP (Internet Protocol).  This, in turn, allows us to deploy a modern, IP based long range wireless bridge system at a very low price point.
A WIFI-EH9500 Wireless Bridge System ($359.99).  This product allows us to connect the Ethernet output from the GV-VS2401 Video Server to the wireless transmitter and connect the wireless receiver to the NVR.
A Geovision GV-SNVR0412 NVR ($449.99).  This network video recorder allow users to record all four video feeds from GV-VS2401 video server or up to four separate IP cameras.
---
Wireless Barn Camera System Installation
Below is a basic diagram of how this equipment is installed and connected.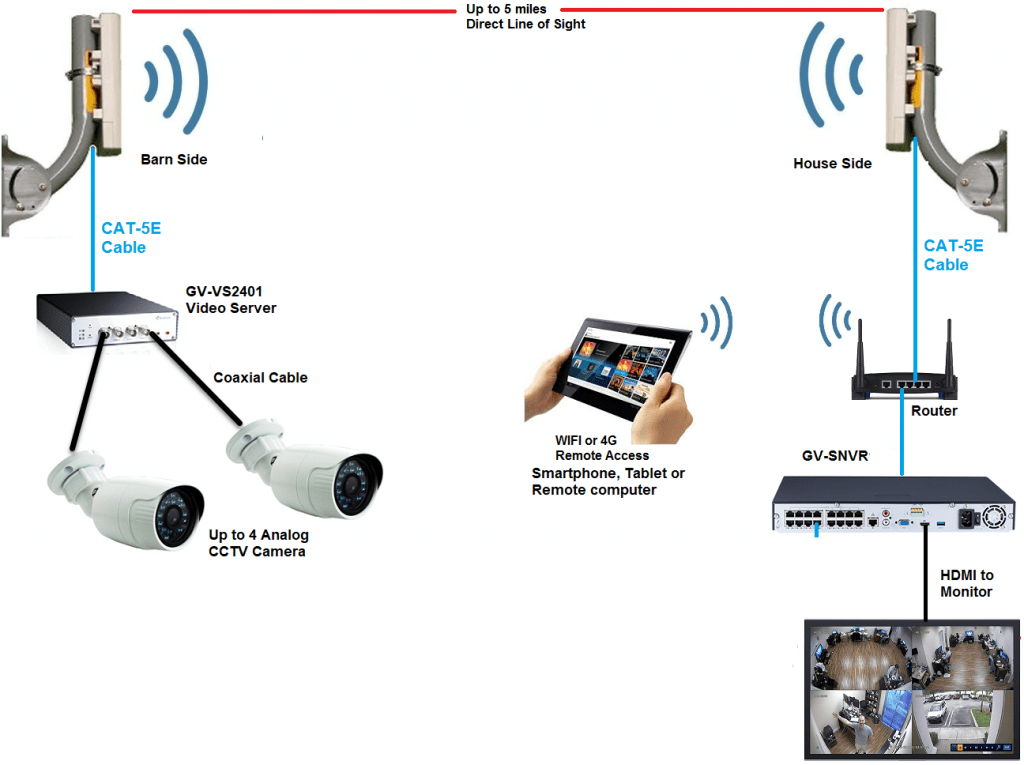 Please keep in mind that the Video Server / Encoder is only required if analog CCTV cameras are being used.  You can also connect an IP camera directly to a wireless transmitter or multiple IP cameras by using a multi-port PoE switch.
Below are some screenshots of the wireless barn cameras from the remote web browser interface of the Geovision VS2401 video server.  You can select a large single camera view or view all 4 cameras simultaneously.
Single Camera View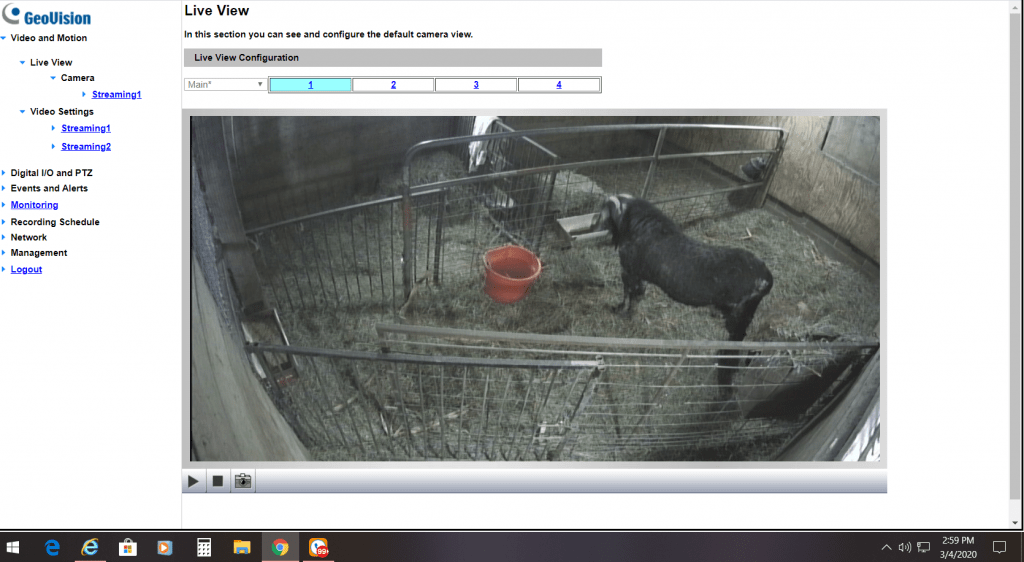 4 Camera View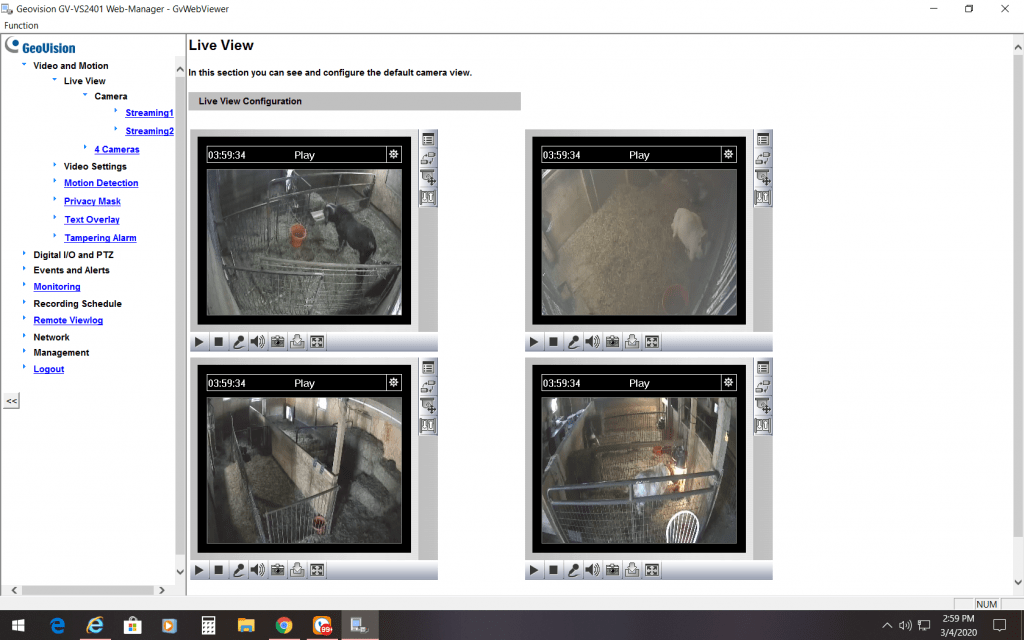 Below are more images of the property and equipment.
Here is an image of the wireless transmitter mounted to the exterior barn wall with our heavy duty WIFI-B-107 J-pipe mounting bracket.  Note the Ethernet cable passing through the barn wall connecting to the GV-VS2400 video server.  The RJ-45 port on the radio is fully gasketed and protected from the elements.
Wireless Transmitter on Barn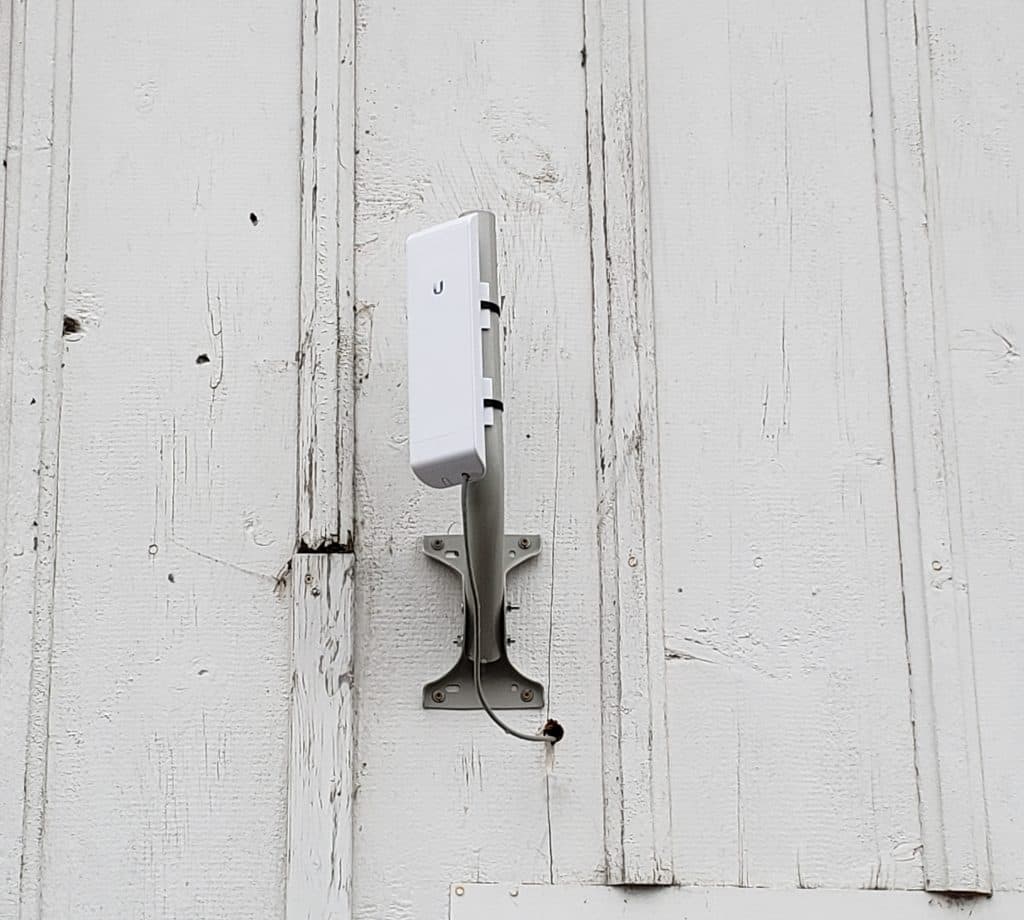 Here is an image of the wireless receiver installed on an interior window of the house where the router and network video recorder are located. Although this wireless system is being used for a short distance for this application, it can actually work up to several miles line of sight.
---
Wireless Receiver mounted on Interior Window
*  Window mount with suction cup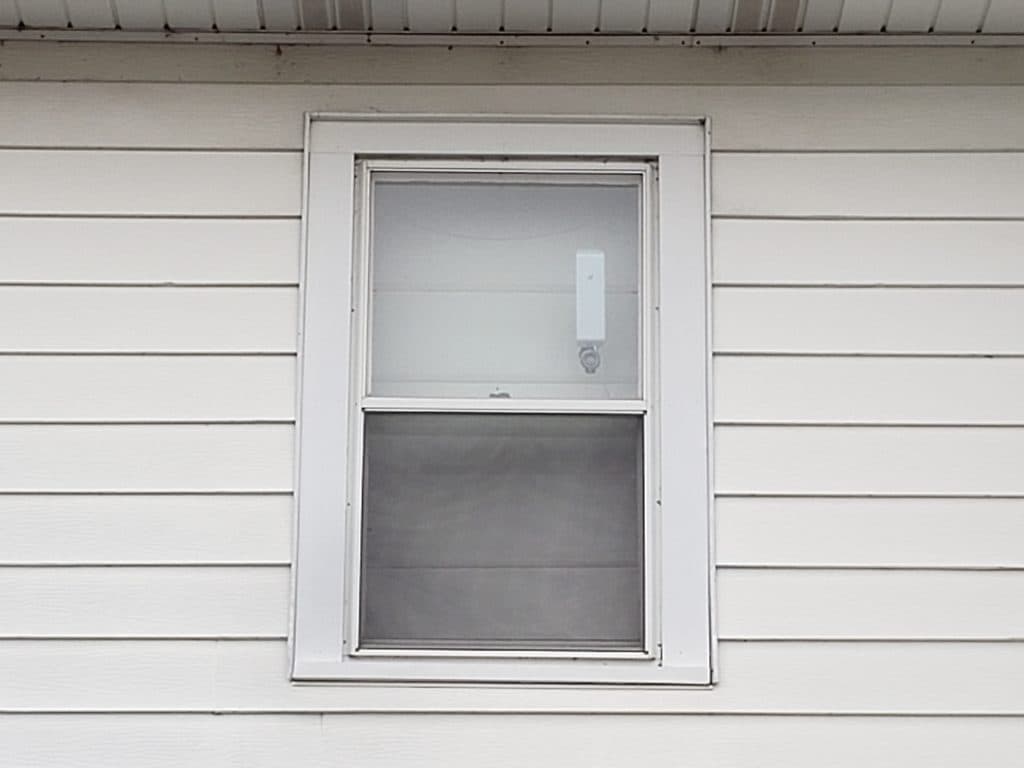 ---
Barn Camera
Below is an image of one of the barn bullet cameras aimed toward an animal pen.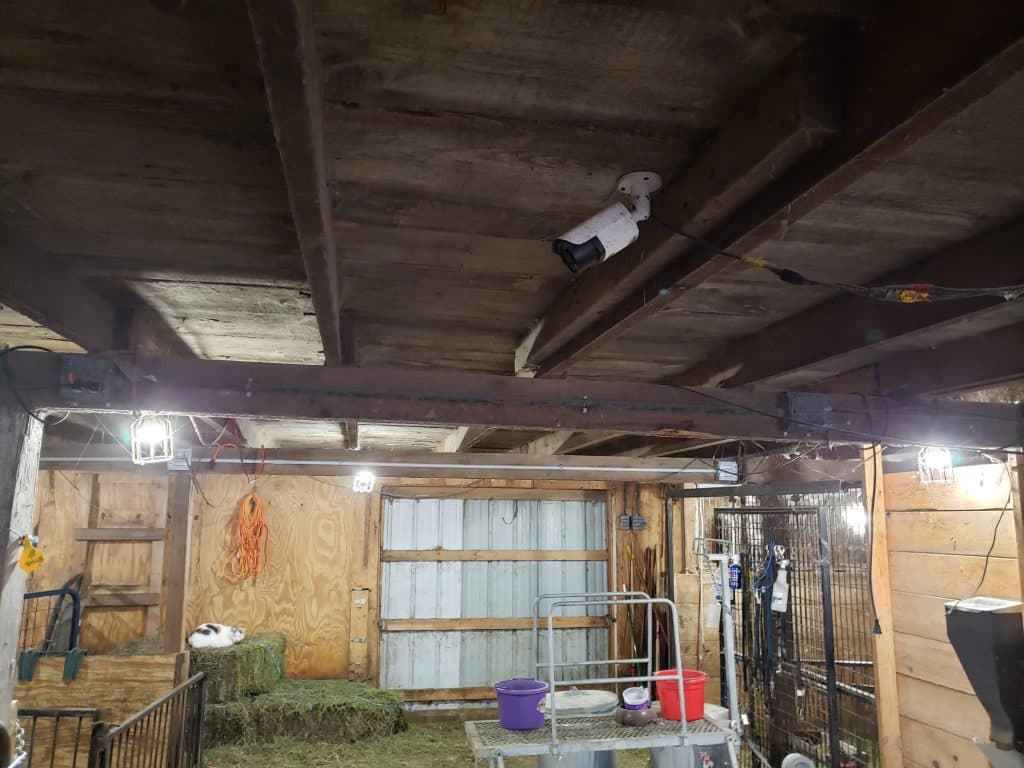 ---
Local monitor connected to NVR
Below is an image of the live view of the monitor connected directly to the NVR's (network video recorder) HDMI output for local display in the residence.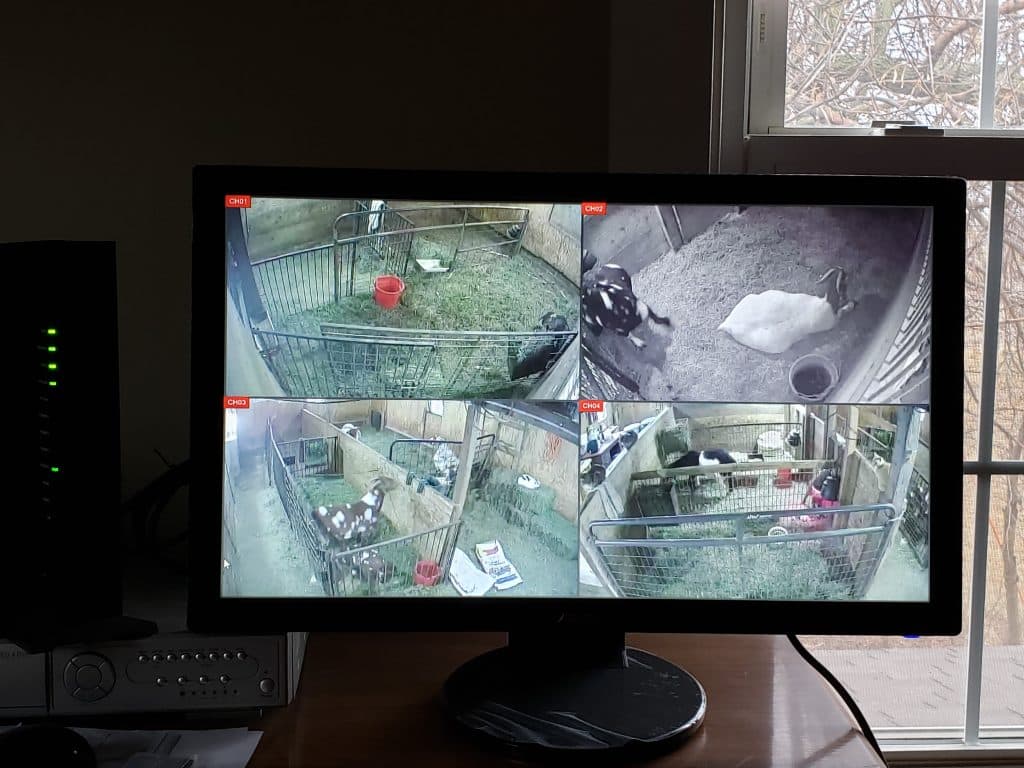 This is the monitor that is connected to the DVR. It is used to view the cameras on-site at the barn. You can see that the cameras provide a nice wide angle of view.
---
Remote Camera Viewing
For additional peace of mind, barn owners can also watch their cameras remotely via desktop and mobile apps. Most barn owners want to be able to check in on their barn when they are away via desktop PC or cell phone. Remote access via iPhone and Android mobile apps are available. Desktop software for Mac and Windows is also available. Remote camera viewing requires a high speed Internet connection be available at the farm. The DVR and /or security cameras are connected to the Internet.
---
Related Wireless Camera System Applications
Here are some additional types of systems that I have helped design for customers.
Detached garage camera system
P2P (point to point) wireless camera system
Wireless barn cameras
Foaling cameras
Calving cameras
Kidding cameras
Wireless driveway camera
---
Need Help? / Questions
If you have any questions about this article or anything related to video surveillance systems, please email me at chris@cctvcamerapros.net.