Multi-Camera Live Streaming Video Demo
Watch this video archive of a multi-camera live streaming event that was broadcast from CCTV Camera Pros using an HDMI to USB capture box.  This was live streamed on YouTube from our office / warehouse in West Palm Beach, Florida. The primary purpose of this YouTube livestream was to demonstrate how to use our new HDMI to USB converter (model HDMI-U3) to capture video for a live broadcast. The second goal was to show how to stream with multiple security cameras.
Please note that although we used YouTube's streaming platform for this demo, the equipment that we used also works with Facebook, Twitch, Zoom, and just about every other major video streaming platform.
Multi-Camera Live Streaming Setup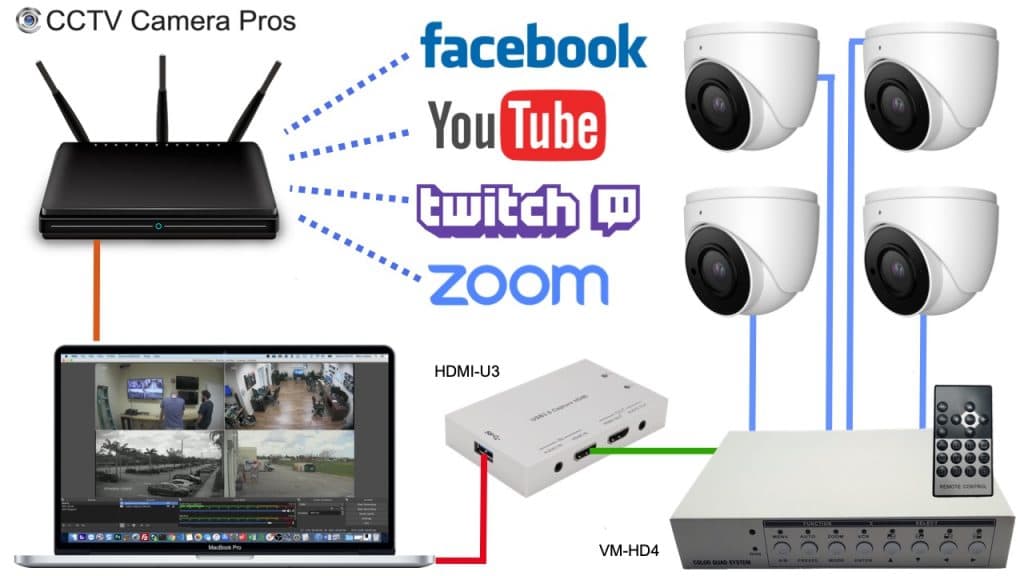 In addition, the video stream also demonstrates how-to use the HDMI to USB capture box in conjunction with a 4ch HD CCTV multiplexer to enable the multi-camera screen display. The above image illustrates the equipment setup that was used for the original YouTube livestream.
This is how it works.
Four HD security cameras were installed at CCTV Camera Pros to show multiple camera angles around our office and warehouse. These cameras are hard wired to a VM-HD4 quad video multiplexer using RG59 coax cable (blue lines). Some people refer to these multiplexers as video switchers because you can also switch between the multi-camera and single camera views. This model also supports picture-in-picture display. Users can easily switch between display layouts using the wireless remote control. The wireless remote helps to make it easy for one person to control the video broadcast and switch the camera views during the livestream.
The HDMI output on the multiplexer connects to the HDMI input on the HDMI-U3 capture / converter box (green line).
The USB port on the HDMI-U3 connects to a USB port on the laptop computer (red line).
The laptop is running Open Broadcaster Software (OBS). The OBS software was configured to stream to CCTV Camera Pros YouTube channel.
The laptop was hard wired to a router (orange line).
There is an Internet connection also connected to the router (not pictured). Please note that in order to stream live video, you need a high speed Internet connection. And, a hard-wired connection works much better than WIFI.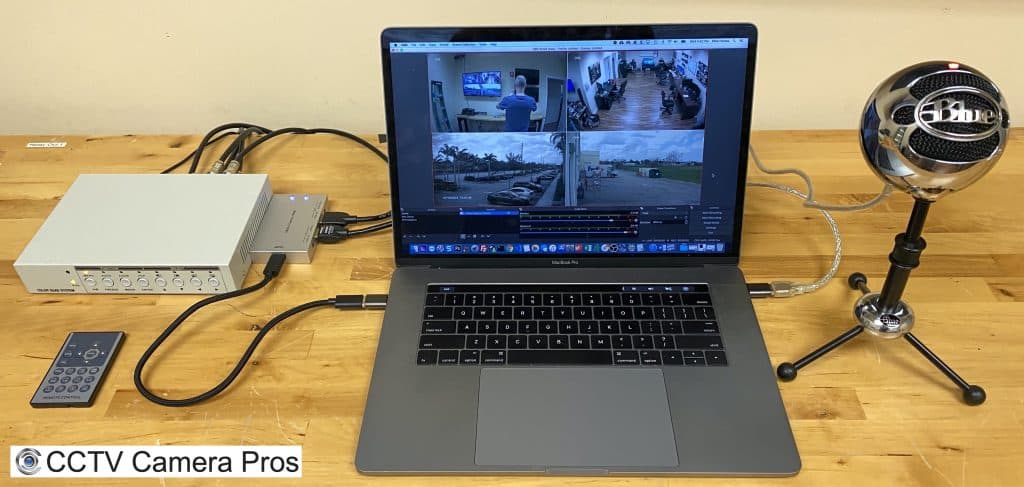 Here is a picture of the system. Please note that I also had a USB microphone connected to my laptop to capture my voice while streaming live.
Simple Add-On for Existing Live Camera Display Systems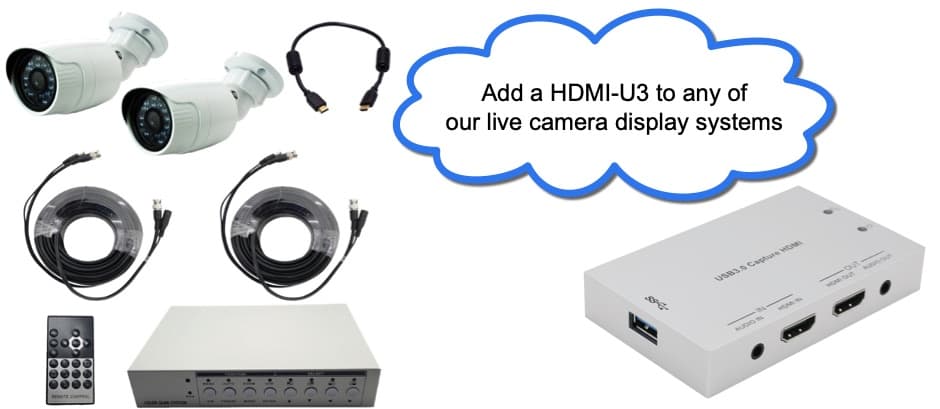 CCTV Camera Pros has been supplying these live security camera display systems and HD CCTV multiplexers for many years. We supply these display systems to customers that do not need to record video surveillance footage from their cameras. They just want to provide a live video display for their customers to see. Our HDMI-U3 is a simple add-on to turn any of these systems into a live streaming system. And because there is also an HDMI output on the HDMI-U3, their display system can still also be used for local live display on a TV monitor.
Helping Companies and Organizations Live Stream
I have been experimenting with online live video streaming, embedding video streams into web pages, and setting up multi-camera systems using CCTV security cameras for more that a decade. With the arrival of the Covid-19 virus in 2020, we have witnessed exponential growth in streaming services like Zoom (a fairly new company that has exploded with growth). Businesses and organizations are finding out that live video streaming is a way for them to stay engaged with their customers and patrons during a time of social distancing.
CCTV Camera Pros is very happy to be able to help businesses and organizations by designing affordable systems for them. We have helped design live video display and streaming systems for dance studios, churches, funeral homes, college sports teams, music studios, karate dojos, gymnastics gyms, curling clubs, tennis clubs, product manufacturers, and many other types or organizations. If you have any questions, please email me here. Thank you for checking out the video and article!