iCamViewer App Supports Viewing 16 IP Cameras or 16 Surveillance DVRs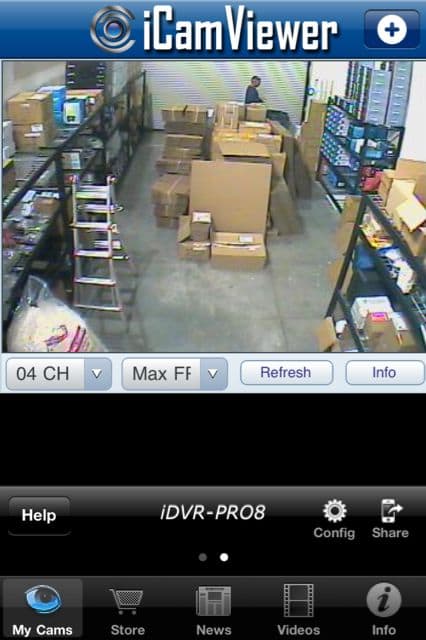 CCTV Camera Pros today launched a new version of the iCamViewer iPhone app for viewing CCTV cameras and IP cameras. The new version our IP cam viewer app supports viewing 16 IP cameras or 16 iDVR surveillance DVRs. Users can also mix IP cameras and multiple iDVR-PRO DVRs. The previous version of the app only supported remote viewing of 8 devices. Another improvement is that the previsou version used up all 8 supported devices if the user want to view one 8 channel iDVR-PRO8 DVR. The new app version only uses one channel per DVR and the user can switch to different cameras in the single DVR view. This means that users can configure up to 16 iDVR-PRO8 or iDVRPRO16 model CCTV DVRs in the app (up to 256 cameras when using 16 iDVR-PRO16 models).
iDVR-PRO iPhone App Setup
To setup the an iDVR-PRO8 or iDVR-PRO16 CCTV DVR to be accessible from the iCamViewer, users can follow these instructions.
Connect the iDVR-PRO to your network router and switch
Configure port forwarding on your router so that your DVR can be accessed from outside of your local network. If you need help with this step, please refer to this page for port forwarding instructions.
Please note that the default port for the iDVR-PRO is 8080
It is recommend that you test the Internet access from the safari web browser in your iPhone to confirm that port forwarding and the connection is working properly before configuring the iCamViewer app.
After you confirm that the connectivity is setup correctly through Safari, download the iCamViewer app from iTunes.
Open the app on your iPhone, iPod touch, or iPad device and click on the Config button in the My Cams section of the app.
Fill in all of the configuration fields:
Name: This is any name you want for your camera.
Host or IP: This is the public (not LAN) IP address where your iDVR-PRO is located. If you are using a DynDNS service, you can enter the hostname here.
Port: 8080 is the default port
Username: ADMIN is the defaul username
Password: 1234 is the default password
Manufacturer: Choose CCTV Camera Pros
Models: Choose iDVR-PRO8 or iDVR-PRO16
Tap the check box in the upper right
Your camera should come into view
iCamViewer App Setup Screen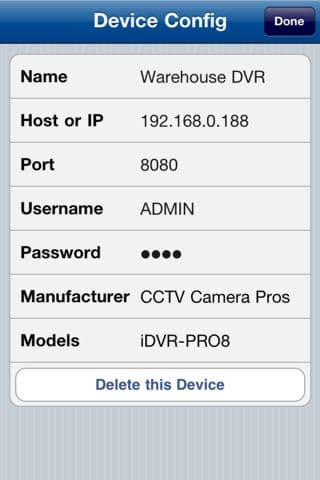 Click image for larger view
iCamViewer Viewing iDVR-PRO Surveillance DVR Screenshots
The below screenshots show the iCamViewer app being used to access an iDVR-PRO8. 4 CCTV cameras are connected to this particular DVR. The user is able to click the DVR Channel select wheel to switch to the 4 different cameras connected to this DVR. The user can swip his finger across the screen to access other DVRs or IP cameras if additional devices are configured.
Please click on any of the below images to access a larger image view.
CCTV Camera Pros would like to thanks our partners at AppBurst for the awesome mobile application development services that they have provided in co-developing the iCamViewer with us. In addition to developing great mobile applications for surveillance, they also have one of the best development platforms to develop iPhone and iPad apps for events and conferences.
About CCTV Camera Pros
CCTV Camera Pros is a supplier of security cameras and video surveillance systems for home, business and government use. We are a veteran owned business founded by a United States Marine and are located in Palm Beach, Florida. CCTV Camera Pros can assist in the design of surveillance systems for any size application. Please visit CCTV Camera Pros website to learn more about us and the products we supply: www.cctvcamerapros.com.