Portable CCTV Test Monitor with Camera Power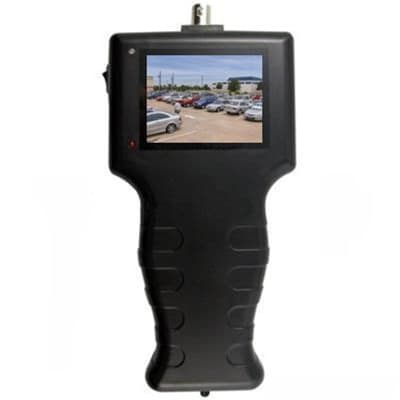 CCTV Camera Pros of Palm Beach Florida, announced the availability of the new MON-LCD25P portable CCTV test monitor with camera power. The LCD25P test monitor is a unique to other service monitors because it supplies power to the CCTV camera that it is being tested. The 2.5" LCD monitor provides a crystal clear image which allows installers to check the angle of view and focus of security cameras. Being that the LCD25P can supply power to a camera, installers can temporarily mount a camera or just hold it in position to confirm that the camera is supplying the right angle of view without going through the time and expense of running permanent power cable.
Commenting on the MON-LCD25P, CCTV Camera Pros co-founder and managing partner Mike Haldas says: "Our customers have been asking for a hand-held CCTV test monitor that also provides power to a camera for a while and we are very excited that we now have a manufacturing partner producing the MON-LCD25P for us to our specification and quality assurance standards. There are several test monitors on the market but none at this affordable price point that use the battery of the tester to also power the security camera being tested. Our product development team continues to listen to the demands of our customers and deliver the product solutions that they ask us for. I am very proud of how CCTV Camera Pros continues to adapt to market demands."
The LCD25P comes complete with the following: 2.5" LCD hand-held test monitor, quick release neck strap, rechargeable battery with power supply, coaxial test cable with RCA and BNC connectors, camera power supply cable, and instruction manual. Click here for additional information about the MON-LCD25P portable CCTV test monitor.
About CCTV Camera Pros
CCTV Camera Pros is a supplier of security cameras and video surveillance systems for home, business and government use. We are a veteran owned business founded by a United States Marine and are located in Palm Beach, Florida. CCTV Camera Pros can assist in the design of surveillance systems for any size application. Please visit CCTV Camera Pros website to learn more about us and the products we supply: www.cctvcamerapros.com.