CCTV Camera Pros hosting Video Surveillance System booth at Boynton Beach Mall in Florida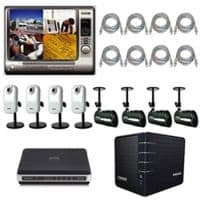 CCTV Camera Pros will be hosting a display booth at the Boynton Beach mall in Florida on Saturday, November 7th as part of the Boynton Beach Chamber of Commerce fall consumer expo. The product display booth will be open all day during regular mall hours from 10:00am to 9:00pm and will be located in the main intersection of the mall near the fountain area just west of the food court.
CCTV Camera Pros will have a live setup of the video surveillance system pictured on this page to demonstrate to businesses and homeowners the value of using a video surveillance system to watch and protect their business and personal property. We will also feature our newly developed iPhone application that can be used to view up to 8 security cameras live from your iPhone. The following equipment will be used for the event and demonstrations:
CCTV Camera Pros will demonstrate the following features:
Camera Setup & Installation
Live Video Setup & Display
Recording Schedule & Configuration
Motion Detection Event Configuration & Recording
Video Search & Playback
Remote Internet Viewing / Monitoring
Viewing Surveillance Cameras from your iPhone
Missing Object Detection
Email Alerts
Video Export to AVI or ASF file for Playback on any PC
Still Photo Snapshot Capture & Export
In addition to this, CCTV Camera Pros will have system engineers available to answer any questions related to installing a video surveillance system for home, business, and government use. If you are in the Palm Beach area of Florida on November 7th, please stop by our booth at the Boynton Beach mall to meet us and see some really neat surveillance equipment.
If you have any questions about this event or anything related to surveillance, CCTV Camera Pros can be reached at 888-849-2288 or by visiting CCTV Camera Pros.