GeoVision Desktop Mode – Windows Lockup
The GeoVision Desktop feature helps you to secure your PC while away from your workstation. You may lock up the Windows desktop while launching a customized GV-desktop. The GV-desktop is where operators are limited to run the GV-System and the selected programs.
Click Here to view the chapter of the PDF manual and navigate to page 15 of this document entitled "Windows Lockup".  Or refer to Chapter 11, page 291 – "Useful Utilities" in the printed GeoVision Manual for step by step set-up instructions to enable this feature.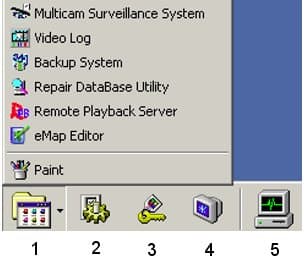 1. Programs
Click the Programs button to see the program menu. The default programs are Multicam Surveillance System (Main System), ViewLog, Backup System, Repair Database Utility, Remote Playback Server, and eMap Editor. You can add or remove new programs to the menu. For the example above, Paint is a new program added to the menu.
2. Settings
This allows you (Valid Administrator Password Required) change passwords, export token files, rename GeoVision System programs and add other (Windows) programs to the Programs menu  (See PDF page for further explanations).
3. Log Off
Click the Log off button to log off GV-desktop.  A valid ID and password are required.
4. Shut Down (icon is different in current version)
Click the Shut Down button to shut down your computer. A valid ID and password are required.
5. Task Manager
Click the Task Manager button to view the programs currently running on your computer. When you minimize a program, it will be hiding and working in the background. Double-click the program listed in Task Manger to bring the program back to desktop.