CCTV Camera Pros Launches Mac Compatible iDVR PRO Surveillance DVR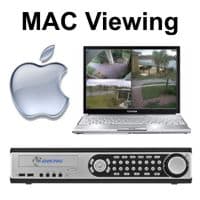 CCTV Camera Pros, manufacturer and distributor of security cameras and video surveillance systems, is proud to announce the release of the new MAC compatible iDVR PRO series surveillance DVRs. The new iDVR PRO includes real time recording (30 frames per second) for the 8 and 16 camera models and is compatible with MAC computers, as well as PCs, iPhone, Android, Blackberry, and Windows mobile phones for remote surveillance viewing. As with the entire iDVR product line, the PRO series uses the latest H.264 video encoding for the best compression and video quality.
Commenting on the iDVR PRO release, CCTV Camera Pros co-founder Mike Haldas says: "We have seen demand picking up for MAC compatible surveillance systems over the last year. Until now, we only had a Window PC based DVR solution available for Macintosh users who wanted to view their security cameras remotely from a MAC. With the addition of the new iDVR PRO, we now have a state of the art stand alone digital video recorder based on embedded Linux for the growing MAC user base. In addition, the iDVR PRO will appeal to anyone looking for a higher end real time H.264 DVR. We expect the iDVR PRO to become the standard for high end residential, commercial and government security installations."
Features of the iDVR PRO includes:
240 FPS Recording for 8 Channel Model
480 FPS Recording for 16 Channel Model
H.264 Codec Video Compression
Pentaplex Function – Simultaneous Live / Record / Playback / Archive / Network
Remote Live Viewing via Windows, MAC, iPhone, Android, BlackBerry and Windows Mobile
HDMI output with HD resolution of 1680 X 1050
USB and DVD Burner Video Archive
Video Outputs: 1 HDMI, 1 VGA, 1 BNC, 4 Configurable BNC Spot Monitor Outputs
8 or 16 Loop Outputs (1 per Channel)
8 or 16 Alarm Inputs / 8 or 16 Alarm Outputs (depending on model)
4 Internal SATA Hard Drive Bays supports Up to 8TB total video storage
500GB Hard Drive Included & Installed
Network Capability: Gigabit Ethernet w / LAN, DHCP, Dynamic IP & DDNS Support
Watermarked Video for Taper Proof Security
For detailed information and pricing on the iDVR PRO series surveillance DVRs, please visit these product pages:

About CCTV Camera Pros
CCTV Camera Pros is a manufacturer and distributor of video surveillance systems for home, business, and government. CCTV Camera Pros carries a complete line of surveillance equipment including, security cameras, digital video recorders, monitors, cables, connectors, and all accessories needed for complete surveillance systems. CCTV Camera Pros is partnered with a network of over 400 installers in the United States and can provide installation referrals nationwide. Please visit www.cctvcamerapros.com for more information.