Using Surveillance Systems to Prevent Employee Theft
Using Security Camera Systems To Prevent Employee Theft
It is a sad fact of our world that those who we provide employment for, can steal from us. Some do it out of necessity because they have no other option, while others do it out of greed, but no matter why they do this, it is wrong.
As a result, many employers are beginning to find new ways to prevent and catch employee theft, and the best option seems to be the use of an HD security camera system, including a digital video recorder (DVR), and remote viewing software and mobile apps. The age of grainy black and white camera video is long gone and the days of high-tech, and clear picture is here. 1080p HD security cameras are extremely affordable.
All of this makes being a company owner or manager, much easier.
HD Security Camera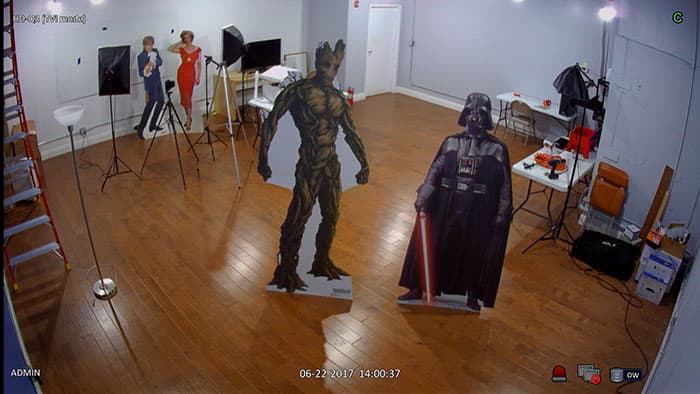 This is a surveillance image that was captured with this extremely affordable high definition dome security camera. It is a great choice for a small business.
Remote Camera View from Mobile
Most business owners want to be able to login to their camera system remotely to check-in on employees. The iDVR-PRO mobile app for Android lets users login to see a live view of their camera system and also playback recorded video surveillance footage on their DVR. The iPhone app has the same capability.
Easy of Use
Business owners have enough to worry about, which is why they should pick a surveillance system that is easy to use. Configuration should be simple enough for the owner or a designated employee to configure. The user interface should be simple to navigate. If an event occurs, is should be a simple process to playback the recorded video and export it to a thumb drive if needed. The below video shows how simple iDVR-PRO surveillance DVRs are to navigate and manage.
---
Installation Ideas
The area where there is the most theft is naturally the cash register. This is where the money is kept and it is the easiest place to steal from, especially when an employee thinks that no one is watching him or her. However, with security cameras set up in strategic locations around the register, you will deter employees from stealing and if they still do you will have proof that they did.
By letting employees know there is a security camera watching them, they will be deterred from wanting to steal from you and that will save big money and a lot of time. No employees stealing means your business can run smoothly and efficiently.
Technology has come a very long way and now everything seems to be integrated. This is the case with surveillance systems that are set up to be integrated with the registers so that when a point of sale is rung up, it is recorded in the video log. That way, you will know exactly where to look on the log to find out where the money was stolen from and by whom. That means you will save a lot of time trying to go through the logs looking for when the person stole from you. Now, all you have to do is fire them and use that as an example to other employees about why they should never steal from the register because the eyes of the manager are always watching.
You also want to be able to monitor the entry and exit points of the restaurant to see if employees are stealing anything from the building. You will be able to see anything loaded onto a truck, or removed from the warehouse, or anywhere else that you may store something that is very important and valuable to the company.
In a perfect world, there would be nor reason to ever try and monitor your employees to see if they have been stealing from you. You would simply be able to trust them and go on the honor system. Sadly, this is not a perfect world and thefts from the workplace happen on a near day-to-day basis ranging from pens to large quantities of money.
Here are just a few examples of how employee theft is prevalent across the board.
Jennings, Louisiana – "A former The Bank employee who was arrested in February for allegedly embezzling more than $88,000 from her employer is set to face arraignment in September."
Erie, Pennsylvania – "Detectives arrested Kaytlin M. Kramer, 20, on charges of kidnapping, burglary, theft, robbery and making terroristic threats. Kramer — who police said was an employee at the club — is being held in the Erie County Prison on $5,000 bond. Whether Kramer was at the business when the robbery occurred in unclear. Erie Police Detective Sgt. William Masi later viewed security tape from the Rite Aid at 163 W. 26th St., which is near the club. The video showed Kramer buying duct tape and three pairs of gloves at 3:20 a.m. the day of the robbery, according to a criminal complaint Masi wrote in the case."
Santa Clarita, California – "An employee at Magic Mountain admitted to having stolen close to $10,000 on two occasions by intercepting pneumatic tubes used to transport money and receipts. The employee was, reportedly, seen on the amusement park's video surveillance cameras transferring cash from a pneumatic tube to a box, which was then put in her backpack. The same employee was, reportedly, seen five days later transferring more cash from a tube to a yellow bag."
As we can see from just these three examples from a few days in August, there is a great deal of theft going on in businesses and companies need to protect themselves with video cameras that will monitor everything that happens.
If a business owner also worries about the business while they are gone, then they can install remote viewing technology that will allow them to view the employees as they work, from home. This is great for a company owner because he or she will be able to view everything that happens at the workplace, as it happens, from their computer at home, or even on their Blackberry.
Obviously something needs to be done about employee theft and it does little good to catch the employee after the fact. This is why you need security cameras to deter any would-be employee thieves from ever thinking about trying to steal from you. With cameras, remote viewing technology and DVR technology, you will be able to show your employees that you are trusting them with your business, but if they choose to destroy that trust, you will be watching both at the work and from a distance.