PTZ Surveillance Camera Controls from Apple iPhone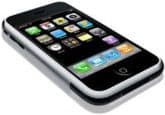 The following video shows an IP based PTZ surveillance camera being accessed and controlled from an Apple iPhone. This camera is available from $699.99 from CCTV Camera Pros. The software to control the camera from your iPhone is included and embedded into the camera. There is no additional cost to control this camera from the iPhone.
The below flash video can be seen in a larger format on this page: iPhone PTZ Camera Controls.
For more information about this security camera and other surveillance equipment that is compatible with the Apple iPhone, please visit this page on our ecommerce website: iPhone compatible surveillance systems.
The PTZ camera used in the above video is being offered by CCTV Camera Pros for $699.99. An outdoor weatherproof housing can be added to this camera for outdoor use. Please visit this page if you are interested in purchasing or would like additional information:
PTZ Network Camera.