4K CCTV Camera Video Demo
This 4K CCTV camera is great choice for business and home security camera systems. Watch this video demo to see the 4K video surveillance footage that was recorded using the 4K-BL9.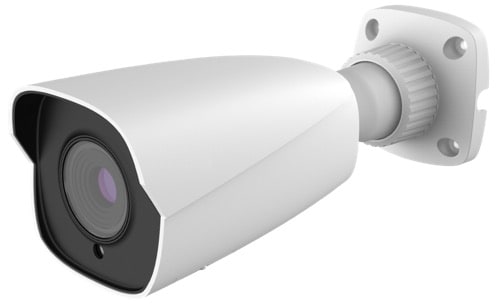 The 4K-BL9 is a bullet style security camera. We also have 4K BNC cameras in armor dome and turret dome style housings. You can find all of our 4K CCTV cameras here.
---
Hybrid 4K CCTV DVR

To record the above video, the camera was hard wired to a Viewtron 4K CCTV DVR using RG59 Siamese coax cable. In addition to 4K security cameras, these DVRs work with analog CVBS, 1mp / 720p, 2mp / 1080p, 3mp, 4mp and 5mp BNC cameras. AHD, HD-TVI, and HD-CVI video formats are supported.
---
Have Questions / Need Help?
If you have any questions related to security camera systems, please email me at mike@cctvcamerapros.net.
---
Video Transcript
Check out this video surveillance demo using one of our 4K CCTV cameras.
Good morning, everyone. Mike from CCTV Camera Pros here. I'm going to be using that Viewtron bullet camera that you see behind me. That's a 4K BNC camera. What that means is it transmits 4K resolution video using the same coax cable and BNC connectors as traditional analog CCTV cameras. I have that one connected to one of our Viewtron 4K DVRs. Take a look at how awesome the video surveillance footage is on this thing.
Here's the recorded 4K video surveillance footage. You'll see me walking towards the camera. From where I started walking, that was 80 feet away from where the camera is installed. And I'm going to stop at 15 feet in front of the camera. Notice the nice wide angle of view that this camera's 3.6 millimeter lens provides. More important, look at that crystal clear 4K resolution video. Hopefully, you are viewing this video on a 4K monitor to fully experience it.
Hey, guys, I want to mention a couple other things before we wrap up. These 4K CCTV camera are excellent for upgrading old analog camera systems. So if you have an old analog CCTV DVR and old analog cameras but you have good quality RG59 coax cable in place, you can replace all your cameras with these 4K models, drop in, replace one of our Viewtron 4K DVRs, which we have in four channel, eight channel, 16 channel, and 32 channel models, and you'll in instantly go from an old legacy analog system to a new state-of-the-art 4K resolution video surveillance system. It's so easy to do if you have the cable in place. It's a drop in place, plug in place solution.
Another thing that I wanted to mention, all the Viewtron 4K CCTV cameras run in four video formats, HD-TVI, AHD, HD-CVI, and analog CVBS. So if you want to use a third party DVR, something that you have already in place and you're just looking for a camera, these are compatible with virtually any 4K BNC DVR that's out there.
If you have any questions about any of this, I could be emailed directly anytime. I could be reached at mike@cctvcamerapros.net. If you want to learn more about these Viewtron 4K CCTV cameras and the 4K DVRs that can go along with them, please visit www.cctvcamerapros.com/4kCCTV.
Thank you for watching