LPR Camera System with Automatic Number Plate Recognition
Watch this video to see a demo of our new LPR camera system with automatic number plate recognition. Besides the super accurate license plate recognition and capture camera, this system also includes an AI security camera to capture an overview of the surveillance area. The AI functions of the overview camera include vehicle and person object detection.
This is how it works.
The LPR camera (LPR-IP7) is designed to detect and capture license plates. This camera is carefully focused on a fairly narrow view where vehicles drive through. LPR cameras are mounted lower to the ground in order to minimize the viewing angle. The more direct and less angled view that LPR cameras have, the better. We have an installation guide here.
The AI object detection camera (IP-A4BZ) is perfect to act as the overview camera in our LPR system. It has a 2.8-12mm motorized zoom lens. At the widest setting, the camera provides a 102° field of view (nice and wide). The AI object detection software that is built into this camera can be configured to detect vehicles and people. You can watch a video demo of the vehicle detection function here.
The Viewtron IP camera NVR has PoE network ports on the back of the case. Both IP cameras are hard wired to the NVR using CAT5 or CAT6 Ethernet cable with standard RJ-45 connectors on the end. This makes the system installation really simple (plug and play). The NVR provides power to the cameras and automatically makes a network connection to them. We have 8ch and 16ch NVR models currently available.
There is LPR (license plate recognition) and ANPR (automatic number plate recognition) software built into both the Viewtron NVR and LPR-IP7 camera. The software from both devices work together to provide an extremely high level of detection and recording of the numbers and letters on license plates.
All of this equipment can be purchased together in this complete LPR camera system. Currently priced at $1289.99.
---
License Plate Recognition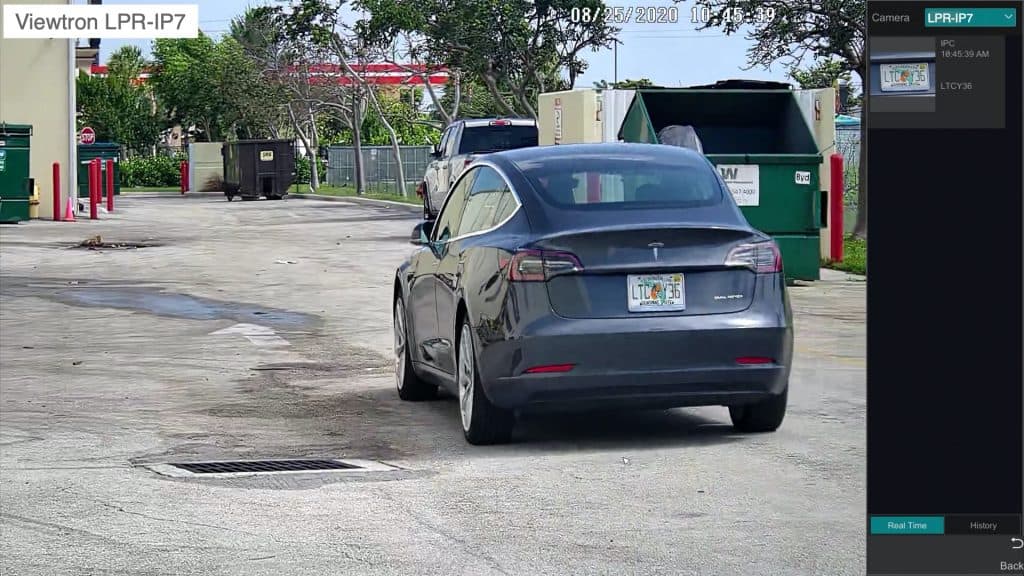 Here is a screenshot of the live video view of the license plate capture camera on the Viewtron NVR. The NVR has the option to display the license plate detection events on the real time events pane on the right side of the live view. In addition to the NVR detecting the plates, ANPR software is used to identify the characters on the plate.
ANPR Software / Automatic Number Plate Recognition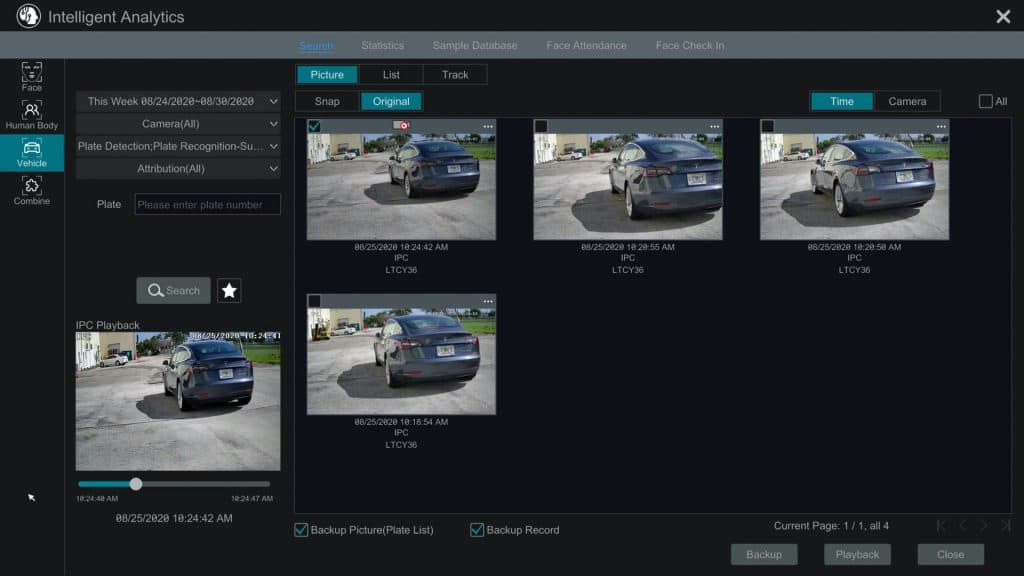 Here is a screenshot of the intelligent analytics video search function on the Viewtron NVR. Please notice that the ANPR software built into the NVR successfully identified all letters and numbers on the vehicle plate in all of the captures. On this screen, you can playback the video that was captured during each of these events or export the video for evidence.
---
LPR System Installation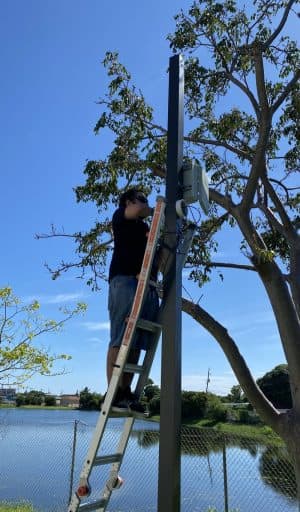 We are currently working on a permanent LPR camera system installation at CCTV Camera Pros warehouse in West Palm Beach, Florida. We installed an 18 foot pole in the back of our building. We will be mounting our LPR camera lower on the pole. The 2 junction boxes that you see up top will be for 2 over view cameras.
We will also install a wireless antenna on the pole to send the video signal of all 3 cameras back to our building over WIFI (wireless bridge). This is a typical setup for gated communities and will be a great demo when we are done.
I will be creating additional videos of this LPR system as soon as this permanent installation is done. This will include how to setup this LPR system over WIFI.
---
FAQ
Here are some frequently asked questions about this LPR system.
Does this system also work at night / in the dark?
Yes, both the LPR camera and overview camera included with this system have built-in IR night vision. I will make a night LPR video after we complete our permanent installation on the pole in the back of our building.
Can I connect more than one LPR camera to the recorder?
Yes, it is very typical to connect multiple license plate cameras to the NVR. Many of the HOA communities that I have designed systems for use one to monitor vehicles coming into the community and a 2nd one to monitor vehicles exiting the community.
Are these cameras HD quality?
Yes. These are high resolution IP cameras. The LPR camera is 1080p / 2mp resolution and the overview camera is 4mp resolution. CCTV Camera Pros can also use this 4K IP camera as the overview camera.
Does the Viewtron NVR support other brands of IP cameras?
Yes. Viewtron NVRs supports all ONVIF compatible IP cameras.
Can the license plate recognition camera zoom into the specific areas of the image or do we need to mount it close?
The LPR-IP7 has a 7-22mm motorized zoom lens that can be controlled from the NVR or via the mobile apps or desktop client software apps. This camera is effective for license plate capture up to 50 feet away. You can also refer to this detailed guide for license plate camera installation best practices.
How high can these cameras be installed?
When it comes to LPR cameras lower is better. The less of a downward angle, the more effective these camera are at capturing plates clearly. You do not want to mount them too far off to the side of the traffic lane you are monitoring either. Please refer to this detailed installation guide for more details.
Is there a limit to the number of license plate cameras one Viewtron NVR can support?
No. The only limitation is how many physical camera channels that the NVR supports. For example, an 8ch NVR can support 8 LPR cameras.
What is the difference between an LPR camera and LPC camera?
LPR stands for license plate recognition. It refers to security cameras and DVR software that are capable of detecting a license plate as a type of object.
LPC stands for license plate capture. It refers to a specialized security camera that can capture video clear enough so that license plates can be clearly read my a human when reviewing recorded video footage. These two things are only slightly different. In practice, LPR and LPC are used interchangeably by customers and most vendors when referring to cameras and software for license plate surveillance.
What is ANPR?
ANPR stands for automatic number plate recognition. This is specialized software that is capable of identifying the letters and numbers of license plates from from recorded video surveillance footage. ANPR is sometimes a function of the camera and sometimes the recorder (DVR / NVR). IN the case of Viewtron LPR systems, it is a function of both the LPR camera and AI software on the NVR working together.
---
LPR / ANPR System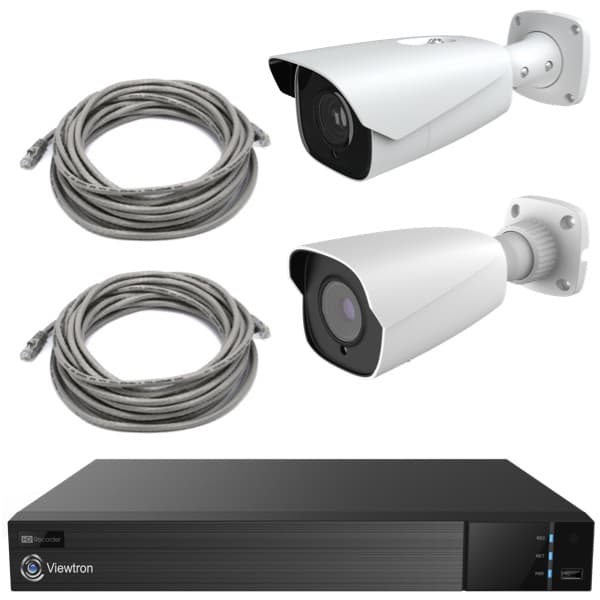 We have this complete LPR / ANPR camera system available now on our website. I have tested many LPR systems over the past 14 years at CCTV Camera Pros, and I can honestly tell you that this one is the best by far. Super easy to setup and super easy to use! Oh, and extremely affordable.
For most of our customers, this system is a starting point for a custom design that we can provide. The team at CCTV Camera Pros has designed LPR systems for gated community entrances / HOAs, commercial parking lot entrances, government facilities, and home owners to monitor vehicles entering and exiting their property.
Typically, customers want to add additional cameras to these systems to monitor additional areas of their home or business. If you are monitoring the entry and exit of a property, a second LPR and overview camera can be added.
If you need a custom design quote or if you have any questions, please email me at mike@cctvcamerapros.net.