Vehicle Detection Using AI Security Camera System
In my testing, object detection using AI security cameras and NVRs is way more reliable than video motion detection using traditional security cameras and DVRs. I have not encountered any false alarms so far. AI cameras seems to work even better than PIR motion sensors to detect motion without false alarms.
Watch this vehicle detection video that I recorded to test object detection of our new Viewtron bullet camera with built-in AI software. The video also documents how car and motorcycle detection is setup on the NVR that the camera is recording to.  You can also watch our newest 4K AI security camera detect cars in this new video.
This is the first of a series of videos that I will be making to test and document our new AI powered security cameras. If you want to be notified when I upload more of these videos, please consider subscribing to CCTV Camera Pros YouTube channel.
In addition to vehicle detection, these new Viewtron IP cameras support people detection, facial recognition, face database match, and virtual tripwire detection. We also have one LPR IP camera that supports license plate recognition (LPR) and automatic number plate recognition (ANPR).
---
How Does AI Object Detection Work?

Viewtron AI cameras and NVRs have advanced built-in artificial intelligence / video analytics software that work together. Machine learning is applied to collected data of images and videos to improve AI over time. AI software gets better at identifying objects over time based on more video and photo data being fed into it.
Viewtron AI cameras can be used individually in a stand-alone application by recording directly to an SD card (there is a slot built-in), or they can be connected to a Viewtron network video recorder (NVR) using CAT5 network cable.
I recommend using an NVR because the setup and video management software interface is much easier to use. There is also some additional AI functionality built into the NVRs. Also, by using an NVR, you can create a business or home security camera system with multiple cameras that record to the NVR's central hard drive. Viewtron NVRs have built-in PoE (Power over Ethernet) which enables a simple plug and play type of installation.
---
AI Camera & NVR Screenshots
Here are some screenshots that I captured while testing various AI camera functions while recording to a Viewtron NVR. These screenshots were all taken from the HDMI output of the NVR. I will be making videos for all of these scenarios in the coming weeks.
Vehicle Detection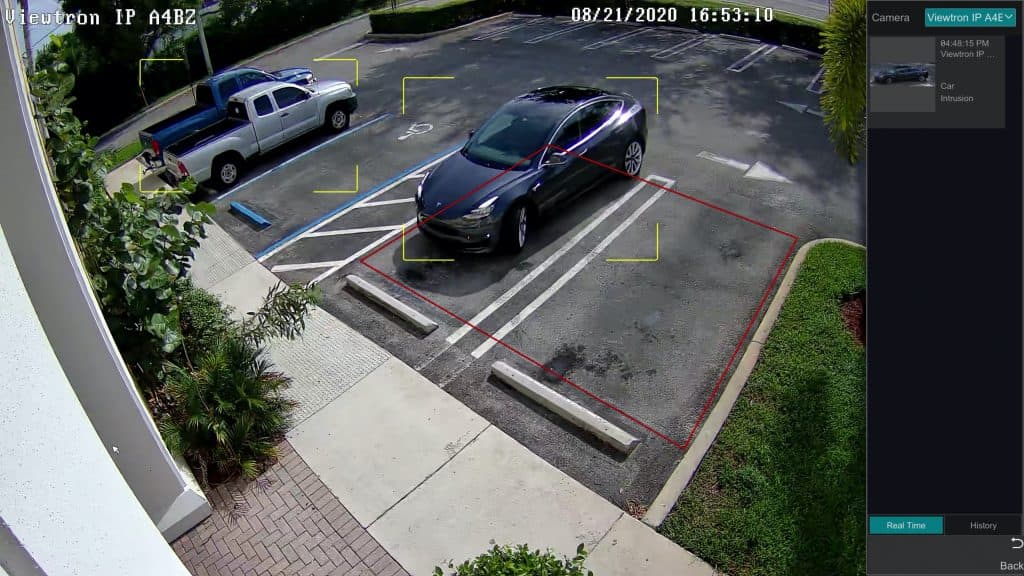 You can see the intrusion alarm zone outlined in red in this screenshot. The yellow outlines notate the vehicle detection. The real time snapshots on the left appear as cars and motorcycles are detected in the alarm zone. Users can click on the thumbnail snapshots of the events to playback the video recording of the alarm event.
---
People Detection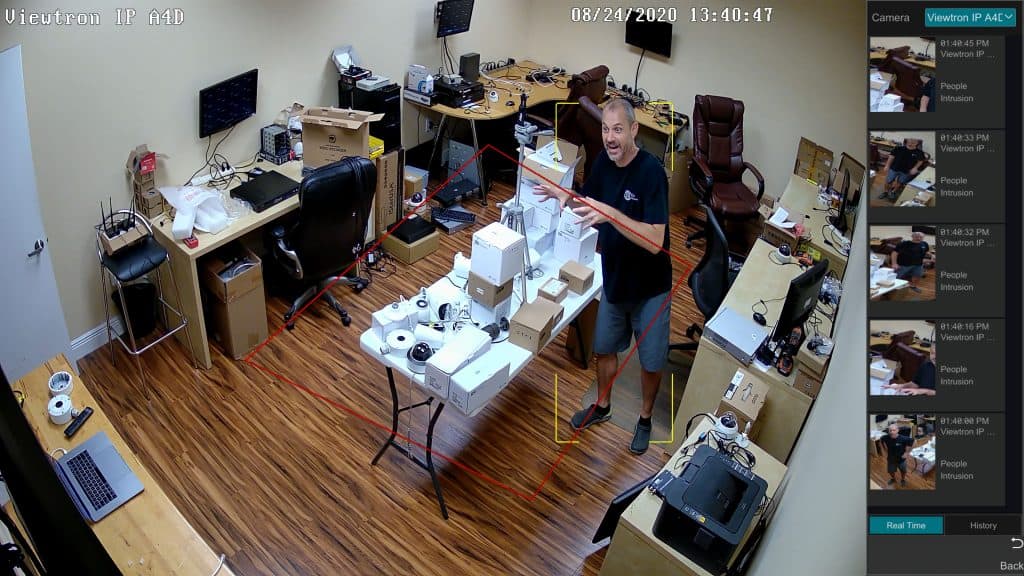 In this snapshot, I was testing the people detection function. You can see the alarm intrusion zone that I created around my mess of a test table in our tech support room. That's getting cleaned up this week. We have been very busy testing these new AI systems.
The yellow lines notate the person detection. The real time event snapshots on the right show all of the people that triggered this alarm.
---
Face Detection / Face Recognition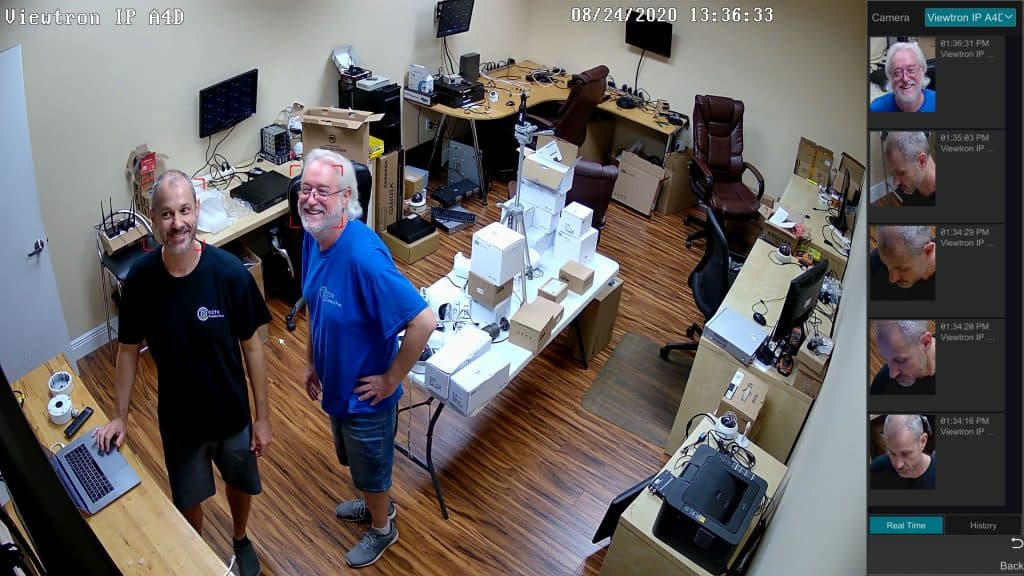 These cameras also support face detection and facial recognition. That's me and my brother, Chris, in the picture.
---
License Plate Recognition (LPR)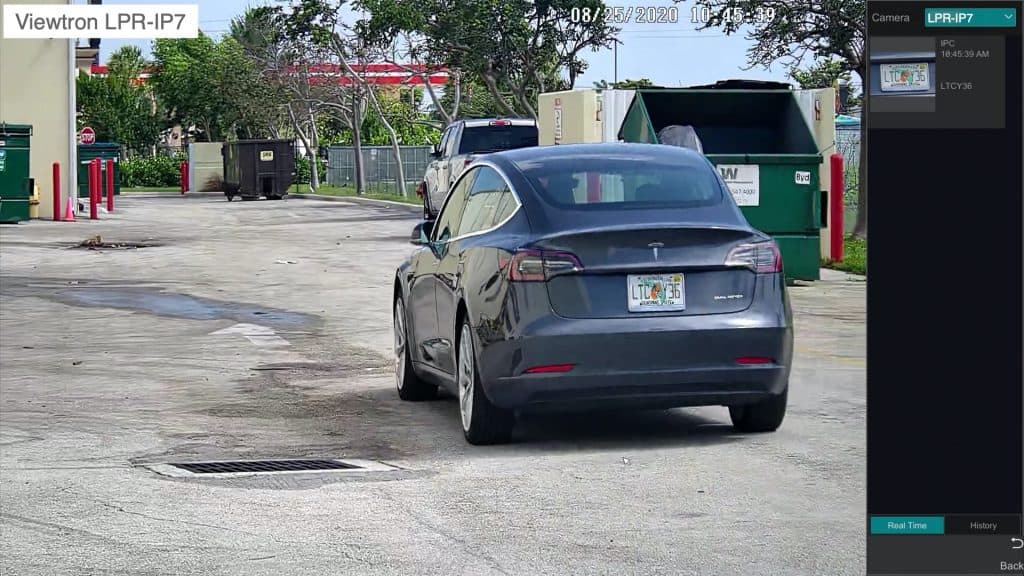 Here is a snapshot of some testing that I did with the LPR-IP7 license plate capture camera. This camera is a great choice for HOA community entrances and parking lot entrances. We are going to install one to help monitor the back area of our warehouse where there is a illegal dumping problem. I will be setting up an application that uses a vehicle detection camera and LPR camera.
---
Automatic Number Plate Recognition (ANPR)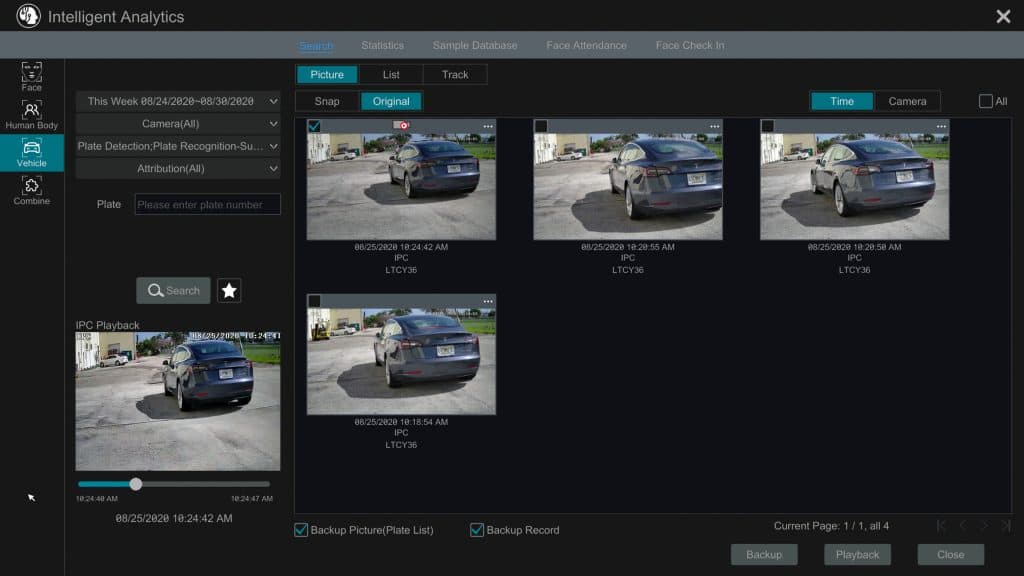 Here is a snapshot of the ANPR software built into the Viewtron NVR. You can see that not only did the camera and software detect the license plate, but it also perfectly identified all of the numbers on the plate. This is known as automatic number plate recognition.
---
FAQs
Here are some frequently asked questions about AI security camera systems. I will be adding to these FAQs as we learn more.
What are the advantages of a AI security camera?
The object detection function of our AI cameras is much more reliable than video motion technique used by a non-AI camera. Traditional video motion detection produces a lot of false alerts. A well trained AI camera can detect objects and trigger alarms in real time with 99% accuracy.
Do Viewtron AI cameras have IR night vision?
Yes, all of our AI cameras have built in infrared LEDs for low light and zero light video surveillance.
Does CCTV Camera Pros have complete systems that include everything that I need?
Yes. However, we do not have them pre-packaged on our website yet. You can find all of the components on these pages.
The team at CCTV Camera Pros can prepare a custom quote for you based on your specific needs. We can mix and match AI and non-AI cameras. Most of the systems that we supply are done via a design consultation and free quote.
Have Questions / Need Help?
If you have any questions, you can email me here.