What is the best wireless security camera system?
What is best wireless security camera system? At CCTV Camera Pros, our sales and support engineers are regularly asked this question by homeowners and business owners that are shopping for a video surveillance system.
Unfortunately, most of the customers that are searching for a wireless video surveillance system are under the false impression that wireless makes installation easier. While it may seem as if wireless is the best solution because running coax cable or cat5 network cable seems impossible, in most cases creating a wireless network for security cameras is more challenging than running cable for a hard wired solution. And by the way, the cameras still require a power source, so most professional IP cameras are not truly wireless anyway.
In this article, I will explain some of the challenges customers should be aware of when considering wireless security cameras. I will also discuss what does work well in our experience and what does not when it comes to wireless. Most home owners are looking for a wireless security camera system with remote viewing.
You may also be interested in this article: what is the best security camera system?
Indoor Wireless Camera Systems
Wireless security camera systems can work reliably with indoor cameras. When I use the term "indoor wireless camera system", I am referring to a system where the wireless access point / antenna and all of the wireless IP cameras are inside the same building and all IP cameras are within a reasonable distance from the access point. Obviously, if you are installing a system in a huge building or multiple floors, you will need more than one WIFI access point.
Many wireless routers / access points are dual band, which means that they can use 2.4Ghz and  / or 5Ghz wireless frequencies. There is upside and downside to each of these. The 2.4 Ghz wireless frequency is able to travel through walls better than 5 Ghz. However, because the 2.4Ghz standards have been around longer, there can be interference from other devices that also use 2.4Ghz.  If you are in an area with a lot of other wireless devices, such as an apartment building, 2.4Ghz can be challenging. This problem of wireless network congestion can usually be solved by selecting a channel within the 2.4Ghz range that is not so congested.
Here is an example indoor system.
Here is how this system works.
The 2 wireless IP cameras connect to the wireless router over WIFI. .
The wireless access point is connected to a network router using CAT-5 cable. This is noted by the orange lines.
A network video recorder (NVR) is connected to the router using CAT-5 cable.
The NVR can record video from the 4 IP cameras (more can be added if supported by the NVR).
The admin can remotely access the NVR and all cameras using mobile and desktop apps provided by the NVR software, if the network router is also connected to an Internet source.
This system can also be built with a single device / combination wireless access point / router.
The cameras and access point can all be in separate rooms. WIFI can travel through drywall very well. If the building has multiple floors and the floors are made of concrete, this setup will not work well.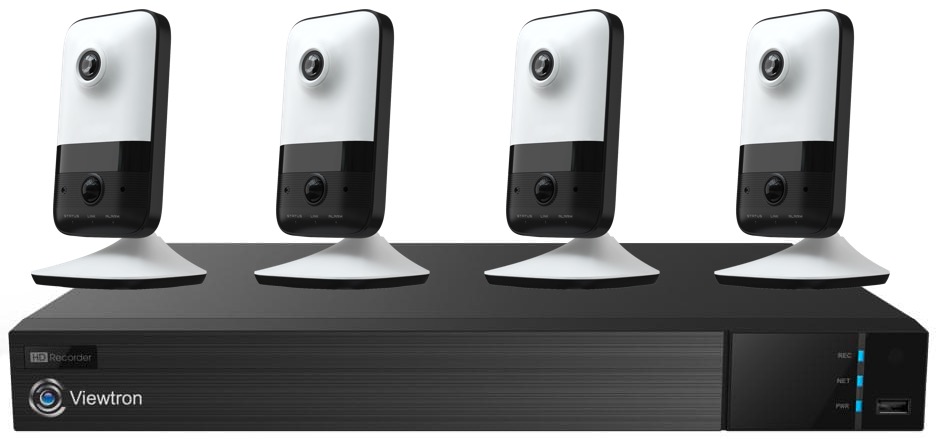 You can find this wireless IP camera system here. It is available with 2 or 4 cameras. We can also provide a custom quote with any many cameras as you need and different types of cameras.
---
Indoor / Outdoor Wireless Camera Systems
If you require indoor and outdoor security cameras in your system, here is one way to do it.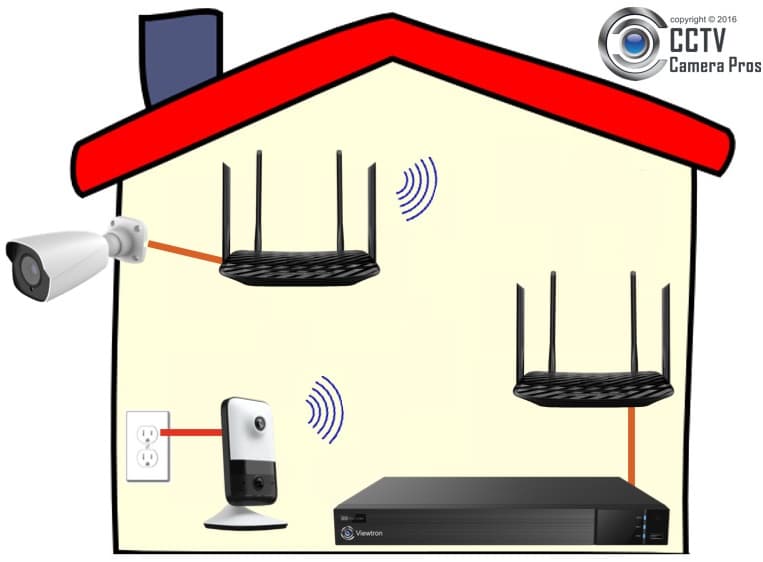 Here is how it works.
Two wireless access point devices are used. The one on the right is configured as a wireless access point. The one on the left is configured to be a wireless bridge. The wireless access point is capable of being configured in these two modes.
The two 2 indoor IP cameras connect to the access point over WIFI.
The outdoor IP camera is connected to the access point that is in bridge mode using CAT-5 cable. This requires that the CAT5 cable be run from the inside of the building to the outside.
The wireless access point is connected to a network router using CAT-5 cable.
The IP camera NVR is connected to the router using CAT-5 cable.
The NVR can record video from the 2 IP cameras (more can be added). CCTV Camera Pros can supply a 8 channel, 16 channel, and 32 channel NVR.
You can remotely access the NVR and view your security cameras remotely with the mobile apps and desktop software provided by the NVR software.
Here is an important point! Many people assume that you can install a wireless camera outside of a building and it will connect to a wireless access point inside a building. This does not work reliably because 2.4Ghz and 5 Ghz WIFI signals can not pass through solid structures well. So, while they can pass through drywall pretty well, they can not pass  through brick, stucco, and dense wood. This is why the wireless bridge is placed inside the house in the above example and cable is run to the camera outside.
---
Outdoor Wireless Systems
If you need to transmit the video signal from security cameras between buildings over WIFI, here are a few example installations that work.
Important Note! Outdoor wireless bridges require a direct line of sight between the antennas. There can not be any solid structures that obstruct the WIFI signal.
Here is how this one works. This example was originally documented in this article: "How to Remotely View a Security Camera Installed at a Location with No Internet Access".
The indoor IP camera in the building on the left is connected to this outdoor wireless bridge / antenna using CAT-5 cable.
Another wireless antenna is placed on the building on the right – the receiver.
The receiver antenna is connected to a router / modem.
The building on the right could also have an NVR connected to the router.
There also could be IP cameras installed in the building on the right.
---
Multiple IP Camera Transmission over WIFI

This system is just like the one above it, except multiple IP cameras are transmitted over the wireless bridge.
Here is how this one works.
The IP cameras in the building on the left are hard wired to a network router using CAT-5 cable. A wireless router and wireless cameras could also be used.
The router is connected to the transmitting outdoor wireless antenna.
The wireless antenna communicates with the antenna mounted on the building on the right.
The one of the right is wired to a network router using CAT-5 cable.
---
Summary
Although there are some reliable solutions for wireless camera systems, CCTV Camera Pros recommends them only as a last resort option. Contrary to popular belief, the setup is more difficult than a hard wired system. and even in the best circumstances, a wireless connection is never as reliable as a hard wired connection. This is true for CCTV cameras and network IP cameras.
That being said, wireless systems are relevant in certain situations and we and we actually sell a lot of them at CCTV Camera Pros. However, we almost always recommend hard wired HD security camera system first. These AI security camera systems are best sellers.
---
Phone Consultation / Free Quote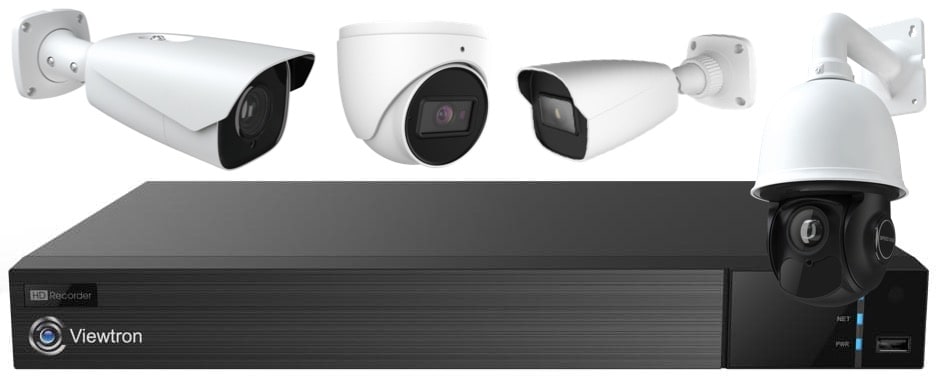 Do you need a custom IP camera system? If you need help planning a wired or wireless system (or help deciding which one is best for you), please contact us. CCTV Camera Pros can provide a custom security camera system quote that includes a mix of various camera styles, an NVR, junction boxes, and a PoE switch if needed. We can include a 4 channel, 8 channel, or 16 channel, 32 channel, or 64 channel NVR. As you have probably already seen on our website, we have 2, 4, 8, 16 and 32 camera surveillance systems in pre-made packages. However, it is not possible for us to package up every combination and quantity of all the different camera models that we carry. Please use this form to request a custom quote. If you prefer, you can also first request a free phone consultation.