CCTV Lens Calculator Available in Android Mobile App
CCTV Camera Pros is pleased to announce that we have developed an exciting new tool that is available in our free mobile app for Android. A CCTV lens calculator was added to the latest version of CCTV Camera Pros Mobile App yesterday. This tool calculates and recommends CCTV camera lens sizes for installers to use based on three inputs: 1) The distance the security camera will be mounted from the target area of surveillance. 2) The width of the target area. 3) The size of the camera's image sensor (this is typically a 1/3″ image sensor).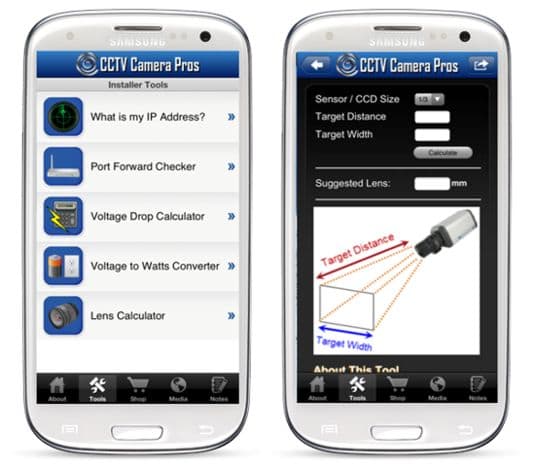 CCTV Camera Pros Android app already contains the following tools and we plan on adding more over time.
IP Address Locator / Finder
Port Forwarding Tester
Voltage Drop Calculator
Voltage to Watts Converter
The app is available to download for free on the Google Play store.
About Us
CCTV Camera Pros is a direct supplier of video surveillance systems for home, business, and government. We strive to provide the highest level of customer service and support in the industry. CCTV Camera Pros is located in West Palm Beach, Florida and ships equipment worldwide. Please contact us if you need assistance in planning a video surveillance system. We can be reached via email at info@cctvcamerapros.net or via telephone at 1-561-433-8488.