Surveillance System that Supports Unlimited Remote Viewers from Android & iPhone Mobile App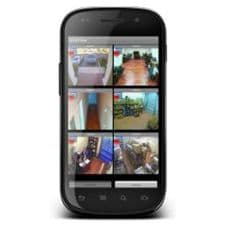 I recently wrote an article on the misconceptions many people have with the idea of having a surveillance DVR that supports an unlimited number of remote viewing users. As a follow up to that article, I wanted to talk about an option that is available when using a Geovision PC based DVR that allows the number of supported remote viewers to be expanded by adding an additional server to the network. The research described in this article came about as a result of CCTV Camera Pros having a customer with a day care center that wanted to be able to transmit live video from CCTV cameras connected to their Geovision surveillance system to 60 parents that have children in their day care via the mobile iPhone and Android apps.
Geovision DVRs have a max concurrent remote viewing limit of 200 video channels total or 20 mobile users. In order to handle the additional 40 mobile viewers, the day care facility needed to add two additional PCs (servers) running the Geovision TwinDVR software.
The TwinDVR software is an external application included on the software CD with all Geovision DVR cards and Geovision IP cameras. The TwinDVR application helps share the network and processing load of a Geovision systems. A TwinServer setup requires at least two computers: one running the TwinServer software (this should be run on the same computer where GV-System is installed) and a TwinDVR server, which should be run on a separate physical computer that is connected to the same LAN as the TwinServer. The TwinServer sends the video streams to TwinDVR and the TwinDVR acts as the WebCam Server which serves all WebCam clients over the Internet. One TwinDVR can serve approximately 200 channels over the Internet or 20 mobile clients. Multiple TwinDVRs can be added to the network to expand further as remote viewing volume increases.
There are two ways to setup Geovision TwinServer and TwinDVR, TCP/IP mode and Multicast mode. Below are network diagrams of the two methods. Please refer to the Geovision TwinDVR / TwinServer setup document for detailed setup instructions to see advantages and disadvantages of each implementation.
TCP/IP Mode Diagram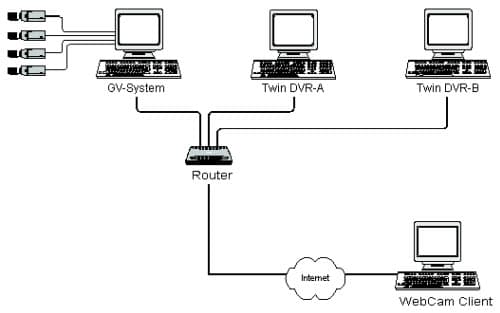 In summary, we were very pleased to find that Geovision has a solution for users to expand the remote viewing maximum of their Geovision surveillance systems. Please keep in mind that another challenge that installers will run into is the bandwidth capacity of the Internet connection at the location of the DVRs. Please don't expect to be able to add 5 TwinDVRs to an installation that has one DLS connection and expect to server live video to 100 concurrent users.
If you need help in planning a video surveillance system, please feel free to contact me or any member of the CCTV Camera Pros team. CCTV Camera Pros is a master distributor for Geovision and we take pride in being one of the most knowledgeable distributors in the world. If we do not know know the answer to a complex question that you have, we will help research to find out the answer.
IMPORTANT UPDATE
As of Geovision version 8.56, the Geovision TwinServer has been replaced by Mobile Server. Mobile Server is an application that can be installed on the same PC as the Geovision DVR/NVR system software that will allow unlimited number of mobile devices to connect.
Download the Geovision Mobile Server manual here.
About Us
CCTV Camera Pros is located in Lantana, Florida in Palm Beach County. Mike Haldas is a co-founder and managing partner of the company. You can reach Mike directly at mike at cctvcamerapros.net.