NUUO Surveillance Releases NVRmini version 2.2 Software / Firmware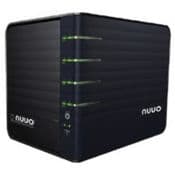 NUUO surveillance released software / firmware version 2.2 for the NVRmini stand alone network video recorder. CCTV Camera Pros, a master distributor for NUUO surveillance, will be installing this version on all systems shipped from November 30, 2009. Customers that have an older firmware version currently on their NVR can download firmware updates here: NVRmini firmware updates. The 2.2 firmware update contains the following features and improvements:
NUUO NVRmini 2.2 New features
Enhanced live view / playback function including:
Support up to 128 channels live display on multiple monitors
Great diversity of live-viewing layouts
Support for multiple views (duplicate channels for the same camera). Combined with digital PTZ, users are allowed to enlarge different spots and view them in different channels without failing to record the whole view
Support for auto scan function
Show event log on the time line of video record, easy to search video with events
Support for Digital Watermark to prevent recorded video files/snapshots from being tampered
Support for DDNS service
Support for SMTP port for mail service
Support Arecont UDP protocol and H.264 codec
Support Panasonic i-pro series and BL-series motion detection
NUUO NVRmini 2.2 System improvements
[Browser] Compatible with Internet Explorer 8
[Camera Search] Mark the inserted cameras in search result
[Event & Action] Activation period of event can cover two days e.g. from 22:00 to 08:00
[Event & Action] Enhance disk status event, to distinguish abnormal disk status and exhausted disk space
[Event & Action] Add new system event "Power-on Notification" for recording the time of power turning on. Ex: Send E-mail when power resumes after power loss
[RAID Management] When there is an invalid volume, users can't do anything but deleting the invalid volume
[NVR Log] Record playback access information, including access time, playback video channels and time frame
[Load Configuration] Keep user account and privilege after uploading to default setting
[System Upgrade] Files in My Network Place are selectable on UI
[Live View/Playback] Tool tips for each button
[Install Wizard] Combine install wizard configure with install wizard. Before searching, users have no need to choose network interface when there are multiple network cards installed on remote PC
NUUO NVRmini 2.2 Bug Fixes
OSD can be displayed on video with H.264 compression format
Fixed the bug that bandwidth of SONY camera is fixed at 2Mbps automatically
Fixed the audio bug on Mobotix camera
NUUO NVRmini 2.2 New IP Cameras Supported
The following IP cameras are now supported:
ACTi: ACD2000Q, ACM1511, ACM3011, ACM3511, ACM4000, ACM4201, ACM8201, ACM8211, TCM4301, TCM5311
Arecont: AV1355, AV3155, AV5155, AV8365
Axis: M3014, P1311, P1344, P3343, P3343-V, P3343-VE, P3344, P3344-V, P3344-VE, Q6032-E, Q7404
D-Link: DCS-1100, DCS-1130, DCS-6410, DCS-7510
Eneo: GLC-1401, GLC-1601, GLC-1602H,GLD-1401, GLD-1501, GLS-2101
Mobotix: Q24-Basic, Q24-Sec
Panasonic: DG-NF282, DG-NF302, DG-NP240, DG-NP244, DG-NP304, DG-NS950, DG-NS954, DG-NW960, DG-NW964, WV-NF302, WV-NP304, WV-NP502, WV-NW502S
Samsung: SNC-B2315, SNC-B5395, SNC-6225, SNC-7225, SNC-7478, SNC-M300
Toshiba: IKWB21A, IKWB70A, IKWD01A
Vivotek: FD7130, IP7130, IP7154, IP7160, IP7161, IP7330, PZ7111, PZ7121, PZ7131, SD7313, SD7323
Zavio: B5110, B6110, D520E, D6111, F3100, F3105, F5100, F5105, F5110, F5115, F520E, F731E, P5110, P5115
Click here for the complete list of IP cameras supported by NUUO NVRmini version 2.2.
About NUUO Surveillance
Founded in 2004, NUUO uses advanced and comprehensive technologies to enhance surveillance cameras to high standards demanded by our Intelligent Surveillance Solution. Combining NVR and NDVR Hybrid technologies with IVS detections guaranteed NUUO a successful entry into the security industry marketplace quickly.
About CCTV Camera Pros
CCTV Camera Pros is a manufacturer and distributor of security cameras, videos surveillance systems, and CCTV equipment. We are a United States master stocking distributor for NUUO surveillance. NUUO products are stocked and shipped from our warehouse in Boynton Beach Florida (Palm Beach County). Remote Internet viewable surveillance systems is our specialty. We are not only a distributor of surveillance equipment but we also test and support each product that we sell in the USA. CCTV Camera Pros is a Veteran owned business that was founded by a United States Marine. We supply surveillance systems and equipment to home owners, small, medium, and large sized businesses, as well as local and federal government agencies. No project is too small or too large for us to handle and we have trained sales engineers that can help design the system the is right for your requirements.
Click here to view our entire line of NUUO surveillance systems & products.