4K Security Camera System for Live TV Display
The latest VM-HD4 CCTV multiplexer supports live display video from multiple 4K security cameras on a single TV monitor. Watch this 4K video to see the VM-HD4 connected to the 4 surveillance cameras installed at my house in South Florida. These multiplexer systems are great for customers who want a live video display of multiple cameras and do not need to record video footage to a DVR.
Multi-Camera 4K Video Display System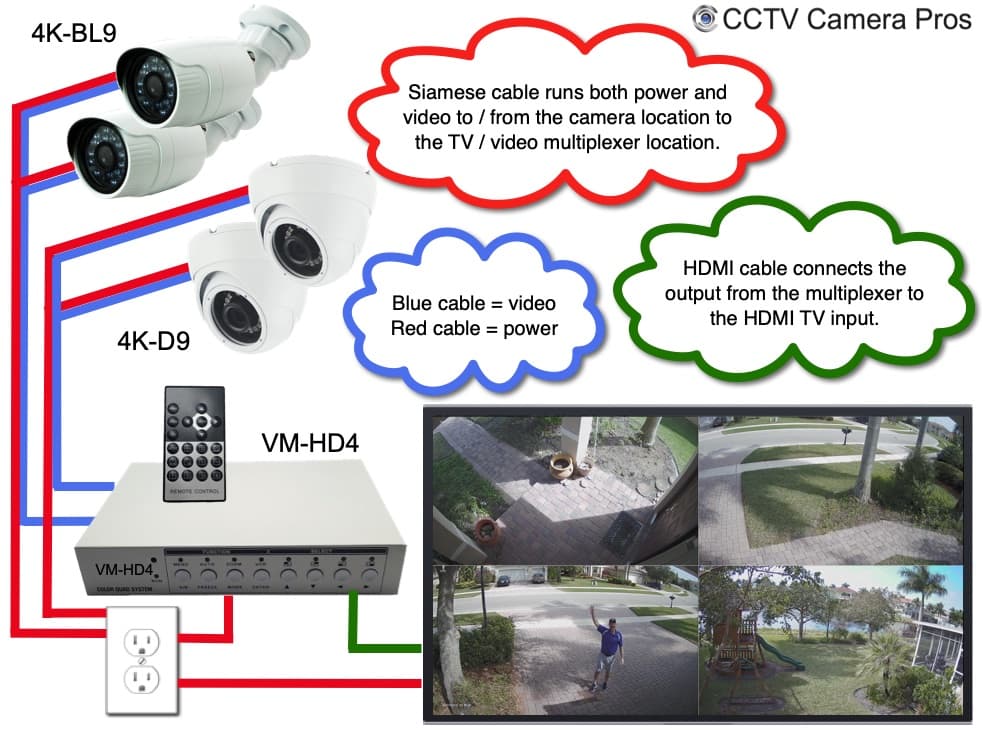 This is how the multiple camera live video system was installed at my house.
(4) 4K security cameras are installed on the exterior of my home. I have dome and bullet style cameras installed.
RG59 Siamese coax cable was used to run both power and video from each camera to the VM-HD4 HD CCTV multiplexer. Siamese cable includes RG59 coax and 18 Gauge / 2 conductor power cable.
BNC connectors are attached to both ends of the RG59 coax cable and are used to attach to the camera's BNC video output and the multiplexer's BNC video input.
A PT-3 power lead is attached to the 18 gauge power cable on the camera end of the cable run. This allows the power cable to push on to the 12V DC power lead of the camera.
A PT-4 power pigtail jack is attached to the 18 gauge power cable on the power supply end of the cable run (back by the multiplexer). The PT-4 allows the power cable to connect directly to the 12V DC power supply that is included with each cable.
An HDMI cable connects the output of the multiplexer to the input on my LED 4K TV.
Wireless Remote Control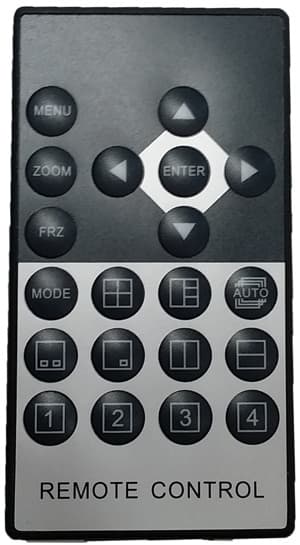 The IR wireless remote control that is included with the VM-HD4 quad allows you to change the video display layout and access the configuration screens of the multiplexer.
Supported Screen Layouts
Here are the screen layouts that the video multiplexer supports. All of these can be selected using the wireless remote control.
4 Camera Quad Layout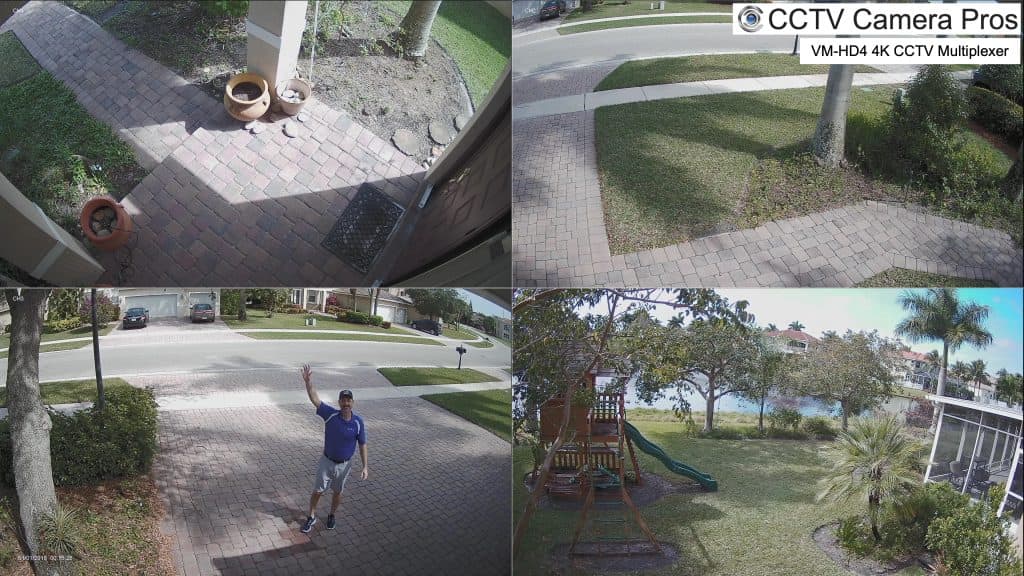 Alternate 4 Camera Display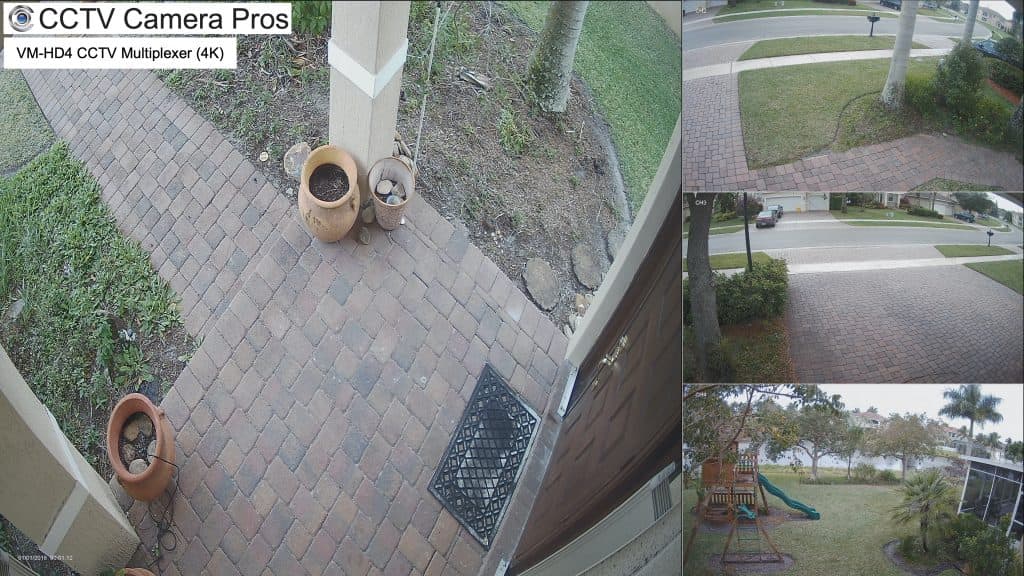 3 Camera Layout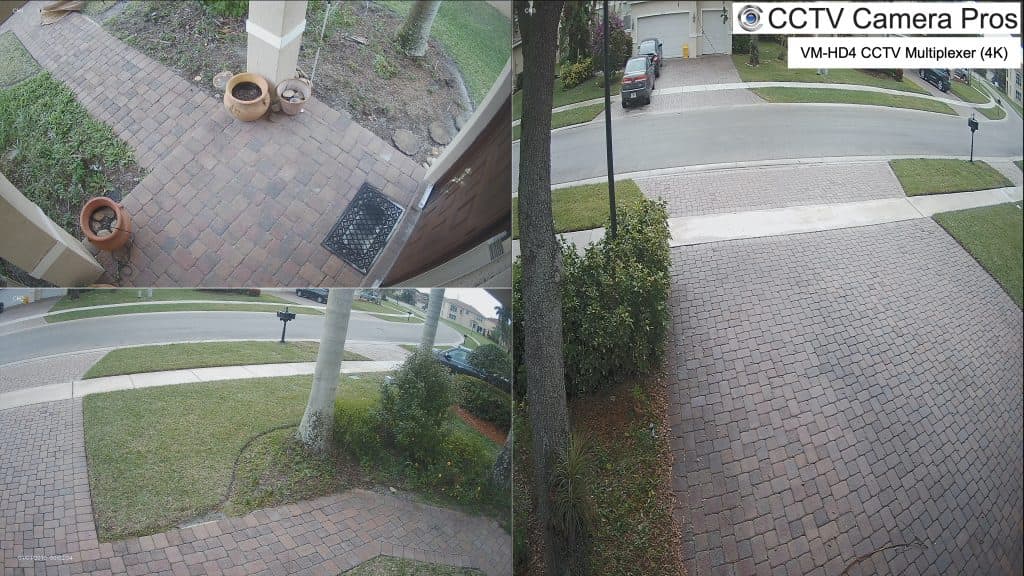 2 Camera Display – Top / Bottom Layout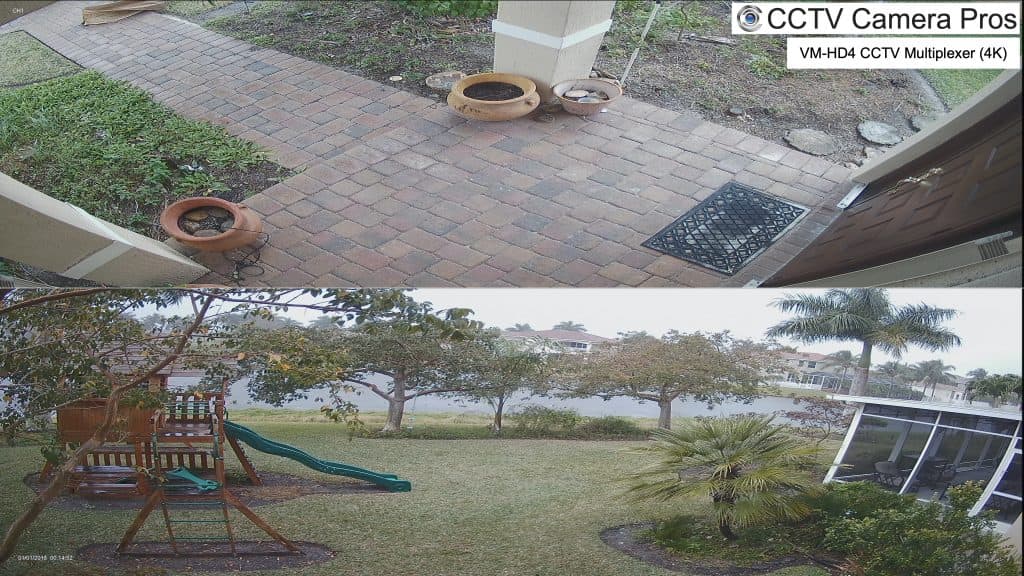 2 Camera Display – Side-by-Side (Right / Left) Layout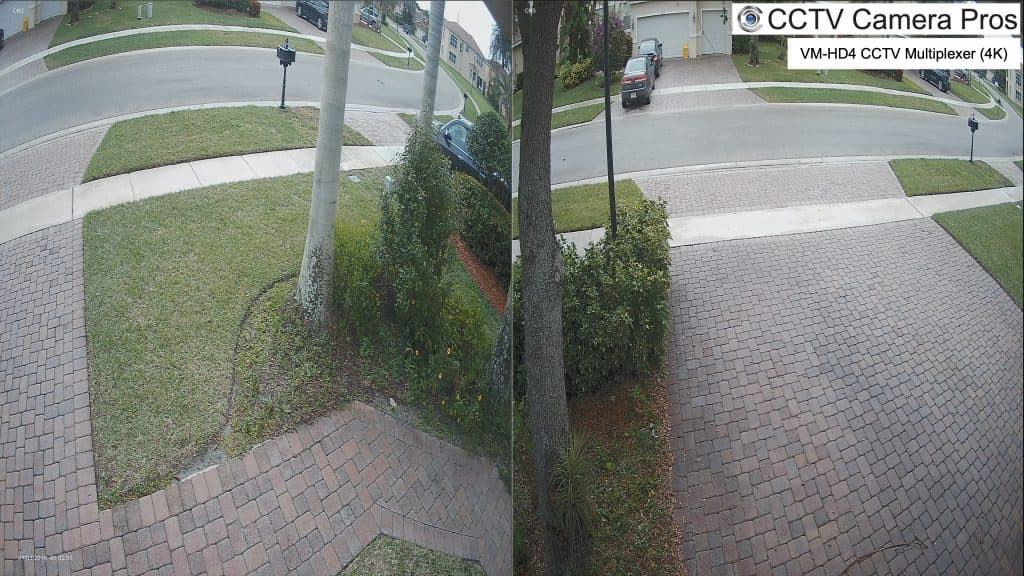 Single Camera / Full Screen Display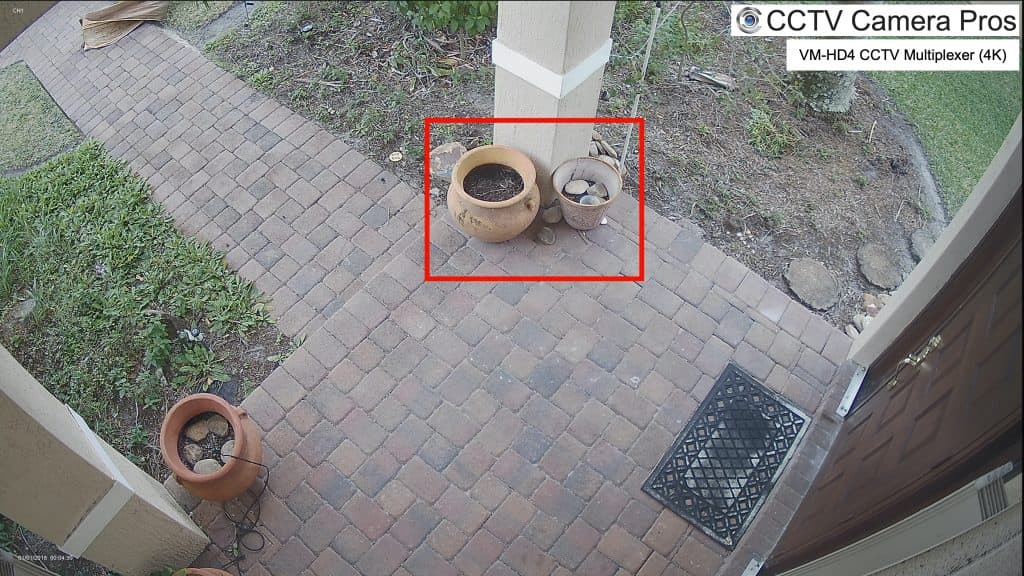 In this screenshot, I also have the digital zoom function enabled which allows me to select an area on the image using the wireless remote control.
Digital Zoom Function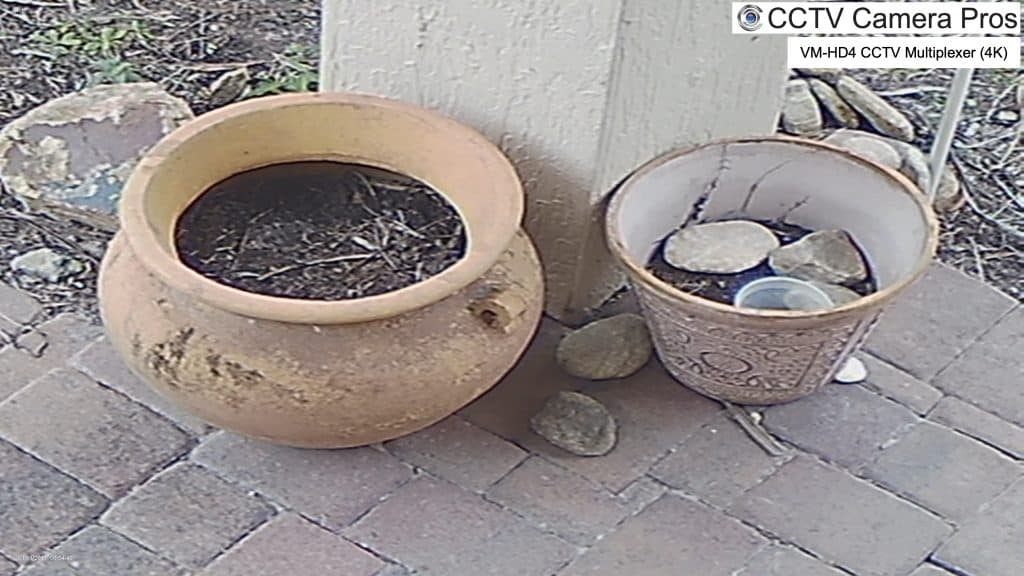 This is what it looks like when I zoom in to the area that I selected on the screen. This is a digital zoom function.
Security Camera Installation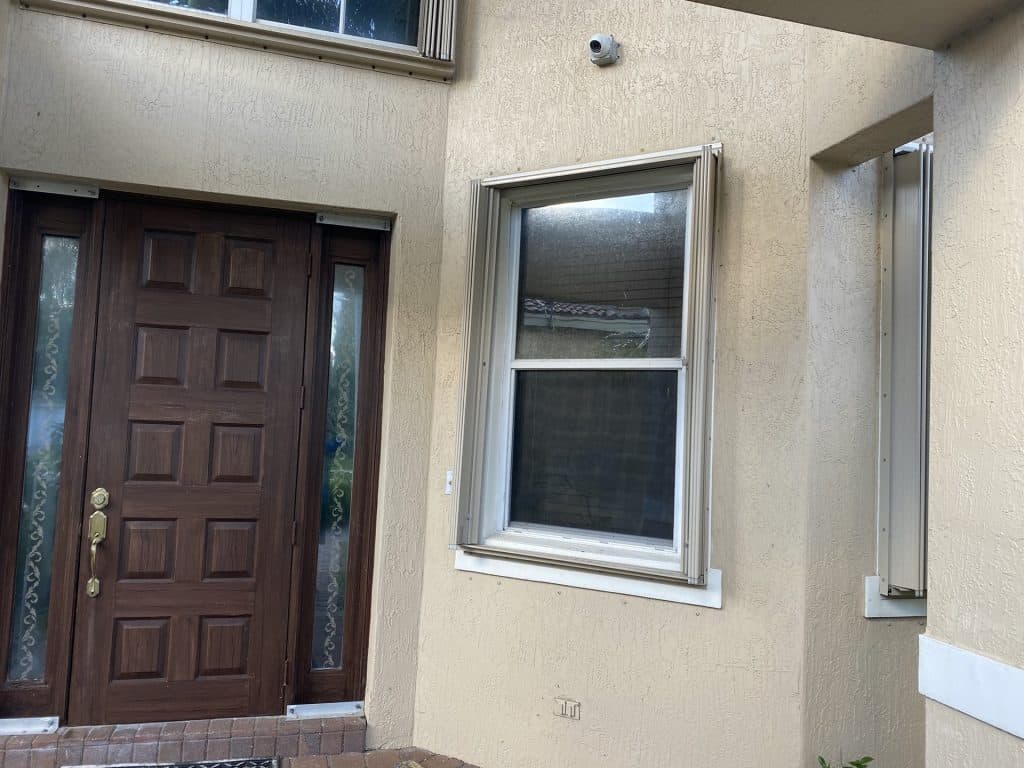 Here is a picture of the 4K dome camera that is installed at my front door. The other 3 locations use this 4K bullet security camera. Both models, have the same built-in IR night vision capability so  that they can capture surveillance video in low light and zero light at night.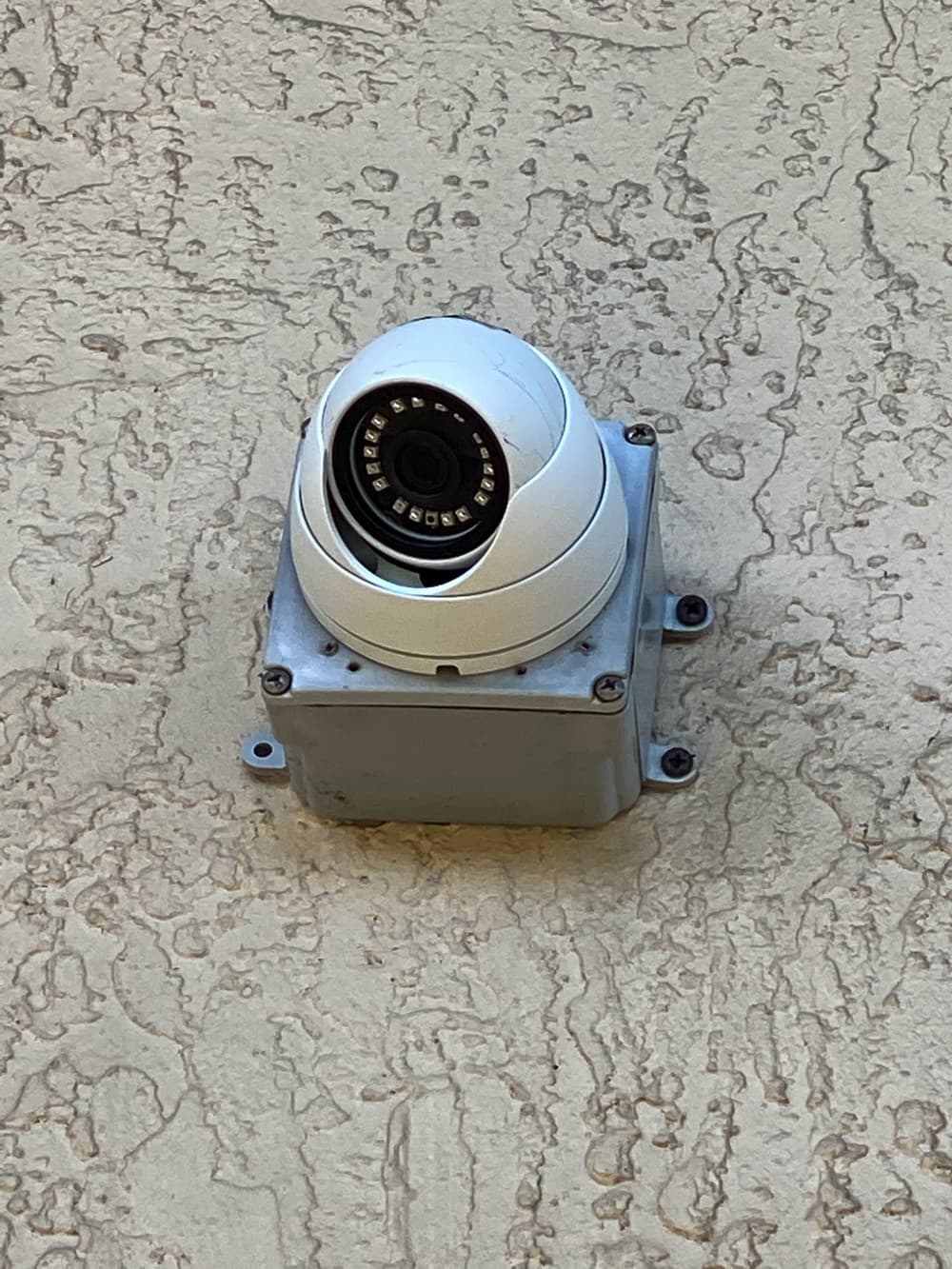 Here is a close-up of the dome installation at my front door. I reused the junction box that was installed many years ago when I first installed my analog CCTV camera system. That is why there are a few extra holes in the cover plate.
4K Video Camera Display Systems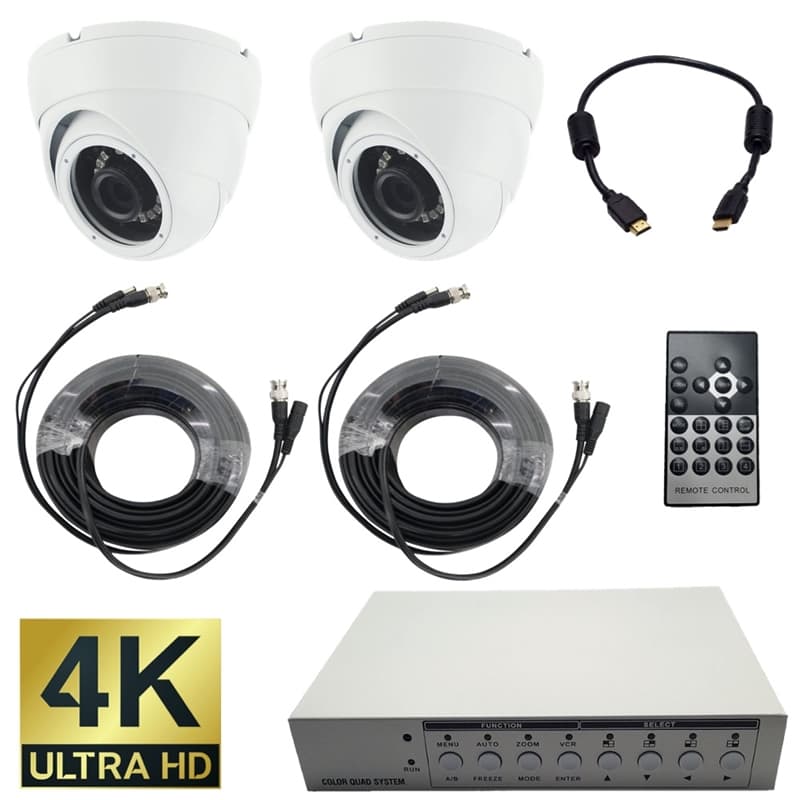 Complete 4K video camera display systems are now available from CCTV Camera Pros. They include 4K CCTV cameras, pre-made Siamese coax cable, HDMI cable, and a video multiplexer. I can also help design a custom system based on your specific needs.
Need Help / Questions
If you have any questions about these live display systems or anything related to video surveillance equipment, please email me at mike@cctvcamerapros.net.