Pinhole Security Camera 1080p Video Surveillance Demo
Watch this 1080p video surveillance demo that was recorded using our MINI-CN4 pinhole security camera. The MINI-CN4 is our smallest pinhole camera, measuring only 25mm x 25mm x 18mm.
Pinhole Lens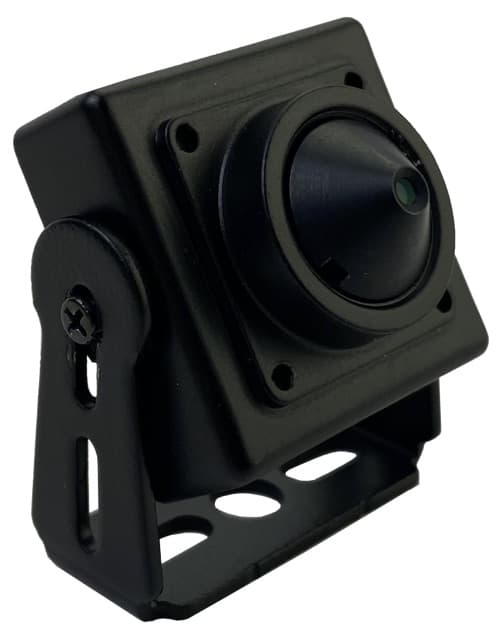 Here is a close look of the small pinhole lens of the MINI-CN4. It is important to note that only the tiny end of the cone-shapes lens needs to be exposed in order to capture video surveillance footage. TheU-shaped mount makes it easy to install this camera inside of objects. This tiny CCTV camera can be used in a security gate call box, ATM, and hidden spy camera applications.
Security Gate Callbox Installation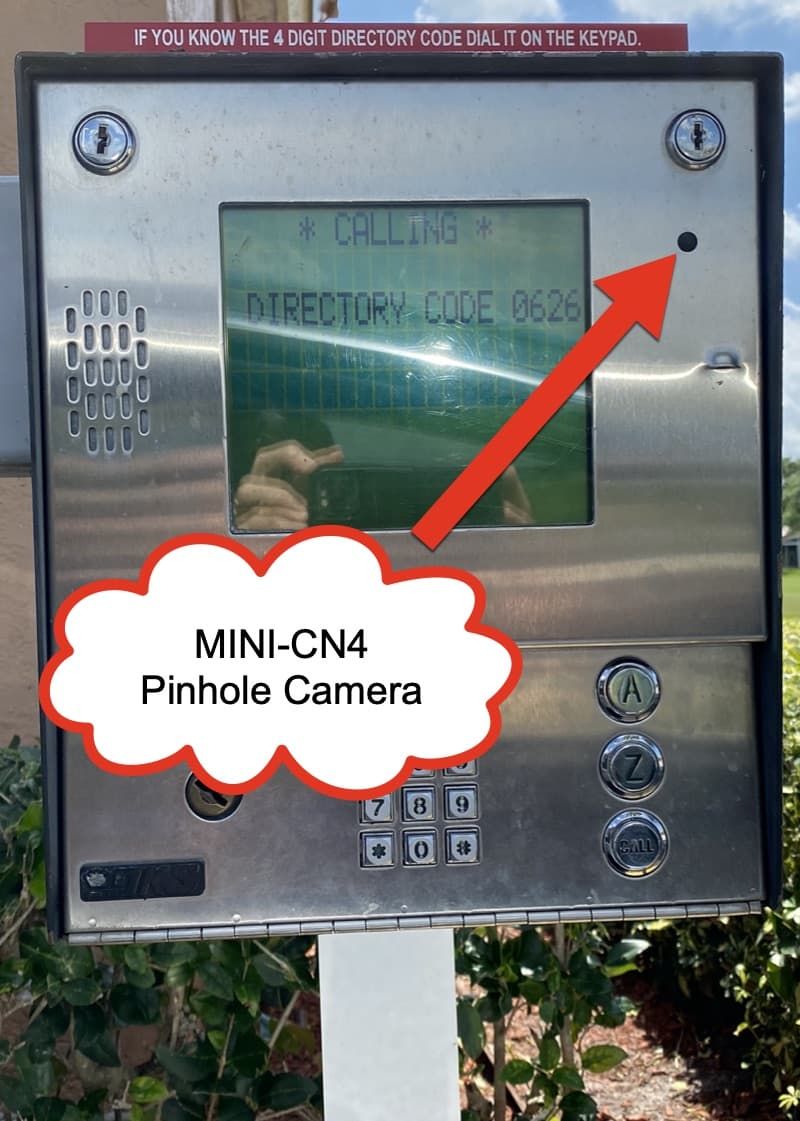 The above picture shows how the MINI-CN4 camera be installed inside of a security gate callback at an HOA community. It is very common for gated communities to record the faces of all of the guests that enter the property.
ATM Pinhole Camera Installation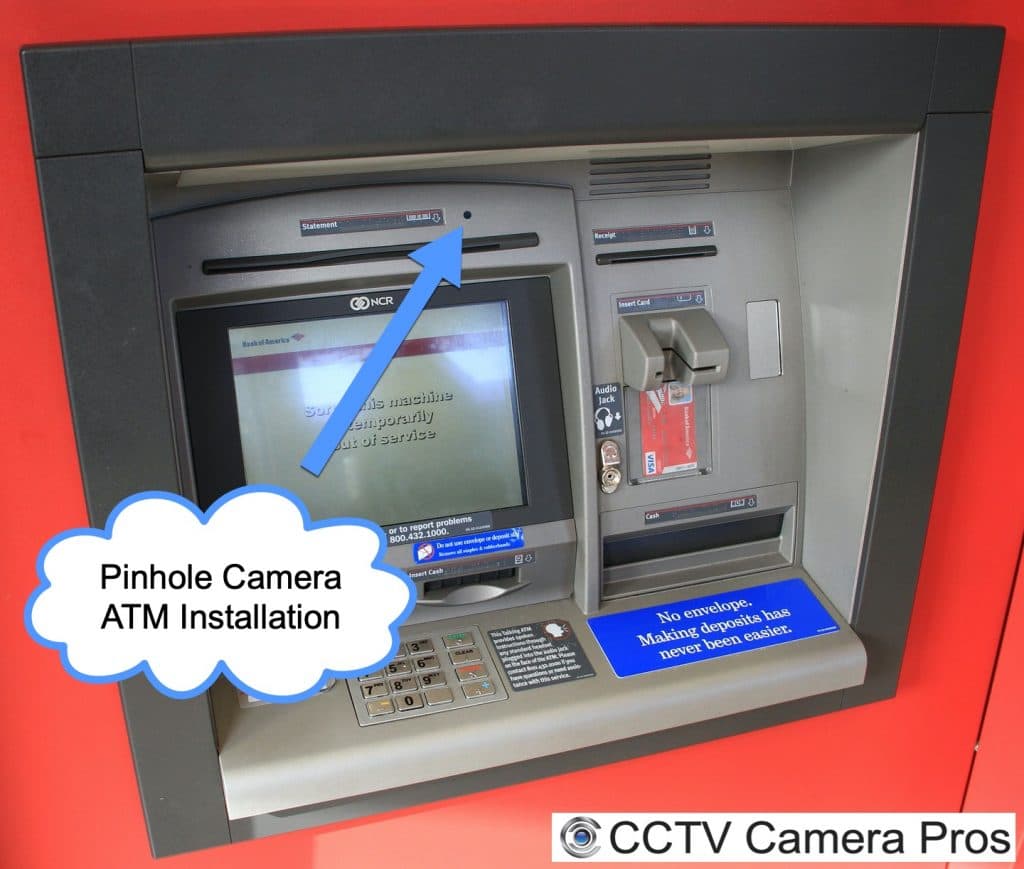 Here you can see how the MINI-CN4 pinhole camera can be installed inside an ATM at a bank. Almost all automated teller machines have security camera installed in them to record the faces of people using the ATM.
Pinhole Spy Camera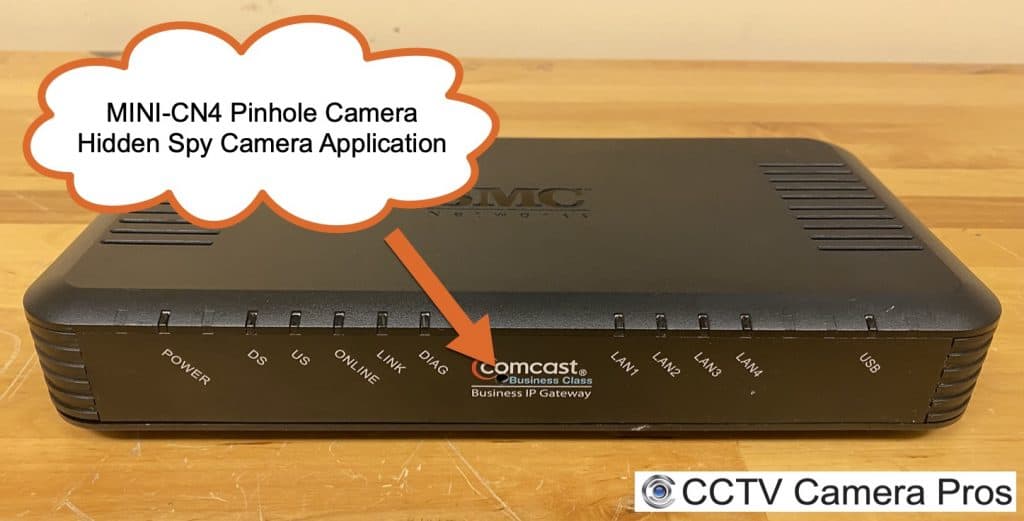 Here is an example of a hidden pinhole spy camera that we made at CCTV Camera Pros using a MINI-CN4. We drilled a small hole into the front cover of an old Internet cable modem that we no longer use and mounted the pinhole camera to the back of the front cover. This is just one of many possible hidden spy camera applications that can be installed using this camera.
Hybrid Analog CCTV / HD-over-Coax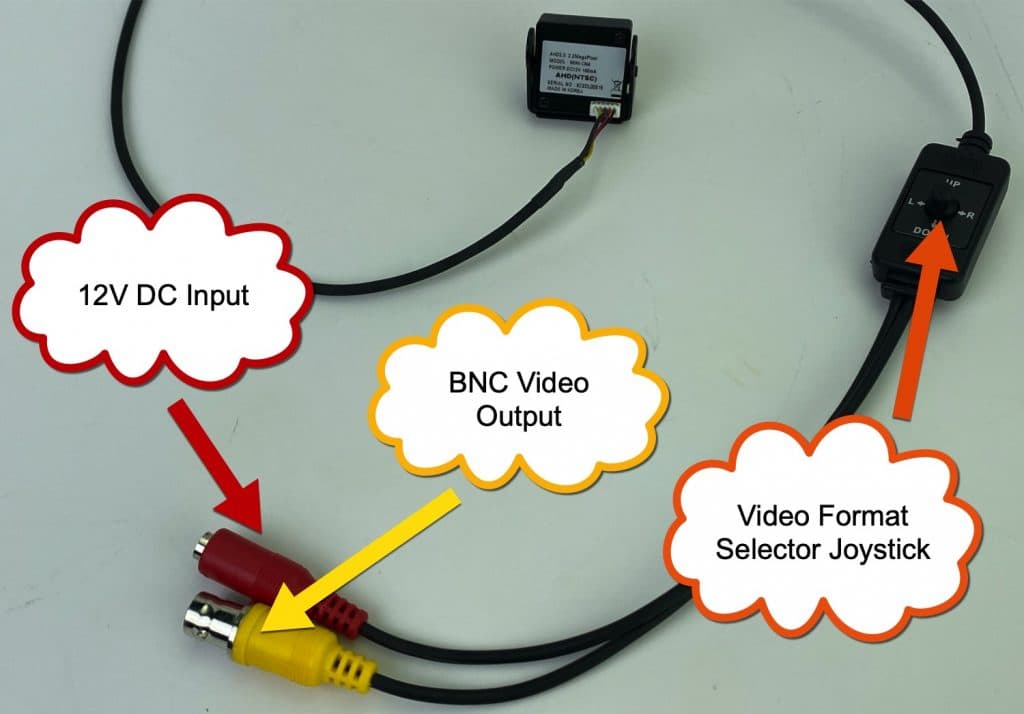 The MINI-CN4 supports 4 video formats: analog CCTV (CVBS), AHD, HD-TVI, and HD-CVI. This makes it compatible with almost all surveillance DVRs including older analog CCTV DVRs and the latest HD security camera DVRs. The video resolution of analog mode is 960H (960 x 420). The video resolution of AHD, HD-TVI, and HD-CVI video modes is 1080p / 2 megapixel (1920 x 1080 pixels).
Pinhole Camera FAQ
Here are some frequently asked questions that I receive about pinhole cameras.
Can these camera be installed inside of alarm clocks?
Yes. Because this camera is so small, and only the tip of the cone lens needs to be exposed, then can be concealed inside of alarm clocks and other small electronic devices.
Do these camera support motion detection video recording?
Motion detection recording is a function of the DVR that these cameras are connected to. So yes, as long as you use a DVR that supports motion detection recording.
Do these cameras have a built-in SD card?
No. these are commercial grade HD CCTV cameras that are designed to be hard wired to a surveillance DVR.
What video resolution is supported?
2.0 megapixel / 1080p full HD and 960H analog video resolution is supported.
What brand DVR is compatible with the MINI-CN4?
This camera supports analog CVBS, AHD, HD-TVI, and HD-CVI video formats. This makes them compatible with older analog CCTV DVRs and the latest HD DVRs from all major manufacturers including Swann, Samsung, Night Owl, Lorex, QSee, Defender, Digital Watch Dog, CCTV Camera Pros, and just about all others. If you need help determining compatibility with your DVR, please email me here. We highly recommend iDVR-PRO DVRs.
Are other spy / hidden cameras available?
Yes. CCTV Camera Pros has many pre-made hidden spy cameras available here.
Do pinhole camera support infrared night vision?
These cameras can work fairly well in low light situations, however, they do not have built-in IR night vision. If you need a hidden camera with IR night vision, please take a look at this hidden motion detector camera with invisible IR.
How much does shipping cost?
CCTV Camera Pros offer free shipping inside of the USA for any order over $99.