6 Great HD Security Cameras with Night Vision
Watch these video surveillance demos to see six of our best HD security cameras with night vision.
Most of the security camera systems designed by the team at CCTV Camera Pros include surveillance cameras with built-in IR LEDs. Infrared LEDs enable low light and zero light night vision. We also supply many of these cameras separately to customers looking for upgrades or replacement cameras for their existing DVRs.
Here are six of our best selling models. Please note that all of these are hybrid HD security cameras that use coax cable and BNC connectors. All of these cameras support 4 video modes: analog CCTV (CVBS), AHD, HD-TVI, and HD-CVI. This makes them compatible with just about every coax cable / BNC type DVR from any manufacturer. If you need help determining if a camera is compatible with your DVR, please email contact me via email.
---
Dome 180 Degree Security Camera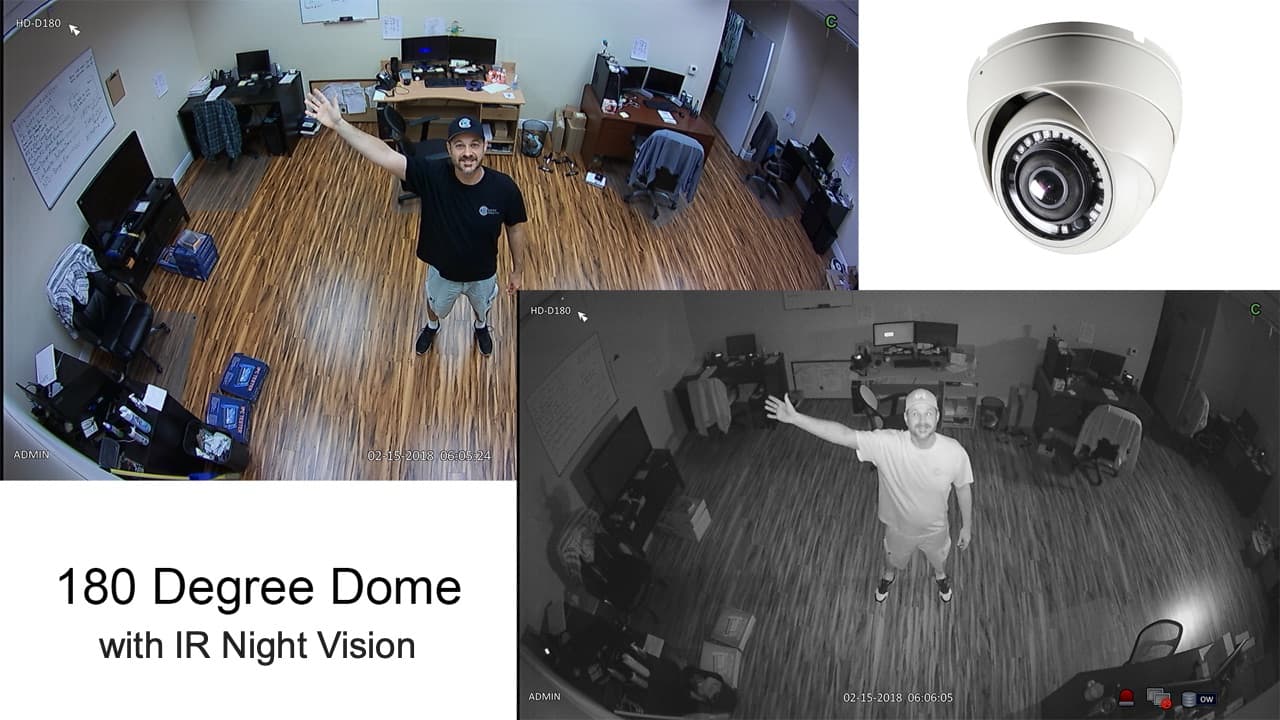 The HD-D180 is a dome 180 degree security camera with night vision. Customer's love the 2mp resolution and ultra wide angle of view that this camera provides. The dome enclosure is IP66 weatherproof rated so that it can be installed indoors or outdoors.  These features, plus the camera's super affordable price point and universal compatibility, make this our best selling 180 security camera and one of our best selling cameras overall. CCTV Camera Pros has one of these cameras permanently installed in our main sales office in West Palm Beach, Florida.
---
Bullet-style 180 Degree Camera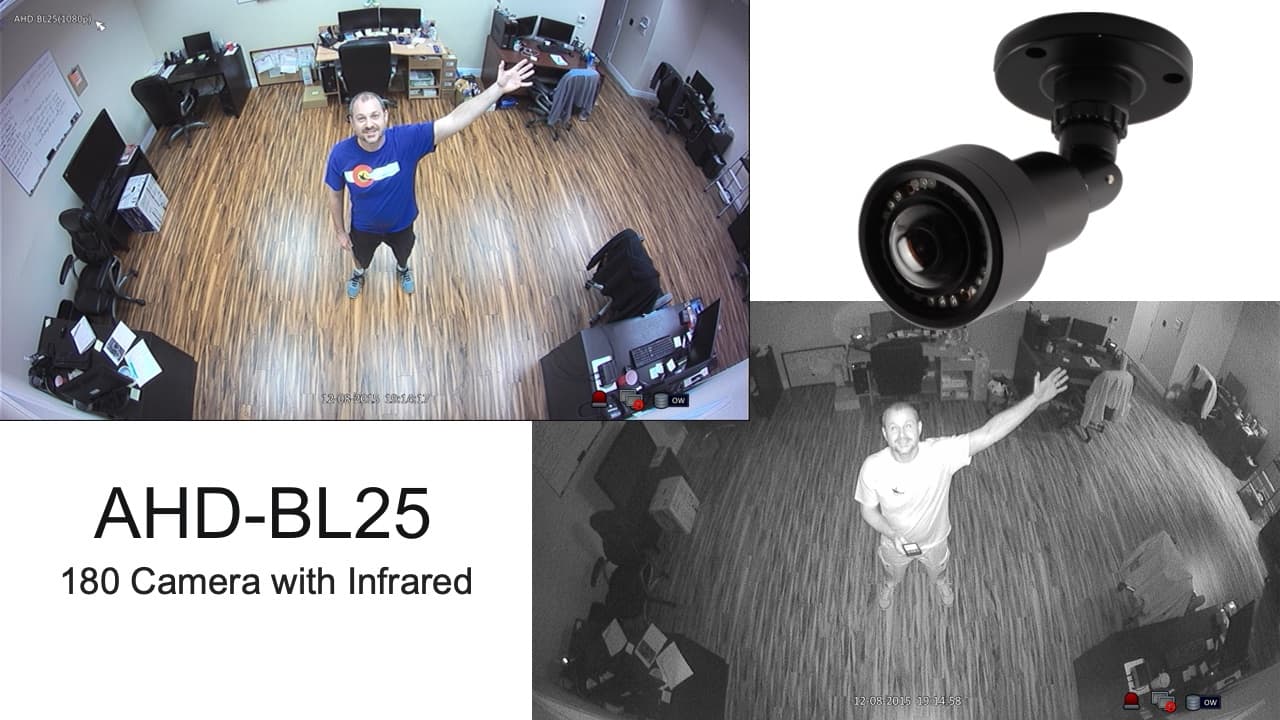 The AHD-BL25 is another 180 degree wide angle security camera. The AHD-BL25 is basically the same camera as the HD-D180, except this one comes in a weatherproof bullet-style enclosure instead of a dome. Some installers prefer the tri-axis bullet style mount of a bullet camera over a dome. Others like the gimbal turret style mount of the HD-D180. The 2 megapixel / 1080p HD video quality is the same on these two cameras, as is the infrared night vision capability.
---
Turret Dome Camera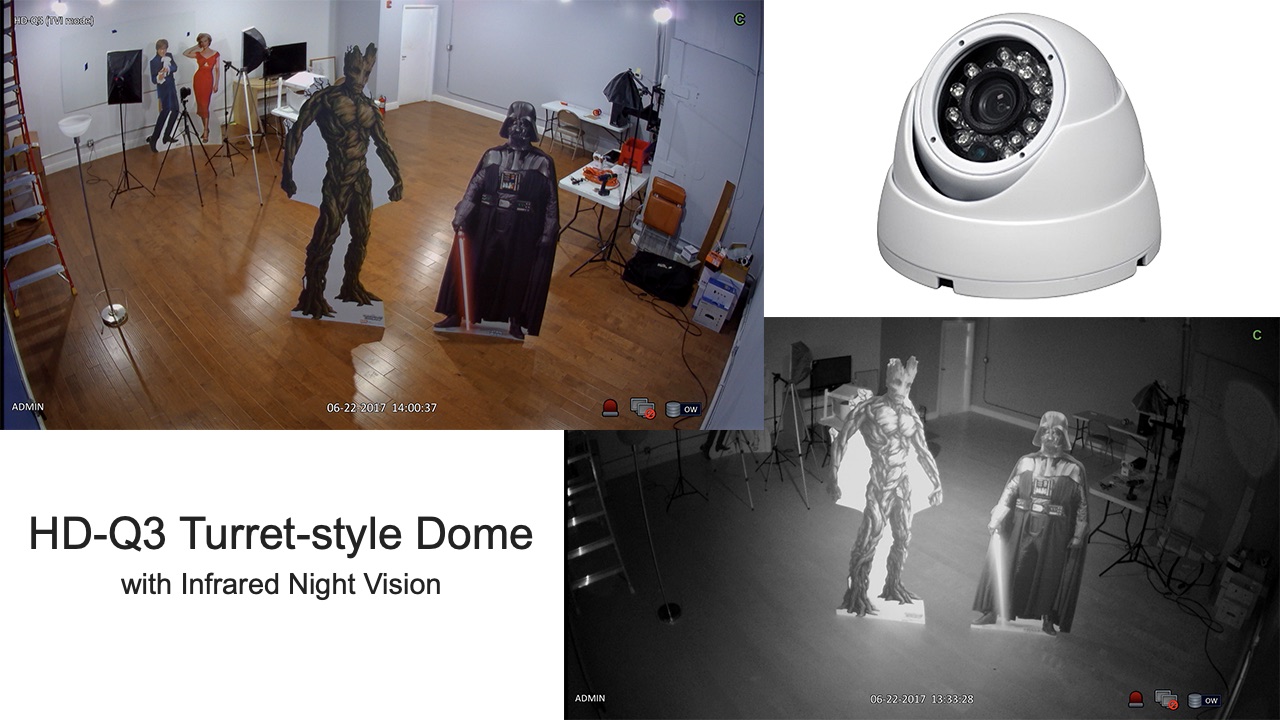 The HD-Q3 is a turret-style dome surveillance camera. This camera has a 3.6mm fixed lens that provides a 90 degree viewing angle. The 24 IR LEDs provide a max illumination up to 50 feet. Turret dome cameras are extremely easy to install and point because of the the way the eyeball / gimbal allows you to move the lens in any direction. Many retail shops and mall stores like this camera because the white dome blends in well with white ceiling tiles.
---
Bullet Camera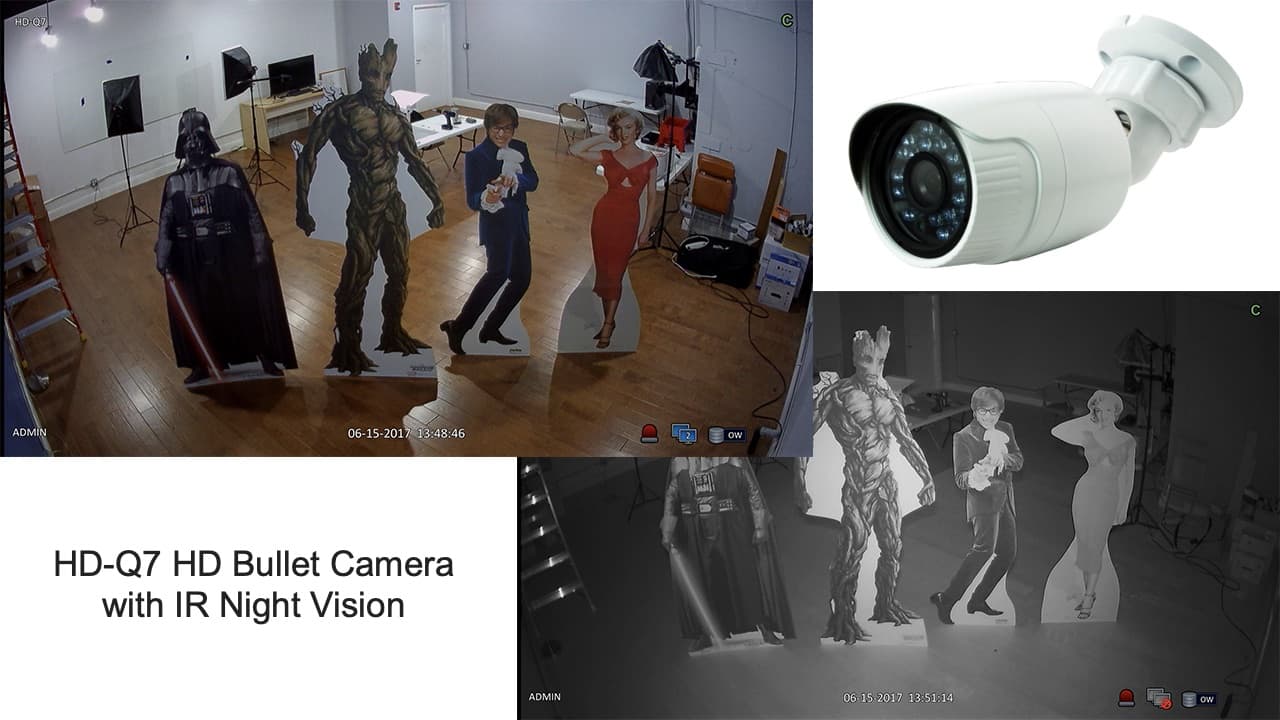 The HD-Q7 is our best selling HD bullet CCTV camera in our economy line. Like the above HD-Q3 dome, it has a fixed 3.6mm lens which provides a 90 degree field of view. The infrared range of the HD-Q7, 2 megapixel / 1080p resolution image sensor, and IP66 weatherproof rating of the housing are also the same as the HD-Q3. It is basically a bullet version of the HD-Q3. Please note that the body style of this camera has changed slightly since this demo video was made, however, the video quality and night vision performance is the same.
---
Vari-focal Bullet Camera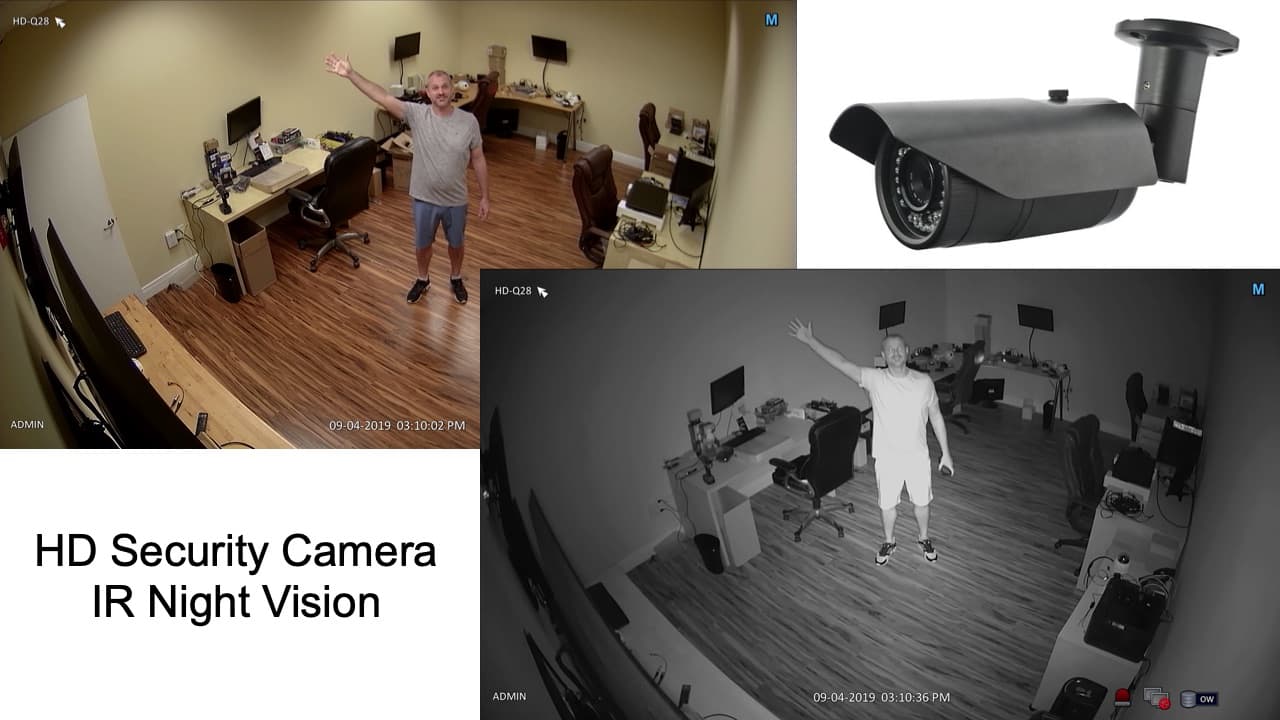 All of the cameras discussed so far have been fixed lens, which means that the lens has one position and is pre-focused. The HD-Q28 HD bullet camera has a 2.8-12mm vari-focal lens which allows the installer to adjust the angle of view (more narrow / more wide) and focus of the camera using set screws located on the underside of the camera's housing.  A 2.8 to 12mm lens provides a view range of 22 degrees to 109 degrees. This is an indoor / outdoor security camera.
---
Invisible Infrared Spy Camera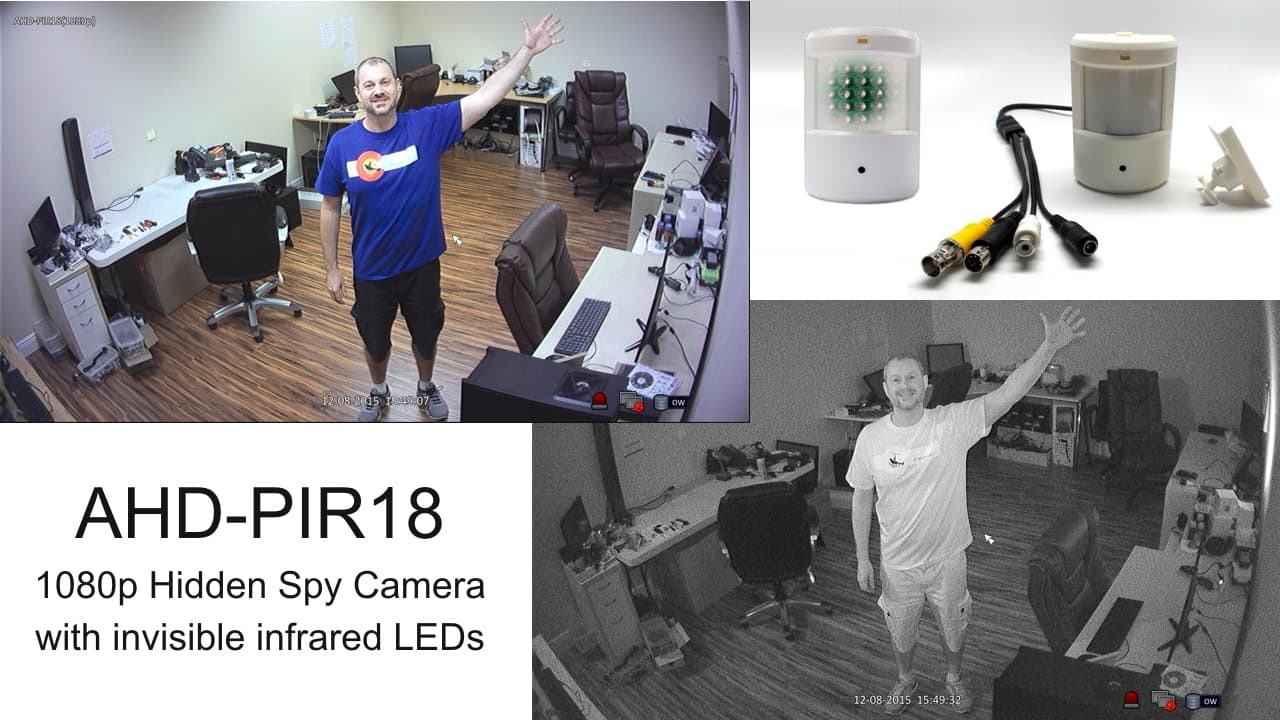 The AHD-PIR18 is a hidden spy camera with invisible infrared. All of the CCTV cameras discussed so far use traditional infrared technology to enable their night vision capability. Traditional IR LEDs emit a red glow that is visible to human eye-sight. The AHD-PIR18 uses specialized 940nm IR LEDs which DO NOT emit a visible red glow. In addition, the IR LEDs are concealed behind the PIR sensor window on the motion detector housing it is enclosed in. The AHD-PIR18 has been our best selling "covert spy camera" for many years. Like the other cameras discussed so far, it supports 2 megapixel / 1080p video.
---
How These Video Demos Were Recorded

All of the above video demos were recorded by connecting each camera to an iDVR-PRO hybrid CCTV / HD surveillance DVR. The cameras were wired to the DVR using RG59 Siamese coax cable with BNC connectors. The videos were all recorded at 1080p / 2 megapixel resolution. The videos were then exported, my voice over was added, then they were uploaded to YouTube.
We also tested each camera with the remote security camera viewer apps and software supported by iDVR-PRO DVRs. Remote camera view is supported using iPhone and Android mobile apps. Windows and Mac desktop software is also supported. You can find more sample images on each camera's product page.
---
iPhone App Viewer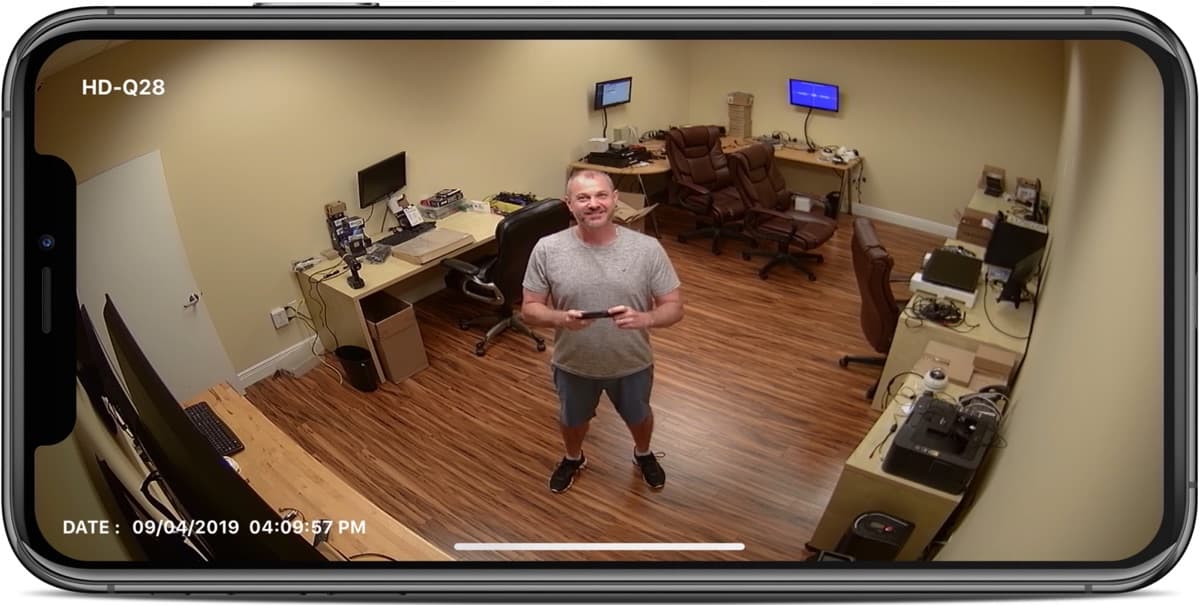 Here is the HD-Q28 security camera remote view from the iDVR-PRO iPhone app. In addition to the remote live view, this app also supports recorded video playback, push alert notifications, multi-camera view, audio, and more. You can learn more about this camera viewer iPhone app here.
---
Android App Viewer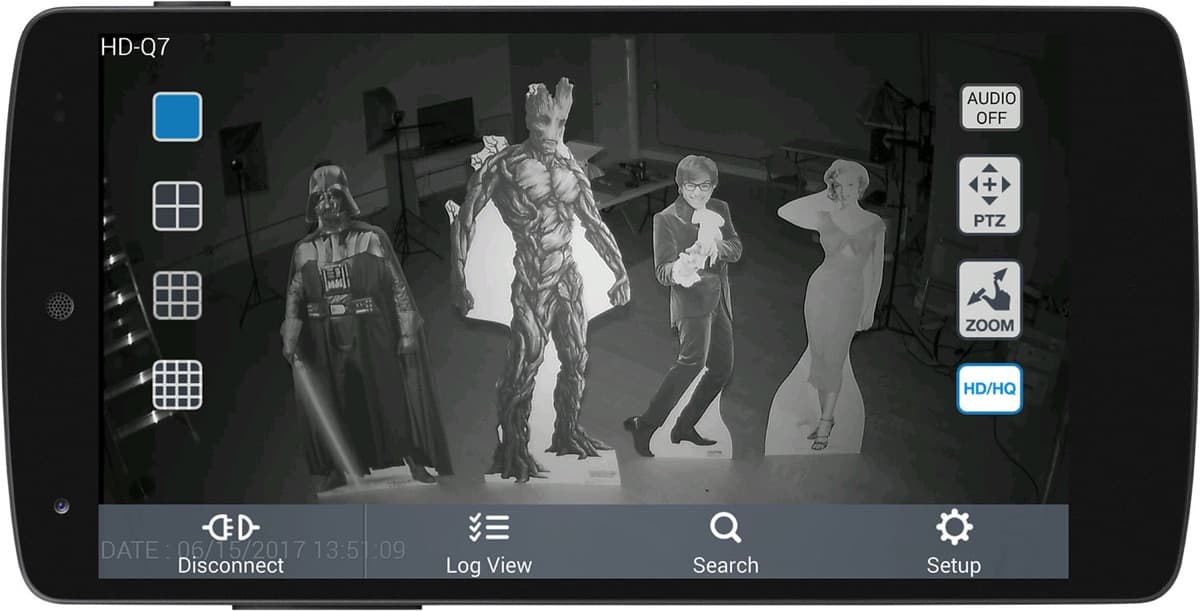 Here is the HD-Q7 HD CCTV camera remote view from Android. There is zero light in this room and the camera's IR night vision mode is on. In addition to the remote live view, this Android app also supports recorded video playback, push alert notifications, multi-camera view, audio, and more.You can learn more about the iDVR-PRO security camera app for Android here.
---
Night Vision Camera FAQ
Here are some frequently asked questions about security cameras with night vision capability.
How does the night vision in security cameras work?
Night vision security cameras use infrared LEDs, an IR cut filter, and a photon detector (light level sensor) to enable their "night vision mode". The photon sensor is used to detect when light levels are low. When light level goes below a certain level, the camera's IR LEDs automatically turn on and the infrared cut filter is engaged over the image sensor. Night time mode is now enabled. The LEDs reflect the infrared light of objects that they are shining on. The infrared cut filter os what enables the camera to capture the reflected infrared light. The result is a black and white image. When light levels return, the camera automatically switches back to day time mode by disengaging the IR cut filter.
Do these cameras work in total darkness?
Yes, the cameras on this page work in the following light conditions: normal light, low light, and complete darkness.
Do IP cameras support night vision?
Yes, although this article focused on high definition BNC security cameras, IP cameras use the same type of infrared technology for night vision that is described above.
Do these cameras support cloud storage?
No. All of these cameras are HD coax type cameras that are hard wired to a DVR (which has a hard drive for storage).
Are any of these cameras battery powered?
No. At this time, CCTV Camera Pros does not support any rechargeable battery operated security cameras. All of these cameras include a 12V DC power supply that connected to a standard wall outlet power source.
Which DVRs are these cameras compatible with?
The cameras in this article are compatible with most BNC / coax cable type DVRs. All of these cameras work with the following video formats: analog CCTV (CVBS), AHD, HD-TVI, and HD-CVI. 1080p HD / 2 megapixel resolution is supported in AHD, HD-TVI, and HD-CVI modes. 960H (960 x 480 resolution is supported in analog CCTV mode. CCTV Camera Pros highly recommends iDVR-PRO DVRs, but these cameras also work with Night Owl, Samsung, Swann, Lorex, QSee, Defender, Dahua, HikVision and just about every other type of DVR.
---
Questions / Comments
If you have any questions about this article or anything related to video surveillance systems, please email me here.