4 Security Camera with Monitor Systems for Live Video Display
If you are looking for a security camera with monitor to display live video, here are 4 of the best systems to consider.
At CCTV Camera Pros, I speak to many customers who are looking for a solution to display live video on a monitor (or TV) from one or more surveillance cameras. Some of these customers are not interested in recording video on a DVR. They just want a live video on a monitor to view in real time. Others may also want to use a DVR, but they want one or more monitors separate from their recorder to constantly display a live view of a certain camera(s). I have worked on many of these projects with business and home surveillance system customers.
Here are 4 solutions to consider.
These solutions are explained in detail below.
---
Security Camera with Monitor
This is by far the most simple solution because it uses the least amount of parts. It is a security camera and monitor that is natively compatible with the BNC coax cable connection / video format of the camera. You can find this security camera with monitor system here.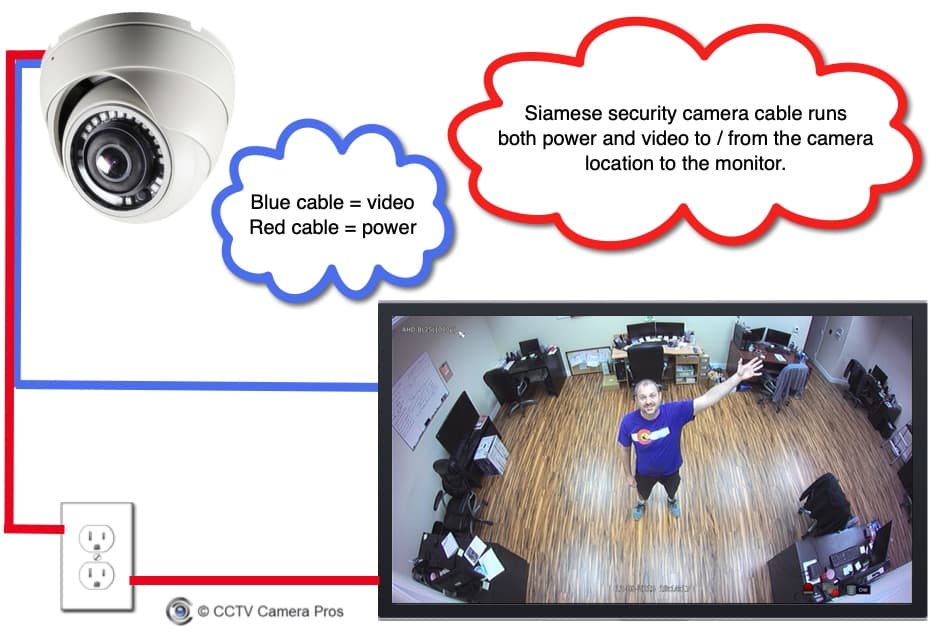 This is how it works.
The system includes a pre-made Siamese security camera cable which runs both the video and power. The coaxial portion of the cable has BNC connectors pre-attached.
One end of the coaxial cable connects to the BNC output of the camera. The power lead connects to the video input of the camera.
The system also includes a BNC monitor that is compatible with HD over coax cameras (AHD, HD-TVI, HD-CVI). The other end of the coax video cable connects to the BNC video input on the monitor. The power lead on this end plugs into the individual power supply for the camera, then into a standard power outlet.
This is completely plug-and-play system with no special tools required.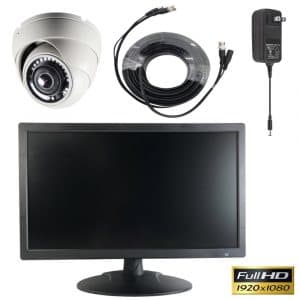 You can find our pre-made security camera cable wiring guide here that includes explanations and diagrams.
---
BNC to HDMI Converter
If you want to use a standard HD TV with HDMI input to display a live view of your security camera, the HDCV-3-T BNC to HDMI converter may be the best choice for you. One of the benefits of this solution is that you can use any TV or monitor that has an HDMI input.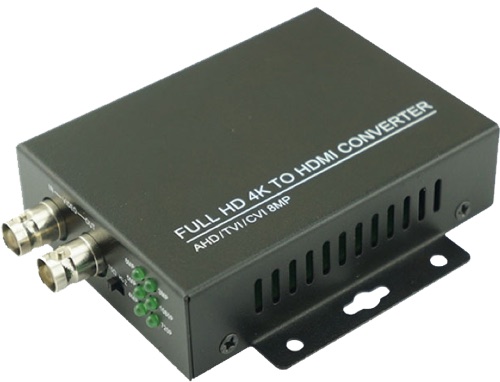 The HDCV-3-T can be used to connect just about any HD BNC security camera to any HDMI TV monitor.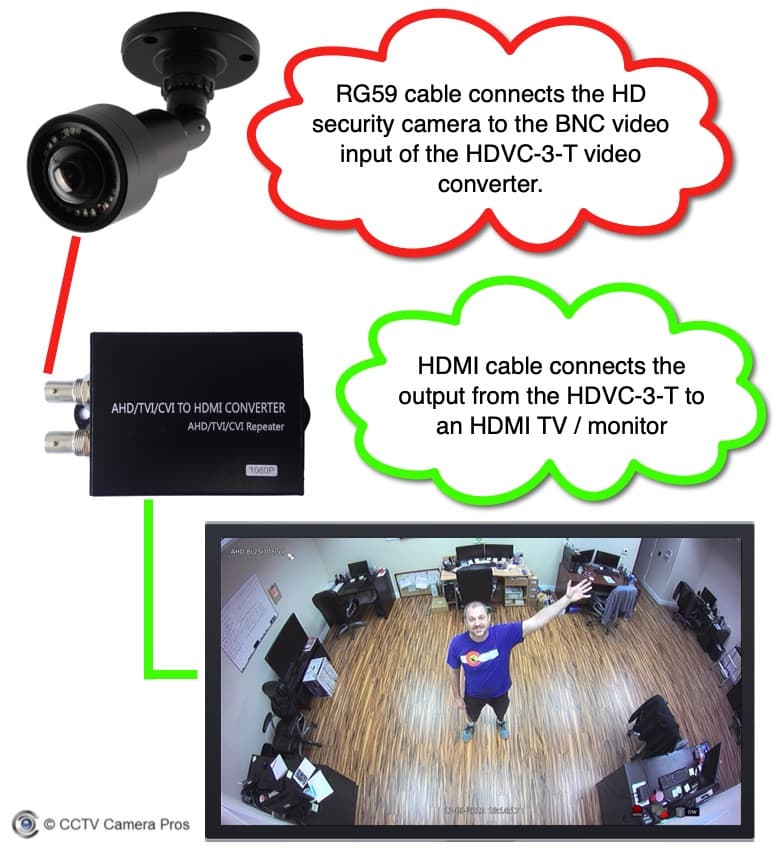 This is how it works.
RG59 coax cable with BNC connectors is used to connect the security camera to the input of the converter. Installers can also use these pre-made Siamese security camera cables with power cable. If you need to run cable farther than 150 feet, you can also use a spool of RG59 Siamese cable.
HDMI cable is used to connect the HDMI output of the converter to the HDMI input of the TV.
This system can be used with all types of cameras including indoor outdoor, dome, bullet, with / without IR night vision (same with all the other systems on this page).
This solution is documented in even more detail in this blog post: How-to Connect an HD Security Camera to a TV via HDMI.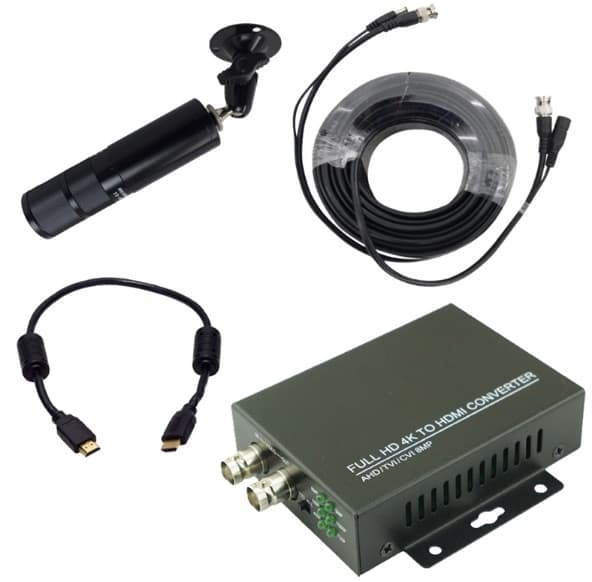 You can find complete live security camera display systems that include a BNC to HDMI converter here.
---
Video Multiplexer
If you want to display live video from more than one security camera on a single TV / monitor, these CCTV video multiplexers are the best solution. They are available in 4, 9, and 16 channel models.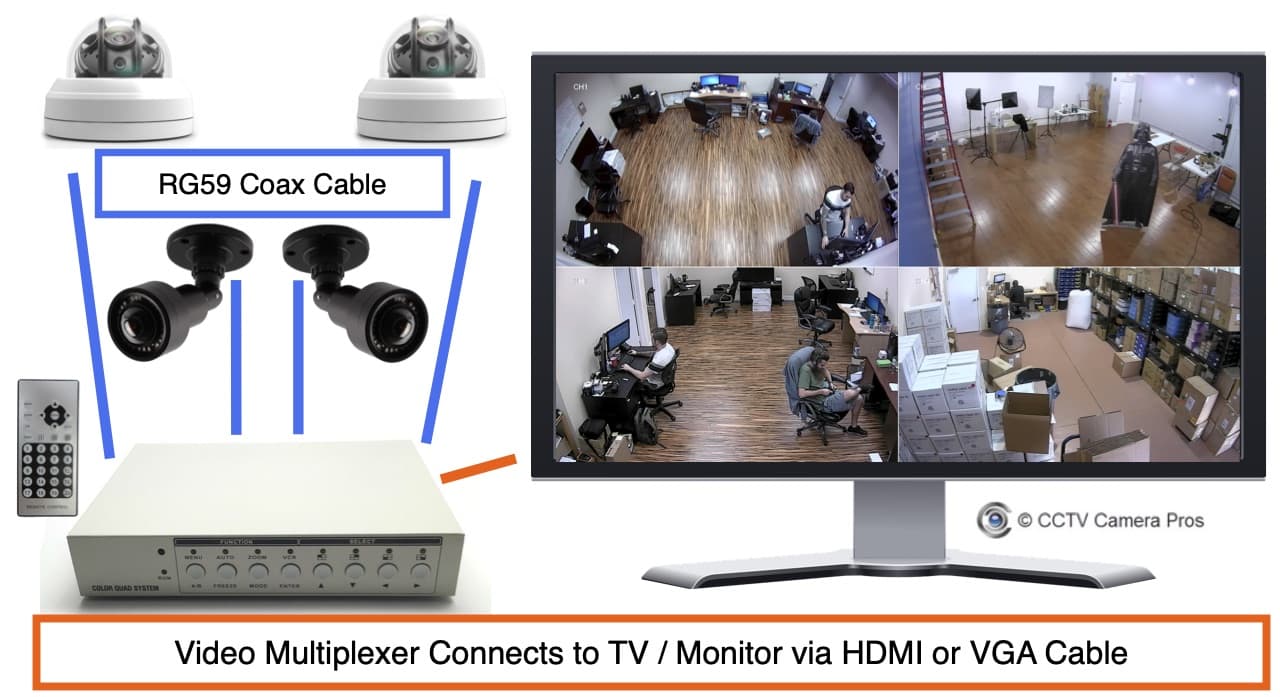 This is how it works in the above diagram.
The 4 security cameras are hard wired to the 4ch CCTV multiplexer using RG59 Siamese cable.
The HDMI video output of the multiplexer is connected to the HDMI input of the TV.
Users can control the display output using the wireless remote control or the buttons on the from of the multiplexer.
Users can switch between multiple camera views and full screen single camera views.
Multiplexer System Video Demo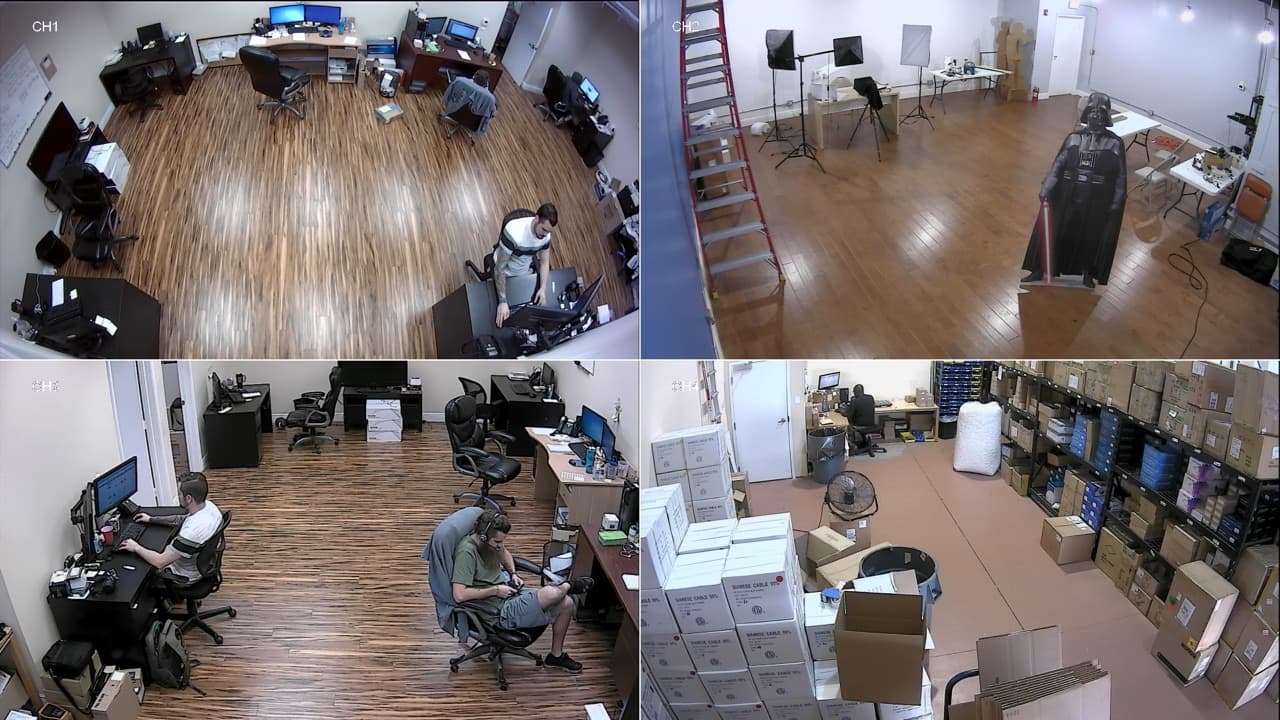 Watch this video demo of the VM-HD4 CCTV video multiplexer to see all of the different display layouts that are supported. The video layouts are being switched using the wireless remote control that is included.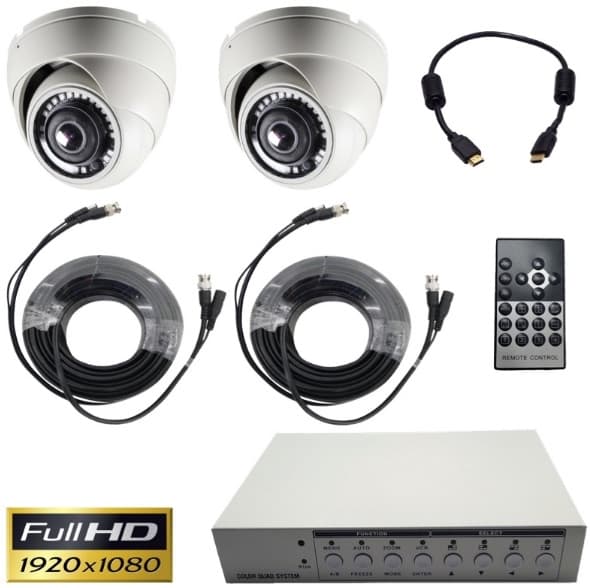 Here is a CCTV multiplexer system that includes cameras and cables. This system can be connected to any HDMI TV to display 1-4 cameras.
---
Security System DVR with Spot Monitor Output
If you want to record video surveillance footage to a DVR and also need excellent support for a live display monitor, you should check out the spot monitor function of these iDVR-PRO surveillance system DVRs.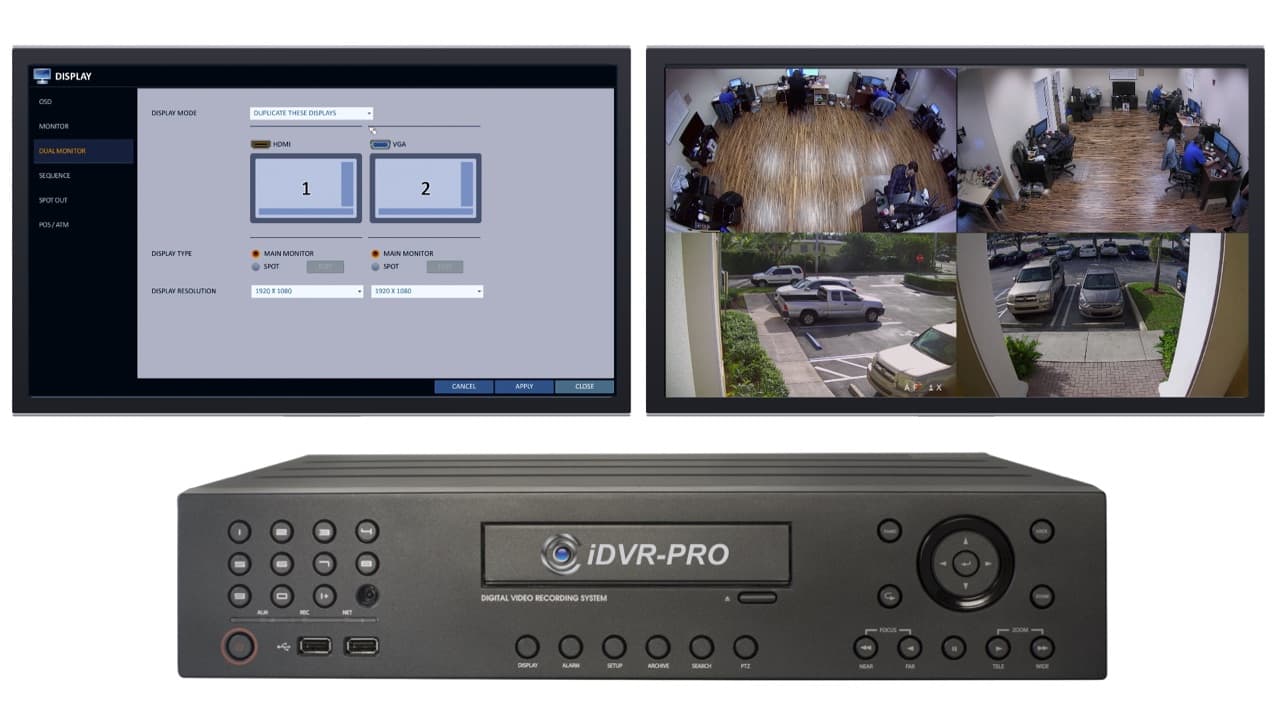 Watch this video demonstration to see the dual monitor and spot monitor function of iDVR-PRO surveillance DVRs. These DVRs have an HDMI and VGA monitor output that can be configured independently. This allows you to have a customized live security camera display on one monitor and a view of the DVRs administration controls on the other.
These DVRs come in 4ch, 8ch, and 16ch models. The live spot monitor output can be configured to display a single camera view or any combination of multiple cameras. The view can even be configured to rotate to different views. Please watch the above video for a demonstration.
In addition to the spot monitor function, these DVRs also have excellent desktop and mobile apps for remote viewing.
---
Related Articles
---
Have Questions? Need a Custom Solution?
Many of the customers that I work with prefer to work one on one on the phone or via email with a professional surveillance system designer. We have an entire team at CCTV Camera Pros that provides free consultation services. We have designed business, government, and home security camera systems for more than 15 years. Please contact me here if I can help further.