HDMI over Ethernet Monitor Display for Security Camera DVRs
HDMI over Ethernet extenders are a great solution for wiring the HDMI video output on security camera DVRs over long distances and / or to multiple TV monitors. Sometimes customers want to display a live view of their security cameras on a TV monitor that is installed more than 50 feet away from the DVR. Running HDMI cable longer than 50 feet is not possible. Additionally, some customers want to install multiple monitors in completely different rooms.
This HDMI over IP kit is an ideal solution to help with these requirements.

The HDMI-IPKIT can be installed a few different ways including direct HDMI over CAT6 connection and HDMI over IP using a network switch. Please note that there is no video quality degradation when transmitting HDMI using this extender system.
Direct HDMI over CAT6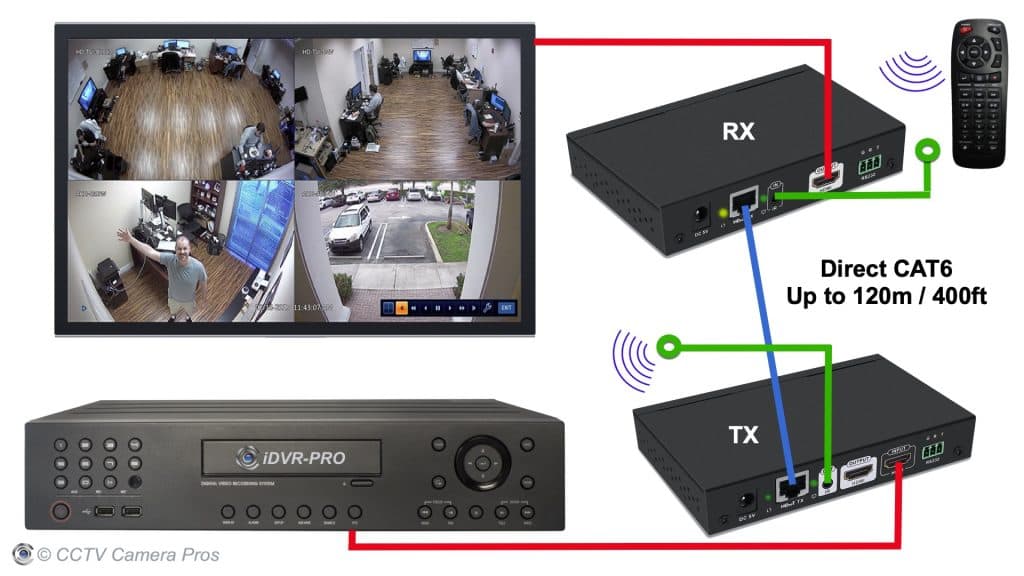 This direct HDMI over CAT6 installation does not transmit the HDMI signal over an IP network. It is a direct peer-to-peer connection made by hard wiring the HDMI transmitter to the receiver using CAT6 cable. The blue line in the above diagram notates the CAT6 connection between the HDMI transmitter and receiver. The direct CAT6 installation supports up to 120 meters / 400 feet transmission distance of 1080p resolution video. The red lines notate the HDMI cables.
The green line notate the IR transmitter and IR receiver that is included with the HDMI over Ethernet kit. Using this, users are able to control their DVR from the remote monitor location using the infrared remote control that is included with their DVR.
HDMI over Ethernet (One to One)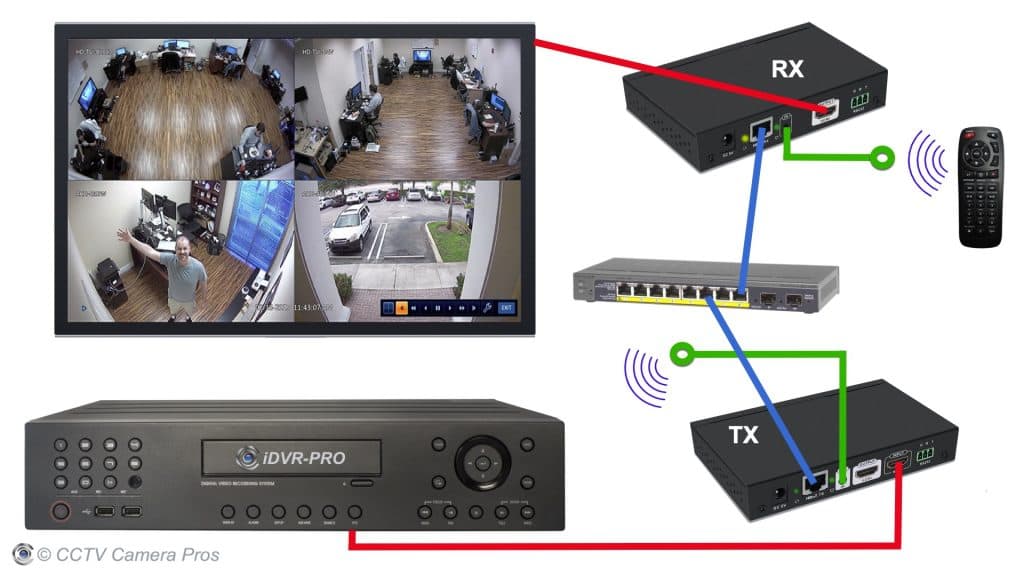 For some installations, it may be easier to wire the HDMI over IP transmitter and receiver to a common network switch. This can be an existing network switch used for other devices on your network or a dedicated switch just for your HDMI transmission. This type of installation is true HDMI over Ethernet because the HDMI signal is actually traveling over an IP network.
CAT-5 or CAT-6 cable may be used for this type of install. The only difference between this installation and the direct HDMI over CAT6 is the TX and RX are hard wired to a network switch instead of directly to each other. The infrared transmitter and receiver can also be used with HDMI over network switch installations.
HDMI over Ethernet (One to Many)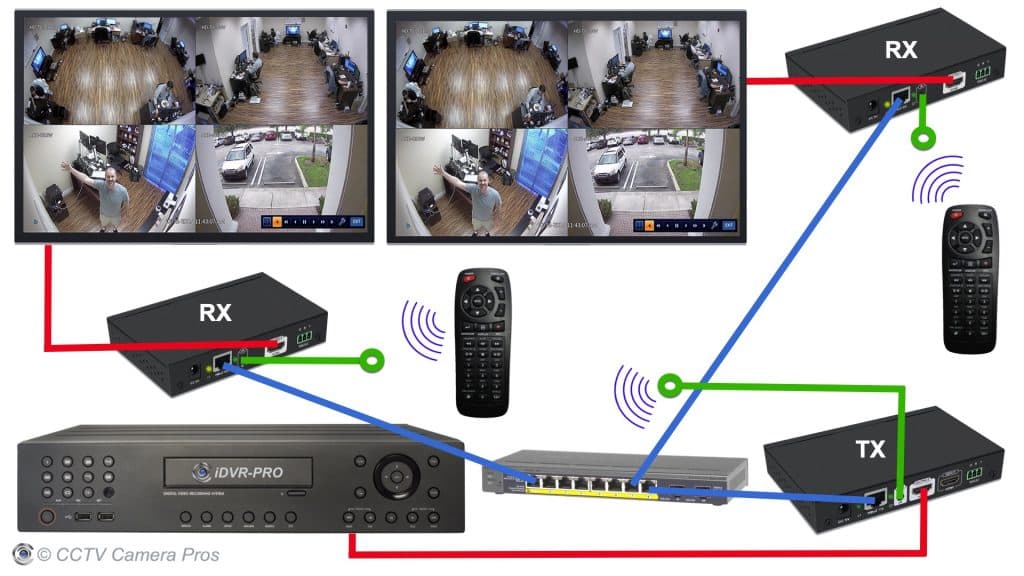 For customers that want to display their security cameras live on multiple monitors, additional HDMI receivers can be added to this system. In the above diagram, one additional TV and HDMI receiver was added. If the customers wants the ability to remotely control the DVR from either TV location, an additional DVR remote can also be added to the system.
HDMI Matrix (Many to Many)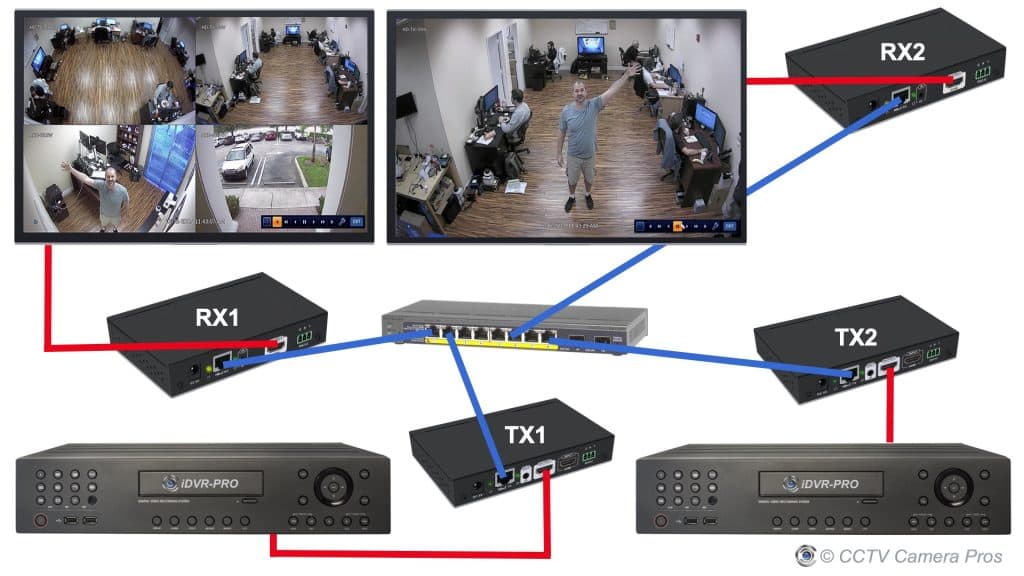 An HDMI matrix installation supports many transmitters and many receivers on the same network. Each receiver is able to able to display the video from any transmitter by selecting the channel on the front of the receiver. There is also a wireless remote control included with this system.
The HDMI extender kit that CCTV Camera Pros supplies supports up to 100 transmitters and receivers on the same network.
HDMI Loop Output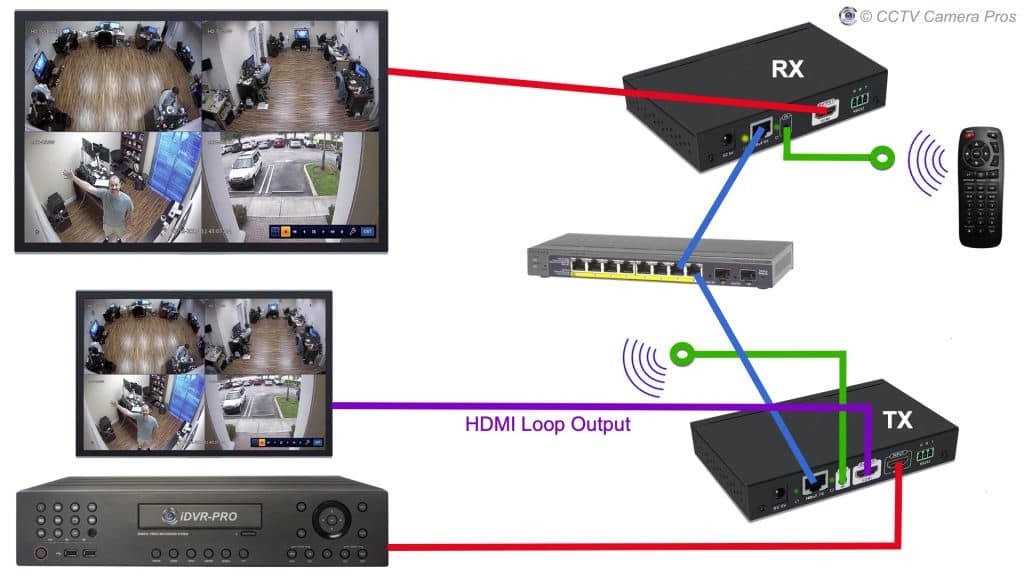 Please note that each transmitter has an HDMI loop output so that an HDMI TV / monitor can be connected at the location of the transmitter. This is handy for installations where the DVR only has a single HDMI video output.
Dual Monitor / Spot Monitor Configuration
If you are using the HDMI-IPKIT with one of our iDVR-PRO surveillance DVRs, it is very convenient that iDVR-PROs have configurable dual monitor outputs – one HDMI and one VGA. Please also check out our spot monitor for IP cameras. Both outputs can be configured to display the main DVR monitor output, or you may configure one as a spot monitor and the other as the main monitor. This means that you can have a main display monitor connected to the VGA output and distribute one or more spot monitors over HDMI using the HDMI-IPKIT.
If you are not familiar with what a spot monitor is, it displays a live view of your security cameras independently of the main monitor output, which displays the menu system of the DVR. iDVR-PRO CCTV / HD security camera DVRs have the most configurable spot monitor output function that I have ever tested.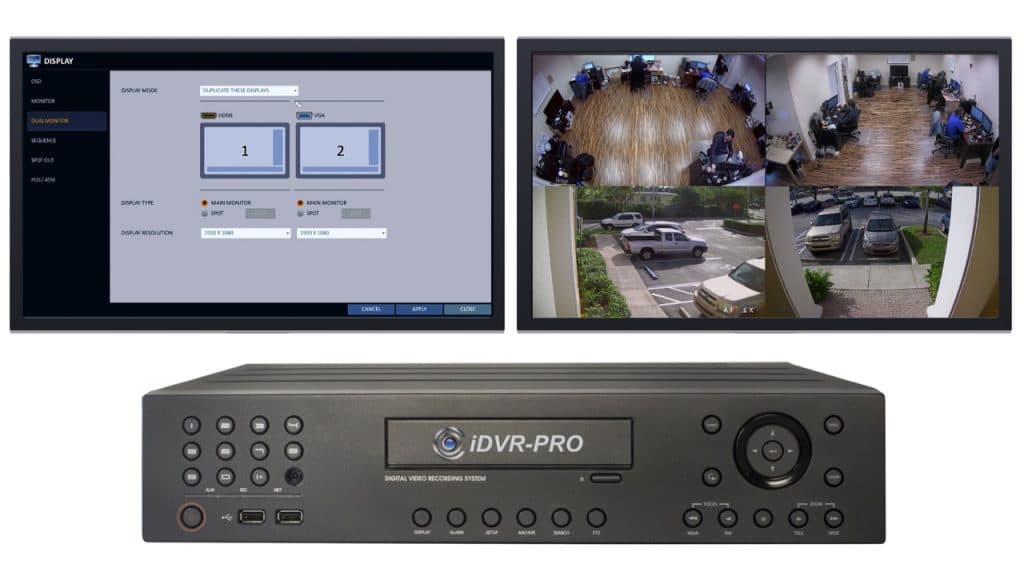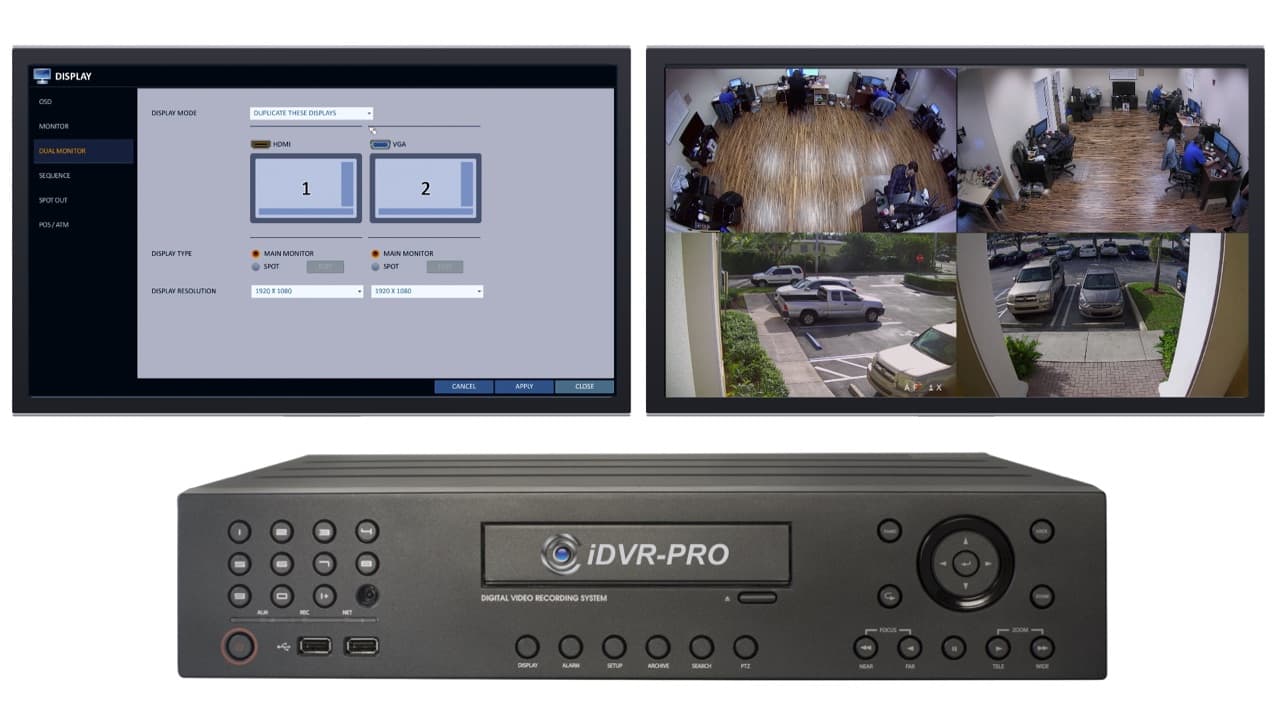 Watch this video to see a demonstration of iDVR-PRO's configurable dual monitor / spot monitor function.
Need Help? / Have Questions?
The team at CCTV Camera Pros has designed thousands of security camera systems for customers worldwide. If you have any questions about the information in this article or anything related to video surveillance, please contact me via email here.