Wireless HDMI Transmitter for Security Camera Live Video Display
Watch this video to learn how to use a wireless HDMI transmitter and receiver kit to display live security camera streams on a TV monitor. Setup a live security camera display monitor without running any messy cables. The HDMI output of an iDVR-PRO video surveillance DVR is used for the demonstration and shows one of the most practical uses for this HDMI over WIFI bridge – to create a wireless security camera monitor.
In addition to streaming live security camera feeds from the DVR, the system also supports transmitting the signal from the DVR's wireless remote control (IR extender / repeater) from the display monitor, back to the DVR location. The system can transmit digital audio as well.
Here is how it works.
The HDMI connection of the security camera DVR is connected to the HDMI input on the WIFI-HDX8 wireless transmitter.
The IR repeater is connected to the transmitter and positioned so that it faces the front of the DVR (where the IR signal is received from the remote).
On the other side of the wireless bridge, the HDMI output of the WIFI-HDX8 wireless receiver is connected to one of the HDMI inputs on the TV monitor.
The IR receiver is connected to the receiver so that the user can use the wireless remote control of the DVR at the display monitor location. The DVR remote control commands from the remote are transmitted over the same wireless bridge as the video display from the DVR.
With both the transmitter and receiver powered on, press and hold the sync button on the wireless transmitter for 3 seconds.
The wireless bridge is now setup and will automatically connect and reconnect if there is ever a power interruption.
Wireless HDMI Transmitter and Receiver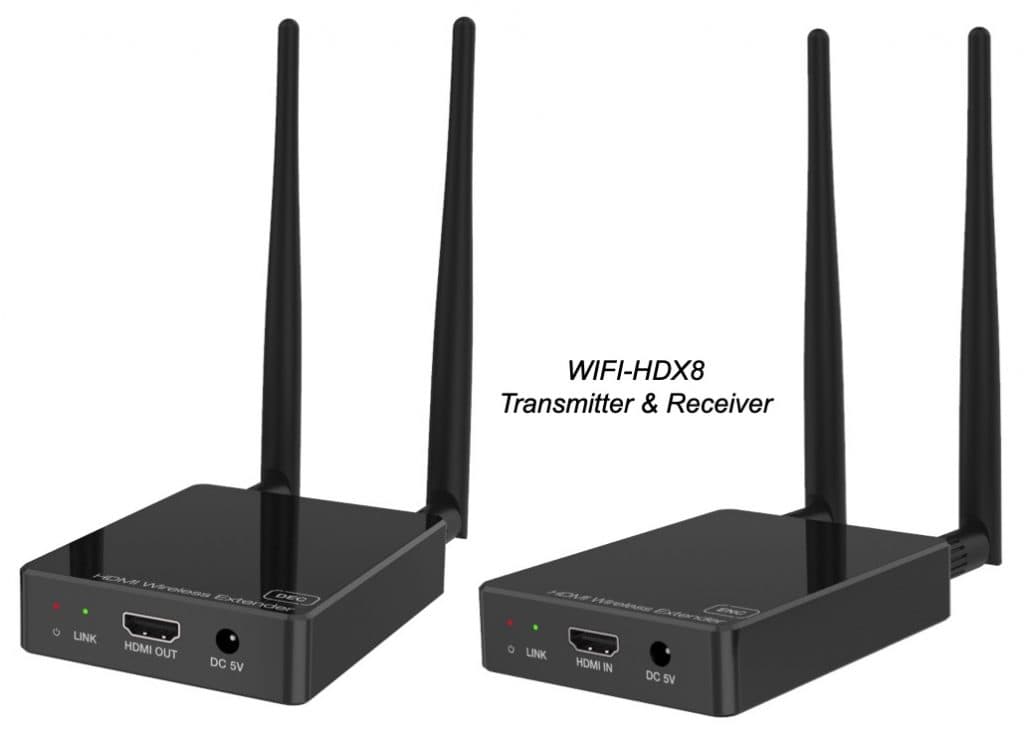 The WIFI-HDX8 wireless HDMI kit is capable of streaming 1080p video up to 100 meters / 330 feet. Please note that the video transmission distance will vary based on the number of walls and objects that the wireless bridge must travel through. The kit includes transmitter and receiver antennas that create a dedicated 5Ghz WIFI bridge (peer-to-peer). This system DOES NOT rely on the use of your existing local network.
HDMI Wireless Video Transmitter with IR Repeater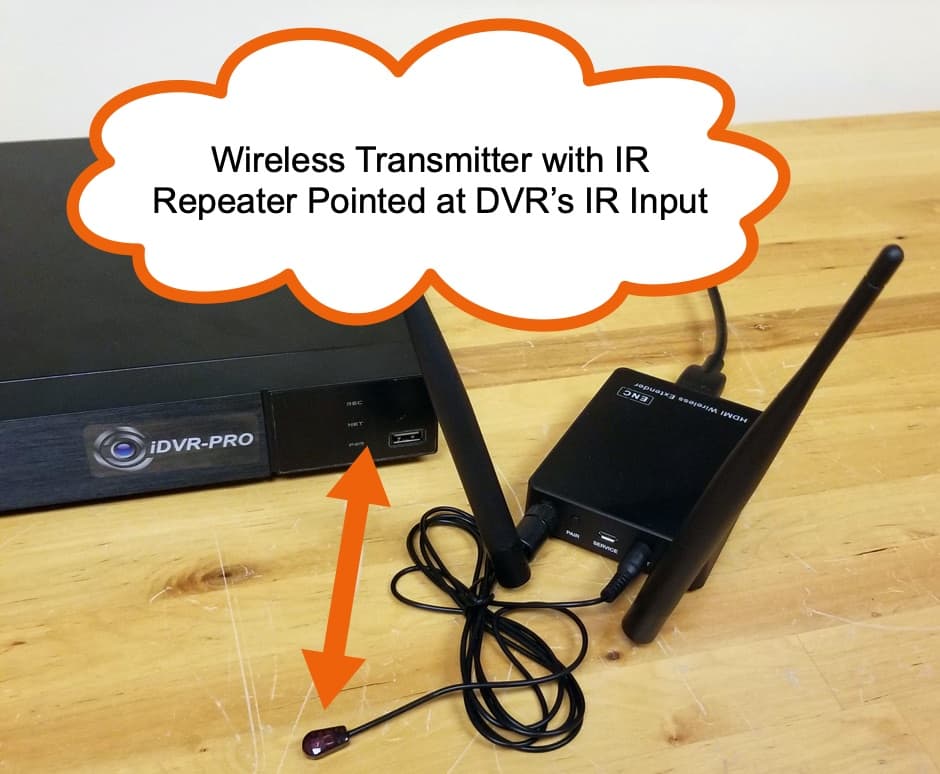 Here is the WIFI transmitter with the IR repeater attached. The IR repeater is placed within direct line of sight to the IR remote input on the security camera DVR.
HDMI Wireless Video Receiver with IR Transmitter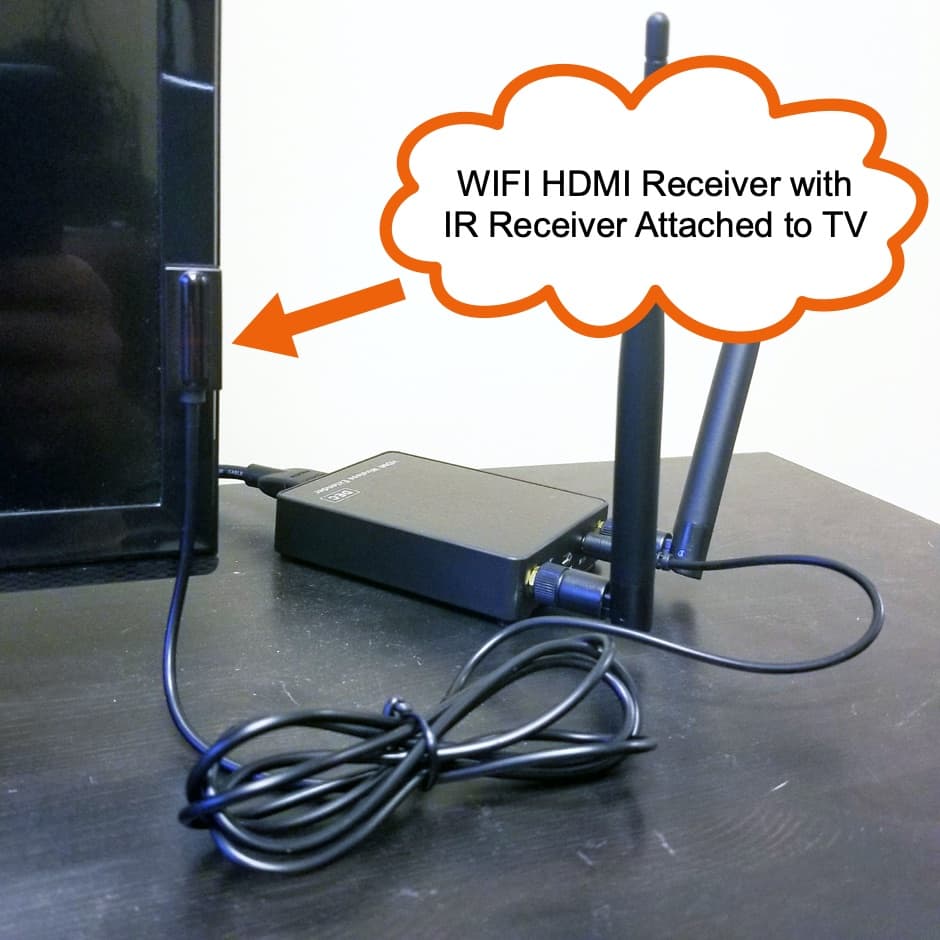 Here is a close-up of the HDMI WIFI receiver with the IR receiver attached to the front of the display monitor.
Wirelessly Stream HDMI Video from Any Source
Although CCTV Camera Pros primarily supplies the WIFI-HDX8 kit for use with video surveillance DVRs (live security camera display), the kit can be used to wirelessly stream video from any HDMI source up to 1080p resolution at 60Hz. Some examples are.
Blu Ray Players
Game Consoles
Cable Boxes
Windows and Mac Computers
Netflix, Amazon Prime Video, Apple TV, Roku, and any other streaming service