4K Home Surveillance System Dome Security Camera Demo
Watch this video demo to see this 4K dome security camera that I recently installed as part of my home surveillance system upgrade.
I installed the original CCTV surveillance system at my house about 10 years ago using analog cameras that were 960H and D1 resolution. A smart decision that I made back then was to use the best RG59 Siamese cable available. 10 years later, I can now upgrade from analog CCTV to a 4K security system and leverage all of the cable that I have in place. This saved me A LOT OF MONEY!
Here is a picture of the analog CCTV camera that I replaced. It is located above and to the right of the front door of my house. It monitors the walkway that leads up to the door and the entire area around the door.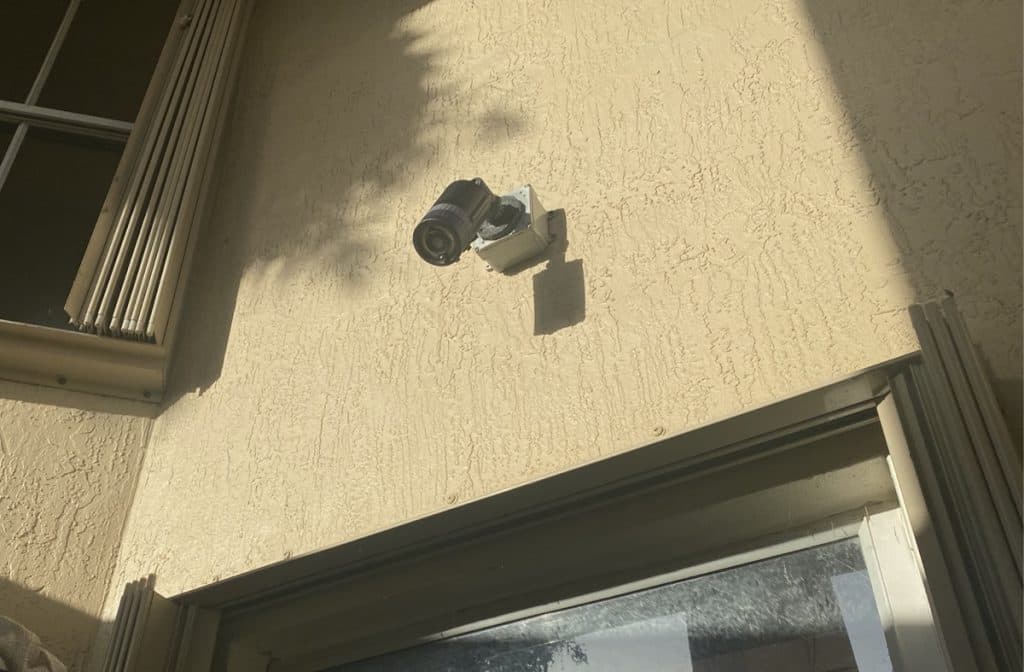 Camera Installation
Here is the existing RG59 and power cable that I re-used inside the junction box.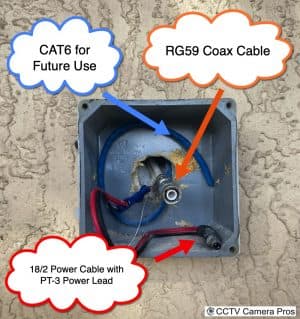 When I originally ran cable at my house, I ran both RG59 Siamese coax cable and CAT6 network cable. Although I still have not used the CAT6 cable, the point was to be able to install any type of camera at my front door for testing. With both types of cable run, I can also test IP cameras. I can also use that CAT-6 cable for other types of devices like PIR motion detectors or other types of alarm sensors. You can see that the RG59 coax has a BNC connector attached. If you are not familiar, you can learn how-to attach BNC connectors to coax cable here. The 18 Gauge power cable has a PT-3 power cable lead (2.1mm) attached so that it can connect directly to the 12V DC terminal on the camera.
Here is a picture of the finished installation of the new 4K-D9 dome camera.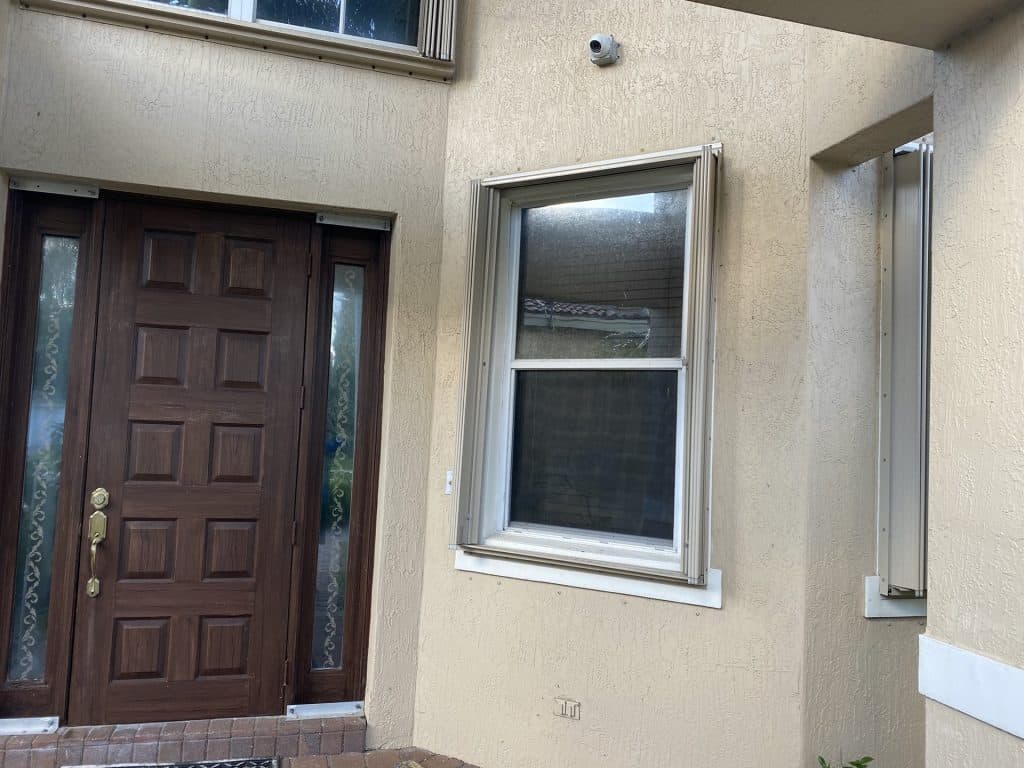 Here is a close-up of the camera mounted to the plastic junction box.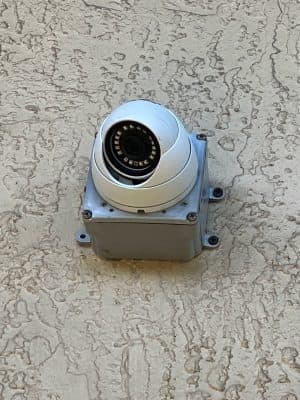 I re-used the same cover plate on the junction box by drilling new holes to mount dome camera's base plate.
4K Ultra HD Resolution Surveillance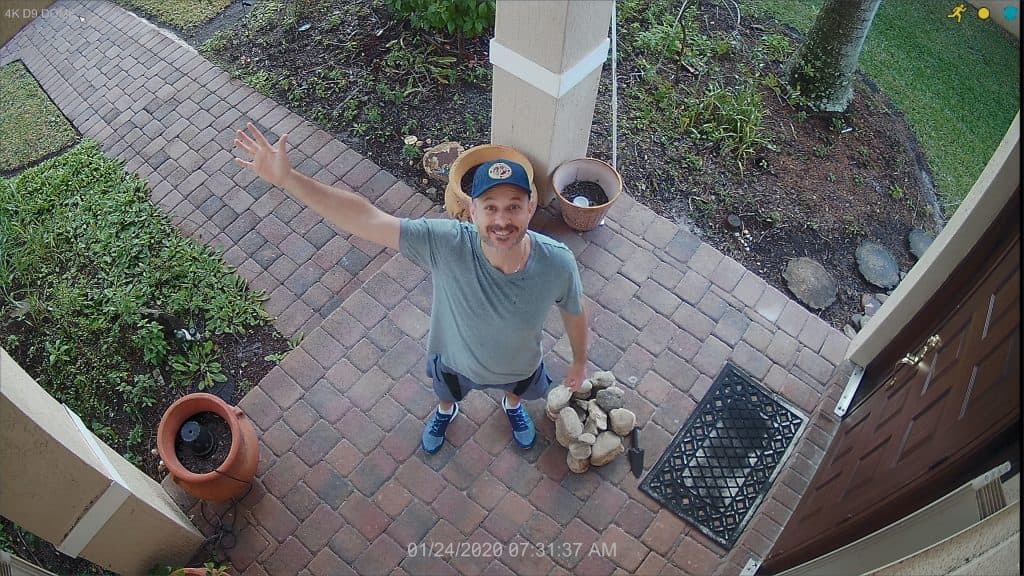 Here is an image snapshot captured from the DVR that the camera is connected to. Please click on the image or on this link to see the full sized 4K ultra HD resolution.
IR Night Vision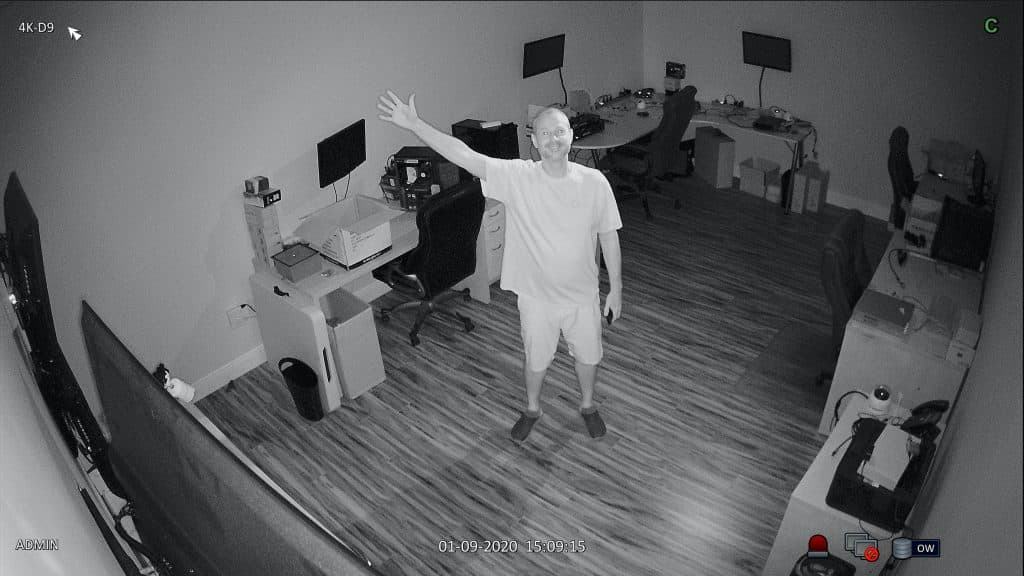 Here is a IR night vision snapshot that I captured while testing this camera at CCTV Camera Pros office (before my installation). This room is great to test a camera's infrared night vision capability because I can turn everything off in the room so that there is zero light. There is always some ambient light at the front door at my house and I wanted to show the IR performance with no light. You can click on this image or on this link to see the full 4K resolution IR surveillance image.
4K Surveillance DVR

As part of my security camera system upgrade, I replaced the older generation analog CCTV DVR with the latest generation 4K iDVR-PRO recorder. This is the DVR that I used to make the above video demo and the one that I will keep in place at my house.
I want to mention that one of the great things about these new 4K iDVR-PROs is that they are compatible with a huge range of BNC / coax security cameras. They work with legacy analog CCTV cameras, 720p, 1080p, 4MP, 5MP, and 8MP / 4K security cameras. This is great for people that have existing cameras in place and want to add 4K cameras over time.
Business and Government Installation
Please note that although I am reviewing this new camera as I installed it at my house, CCTV Camera Pros also supplies this camera for business and government installations.
Questions / Comments
If you have any questions about this article or anything related to video surveillance equipment, please email me at mike@cctvcamerapros.net.