iCamViewer iPhone App Compatible with iDVR-PRO CCTV Camera Recorder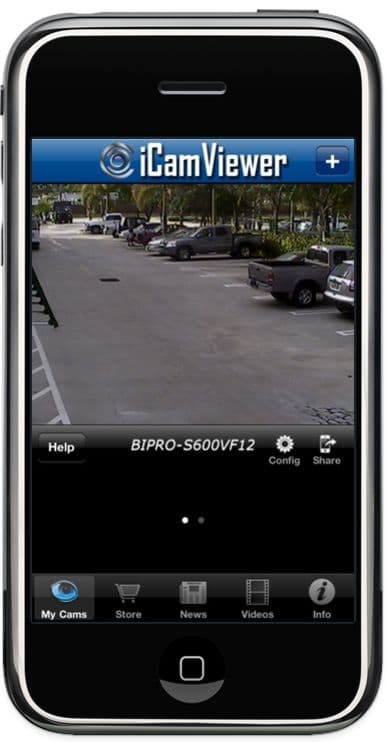 CCTV Camera Pros announced today that the latest version of the iCamViewer, an iPhone app for viewing CCTV cameras and IP cameras, is now compatible with the iDVR PRO line of CCTV surveillance DVRs. Using the iCamViewer app, users can not configure CCTV cameras that are connected to their iDVR-PRO to be viewed remotely over the Internet from their iPhone or iPad.
iDVR-PRO surveillance DVRs now also has a native app for iOS. Click here to learn how to view security cameras remotely and playback video surveillance on the DVRs hard drive from iPhone. Another update to iDVR-PROs is that they now support HD security cameras (720p and 1080p).
iCamViewer iPhone App iDVR PRO Setup
To setup the an iDVR-PRO recorder to be accessible from the iCamViewer, users can follow these instructions.
Connect the iDVR-PRO to your network router and switch
Configure port forwarding on your router so that your DVR can be accessed from outside of your local network. If you need help with this step, please refer to this page for port forwarding instructions.
Note: the default port for the iDVR-PRO is 8080
It is recommend that you test the Internet access from the safari web browser in your iPhone to confirm that port forwarding and the connection is working properly before configuring the iCamViewer app.
After you confirm that the connectivity is setup correctly through Safari, download the iCamViewer app from the app store.
Open the app on your iPhone or iPad and click on the Config button in the My Cams section of the app.
Fill in all of the configuration fields:
Name: This is any name you want for your camera.
Host or IP: This is the public (not LAN) IP address where your iDVR-PRO is located. If you are using a DynDNS service, you can enter the hostname here.
Port: 8080 is the default port
Username: ADMIN is the defaul username
Password: 1234 is the default password
Manufacturer: Choose CCTV Camera Pros
Models: Choose iDVR-PRO Cam 1 to view camera 1, iDVR-PRO Cam 2 for camera 2, so on and so forth
Tap the check box in the upper right
Your camera should come into view
iCamViewer App Setup Screen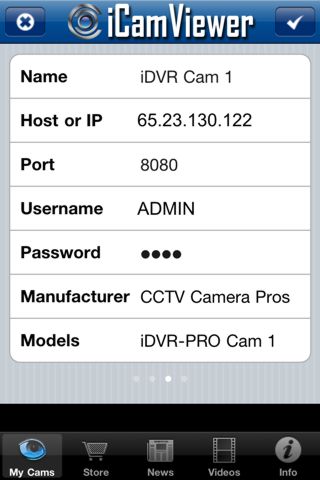 Click image for larger view
Compatible with IP Cameras
The iCamViewer app is also compatible with Zavio and Vivotek IP cameras. For a complete list of compatible IP cameras and pricing information please visit the iCamViewer Compatible IP Cameras Page
iPhone App Compatible with CCTV Cameras
In addition to supporting the iDVR PRO, the iCamViewer is also compatible with CCTV cameras by using a compatible network IP server or CCTV Camera Pros iDVR-PRO CCTV DVR.
About CCTV Camera Pros
CCTV Camera Pros is a manufacturer and distributor of video surveillance equipment for home, business and government use. CCTV Camera Pros is a veteran owned business founded by a United States Marine. CCTV Camera Pros has a complete line of surveillance products including security cameras, digital video recorders, monitors, cables, connectors, and all accessories needed for a complete video surveillance systems. CCTV Camera Pros can help design systems for any size application. CCTV Camera Pros is partnered with a network of over 600 installers in the United States to provide surveillance system installation to all areas of the USA. Please visit CCTV Camera Pros website to learn more about us and the products that we supply.