iCamViewer iPhone App Supports Vivotek IP Cameras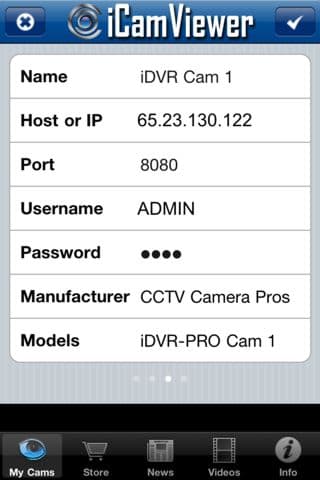 January 25, 2010 – Palm Beach, Florida – CCTV Camera Pros of Boynton Beach Florida, a manufacturer and distributor video surveillance equipment, has announced that a new version the iCamViewer surveillance iPhone app has been released into the app store and now supports Vivotek IP cameras (7000 series).
Commenting on this new app release, CCTV Camera Pros co-founder Mike Haldas says: "As a distributor for Vivotek, we are proud to be the first distributor to have developed a native iPhone application that supports Vivotek's latest line of IP cameras, the 7000 series. With over 10,000 downloads from the iTunes store in under a month, the iCamViewer has been a great success and we expect more IP camera manufacturers to recognize this and request us to integrate their IP cameras into the iCamViewer app."
The following Vivotek IP camera models are currently supported:
SD7151, IP71x7, IP7131, IP7132, IP7133, IP7134, IP7135, IP7137, IP7138, IP7139, IP7142, IP7151, IP7152, IP7161, IP7251, IP7330, IZ7151, PT7000, PZ7111, PZ7151, PT7135, PT7137, PZ7152, PZ7111, PZ7151, VS7100 IP video server.
* Note that PTZ controls are not yet supported within the app.
About CCTV Camera Pros
CCTV Camera Pros is a manufacturer and distributor of security cameras, videos surveillance systems, and CCTV equipment. We are a veteran owned small business founded by a United States Marine. CCTV Camera Pros specializes in the design of reliable and scalable video surveillance systems for homes, businesses of all sizes, and local and federal government agencies. CCTV Camera Pros has a complete portfolio of products including, security cameras, digital video recorders, monitors, cables, connectors, and all accessories needed for a complete surveillance system solution. CCTV Camera Pros is partnered with a network of over 400 installers in the United States to provide surveillance system installation to all areas of the USA. Visit www.cctvcamerapros.com.
About Vivotek
VIVOTEK offers a comprehensive product lineup, including network cameras, video servers, video receivers, NVR, and central management software. In 2005 VIVOTEK launched the first self-developed multimedia SoC (VVTK-1000), and used it in its 7000-series surveillance products. For years to come, VIVOTEK will develop products featuring more advanced functions to broaden our product portfolio from entry level to high end. VIVOTEK will also continue to offer more cost-effective and higher value-added solutions for our customers. VIVOTEK's core competence lies in its strong R&D capability. Throughout the years, its R&D strength has been demonstrated by the development of video codec technology, networking protocol, and multimedia SoC, building up solid knowledge and experiences in developing reliable products in a challenging network environment. Visit www.vivotek.com.