LPR Camera Mode (License Plate Recognition) Added to Zavio IP Cameras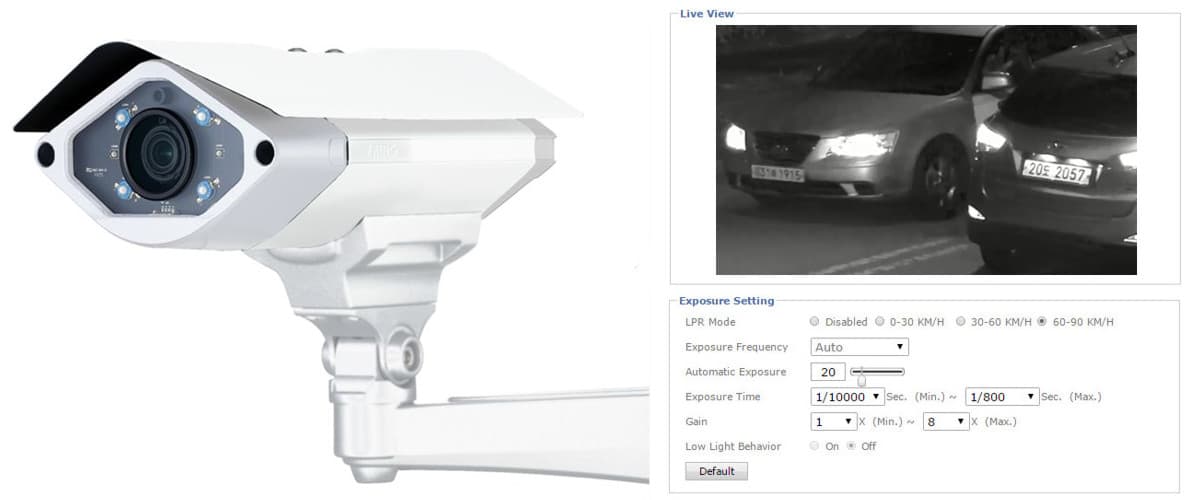 Certain Zavio IP cameras now have a built-in LPR camera mode – license plate recognition. The Zavio B8520 and Zavio B8220 are the first two models to support the new license plate capture settings that are available via a firmware update. The B8520 and B8220 are both extreme weather rated outdoor cameras. The B8520 supports up to 5 megapixel HD resolution and the B8220 supports 2 megapixel – 1080p HD resolution.
LPR support for additional Zavio models will be added over time. The new settings allow installers to use these IP cameras in traffic installations at speeds up to 60 MPH / 90 kilometers per hour.
LPR Mode Setup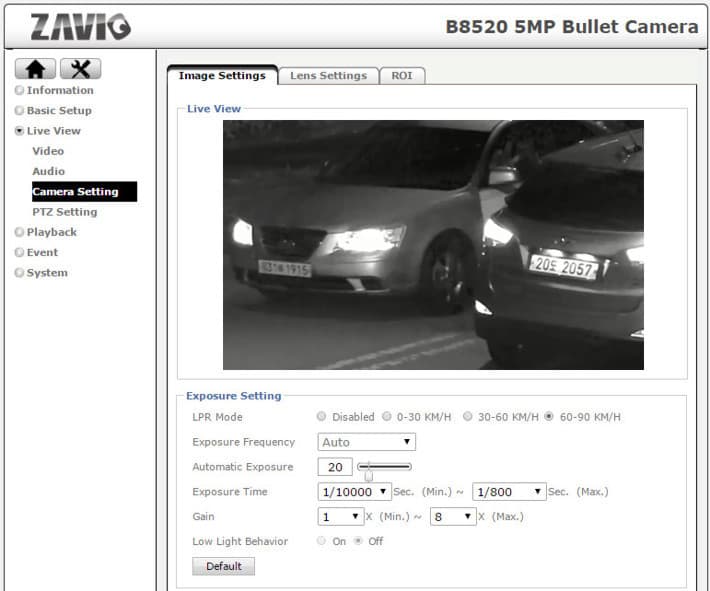 Enabling the LPR mode in the Zavio firmware is simple. After accessing the camera's firmware via a web browser, users select the "camera setting" option from the "live view" menu, then they will see the LPR settings in the "exposure setting" section of the page.
Zavio cameras currently support 3 different speeds levels 0-30 KM/H (0-19 MPH), 30-60 KM/H (19-37 MPH), and 60-90 KM/H (37-66 MPH). The different LPR speed modes automatically adjust the cameras exposure frequency, exposure time, and gain settings which can be overridden by the installer if they need to be adjusted.
This new feature on some Zavio cameras will be a great fit for installers looking for an IP based LPR solution. This page has other license plate capture cameras, including analog CCTV an IP LPR camera models.
SD Card Recording
The Zavio B8520 and B8220 cameras both have built in SD card slots so that users can record video and snapshots directly on the camera. SD recording is used in applications that need very limited recording capability.
NVR Recording Software
Zavio IP cameras include a 64 channel NVR software license (network video recorder) that allows users to use a Windows PC as their video surveillance system recorder. This is a more powerful recording option for users.
NUUO NVRs & Surveillance Software
Zavio cameras are also compatible with NUUO NVRs and NUUO PC based surveillance software. NUUO actually makes the free 64 channel NVR software (Cam Grabba) that is included with Zavio cameras, however, it is not the full feature version of NUUO IP camera software.