CCTV Camera Pros Launches DPRO-9620VF Dome Infrared Camera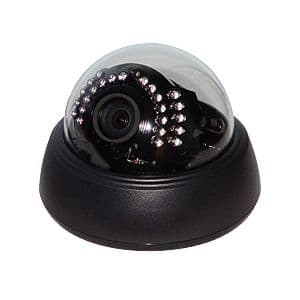 CCTV Camera Pros, manufacturer and distributor of security cameras and video surveillance systems, is proud to announce the launch of our new DPRO-9620VF dome infrared camera which uses a Sony Super HAD II image sensor capable of 620 TV lines or resolution in day mode and 700 TVL in night mode. The 9620VF is an indoor dome camera with high end features such as a selectable infrared mode (off / low / medium / high), WDR (wide dynamic range) support, backlight compensation adjustment, and a 2.8-12mm auto-iris varifocal lens. The cameras tri-axis mount allow this CCTV camera to be ceiling or wall mounted. The DPRO-9620VF comes with a black base and is also available in white under product code DPRO-9620VF.
Detailed information and pricing can be found here: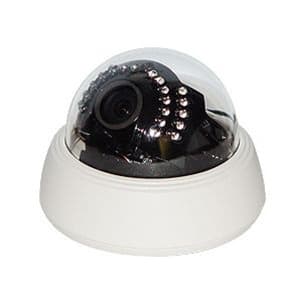 Commenting on the release of the DPRO-9620VF, CCTV Camera Pros co-founder Mike Haldas says: "We are extremely pleased to offer such a high end indoor dome at an MSRP well under $200. This camera has some great software technology built into it that complement the ultra high resolution image sensor. Installers can access the advanced configuration options and settings easily via the camera's on screen display controls. For example, installers can enable and adjust for very specific lighting situations and backlighting if needed. The infrared intensity of this camera can be adjusted. Surveillance installers can also adjust the field of view of this camera anywhere in between a 2.8 and 12mm focal length. Features such as this are typically seen in cameras that cost at least 30% more than the 9620VF."
Features of the DPRO-9620VF include:
1/3″ Sony Super HAD CCD II
High Resolution – 620TVL Color / 700 TVL Black and White
2.8mm ~ 12mm Varifocal Auto Iris Lens
24 IR LEDs Rated at 82 Feet Effective Range
Indoor black or white dome base / clear plastic dome cover protects camera
Tri-axis mount for ceiling or wall installations
Infrared for low light and zero light applications
.01 LUX without IRs / 0 LUX with IRs on
WDR / Wide Dynamic Range Support
Advanced On Screen Display controls via push buttons
Light sensitivity, exposure, white balance, day/night, digital noise reduction, color, and sharpness adjustments
Control the Infrared mode: On, Off, Low, Medium, High settings
DC Voltage 450mA max power consumption
About CCTV Camera Pros
CCTV Camera Pros is a manufacturer and distributor of security cameras, video surveillance systems, and CCTV equipment. We are a veteran owned small business founded by a United States Marine. CCTV Camera Pros specializes in the design of reliable and scalable video surveillance systems for homes, businesses of all sizes, and local and federal government agencies. CCTV Camera Pros has a complete portfolio of products including, security cameras, digital video recorders, monitors, cables, connectors, and all accessories needed for a complete surveillance system solution. CCTV Camera Pros is partnered with a network of over 400 installers in the United States to provide surveillance system installation of our equipment nationwide in the USA. Please visit www.cctvcamerapros.com.