The Best Hidden Spy Security Cameras are Virtually Undetectable
The best hidden security cameras ("spy cams") are so well hidden that they are virtually undetectable from bystanders in the area where they are installed.
Although the term "spy camera" can sometimes have an adverse meaning, there are many legitimate home and business uses for a hidden surveillance system. Here are some popular uses.
Nanny camera to keep an eye on children or elderly parents.
Covert cash register camera to monitor for employee theft.
Monitor sensitive areas of a retail business for customer theft.
Watch employee activity remotely to make sure operations are running as expected.
Confirm if a spouse is being unfaithful while you are away.
Here are some of the best hidden surveillance cameras that are available for these and other types of use.
---
Hidden PIR Motion Detector Camera
PIR Motion detectors are installed with most burglar alarm systems in homes and businesses. People are very much use to seeing them everywhere.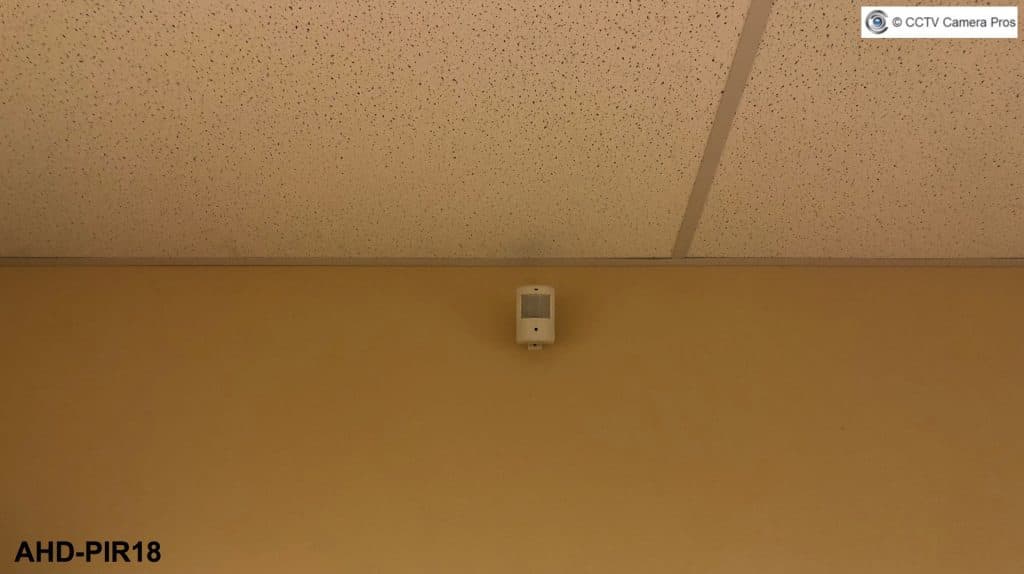 The motion sensor in the above picture is actually a hidden security camera in a motion detector housing. It looks just like any standard motion sensor, except that it has a tiny pinhole lens located just below the PIR window. Most hidden cameras utilize this technique of installing pinhole camera inside an unsuspecting object. The AHD-PIR18 has a unique feature which make it one of the very best hidden spy cameras in my opinion – invisible infrared "night vision".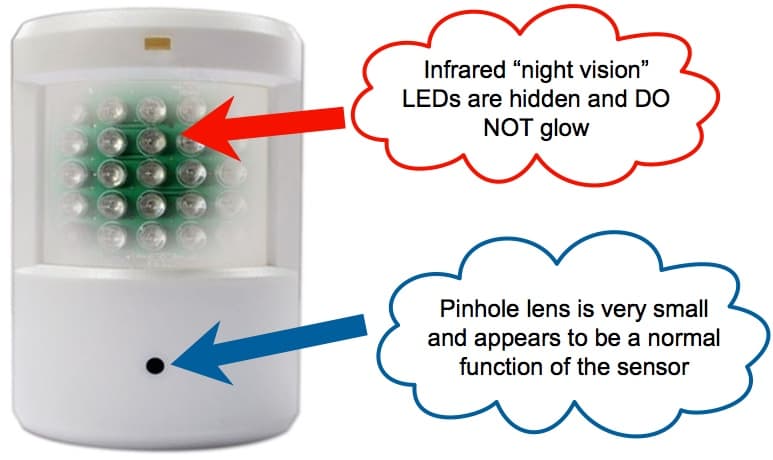 Behind the PIR sensor window is an array of infrared LEDs that enable the camera's night vision. This allows the it to capture surveillance video in complete darkness. The special IR LEDs that are used in this camera do not emit a red glow like traditional infrared security cameras do. It is one of the few spy cameras available on the market that has an infrared / night-vision function.
Watch this video to see a demo of the HD surveillance video that this motion detector camera is capable of capturing.
If you are watching this video from a desktop computer, please be sure to change the resolution of the YouTube video player to 1080p.
---
Hidden Smoke Detector Camera
Like motion detectors, smoke detectors are common in residential and business locations. Most states actually require them to be installed in homes and businesses. This makes people unsuspecting that a camera may present when they see them.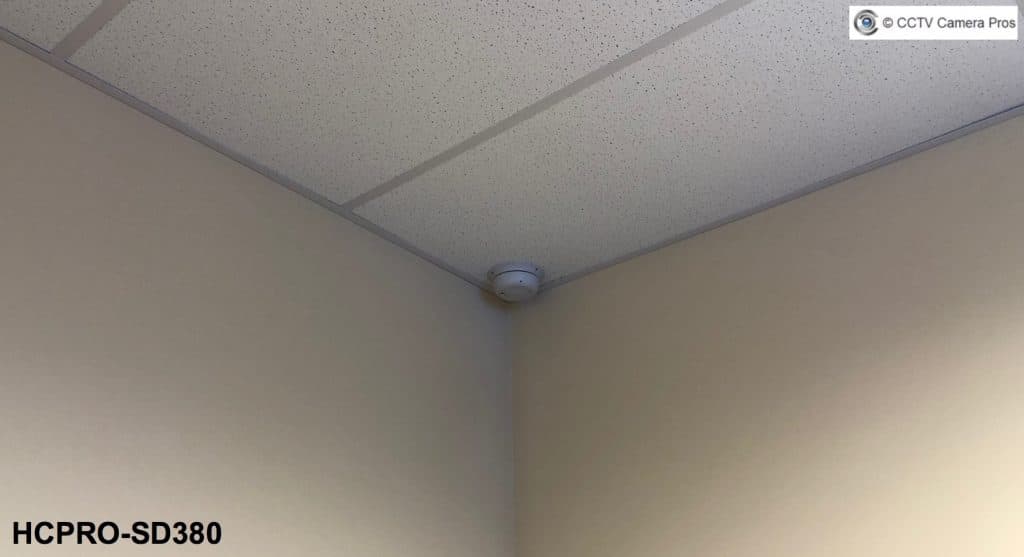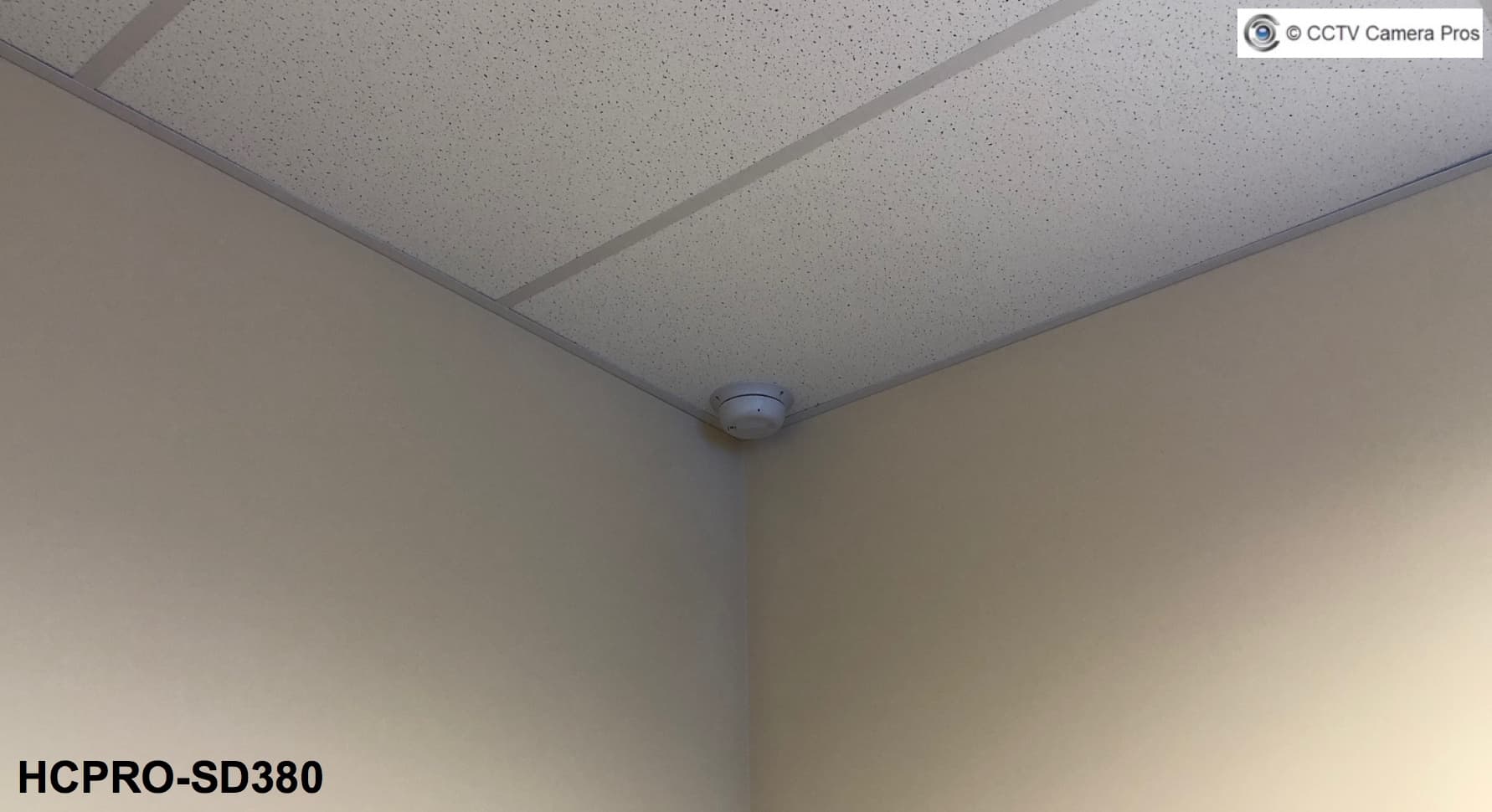 This hidden smoke detector camera is another great choice for covert spy-type surveillance. Smoke detectors are typically installed near room entrances so that if there is smoke from fire in another room, it gets detected by the smoke detectors in nearby rooms as soon as possible. This camera can appear very natural when it is installed in the corner of a room near the doorway entrance. This give the camera a nice overview an entire small to medium sized bedroom or office. The pinhole lens that is located on the body of the device is very discrete and appears to be a normal function of the detector.
Watch this HD surveillance video demo of the smoke detector camera. The video also shows the installation location of the camera that is used. I think that you will agree that the lens is very difficult to detect and does not at all look suspicious.
If you are watching this video from a desktop computer, please be sure to change the resolution of the YouTube video player to 1080p.
---
Hidden Fire Sprinkler Camera
Fire sprinklers are required to be installed in all commercial buildings but typically not in single family homes. This makes a fire sprinkler camera a better candidate for video surveillance at a business location and not at a house.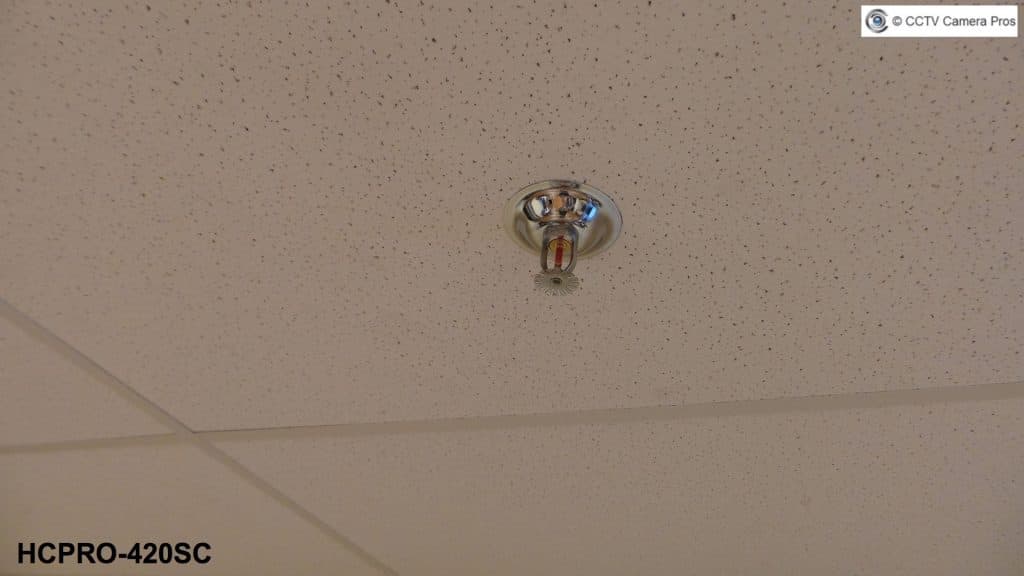 The HCPRO-420SC hidden fire sprinkler camera is designed with amazing detail to look like a real fire sprinkler. It even has a heat sensitive glass bulb filled with red fluid – just like a real fire sprinkler. Like the other types of hidden cameras, this sprinkler camera uses a tiny pinhole lens that peeks out of the base. It is angled down about 45 degrees which make it perfect to monitor cash registers and other sensitive areas in retail and business locations.
Watch this video to see a demo of the hidden fire sprinkler camera that is installed at CCTV Camera Pros office.
If you are watching this video from a desktop computer, please be sure to change the resolution of the YouTube video player to 1080p.
---
Tiny Pinhole Security Camera
All of the above cameras make use of a tiny pinhole lens security camera enclosed in the housing of an alarm device. If none of those enclosure styles are a good fit for your surveillance application, you can use a pinhole camera like this one. You can install it in any type of object or hide it any way you choose.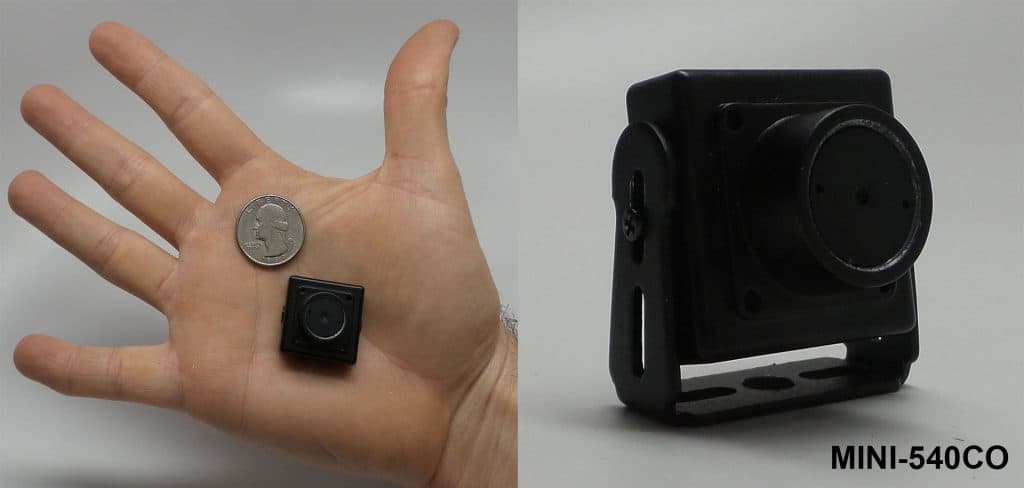 ---
Ultimate Compatibility
All of the above security cameras are 4-in-1 HD over Coax type which means that they are compatible with AHD, HD-TVI, HDCVI, and traditional analog CCTV DVRs. They work with all coaxial cable / hard wired type DVRs (except for HD-SDI DVRs). Almost all modern DVR manufacturers are currently using at least one of these video standards in their latest DVR models. This includes Swann, Samsung, Night Owl, Lorex, QSee, Defender, Digital Watch Dog, CCTV Camera Pros, and just about all others. This is another feature that make these among the best hidden surveillance cameras available, in my opinion. They are compatible with with almost all DVRs.
In all of the above video demos, the camera was hard wired to an iDVR-PRO CCTV / HD security camera DVR using RG59 Siamese coax cable.

---
Excellent Remote Viewing
Most customers want to be able to remotely monitor their cameras when they are away. When HD-over-Coax cameras are connected to a networkable / remote accessible DVR, you can watch your hidden cameras live from remotely over the Internet using desktop computer software and / or mobile apps. The iDVR-PRO that was used to make the above videos supports remote camera viewing from iPhone, Android, Windows, and Mac computers.
This is a screenshot of the AHD-PIR18 hidden motion detector camera being remotely viewed using the iDVR-PRO app for Android. You can see additional screenshots and demo videos of the Android and iPhone apps here. There are also demos of the Windows and Mac software on that page.
Questions?
If you have any questions about this article or anything related to video surveillance equipment, please contact me at info@cctvcamerapros.net.
All of the hidden security cameras reviewed in this article can be found here.