How-to Upgrade a CCTV Multiplexer Video System from CVBS to HD-over-Coax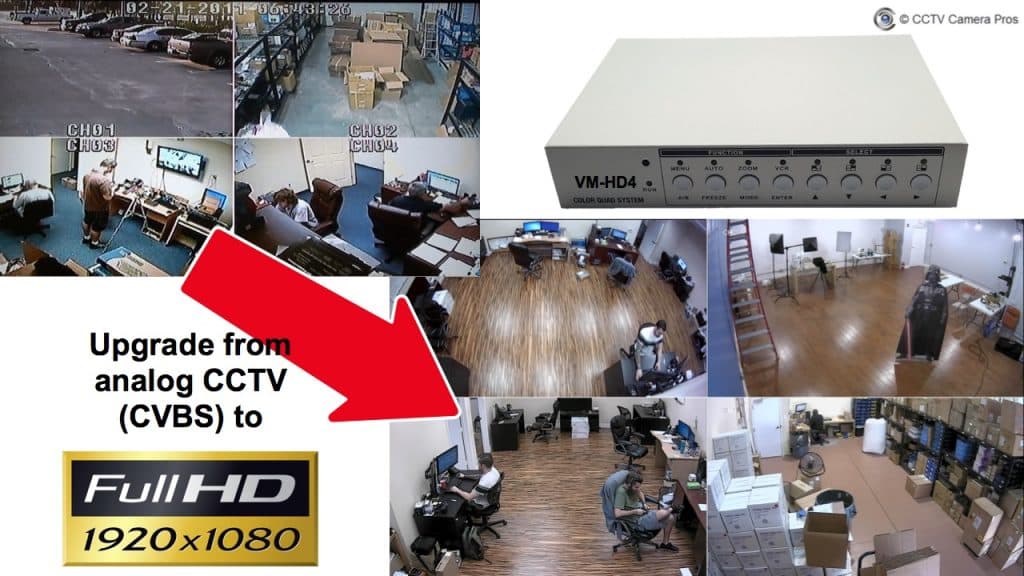 CCTV Camera Pros has been supplying analog CCTV camera multiplexers since 2005 when we first opened for business. In the 1970's, 80's, and 90's analog video multiplexers (CVBS) were used in conjunction with CCTV cameras and VCRs to record video surveillance. The multiplexer, or quad video processor in the case of 4 channel models, combines the video signal from multiple cameras so that video from all cameras could simultaneously be recorded onto a VCR tape.
With the advent of surveillance DVRs, many security professionals thought that video multiplexers would become obsolete. This has not been the case. Although video surveillance VCRs have been replaced by digital recorders, customers still find CCTV multiplexers extremely useful to display live video from security cameras on TV monitors. If you want to display live video from more than one security camera on single monitor (public or private), a multiplexer is an excellent solution.
---
HD Security Camera Multiplexers
Shortly after HD-over-Coax security cameras came to market, so did the HD security camera multiplexer. When I say "HD over Coax cameras", I am referring to AHD, HD-TVI, and HDCVI format. HD-over-Coax cameras use the same type of coax cable that analog cameras do, but support video resolution of 720p, 1080p, and beyond.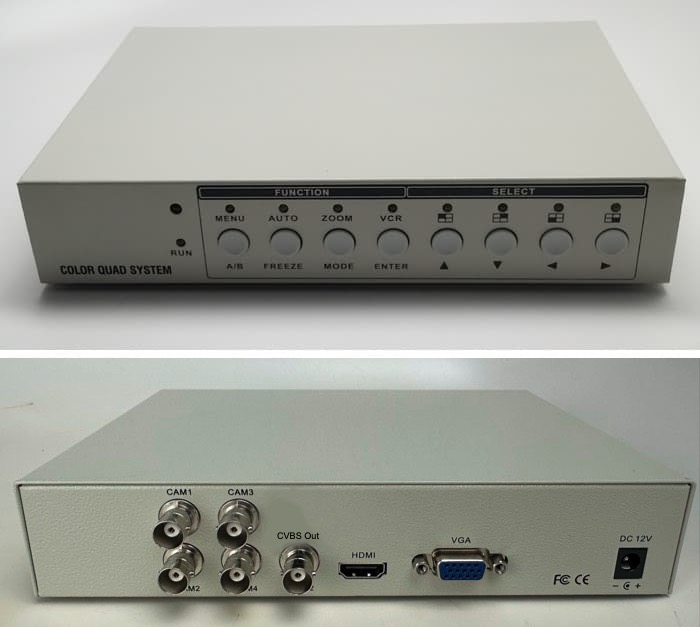 In addition to supporting analog CCTV cameras (CVBS), the latest HD multiplexers also support HD-over-Coax cameras. Both camera types are connected to the back of the multiplexer via BNC connectors (as you can see in the above image). Video output via HDMI and VGA is available on most models.
These "hybrid" multiplexers are extremely convenient because they allow users to combine video from analog and HD over Coax type cameras on a single monitor. This provides a convenience for existing analog CCTV users to upgrade to high-def over time. For example, a user may want to use two existing analog cameras with two new HD security cameras. Then over time, replace the analog cameras with HD when the analog cameras have past their usefulness.
You can find 4, 9, and 16 channel hybrid analog CCTV / HD camera multiplexers here.
---
Sample HD Multiplexer Image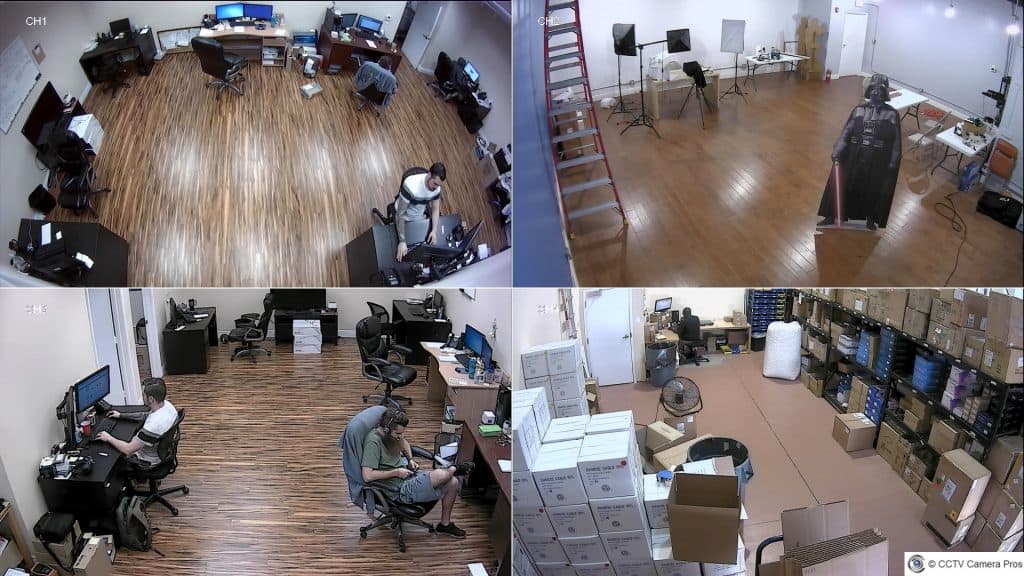 The above 1080p screenshot was captured with two 1080p AHD security cameras and two 1080p HD-TVI security cameras connected to a VM-HD4 quad multiplexer. If you have an existing analog system, you will notice a significant difference in the picture quality. You can see additional sample images here that show other screen layouts that are supported by this particular model.
---
Things to Consider When Upgrading
Can I Use my Existing Coaxial Cable?


When replacing a CCTV camera with an HD-over-Coax camera, there is some consideration that should be taken if you plan to use your existing cable. If you used RG59 coax cable with your original camera, you will be ready to simply drop-in the HD camera using the existing cable and BNC connectors that are in place.
If you used pre-made Siamese CCTV camera cable, you may be able to use your existing cable with HD cameras. The cable gauge requirements for analog cameras is smaller than HD over Coax cameras. Some pre-made camera cable that was made for analog cameras does not work with HD cameras because it is too thin. The pre-made Siamese cable that we now supply at CCTV Camera Pros works with analog and HD cameras. If you bought pre-made cable from CCTV Camera Pros a while back or you bought your pre-made cable from another supplier, you will need to test to see it it supports HD cameras. The only way to do this is it to hook a camera up. You can use an HD-over-Coax compatible CCTV test monitor to confirm that the HD video transmits as expected.
What about CAT5 with Video Baluns?


If your existing system uses Cat5 Ethernet cable with CCTV video baluns, you are still in luck. You can simply replace your analog baluns with these HD-0ver-Coax video baluns and leverage the existing CAT5 cable that is already installed.
Can I Use My Existing Power Supplies?


You can most likely use your existing power supply box. Just like analog CCTV cameras, HD-over-Coax cameras use either a 12V DC or 24VAC power supply. If you have an existing 12V DC power supply box, you should make sure that the HD cameras that you plan to use are also 12V DC. The same goes for 24VAC. You should also confirm that the amperage required by the HD cameras is within the range supplied by your power supply box.
If you are currently using single camera power supplies (pictured above on the right), the same rules apply. If you want to leverage your individual power supplies, make sure that the HD cameras you are upgrading to use the same voltage and amperage.
---
4-in-1 Security Cameras (selectable video mode)
There is one additional thing that I want to mention. Some readers may have an existing analog multiplexer system that they are still happy with but need to buy replacement cameras. I strongly recommend that readers in this situation consider buying 4-in-1 selectable CCTV / HD-over Coax cameras.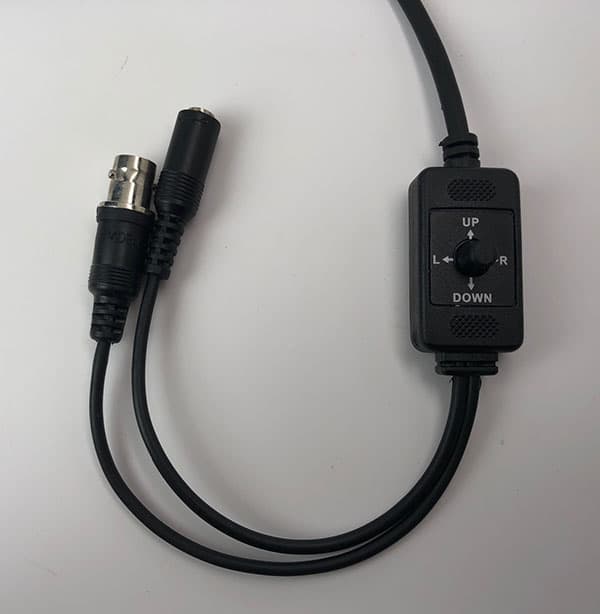 4-in-1 cameras typically have a small joystick connected to their video cable that lets the user select between analog (CVBS), AHD, HD-TVI, and HDCVI output by holding the joystick in a direction for a few seconds.
The camera can be placed in CVBS mode while the analog multiplexer is still in place. When the analog multiplexer is replaced with one that is HD compatible, the camera can be switched to one of the high definition modes – AHD, HDCVI, or HD-TVI.
---
Questions?
If you have any questions about this article or anything related to video surveillance systems, please contact me here.
You can find 4, 9, and 16 channel analog CCTV / HD camera multiplexers here.
---