Cloud Cameras Versus CCTV Camera Systems
Over the last few years, companies like Ring, Nest, and Arlo, to name a few, have changed the security camera industry by making wireless, battery-operated cameras readily available. The appeal of not having to run cabling for video and power is very intriguing and users have been quick to embrace this new technology, including yours truly. However, there is a price to pay for such convenience – the performance isn't always what it's advertised to be. In this article, we will be discussing the various pros and cons of these systems as well as how they stack up against traditional CCTV camera systems.
Ease of Use
These wireless security cameras are truly as easy to install as the manufacturers claim. Simply remove the camera from the packaging, download the correct app, scan the QR code, connect the camera to your Wi-Fi, and mount the camera. That's it! Your wireless camera is ready to go! From there everything is controlled from an app and users can configure various parameters such as motion sensitivity, recording distances, and alert frequency.
On the other hand, a traditional security camera system is a little more labor intensive in the beginning, but this effort is well worth it in the end. Most of this effort will be spent running the video and power cables from the cameras back to the DVR (Digital Video Recorder) / NVR (Network Video Recorder). From there, the cameras will just have to be mounted and connected to the cable via twist and lock BNC connectors. Finally, the user will connect the cables to the DVR and the system is now ready to record.
The easy-to-use interface our iDVR-PRO series DVRs allows users to set up their entire system with point and click simplicity using the included USB mouse. Once the cameras are mounted and connected, the DVR can be set to record continuously, based on motion detection, or based on a schedule in the matter of a few minutes.
Below is an example of the iDVR-PRO series DVR interface. As you can see, the menu on the bottom is controlled via a USB mouse for complete simplicity.
Recording Capabilities
When it comes to recording capabilities, traditional surveillance systems take the cake. With modern cloud cameras, such as Ring, users are forced into a subscription to save their recorded video. While the prices are low starting at only $3 a month per device, this only includes recording based on motion. Doesn't recording on motion save storage space? Yes, but these cameras generally only record for about 30 seconds at a time and the motion doesn't retrigger for a short period of time, sometimes as long as a minute in my experience. This means that if motion is triggered, the cameras will record for about 30 seconds and then stop. From there, the motion will have to be retriggered to begin recording again. In our testing, we missed a lot a video due to this style of recording.
The motion activated recording on traditional home security systems, such as our HD Analog systems, is triggered in the same way as the cloud cameras. However, the difference is that these systems do not stop recording unless there is no longer motion in the area. In other words, if there is constant motion after the recording is triggered, then the cameras will record until that motion has ceased. This ensures that any potential vital video is not lost, and all possible surveillance video is captured to properly secure the premises.
What if I want my cameras to record continuously? Most of these cloud camera companies do not offer continuously cloud storage because of the vast amount of data it consumes on their servers and only provide motion recording. The cloud companies that do offer it charge upwards of $30 per month or $360 per year. Over 5 years, that's $1,800 just to save video footage that should belong to you in the first place. That's more than the cost of most high-end surveillance, especially when you factor in the initial cost of the equipment at roughly $200 a camera.
When using a complete camera system, users can record 24/7 to the internal HDD (Hard Drive) of the DVR with no reoccurring fee. The only cost is the initial cost of the system. This video data is also more protected as it is not uploaded to a cloud server before being given to you to live view. No one will have access to your recorded video except for you. If more local storage space is needed, users can simply upgrade to a larger HDD or add an additional drive to their DVR.
In the video below, we walk you through the simple process of setting up recording on our iDVR-PRO DVRs.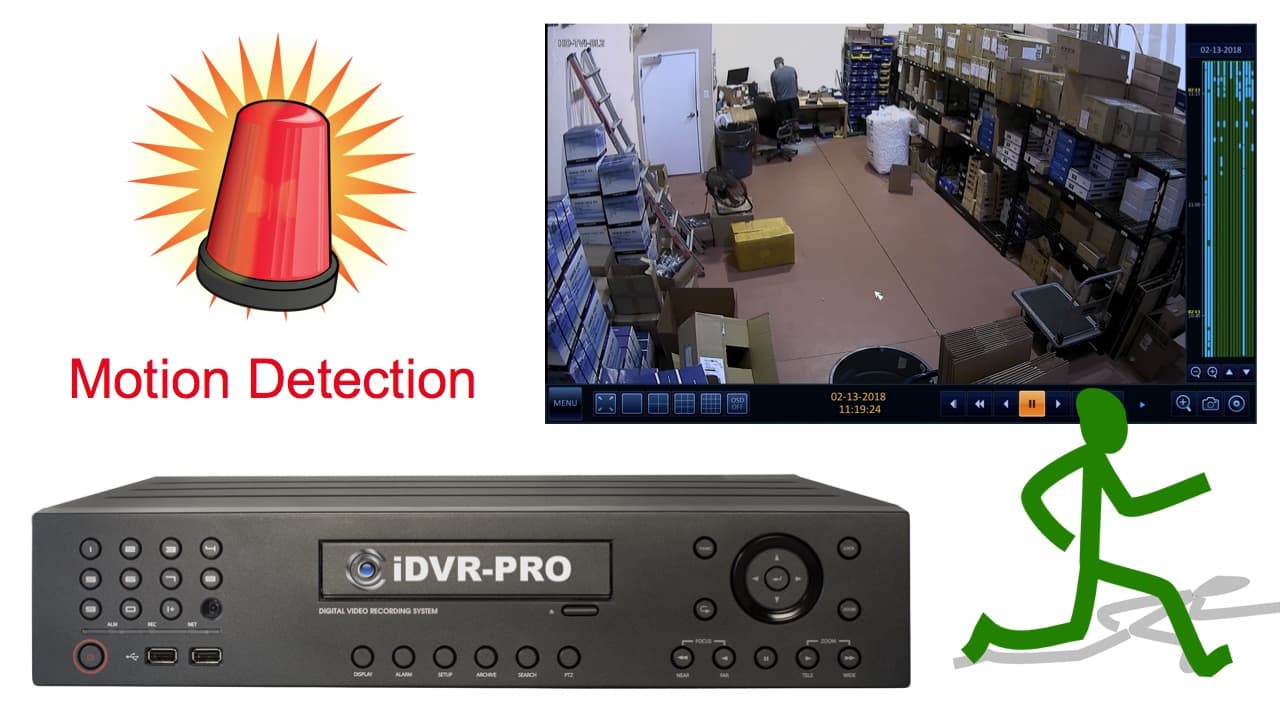 Power
Many cloud-based camera companies claim to have battery-powered cameras that last up to 6 months on a single charge. While this sounds like an amazing feat, there are some limitations. The 6-month runtime that they talk about is based on only a few motion events a day at the most. Furthermore, there are HD video settings that are not enabled by default and consume more power when enabled. Most users will want to use this setting as it provides a much clearer image than the default setting. Finally, if these cameras are set to record continuously, then they will only last a few days at most. With our test cloud cameras, we had the HD settings configured for the best image quality and motion sensitivity set to capture all motion just as we would have on an Analog camera system. We averaged about 15 motion events a day and the battery life lasted about 3 weeks. It is very simple to change the batteries on these cameras, but why even worry about such a thing.
Our systems give you complete peace of mind because they are hardwired to power and never need to have a battery replaced or monitored. Once a traditional CCTV system is powered on, it will stay running for years as long as the power onsite is consistent. There is no need to constantly monitor the battery life of your system. Several cameras can even be powered using a multi-channel power supply box so that cable management is neat and unobtrusive.
Image Quality
Most of the cloud cameras on the market today record in 1080p HD resolution. However, the quality of the video that the end-user receives is based on the bandwidth of the camera's network at a given time. For example, if the video is being accessed while the user's network has a lot of devices connected, then the user will experience lagging, pixelated video and choppy audio. The reason for this is because cloud cameras are network-based cameras, also known as IP cameras. The video is taken from the camera, uploaded to a cloud server, and then broadcasted to your phone for viewing. Because uploading HD video to a cloud takes a large amount of bandwidth, this causes the video quality to decline when the network is busy. An easier way to envision it is to think of a highway traffic jam where there are too many cars for the numbers of lanes on the road.
To resolve this issue, we recommend using HD Analog cameras, such as AHD or HD-TVI cameras. These are traditional Analog cameras that use Coaxial cabling. The difference is these formats can record in 720p, 1080p, and even 5 Megapixel resolution, unlike older Analog technologies. What is the advantage of using one of these systems if the resolution is the same and I must run cable? The real advantage comes with the video recording quality. Because Analog cameras connect directly to a DVR via RG59 / RG6 Coax cable, there is no need for a network connection to record video. This means that these systems can record at the highest video quality around-the-clock regardless of network traffic. This also ensures that your video is safe as it is not uploaded to a cloud server where multiple people may have access to it. Furthermore, your network will not be brought to a halt because of cameras consuming too much bandwidth. This means that you can have high-quality video without hindering the performance of your other network devices.
Below is an example of a 5 Megapixel image taken with our 5MP-D5 recording to an iDVR-PRO DVR.
Remote Access / Mobile Alerts
When it comes to remote viewing and mobile alerts (push notifications), both camera formats have comparable accessibility features. Ring, Arlo, and Nest all offer apps that allow the user to remotely view their cameras and receive alerts when certain events occur from anywhere. These apps use a service known as P2P, or Peer to Peer, which means that you must connect to their server before you can access your cameras. If their servers are down at any given time you will not be able to access your cameras until they are back up and running.
Our iDVR-PRO systems and IP cameras offer the same P2P service for users who wish to use it. In addition to P2P, our systems and IP cameras also offer the ability to be remotely accessed using the port forwarding feature in the network router connected to the DVR / cameras. Port forwarding is a more secure method of access as your data is going directly from your DVR / camera to your mobile device via a set IP address / hostname and port number within the router. With this method, your video is not uploaded to a server before you are able to view it on your phone. This means that you are the only person that has access to your video and the only way for other people to view it is to obtain the set IP address / hostname, port number, username, and password from you. The chances of someone being able to guess your unique IP address / hostname, port number, username, and password are less-likely than them guessing the winning lottery numbers. Therefore, with this method, you can be at peace knowing that your recordings are truly secure.
In the image below, the NViewer iPhone app for the iDVR-PRO is accessing the DVR remotely from another location. As long as there is Internet onsite, users can access their DVR from virtually anywhere.
Customer Service and Tech Support
When it comes to support, Arlo, Ring, and Nest, have a dedicated section on their website where there are various links to specific support instructions for the products that they carry. However, if you wish to talk to someone directly, you may have to do a little more digging to figure out how to call, chat, or email with them. Once you figure out how to reach a live person, you may have to wait in a queue until a rep is able to assist you and that rep may or may not be able to assist you with your specific issue. This can lead to multiple escalations and increased wait time to resolve any issues.
At CCTV Camera Pros, we strive to provide our customers with the best possible support for the products that we carry. When you land on our site, our number is right at the top so that you can call us right away. Don't want to talk to someone on the phone? No worries! On every page of our site there is a chat box along the left-hand side so that customers may initiate it at any time from any page. Customers don't have to bookmark their page, go to the Contact Us section of the site, and then attempt to get someone on the line. Whether you choose to call, chat, or email in, one of our knowledgeable reps will be on the other end to assist you. All our customer representatives work out of our Florida office so that you are never directed to a call center overseas. They are cross-trained in sales and tech support to assist with any issue that may present itself. For those individuals who prefer to find the solution themselves, CCTV Camera Pros has a massive support and knowledge base of videos, instructional step-by-step articles, and informational blog posts for all the products that we carry. While some companies may offer tech support for a limited amount of time, CCTV Camera Pros offers free, live tech support for the life of all our products. As long as you have it, we will support it!
Product Warranty
Ring and Arlo pro offer 1-year limited warranties while Nest offers a 2-year limited warranty for the cameras that they supply. After that time, any damage or loss of functionality to the equipment will be the customer's responsibility.
To put our customers at ease, all the surveillance cameras and DVRs that we sell come with at least a 2-year warranty. The rest of our products, such as cables and connectors, come with a 1-year warranty. Even after our warranty expires, customers will still have access to our free technical support for as long as they own our product(s).
Like what you read? If so, reach out to us today to see how we can assist with your next surveillance application.