What is TVI?
HD-TVI stands for High Definition Transport Video Interface. HD-TVI is a video signal processing and transport technology used to transmit video in HD security cameras and DVRs. HD-TVI is capable of transporting uncompressed high-definition video up to 500 meters with standard low cost 3C-2V coaxial cables using analog transmission techniques. RG59 Siamese coax cable is the most popular for security camera systems.
HDTVI technology was developed by a company named Techpoint. They released the TVI video standard in 2014. The technology has been supplied to many manufacturers worldwide. Consumers can reliably connect TVI cameras from different manufacturers to the same DVR.
HD-TVI technology currently support the following video resolutions using the same coax cable techniques used by traditional analog CCTV cameras: 720p 1080p, 3 megapixel, 4 megapixel, 5 megapixel, and 4K (8 megapixel). This makes it easy for people with existing analog CCTV systems to upgrade to an HD system because most of the time they can leverage their existing cable infrastructure. RG59 coax cable is the most popular cable used for installations. 1080p resolution is the most popular resolution for TVI cameras at this time.
There are TVI development initiatives taking place now to support video resolution beyond 1080p.
---
4K HD-TVI Cameras

Here is an update as of the year 2023. HD-TVI cameras now support 4K video resolution. This original article was written in 2014 when AHD only supported 720p and 1080p resolution. You can find the latest HD-TVI security cameras here. Some models now support 4K resolution.
4K HD-TVI Image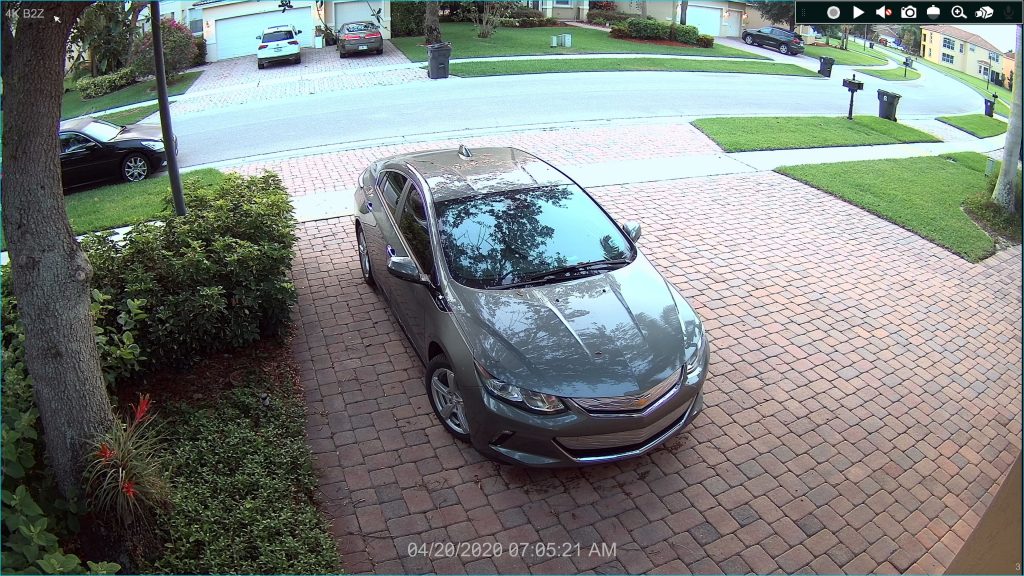 Here is a snapshot captured from one of our Viewtron 4K BNC security cameras.  These cameras support HD-TVI, AHD, analog CCTV (CVBS) and HD-CVI video formats.
---
HD-TVI DVR

You can find our best 4K security camera DVRs here and complete 4K security camera systems here.
We also highly recommend our 4K IP camera systems.
---
1080p HD-TVI Camera Images
These images show the resolution and clarity that customers can expect using a good quality TVI camera and DVR. These images were captured using various TVI cameras that CCTV Camera Pros supplies. The cameras were all connected to this HD-TVI DVR to record the video and capture screenshots.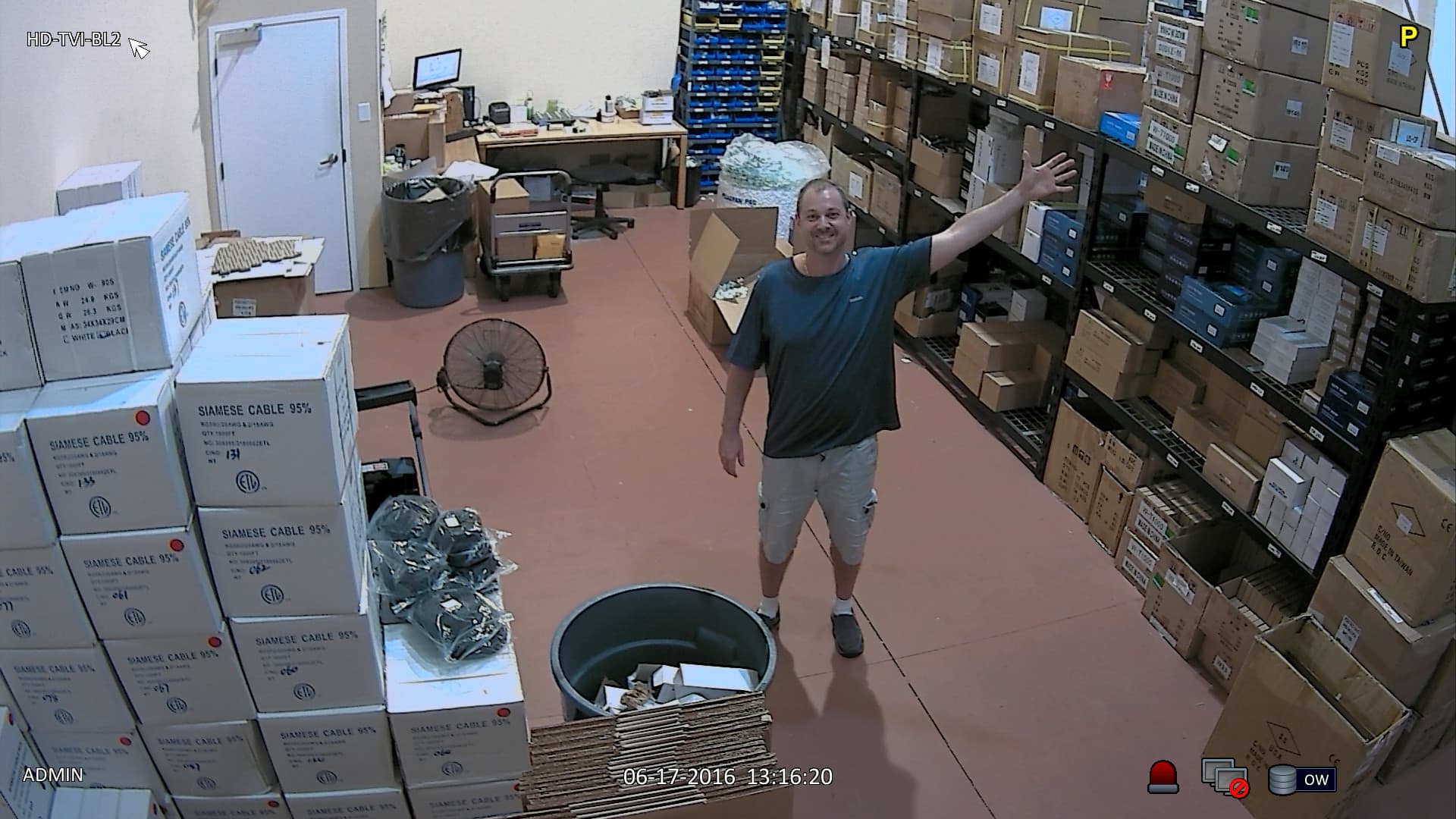 The above image was captured using an outdoor HD-TVI camera with infrared. Please click on the image to see  the full size 1080p resolution.
---
Infrared Surveillance
Just like traditional CCTV cameras, TVI cameras are available with built-in infrared LEDs (IR). IR allows security cameras to capture black and white video in low light and zero light conditions.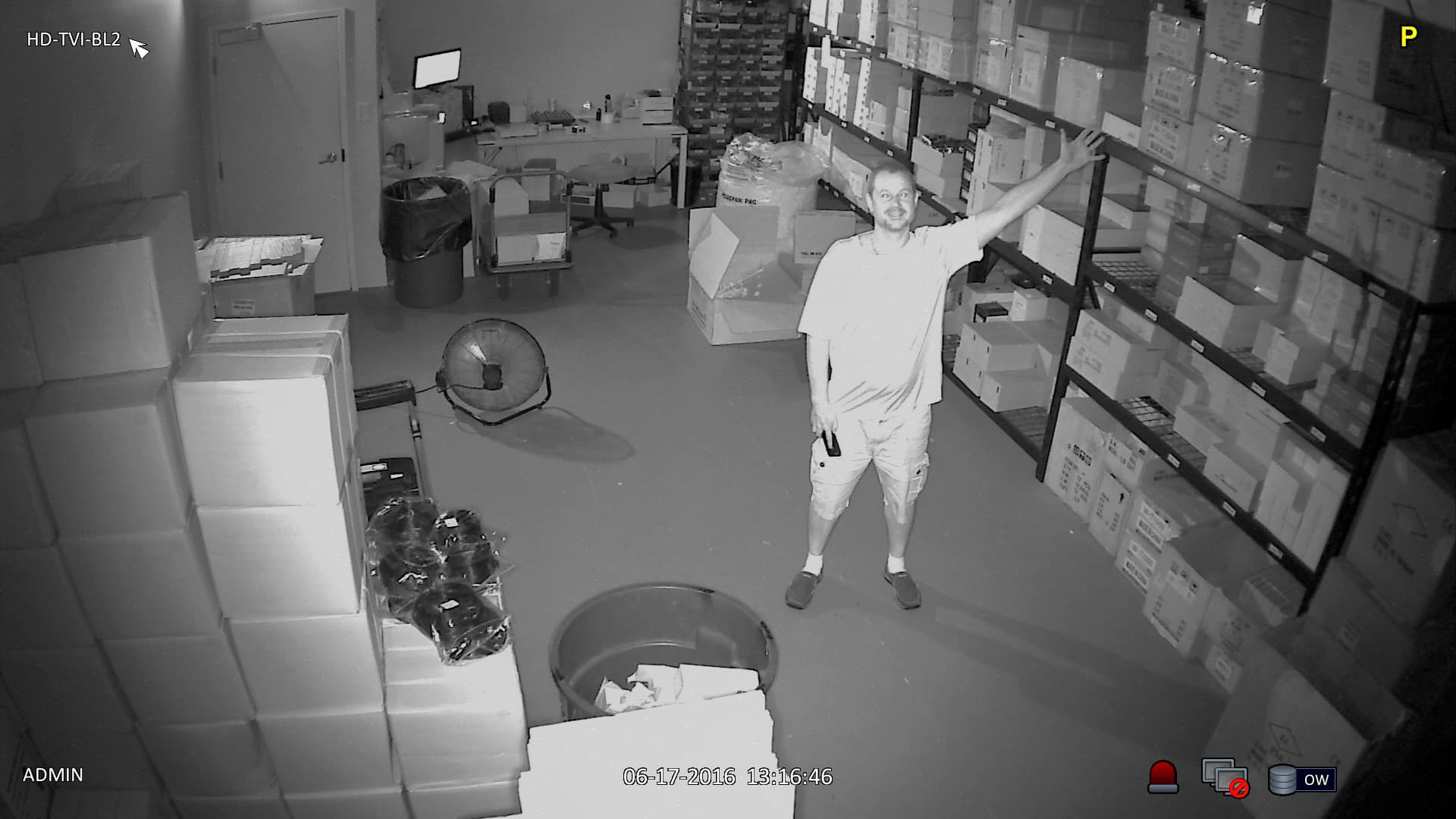 This images was captured in CCTV Camera Pros warehouse with using the same camera as the image above this one, but with all of the lights turned off. The camera's built-in IR LEDs are enabled automatically when the light level is low so that the camera can see in the dark. Click on the above image to see the full sized 1080p resolution.
---
TVI Camera Lens Options
Just like other types of security cameras, TVI cameras support a variety of fixed and varifocal lens options. A varifocal lens allows the installer to adjust the angle of view / zoom level of the lens. A fixed lens has a single setting that is "fixed" and pre-focused.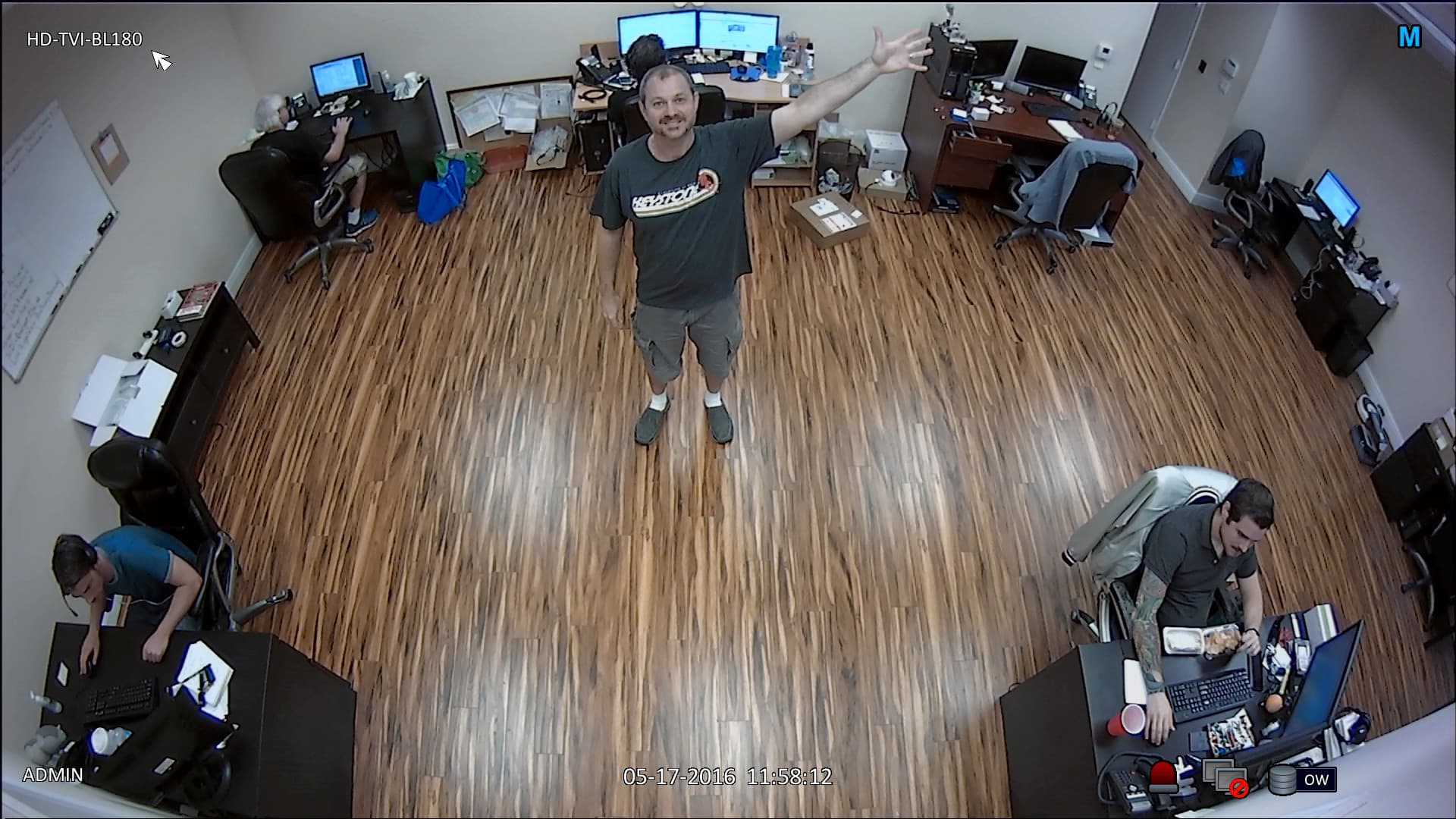 Here is an image captured with an HD-TVI camera with a 180 degree fisheye lens. The camera is mounted to the ceiling against the wall those two desks are against. The size of this room is 30 feet by 15 feet.
---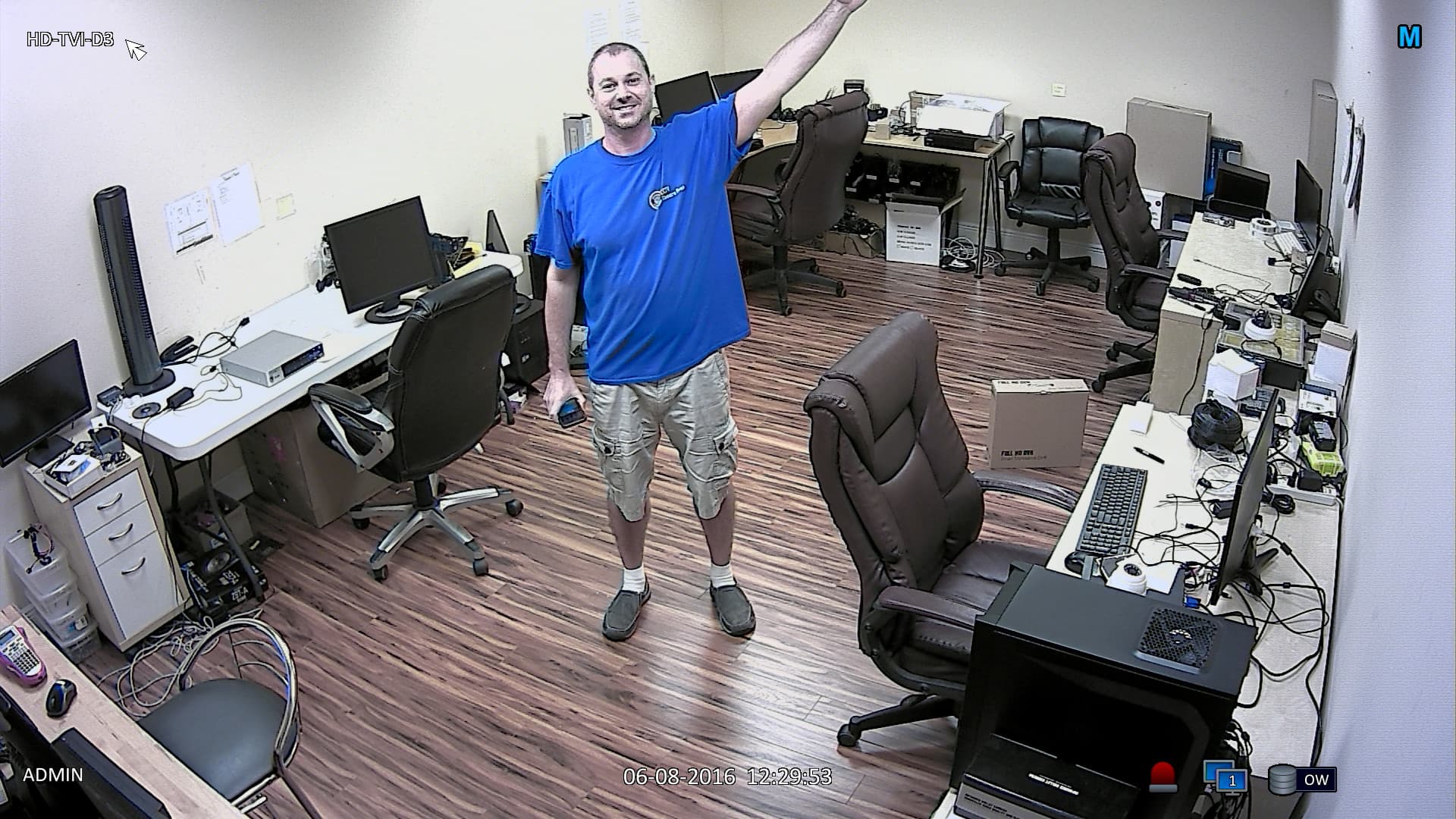 This image was captured using an indoor dome TVI camera with a 3.6mm fixed lens. The 3.6mm captures an angle of view of just less than 90 degrees which works very well for mounting in the corner of a small to medium sized room (as this one is).
---
HD-TVI 1080p vs Analog CCTV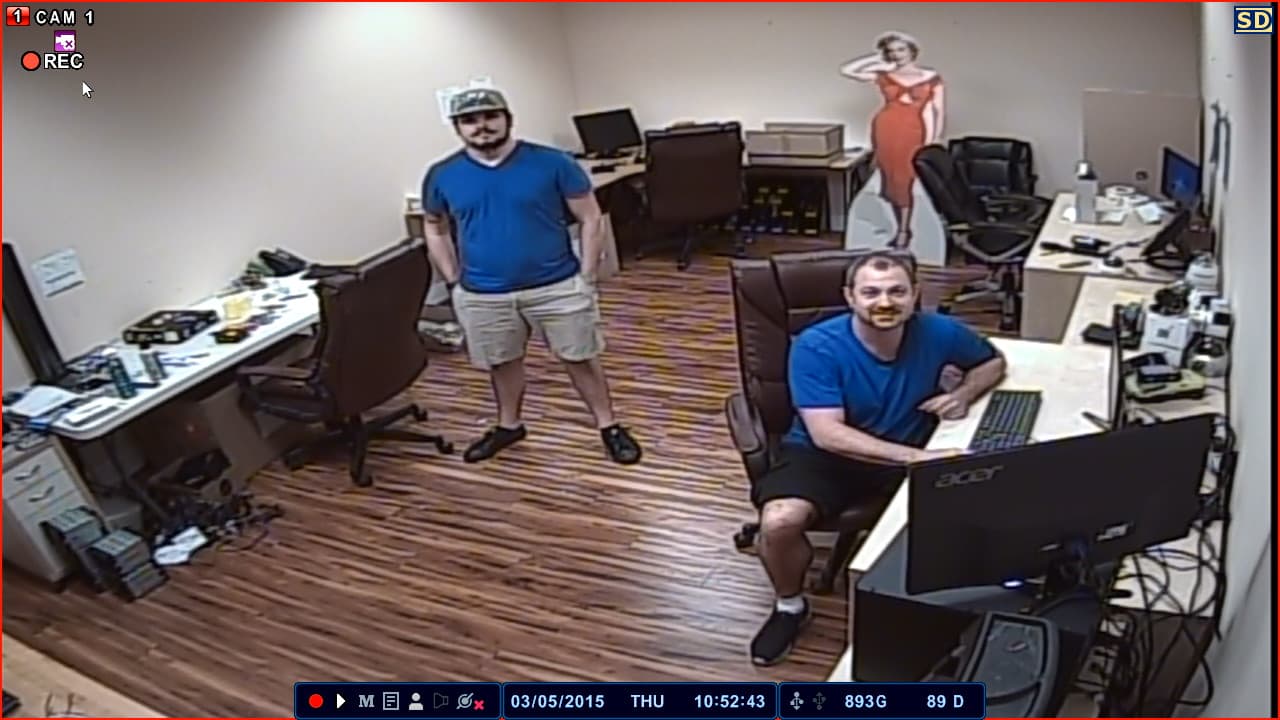 There is no comparison when you look at TVI vs analog CCTV resolution. The above image was captured using a standard definition analog CCTV camera. The camera is mounted at the same location as the image above this one (using the TVI camera). Analog CCTV resolution is 704 x 480 pixels. 1080p TVI resolution is 1920 x 1080. TVI is more than 6x more resolution than analog cameras.
---
TVI Camera Video Samples
Watch the videos in this playlist to see surveillance video footage that was recorded using various styles of 1080p TVI cameras.
---
How to Wire TVI Cameras
TVI cameras are hard wired to a DVR or monitor using RG59 coaxial cable. RG59 is the industry standard, but installers can also use RG6 cable. RG59 Siamese cable is extremely convenient because it runs the video and power centrally back to the DVR location. Installers can run RG59 cable can transit video up to 500 meters without any video signal drop.
In addition to coax cable, installers can also use UTP cable such as CAT-5 to wire TVI cameras. CAT-5 cabling requires the use of an HD-TVI compatible video balun on each end of the cable run.
---
TVI DVR

To record video from TVI cameras, you need to use a compatible HD-TVI DVR. There are TVI recorders specifically made for TVI cameras. There are also hybrid DVRs that support multiple camera types (including TVI, AHD, and HD-CVI). For example, the iDVR-PRO hybrid CCTV / HD camera DVRs on this page support standard definition analog CCTV cameras and HD TVI cameras. Users can choose to connect all of the same types of camera to these DVRs or mix and match analog and HD cameras on any channel they choose.
Hybrid DVRs are very convenient for people that have existing analog surveillance systems and want to upgrade to 1080p HD. They can leverage their existing CCTV cameras and add TVI cameras over time.
An HD-TVI multiplexer can be used by people that need live video displayed on a TV from multiple cameras, without any recording.
---
TVI vs AHD
AHD is another "HD over coax" security camera solution. The video quality and price of TVI and AHD cameras are very close.
Watch the above video to compare TVI vs AHD using the 1080p video footage recorded from both. Be sure to adjust the YouTube player to 1080p resolution and watch full screen if you are on a desktop computer. You can read our full article on TVI vs AHD here.
---
Security Camera Systems