2mp IR Dome Camera, HD BNC Security Camera, HD-TVI, AHD, HD-CVI, CCTV
The Viewtron HD-Q3 is a 2mp IR dome camera that supports 4 video modes: HD-TVI, AHD, HD-CVI, and CVBS (analog CCTV). This is a BNC security camera with a turret style dome housing. Watch the above video to see demo video surveillance footage recorded using the HD-Q3 that is installed inside CCTV Camera Pros office. The video demonstrates normal light and IR night vision modes.

To record the video, our HD-Q3 was hard wired to a Viewtron hybrid BNC security camera DVR. Viewtron DVRs support all CCTV video formats up to 4K resolution. They also support network IP cameras.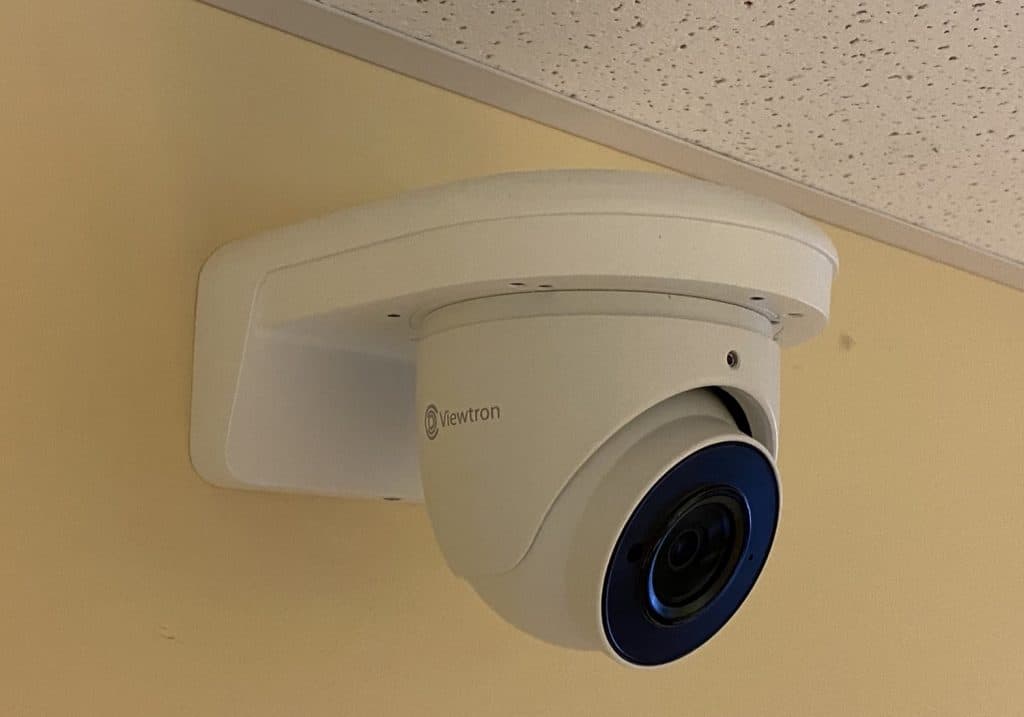 We installed our HD-Q3 with this optional L-bracket wall mount for dome cameras. Please note that this camera is IP67 weatherproof rated, so it can be installed indoors and outdoors.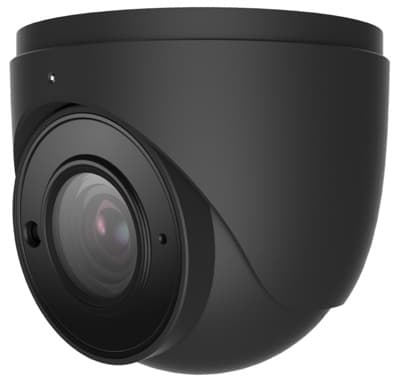 This camera is also available in with a gray housing. You can find the gray version here: DPRO-B24DHR gray dome security camera.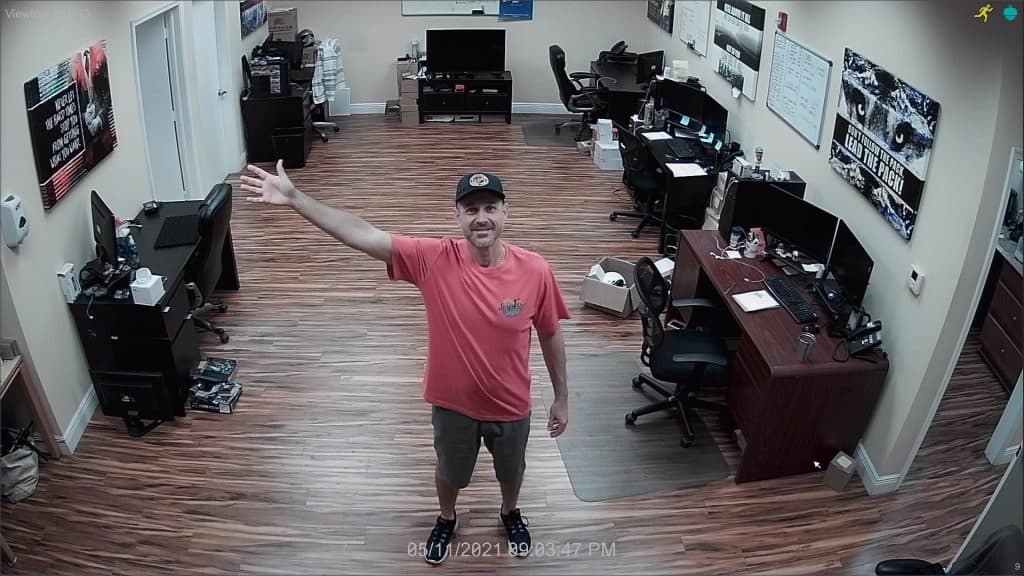 The HD-Q3 has a 2.8mm fixed lens. This is wider than the more common 3.6mm lens. You can see from the above snapshot that it provides a nice wide angle of view of this large office room. This room is 15 feet wide by 30 feet long.
---
Video Transcript
Hi everyone. Mike from CCTV Camera Pros here. Today, I'm testing one of our two megapixel dome BNC cameras. It's that white dome that you see behind me mounted to the wall with that L-bracket. I'm going to run through a regular light test with all the lights on in the office, and I came up here at night so I can black out this whole area and do a zero light infrared test. Let's take a look.
This room in our office is 15 feet wide by 30 feet deep. You can see that the 2.8 millimeter lens of this camera does a good job of covering the whole room. In a minute, I'm going to turn the lights off in the room so we can test out the IR night vision. I'm using the flashlight on my phone just to walk over here safely because this room is completely dark right now. There is no visible light. All of the illumination that you see is from the cameras built in IR LEDs. You could see it's a nice even IR illumination across the whole room and the smart IR adjusts the intensity of the IR illumination automatically depending on how close I am to the camera.
I want to mention a few more things about this camera before we wrap up this video. This is a BNC security camera and it's a hybrid. It runs in four video modes. At the two mega pixel resolution, it supports AHD, HD-TVI and HD-CVI video formats. It also supports an analog CCTV mode or CVBS at 960H resolution. So you can use this camera with older analog CCTV DVRs, and then if you upgrade to one of our Viewtron 4k BNC DVRs, you can change the format using the little joystick that's attached to the video cable, switch it over to TVI or AHD, and now you have a 1080p camera and you don't have to switch anything out.
It's IP67 weatherproof rated. So although I was testing this indoors and we saw a lot of these for indoor installations, they're great outside as well, even down here at rainy South Florida. IP67 weatherproof rating is great for down here as well as in other wet and even cold environments. The IR night vision supports 20 to 30 meter IR illumination. Because the dome is a turret style dome, you can move that lens around in any direction, this camera can be wall-mounted or ceiling-mounted and we have an optional junction box that I highly recommend if you're going to do an outdoor installation with this. If you have any questions about any of this or if you need a quote, you can email me anytime at mike@cctvcamerapros.net. If you want to learn more about this camera and get current pricing, please visit www.cctvcamerapros.com/q3.
Thank you for watching.
---
Related Pages
2mp Dome IP Camera with SD Card Slot
Viewtron mobile apps and desktop camera viewer software