Home IP Camera System Video Demo
Watch this video for a tour and live video view of my home IP camera system. I have been testing and documenting this Viewtron NVR system at my house for a while now. You can find all of the video demos of my home camera system here. You can watch additional video demos of Viewtron AI security cameras here.
The system at my house currently uses the following equipment.
Viewtron IP Camera NVR with PoE


I have an Viewtron 8ch IP camera NVR for the recorder at my house. All of my cameras record video to this device. This NVR has two hard drive bays for recorded video storage. This system uses local storage, not cloud recording. This model has AI software functions built into it, so that you can take advantage of Viewtron AI camera models. All of my IP cameras, except one wireless camera, is hard wired back to the NVR using CAT5 network cable. These Viewtron NVRs have PoE ports. This means that the network connection also provides power to each camera.
---
4mp Bullet IP Camera with AI Software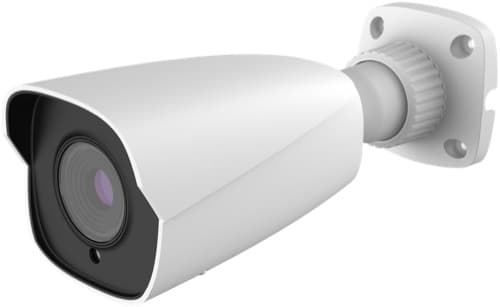 I have 4 of these Viewtron 4mp bullet IP cameras installed at my house. Two for the front yard, one for the side yard, and one for the back yard. The IP-A4BZ is an AI camera. I use the people detection AI function to trigger alarm recording. I also sometimes have the NVR send a push notification to the mobile app on my iPhone.
---
4mp Dome IP Camera with AI Software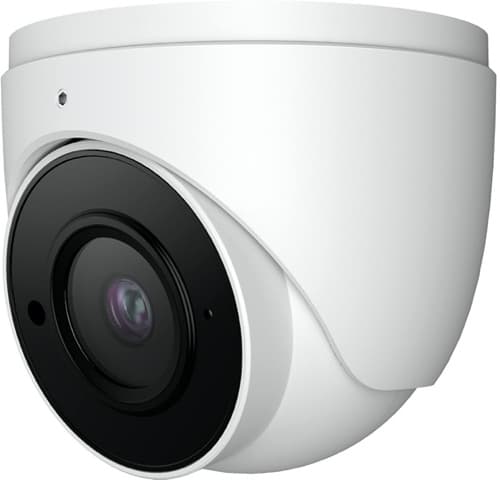 I installed one of the Viewtron 4mp dome AI cameras on the other side of my house. This dome has the same resolution as the 4mp bullet camera. The main difference is that the dome is a 3.6mm fixed lens and the bullet is a 2.8-12mm motorized zoom / varifocal lens. These dome are 4 megapixel / 2K video resolution.
---
4K Dome IP Camera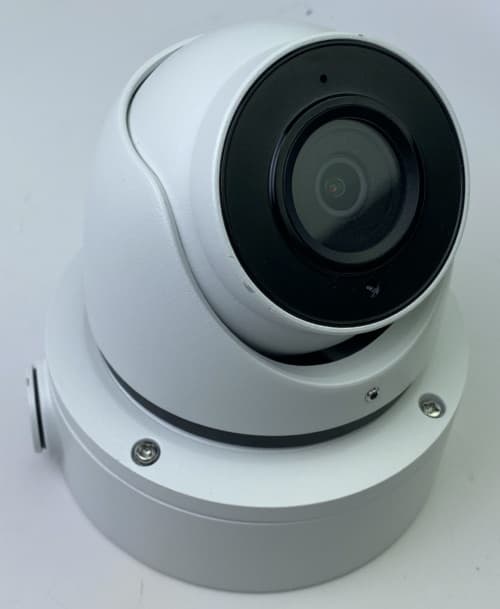 This 4K dome IP camera is installed at my front door. You will notice in the video that I have not yet installed the matching round junction box that you see in the above image. I plan on doing this soon. For now, I have a standard plastic square junction box that I have used for many years. These Viewtron camera junction boxes look way better, so I do plan on switching it out soon. This 4K camera provides a 90 degree field of view.
---
Wireless IP Camera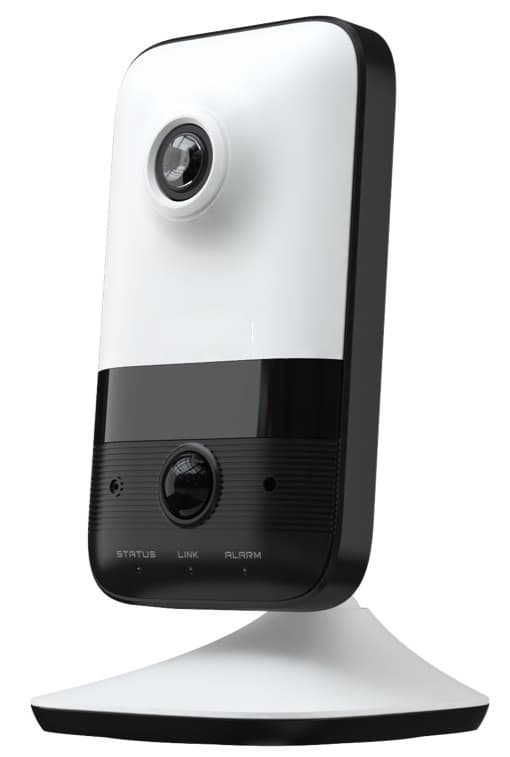 I currently use this wireless IP camera on my patio. I also use this camera inside my house to keep an eye on our cat when we go away. Once the wireless connectivity and DVR connection is setup for this camera, you can plug it into power anywhere in the house and it will automatically connect to the Viewtron NVR over WIFI.
Please note that all of the cameras at my house have built-in IR night vision.
---
Remote Viewing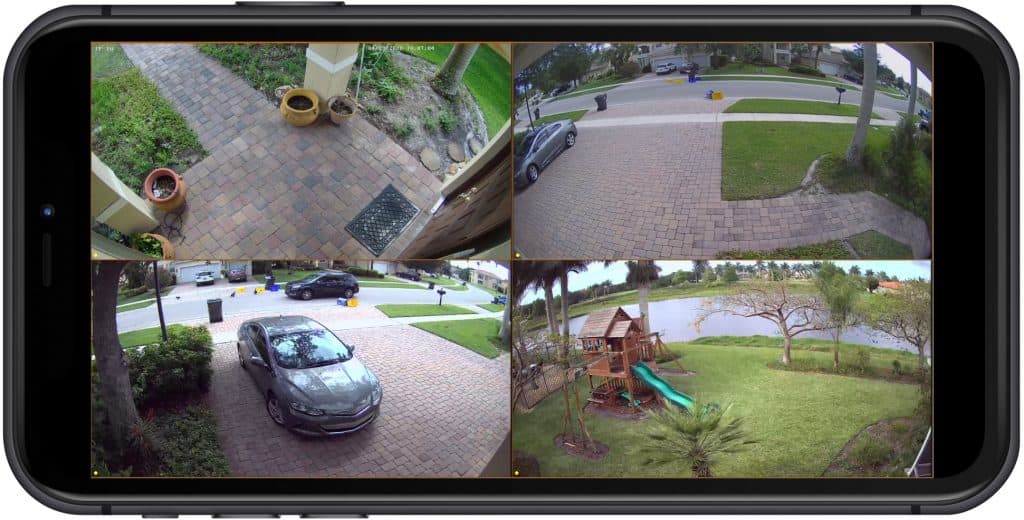 My home security system supports remote camera viewing from iPhone, Android, Windows, and Mac. You can learn more about the remote camera viewing apps included with Viewtron systems here.
---
Video Transcript
Hi everyone. Mike from CCTV Camera Pros here. I recently upgraded my home security camera system to a Viewtron all IP camera system. In this video, I'm going to walk around and show you the placement of where I installed all my cameras, then give you a demo on the NVR to show you what everything looks like.
First off, I have two security cameras mounted above my garage doors. This one on the left monitors basically my entire driveway and the one on the right monitors part of the driveway and the walkway leading up to my front door. You could see that I used the new Viewtron junction boxes, those round junction boxes to mount these. These are four megapixel AI security cameras that have built in artificial intelligence.
Next up is the security camera mounted in my front door area. You're probably wondering why I have two cameras mounted here. And the reason is I have both a CAT5 network cable and coax cable run to this location and sometimes I do comparison tests comparing IP cameras to HD coax cameras. You'll also notice that the IP camera that I've mounted here, it's the one on the left, it yet doesn't use one of our new round junction boxes. I will be switching that out. I haven't gotten around to upgrading all the junction boxes around my house yet.
Next up is another AI camera that monitors the side of my yard on the north side of the property. On the left side, I have a dome AI camera and the main difference between the Viewtron bullet and dome AI camera is the bullet has a motorized varifocal lens whereas the dome is a fixed lens, but they're both four megapixel and they both have all the same AI functions and object detection built in.
Next is the security camera that monitors my backyard. You'll notice I have a big junction box installed back here. And the reason is I also have a wireless access point back here. That has nothing to do with the security camera system. That's so that I have internet access if I'm working on my back patio. That's another four mega pixel IP camera, AI, same as the two front cameras and the one side and it does a great job of monitoring my backyard, which right now is a pool construction zone.
In addition to those six cameras that I have permanently installed on my house, I also use this Viewtron wireless IP camera in different positions, just as I need it. For example, right now I have it installed on my patio because we've been keeping an eye on this area at night because we have a raccoon coming in and I'm trying to figure out why he's coming in. Also when we go on vacation sometimes, we put one of these Viewtron wireless IP cameras in by our cat's water bowl and food bowl, just to make sure she doesn't run out of water. We have someone take care of her while she's gone, but we like to check in on her and make sure that she's okay. Those are really nice. Once you haven't configured, you could just plug them in anywhere and they'll connect to the Viewtron NVR and sync up and they work great as well.
Next, I'm going to move over to the NVR and show you what the views look like from each of these cameras. Let's start off. Again, these are all Viewtron IP cameras and let's start off with the two that are mounted above my garage door. Here's the view from the one on the left that monitors the driveway and here's the one on the right that captures the edge of the driveway on the right side and then the walkway leading up to my front door. Those were both a four megapixel AI cameras. This one at my front door, this is a 4k Viewtron IP camera, but the 4k models do not have the artificial intelligence.
On the north side of my house, this is another four megapixel AI camera. And on the south side of my house, this is also a four megapixel IP camera AI, but that's the dome model. You could see the construction zone in my backyard, here my pool being built. Another four megapixel Viewtron IP camera here. And then this is a 1080p two megapixel wireless IP camera that I'm using right now on my back patio. And then this is just the seven camera view that I kind of leave the NVR on.
As you saw, I have a pretty typical home security camera set up here at my house. The entire front yard is covered, the side yards are covered and my backyard is well covered as well. Pretty typical, a six to eight camera system for a home security camera system's very typical. We design these all day at CCTV Camera Pros. I have a bunch of other videos. I do a lot of testing here at my house and if you want to see additional videos, you can go to www.cctvcamerapros.com/mike. If you have any questions for me, feel free to reach out to me anytime. I can be reached at mike@cctvcamerapros.net. Thank you for watching.
---
Questions / Comments
IF you have any questions or comments about any of this, please email me here.