4K IP Camera IR Night Vision Testing
Watch this video to see the color daytime and IR night vision video surveillance recorded with the IP-A8BZ 4K IP camera. The Viewtron IP-A8BZ has a 2.8-12mm motorized zoom lens, built-in AI software, and a 50 to 70 meter effective infrared illumination distance.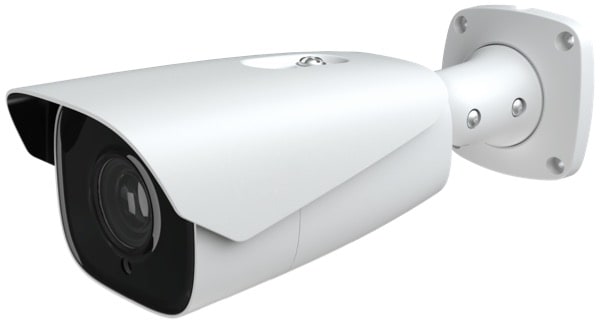 This 4K IP camera is enclosed in an IP67 weatherproof rated housing. This high powered infrared IP camera will almost always be used for outdoor video surveillance installations.
---
Security Camera Snapshots
Here are a few still snapshot images that I captured while making this video. Please note that you can click on these images to see the full sized 4K UHD resolution photos.
IR Night Vision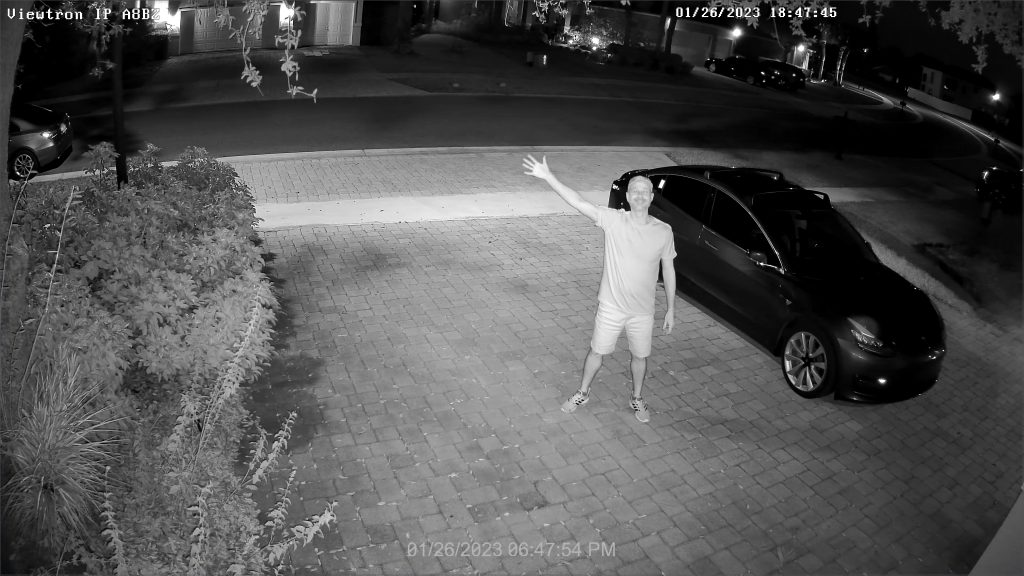 This is obviously a night-time IR night vision snapshot. Please note that this driveway area in front of my house is not completely dark. I have a street light in front of my house that provides a good amount of light. The camera does a good job of automatically lowering the intensity of the infrared illumination in this situation. It does this using the smart IR technology built into it. Hopefully, I can find a location in the future to also test this camera in a zero light environment.
Daytime Color Surveillance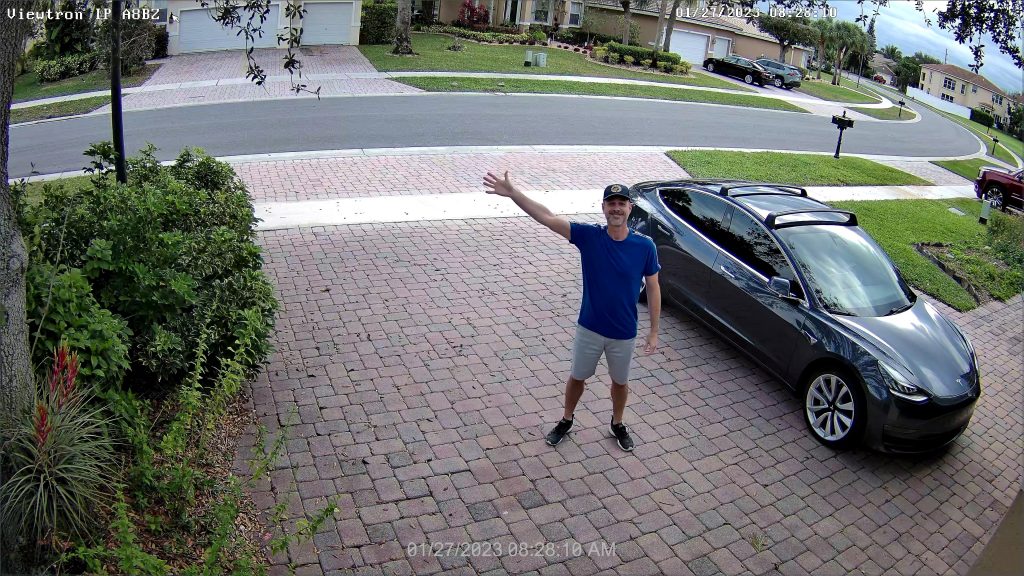 Here is a daytime color snapshot. It was very overcast with clouds when I captured this.
---
Viewtron 4K NVR


To record this 4K video surveillance footage, the IP-A8BZ was connected to a Viewtron 4K NVR. It was hard wired to one of the NVR's PoE ports using CAT6 network cable. You can also use CAT5E cable.
---
AI Software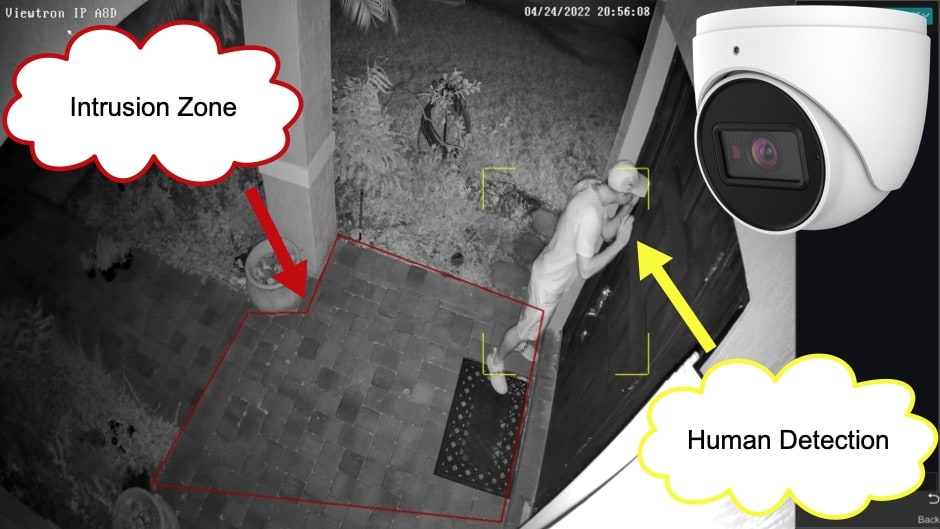 Although I did not demonstrate the AI software capability of the IP-A8BZ in this video, you can learn about the artificial intelligence software that is built into Viewtron AI security cameras here.
---
Video Transcript
Good morning everyone. Mike from CCTV Camera Pros here. Last night I installed one of our newest 4K IP cameras at my house. It's that AI security camera that you see behind me, and I set it up to monitor my driveway. So I did some nighttime IR night vision testing last night, and this morning I ran through some testing with normal daytime mode operations. Let's take a look at the video.
Here's the daytime video surveillance recording. In a few seconds, you'll see me driving in the distance towards my house. Please note that I have the camera's motorized zoom lens set to the widest angle for this recording. That is a 2.8 millimeter setting, which provides about 103 degree field of view. You can see that this wide angle lens setting does a great job of providing security for my entire three car driveway, front yard, and the street and sidewalk in front of my home. I'm going to pull into the driveway and get out so that you can see the video quality on objects closer to the camera. To record this video surveillance footage, I have this 4K IP camera connected to a Viewtron 4K NVR. It is recording at the full 4K resolution, at 30 frames per second. CCTV Camera Pros has Viewtron IP camera NVRs available in eight channel, 16 channel, 32 channel, and 64 channel models.
Next is the IR night vision surveillance test. Again, you'll see my car in the distance heading towards my house. That's my car in the distance there. Note that this is not a zero light environment. There is a street light in front of my house and I also have ambient light from the coach lights on my garage. I think this is a typical amount of lighting for most home security camera installations for outdoors, however, I do hope to perform a zero light test with the infrared IP camera in the future.
You'll see here that the light from my car's headlights caused the camera to switch back to daytime color mode for a few seconds, but when I turn my headlights off, the camera switches back to IR night vision mode. I think that the camera's infrared LEDs are doing a good job of illuminating my entire driveway and that this camera is a good choice to monitor my front yard. I have tested many IP cameras and CCTV cameras at this location of my house and think that the IP-A8BZ has been one of the best performers.
Guys, I want to mention a couple things before we wrap up. Again, that's a 4K resolution IP camera that has built-in AI software. Although I didn't demonstrate the AI software in this video, like the people object detection or the car object detection, I have plenty of other videos on our website that show that. The things I want to be mentioned is that's a motorized zoom lens camera, so I had it set at the widest angle to get my entire driveway, but you could zoom that lens in anywhere between a 2.8 millimeter and 12 millimeter setting. So I'll be making another video showing how you can zoom that in on areas further in the distance. The infrared night vision on that is really strong. Actually, my driveway is partially lit, so as you saw, it even turned color part of the time because of the ambient light in the area. But I'll have to find a place where I can do some testing in total darkness because the IR is effective up to 50 to 70 meters. That's like 230 feet.
That's in a IP67 weatherproof housing, so it's great for outdoor installation. It's kind of a big, powerful camera. Probably not used indoors too much, mostly an outdoor IP camera. The model number is IP-A8BZ, and you could find it on our AI security camera page on our website.
If you have any questions about any of this, you could feel free to email me anytime. I can be reached directly at mike@cctvcamerapros.net. If you want to go directly to our AI security camera page and learn more about the IP-A8BZ, we have other 4K resolution AI cameras without the motorized zoom lenses, dome and bullet style. Please go to www.cctvcamerapros.com/ai.
Thank you for watching.
---
4K Security Camera Systems
---
Have Questions / Need Help?
If you have any questions related to security camera systems, please email me at mike@cctvcamerapros.net.