4mp vs 8mp Security Camera, 4K vs 4mp Security Camera
Watch this video to compare recorded video surveillance of a 4mp vs 8mp security camera. Please note that 8 megapixel resolution is the same as 4K resolution, so this video and article is also applicable for people searching for a comparison of a 4K vs 4mp security camera.
This is not exactly the best test to compare 4mp vs 8mp because the IP cameras that I used for the demo are not installed in the same location. So, lighting and camera installation angle are not the same. Neither is the scene that the camera is monitoring. However, a number of customers have asked me recently how 4mp IP cameras resolution compare to the 4K IP cameras, so I wanted to provide some frame of reference. I also wanted to explain why my home camera system is mostly made up of 4mp cameras.
Here are some photo screenshots captured from the NVR's HDMI output.
8mp Security Camera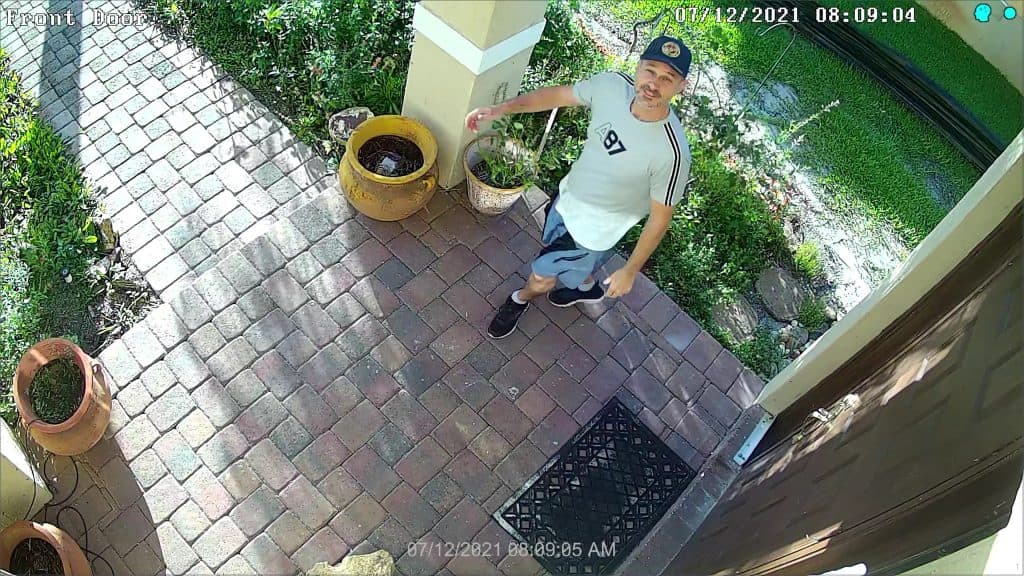 Here is a screenshot captured from the 4k / 8mp IP camera. Please click on the image for the 4K UHD image.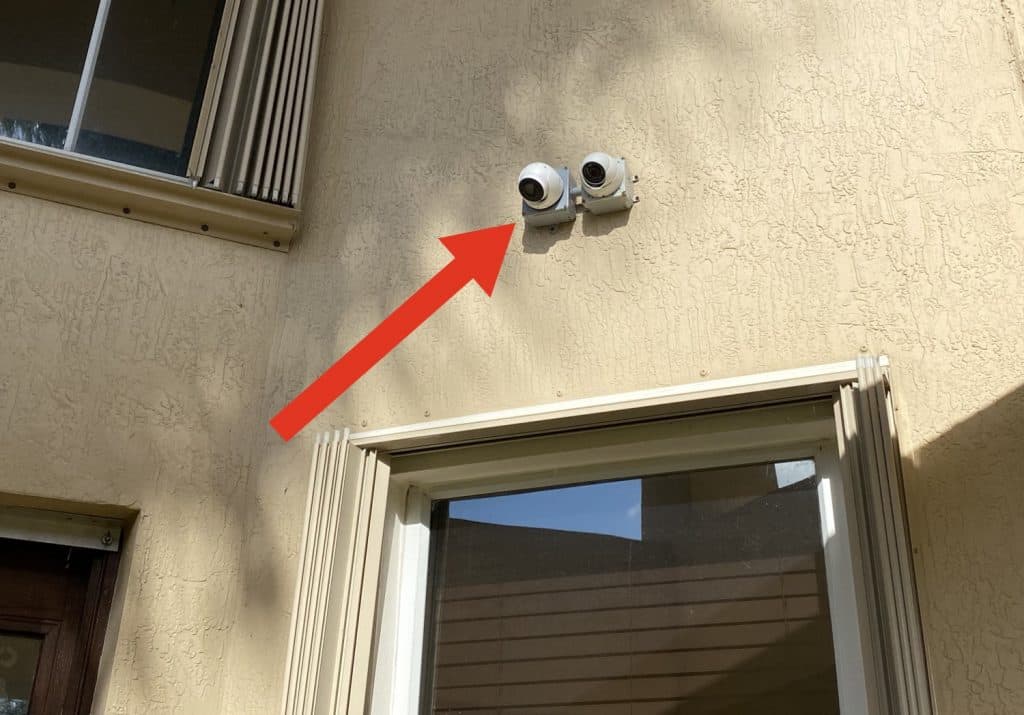 The 8mp dome is installed above and to the right of the front door of my house.
---
4mp Security Camera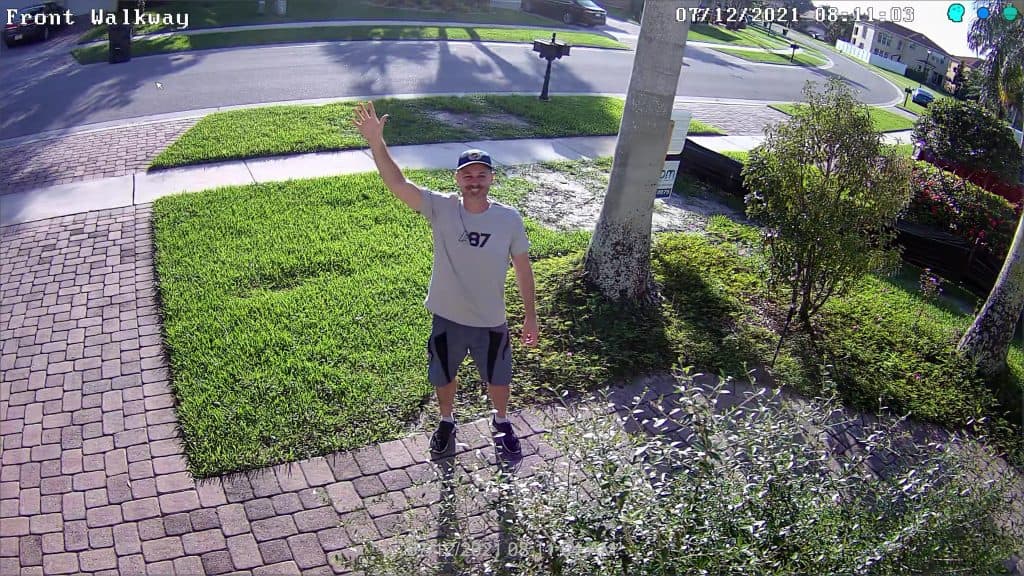 Here is a snapshot taken with the 4mp bullet IP camera. Please note that the HDMI video output of the NVR is 4K resolution, so although the camera is 4mp resolution, the full sized snapshot is 4k / 8mp resolution. This will give you an idea of what a 4mp camera looks like displayed on a 4K TV. Please click on the image for the full sized image.
---
4K IP Camera


This is the Viewtron NVR that I have installed at my house. We have these IP camera NVRs available in 8ch, 16ch, and 32ch models. All of the IP security cameras at my house are connected to network ports on the back of the NVR with CAT6 network cable. These NVRs have built-in PoE ports.
---
Why Did I Choose 4MP Cameras?
8mp security cameras are obviously higher resolution than 4mp, so why did I install five of the 4 megapixel security cameras at my house and only one 4K camera? The AI software that is built into Viewtron 4mp IP cameras is the only reason. The higher resolution 8mp cameras do not yet support the AI software functions and I wanted to be able to detect cars and people that enter my property late at night. In my testing, Viewtron AI object detection is so much more reliable than standard video motion detection – especially in an outdoor area. Like an order of magnitude better!
Watch this video to see how I setup an intrusion zone on my driveway to detect people and cars late at night. These Viewtron AI security cameras support human / people detection, vehicle / car detection, and face detection / facial recognition.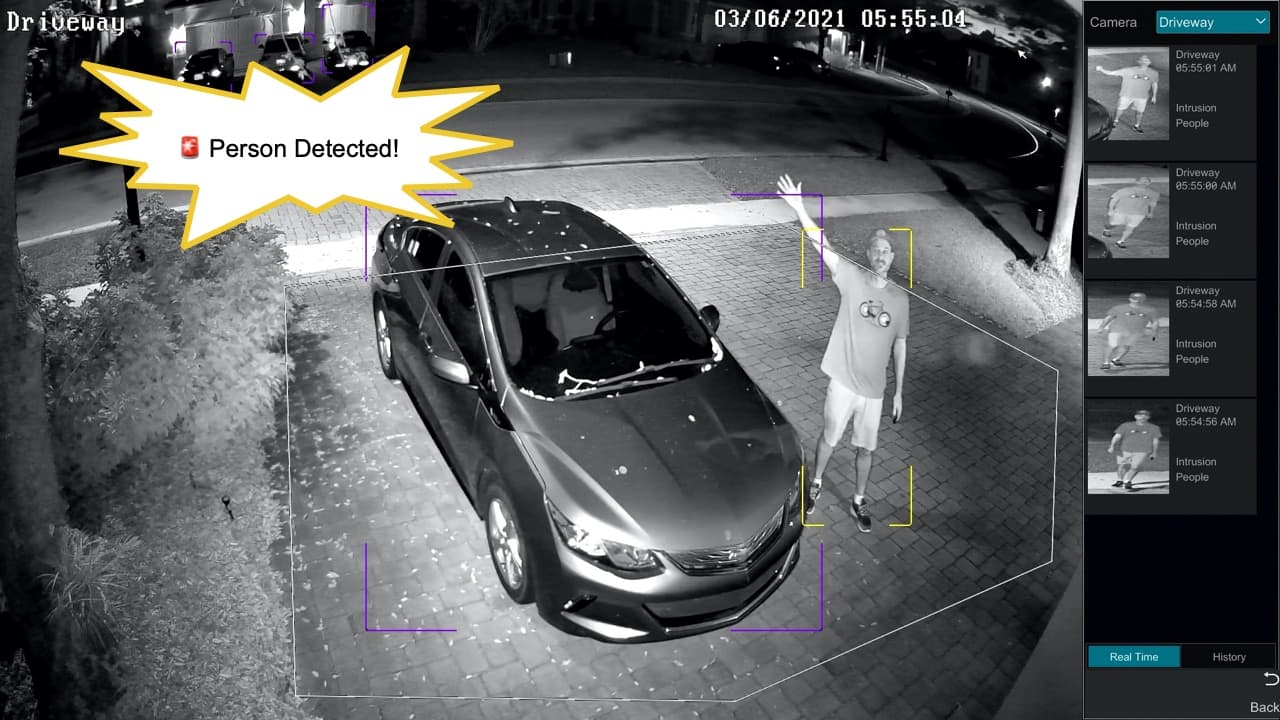 Here is another video demo that shows the person detection working at night when the camera is in IR night vision mode.
If your main goal is only to get the highest resolution, then 4K / 8mp cameras are probably the best choice. However, if you want the most reliable alarms based on the detection of people and vehicles, the Viewtron 4mp AI security cameras are the best.
You can find all of our Viewtron IP cameras on this page. If you have any questions, please let me know.
---
Video Transcription
Here is a complete text transcription of the video at the top of this post.
4mp vs 4K security cameras. Good morning, everyone, Mike from CCTV Camera Pros here. In this video, I'm going to run you through a demo of the 4K dome camera that I have installed on my front door as part of my home surveillance system and the 4 megapixel camera that monitors my walkway and just compare the video resolution. That's not the entire point of the video though. First off, let me mention, in order to take advantage of this video resolution comparison, you have to have a 4K monitor or TV when you're viewing this, and you'll have to set the YouTube player to 4K resolution. Otherwise you're really not going to see the full resolution of the 4K camera or the 4 megapixel camera. Let's run through the demo first. Stick with me after, though. I want to discuss why I chose mostly 4 megapixel cameras for my home security camera system.
Here's the live view of my security camera system and the front door camera is the only 4K resolution camera. The other five cameras are all 4 megapixel. We're going to take a look at the 4K camera first. So I just switched to the full screen view, and I'm just going to come out the front door here and move around and give a little wave and give you guys a chance to take a look at the 4K IP camera first. And then I'll switch back to the multi-camera view. And on these Viewtron NVRs, you can drag the cameras around, so I'm going to drag one of the 4 megapixel cameras over here to this screen, and then double click on it to switch to the full screen view. So this is the 4 megapixel IP camera, and I'm just going to walk around and wave and move around a little bit again to give you a chance to see the resolution of the 4 megapixel IP camera.
I want to mention here, obviously, both the 4 megapixel and 4K IP cameras that I just demoed were connected to the same Viewtron DVR. I have an eight channel Viewtron… Sorry, NVR. I have a Viewtron NVR at my house, and both those cameras are hardwired to the network ports on the back of it. Those are PoE ports. I was using the HDMI video output from the NVR, which obviously can output at 4K resolution. So why did I choose mostly 4 megapixel cameras for my home security camera system? You probably noticed in the video, again, if you were watching on a 4K monitor, that the 4K camera front door is obviously higher resolution than the 4 megapixel. 4K resolution is the equivalent of 8 megapixel, so it's twice the resolution of 4 megapixel.
However, there are some trade-offs. Number one, 4K IP cameras only output 20 frames per second. That's a great frame rate, but 4 megapixel IP cameras output 30 frames per second. So if you need a super high frame rate of recording, the 4 megapixel is going to be a better option for you. The bigger reason that I chose mostly 4 megapixel cameras for my home system is the AI software that's built into these Viewtron 4 megapixel IP cameras. These are really a game changer, guys. They're able to do object detection, they're able to detect human objects, vehicle objects, cars and trucks, as well as facial recognition, and the software that's used to detect those objects is really much more advanced than standard video motion detection. It's very accurate if you want to set up intrusion zones or trip wires and detect humans coming into areas on a schedule or continuously.
I'm not going to go into too much more detail on that. I have a ton of other videos on our YouTube channel and on the website. I'll link to them down below if you're on YouTube. If you're on our blog, I'll also link to them down below. If you have any questions about any of this, you can reach out to me anytime. I can be reached via email at mike@cctvcamerapros.net. If you want to learn more about these Viewtron security camera systems, and by the way, we also have Viewtron BNC security camera systems. I have an IP camera system on my house, but we also have BNC DVRs, it's the same user interface you just saw, we have BNC 4K cameras. We have a whole bunch of Viewtron equipment, 4K resolution, 4 megapixel, and 2 megapixel in both BNC and IP cameras. If you want to learn more about any of that, please visit www.cctvcamerapros.com/viewtron. Thank you for watching.