Viewtron Mobile App Digital Zoom Demo (iPhone & Android)
Watch this video to see the digital pan tilt zoom functions of the Viewtron mobile app for iPhone and Android. Please note that this is a fixed lens camera and all of the movements are being done digitally in the app. You can see demos of our mechanical pan tilt zoom camera here.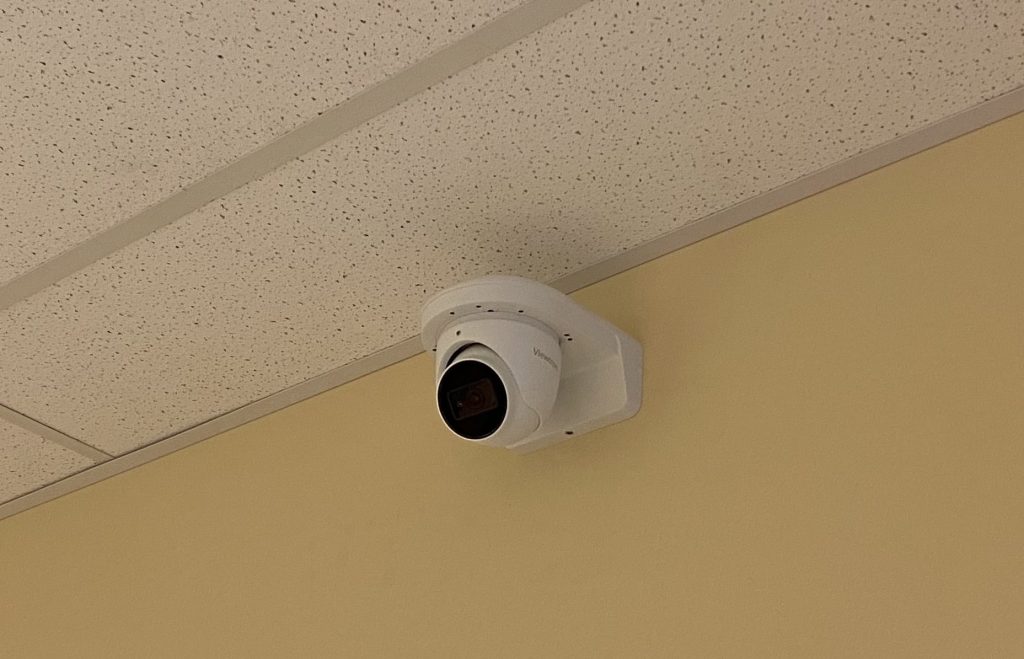 This is the 4K AI dome camera that was used to record this video. Please note that the Viewtron app and digital zoom function works will all IP cameras and BNC security cameras. The app can connect to IP camera NVRs, BNC camera DVRs, and directly to IP cameras.
---
IP Camera NVR


This is the Viewtron IP camera NVR that the camera is connected to. I connected to the NVR from the iPhone app using the office WIFI. However, you can also perform the digital PTZ controls from remotely over the Internet.
---
More App Videos

You can watch additional mobile app video demos here.
---
Complete Video Library

You can see our complete library video demos here.
---
Video Transcript
Hey guys, Mike from CCTV Camera Pros here. In this video, I'm going to demonstrate the digital zooming capability of the Viewtron mobile app for iPhone and Android. I'm going to use that 4K dome that you see behind me that monitors this main area at our office. That's a Viewtron AI camera and it's connected to a Viewtron NVR. When you see me in the app, I'm actually connecting to the NVR and then viewing that specific camera and then the way I'm moving the camera view around is by pinching and pulling with my fingers, and that's how you enable the digital zoom. Let's take a look.
Here's the live view in the Viewtron iPhone app. And the first thing I'm going to do is tap on the screen and enable the highest resolution that's supported. So right here, I'm going to tap on Super Definition. Then next, I'm just going to start digitally zooming in on myself. I'm doing this by pinching the screen with my two thumbs. If I want to zoom out, I would stretch the screen out with my two thumbs. And then in addition, you can just move the camera around by using a single finger when it's in the zoom position. If you want to move where the zoom is, you could just point and move it. That's what I'm doing here. Let's zoom in over here on James. James, always hard at work. I'm sure he appreciates us putting him in the video.
Then I'll zoom back out and just walk to the farthest side of the room. This room is 30 feet wide. So when I'm at this farthest point out here, I'm 30 feet away from the camera. So we'll go and bother Carlos a little bit, see what Carlos is up to. Looks like he's enjoying his morning coffee, which is good.
Guys, please remember, this is not a pan tilt zoom camera. This is a fixed camera. I'm digitally zooming using the software that's built into the mobile app. This works the same on both iPhone and Android. It's the exact same user interface. So last, I'll just zoom back in on me and say goodbye as I wrap up this video.
Guys, I hope this video has been helpful. If you have questions about anything that you've seen here or anything related to video surveillance systems, feel free to reach out to me anytime. I can be reached directly at mike@cctvcamerapros.net. If you want to learn more about our Viewtron systems. We have IP camera systems, AI systems. We have BNC camera systems. We even have license plate recognition systems. We can mix and match cameras and create custom systems for you. It's actually what we typically do. We have a bunch of additional videos that you can see online too.
You could learn about all this at www.cctvcamerapros.com/Viewtron.
Thank you for watching.