Remote View Security Cameras Installed at Multiple Locations
Watch this video to learn how to setup remote security camera viewing from DVRs / NVRs that are installed at multiple locations. The Viewtron NVMS (network video management software) / security camera monitoring software is included with all Viewtron hybrid BNC camera DVRs, IP camera NVRs, and individual network IP cameras. NVMS software can be run on Mac and Windows PCs.
Screen Display Layouts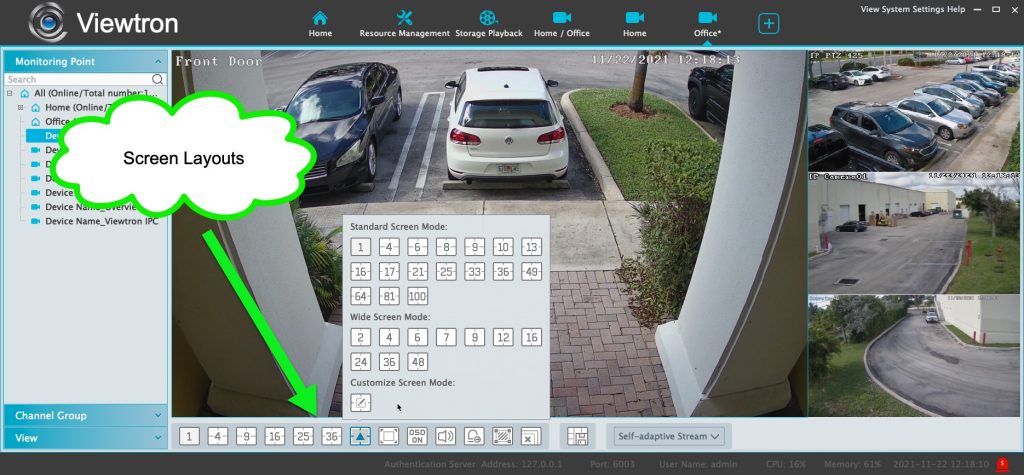 The software can be configured to connect to up to 16 devices remotely for a total of 256 cameras. BNC security cameras and network IP cameras from multiple locations can be viewed centrally on a single screen. Up to 100 cameras total can be displayed on a single screen and you can also create multiple display layouts. The above screenshot shows the various screen layouts that the software supports.
---
NVMS Software Features
Here are the main features of the current version of the NVMS software for Viewtron
NVMS Software is the same fort Mac and Windows
Supports up to 16 DVRs / NVR
Supports up to 256 Cameras
Supports up to 100 Cameras per screen
Supports up to 32 Concurrent Users
CCTV Camera Pros will release a new version of the NVMS software next year. Here are the features that the future version will support.
New Version will support up to 1024 DVRs / NVRs
New Version Will Support up to 30,000 Cameras
Max 100 Cameras per screen stays the same
Max Number of Concurrent Users will increase to 256
Please note that although the current version supports 32 concurrent remote users and the new version will support up to 256, this performance is dependent on the download speed at the central location (where the NVMS software is running) and the upload speed of the locations where the cameras / DVRs are installed.
You can learn more about the NVMS software and mobile apps included with Viewtron security camera systems here.