Live Streaming Turkey Cam – CallingDucks.com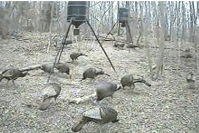 Here is another video that shows the wildlife camera project that CCTV Camera Pros has partnered with CallingDucks.com to provide – the streaming turkey cam. This youTube video was produced by Jeff and Steve at CallingDucks.com to show off some behind the scenes of the turkey cam. CCTV Camera Pros supplied the IR security camera, surveillance microphone, RG59 siamese cable, and power supplies for this project. CCTV cameras are an excellent live outdoor streaming cameras to embed video into a webpage or to stream to a mobile phone such as the iPhone.
To view the live stream of the callingducks.com turkey cam, please click here: View the Live Turkey Camera.
If you have any questions regarding how to setup CCTV cameras for use as live streaming web cameras for viewing from a PC, laptop, mobile phone, iPhone, etc., please contact CCTV Camera Pros or visit www.cctvcamerapros.com