CCTV Camera Pros Launches Long Range Night Vision CCTV Camera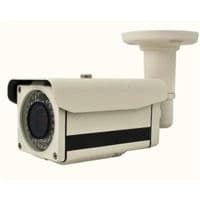 CCTV Camera Pros, a manufacturer and distributor of security cameras and video surveillance systems, is proud to announce the launched of the new BIPRO-S700VF50 night vision CCTV camera. The S700VF50 is part of CCTV Camera Pros new "Ultra Low Lux" series of CCTV cameras which are capable of operating at 0.00004 Lux (ultra low light) without even using the built in infrared LEDs. The infrared LEDs can be used in true zero light environments. The S700VF50 is manufactured using the new Sony 1/3″ Super HAD CCD II series image sensor and also features advanced built in software controlled by an easy to use on screen display menu system. The S700VF50 delivers the finest low light and zero light images in the industry at distances up to 250 feet. This new CCTV camera model is equipped with a 6-50mm varifocal lens which gives security installers a large range to adjust the field of view of the image.
For detailed specification and pricing, please visit this BIPRO-S700VF12 Night Vision CCTV Camera page.
About CCTV Camera Pros
CCTV Camera Pros is a manufacturer and distributor of security cameras, videos surveillance systems, and CCTV equipment. We are a veteran owned small business founded by a United States Marine. CCTV Camera Pros specializes in the design of reliable and scalable video surveillance systems for homes, businesses of all sizes, and local and federal government agencies. CCTV Camera Pros has a complete portfolio of products including, security cameras, digital video recorders, monitors, cables, connectors, and all accessories needed for a complete surveillance system solution. CCTV Camera Pros is partnered with a network of over 400 installers in the United States to provide surveillance system installation to all areas of the USA. Visit www.cctvcamerapros.com.